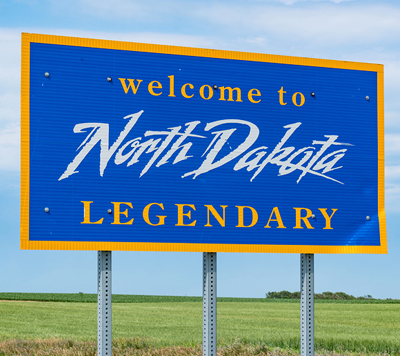 Image from Bigstock
"NorthDakota.com came onto my radar for three reasons," Colascione said. "#1 - it was being sold by domain broker Mark Thomas of VIP Brokerage who has become a good friend through the years of attending domain name events. We always manage to have a good time at the events we attend together, especially NamesCon and sometimes get together outside of domaining circles. Mark was representing the seller and has other premium GEO domain names for sale."

"#2 - the price; although I do not want to release the exact number the domain was purchased for, it was relatively
inexpensive - under six figures, and represents a geographic area of the country which is growing rapidly with jobs due to its agriculture and oil riches. My ownership interest will be assigned when the business has earned back its initial purchase price that was provided by an investor that I have already done several successful projects with. At that point Iíll immediately acquire a third of the business."
"#3 - after exiting LongIsland.com and moving off of Long Island, I wanted to remain in the geo domain business since I have so much experience in it and this time, I found interest in doing an entire State, instead of a region, city or town," John said.
Colascione wasted no time getting a new site online. We asked him about what is there now and what he has planned for it in the year ahead?
"I trashed the old site which was built on a platform was old and I was unfamiliar with, transitioning the site to Wordpress, which is very easy to use," John noted. "While I do love Wordpress, Iím not sure how it will work for a geo domain, but I chose it to control cost and installed a Wordpress plugin for a business directory. I then obtained a CSV file of all of the businesses located in North Dakota and stuffed that data into the database immediately creating over 100,000 listings which creates 100,000 pages of the site. Search engines will index these pages and the site can then receive search engine traffic for these listings and will likely lead to increased interest in adding additional listings which can be purchased and upgraded. As far as the future, Iím not completely sold on the logo, or the theme/design, so those may change as time allows and I may look to implementing features and functions for both real estate and travel which is appropriate for a geo domain."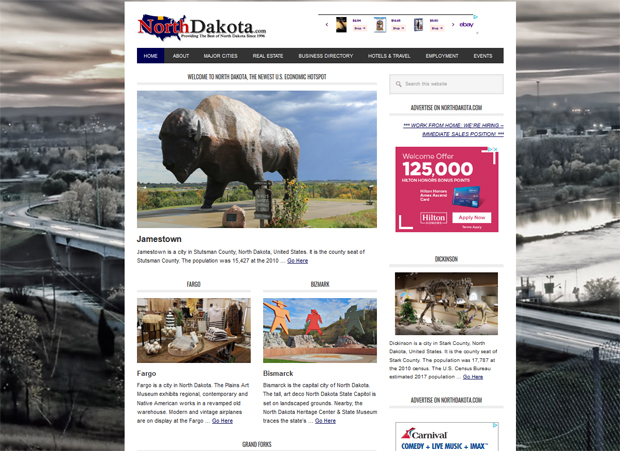 Screenshot from the new NorthDakota.com
Regarding the distance between his location and the subject of the site, we had to ask how difficult is it developing a geo site that is not in one's immediate locale compared to doing it with something closer to home as LongIsland.com was for him?
"I anticipate it will be much more difficult as I will not have the same familiarity with the area and will lead to more of a learning curve in developing its content and core purpose," Colascione allowed. "Iíll have to see how it goes for now but I would like to find a local person to act as a single sales person for the entire site much like LongIsland.com had in the beginning, and they can then reach out to local business owners to find a happy medium between cost and ROI for advertising on the site which is will be very inexpensive as the site needs to grow and mature with time."
Adding to the challenge is the fact that Colascione also has other businesses to run. "

For the most part what I do is consult clients on the development, improvement, maintenance and marketing of their sites for a retainer fee through my consultancy company, Searchen Networks. However, I also develop internet properties for myself and for clients to increase and boost lead generation and/or to earn revenue which generates growth and income to the business so that it makes sense for them to pay for my consulting services and development time."

"When I work on a project it is either as a consultant for a client or a project of my own; itís quite ambiguous and thatís the way I like it. All projects are designed to generate revenue so that I can maintain the

John Colascione (right) with Go Daddy
Founder Bob Parsons at the 2011 Wild West
Domains Reseller Conference in Arizona

servers, marketing programs, computer programming talent, and revenue to make a living while creating spin-off businesses and endeavors which I sometimes sell off to someone else. Iíve gone through three or four acquisitions and mergers over the years to keep afloat. In a nutshell, I help guide businesses with their SEO, sponsored search positioning, server management, outsourcing of their web team (to save money rather than having an employee) and build web businesses which are profitable. Most everything I do is geared towards website monetization and search engine positioning."

That may seem like a lot of balls to juggle at one time but Colascione has been doing it for almost two decades now - so if anyone can successfully pull off this unusual coupling of a New Yorker and North Dakota - John is probably just the guy to pull that rabbit out of his hat.