Radix has released a new report (.pdf file) detailing premium domain sales results in the first half of 2019 for the nine gTLDs the company administers (.store, .tech, .space, .site, .store, .website, .fun, .press and .host). Radix reported $1.36 million in total premium sales over the six-month period, a figure that is on par with how those TLDs performed in the previous period (H2-2018).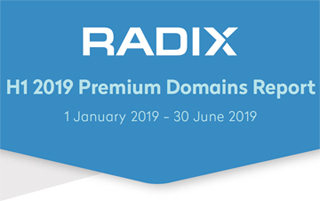 The report cited .online, .tech and .site as their highest grossing TLDs with new premium registrations accounting for approximately 40% of total premium sales revenue. More than 80 of those sales were made at $2,500 or more Most of those premium level registrations were sold through Radix's registrar partners with industry giant GoDaddy accounting for 46% of the premium Radix sales. Radix also reported a renewal rate of 78% for premium domains registered in or before 2018.
The company's highest one time sale in this period was Gaming.tech at $20,000 via Sedo. Their full report (linked at the top of this post) has an in depth breakdown of their H1-2019 results that will give you a more granular look at how their individual TLDs performed.