A pair of notable domain industry meetings on opposite sides of the world were completed over the weekend. In one, T.R.A.F.F.I.C. Co-Founder Rick Schwartz returned to the meetup game five years after T.R.A.F.F.I.C. wrapped up its historic decade-long run in 2014. Rick's new event, the 1st annual Asheville Profesional Domain Investor's Meetup, held at the Omni Grove Park Inn in scenic Asheville, North Carolina, was a much different kind of gathering than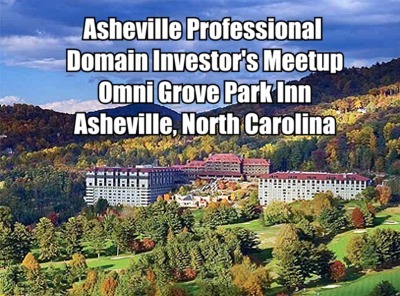 T.R.A.F.F.I.C. It was more intimate by design so the 80 guests who flew in from around the world could spend more face-to-face quality time with other industry pros.
Instead of the usual highly structured conference agenda it followed a more free form pattern that let people do business and socialize at the same time in a variety of laid back settings around Asheville, a city that has become one of America's hottest vacation destinations. I regrettably was unable to attend this first event myself but enjoyed seeing Morgan Linton's series of videos that provided some great insight into how things went. Alvin Brown from TheDomains.com was also there and he posted a nice review of the meeting today. TheDomains Founder Michael Berkens (who, like Schwartz, has a summer home in Asheville) played a major role in helping fellow industry legend Schwartz pull the meeting together. All of the photos and comments I saw posted by others on Facebook, Instagram, blogs, etc. also gave the meetup very good reviews so it looks like Rick has another winner on his hands (no surprise there, of course)!
While the Asheville meeting was going on, domain investors from across India and beyond were in New Delhi for the 6th annual DomainX conference at the Eros Hotel. As it has in the past, DomainX again garnered good reviews posted by its attendees on social media outlets. Speaker Harmandeep Singh from the Delhi School of Digital Marketing (at right in the photo below) posted several nice shots from the show on Facebook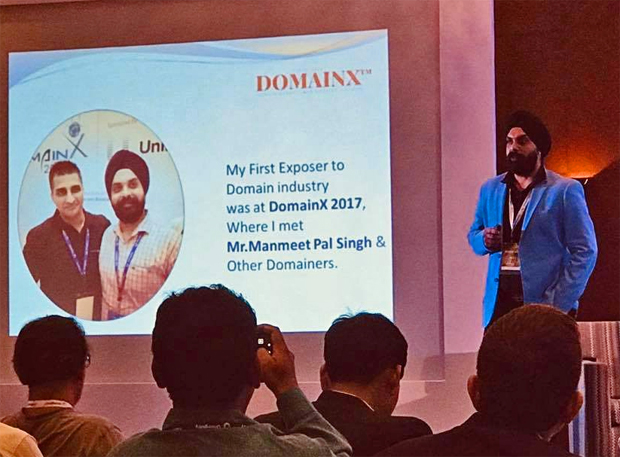 Even if you missed those meetings over the weekend you can still get some invaluable advice from one of the top domain investors of all time online. In another excellent edition of Australia's Domainer Show, Castello Cities Internet Network Co-Founder Michael Castello was interviewed in an hour-long podcast you really won't want to miss.

Michael, who was there at the very start of the domain investing business in the mid 1990s, covered a tremendous amount of ground in his discussion with Co-hosts Rob Kaay and Ed Keay-Smith. In addition to the inside stories about his sales of Whisky.com ($3.1 million) and Room.com ($1.5 million), Michael explained why he picked the domains he did at a time when virtually everything was available. He also detailed why he believes domain are more important to an enterprise's success now than they've ever been before. He provides his unique insight into many more topics that make this one of the best programs you will hear all year, so be sure to check it out.