The Public Interest Registry (PIR), the administrator of the popular .ORG TLD, will be hosting a pair of special events on Thursday, October 10, 2019 in Washington D.C. The first one will be the inaugural .ORG Community Forum, a free event that will run from 9am-4pm at Hilton's Madison Hotel (it even comes with a free lunch for those who register for one of the limited number of seats)!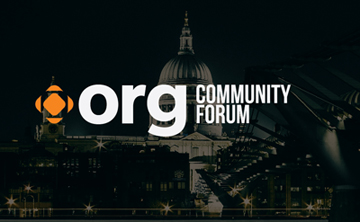 The Community Forum will allow attendees to share ideas, knowledge, and causes on the internet. It will also provide an opportunity to collaboratively explore common areas of interest and find ways to navigate through any challenges facing their .ORG websites today. The program will include four sessions in the Dolly Madison Ballroom (running 30-60 minutes each) that will cover: Website vs. Social Media, Leveraging Video on Social Media, Brand Reputation for Online Brands and Defending Against Disinformation Campaigns. Featured speakers will include Event Host Chris Baldwin (10x Digital), Julia Campbell (J Campbell Social Marketing), Roberto Blake (Create Awesome Media, LLC), Statton Hammock (MarkMonitor) and Brian Wanko (InterAction.org).
PIR will maximize audience engagement with plenty of interactive Q&A sessions and networking opportunities. If you attend you can expect to take away inspiring ideas and insights to improve the strategy, operation, and execution of your .ORG community work. The event is open to anyone who wants to make a positive impact within their their local community, on a global scale or anything in between.
The second special event on October 10 is the invitation-only .ORG Impact Awards Ceremony that will be held that evening at the Watergate Hotel in Washington, D.C., just a few blocks away from The Madison Hotel that is hosting the free daytime Community Forum.
We first told you about the new .ORG Impact Awards program when nominations were opened in June. It is designed to recognize .ORG domain name owners who are using the Internet to empower change around the world. Winning individuals and organizations will receive up to $5,000 in a monetary contribution to the nonprofit of their choice. Nominations closed on July 12, so now the community is just eagerly awaiting the Awards Ceremony to find out who won.
A hat tip to our friend, veteran event producer Jodi Chamberlain from 32 Events.com, for the information. Jodi is helping PIR with the staging of these two special events in the Nation's Capital that will be a highlight of the year for the .ORG community.