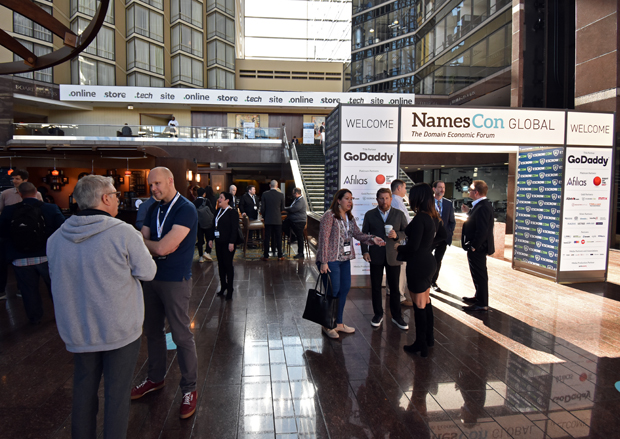 Above: Attendees at the NamesCon Global 2020 entryway, inside the massive lobby of the Omni Hotel in downtown Austin, Texas, waiting for the big show to open Wednesday morning (January 29).
Below: A view of the crowd as the opening session welcoming attendees to Austin gets underway.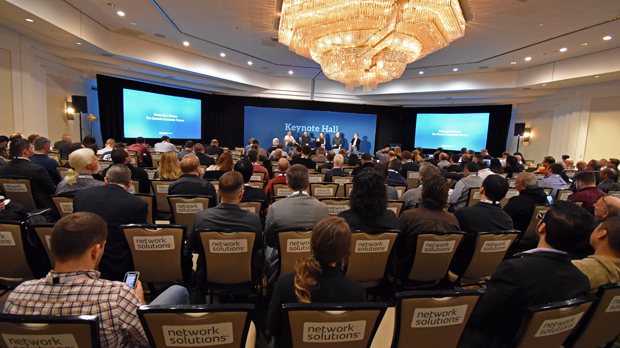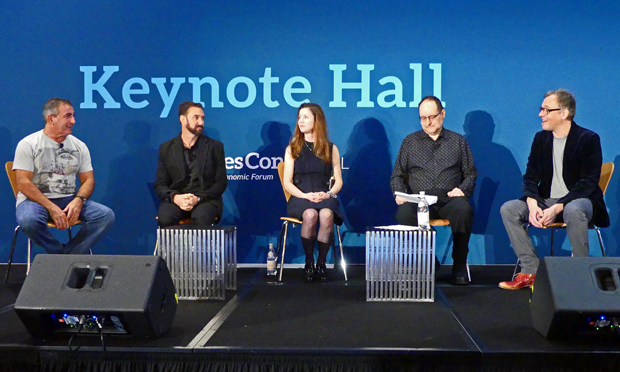 Above: The conference began with NamesCon Global President and CEO Soeren von Varchmin (far right) introducing the moderators who would conduct the dozens of business sessions held thoughout the week. Starting at far left, they are Monte Cahn (President of RightOfTheDot.com, the company that will team with GoDaddy to run the live domain auction that closes the day Thursday (January 30), Braden Pollock, Christa Taylor and Bill Sweetman.
Below: In the first business session of the day, ParkLogic.com Founder Michael Gilmour delivered an excellent keynote speech on Domain Insights and Trends Reporting. This was the first of 16 business sessions spread across two stages Wednesday (with both Pro and Newcomer tracks) along with additional special events held in the Afilias Lounge. We will have photos from all of them in our complete conference review that will be posted early next week.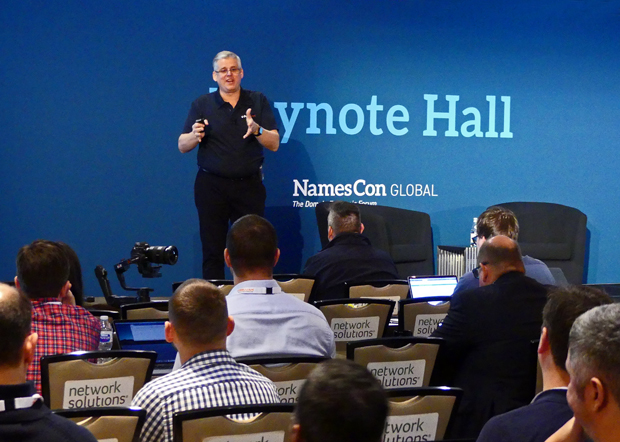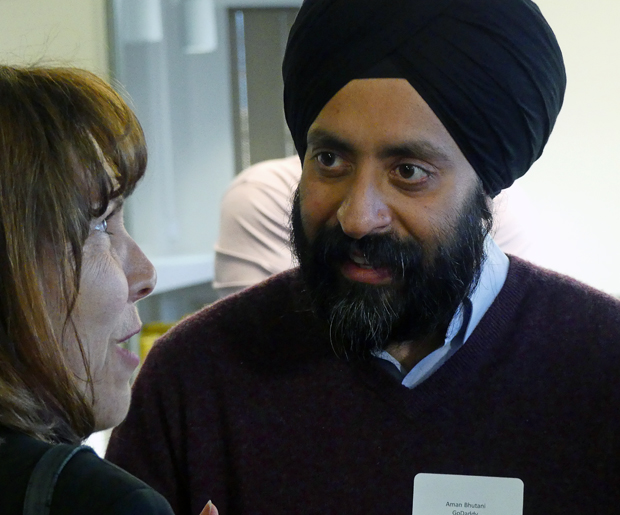 Above: After the business day closed at the Omni, GoDaddy welcomed over a hundred guests to a happy hour at their 12th floor offices in a building just a couple of blocks from the show hotel. The special occasion was organized to introduce attendees to GoDaddy's new CEO Aman Bhutani who took over the reins of the domain industry powerhouse in September after a very successful career running travel giant Expedia. I took a lot of photos at the event but this one really encapsulated how Aman struck me. He took time to personally chat with everyone who wanted to me him and listened intently to everything they had to say. He is a very friendly, well grounded man who already loves this industry and is excited about helping it, as well as GoDaddy, soar to new heights. I was very impressed.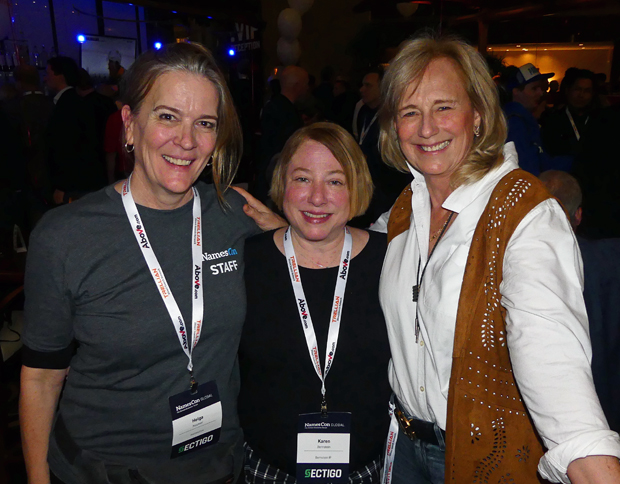 Above & below: A picture perfect first day closed with the opening night reception back at the Omni, sponsored by .VIP and MMX. The three-hour event ran from 5-8pm, giving attendees what most say is the main reason they go to conferences - networking in a casual environment where you can make new friends and catch up with old ones. Left to right above are NamesCon's Head of Operations Helga Neumer, attorney Karen Bernstein and Ilze Kaulins-Plaskacz (ExcellentDomains.ca). Below, holding down the fort at the bar are (L to R) are Tobin Pociask, Bradley Arthur, Gregg McNair and Kevin Kopas.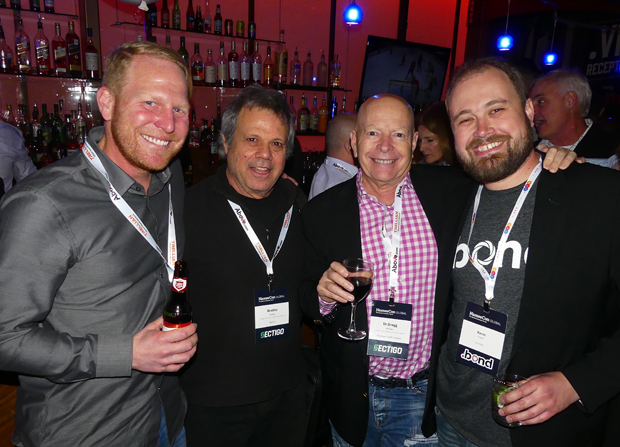 Below: There is a story behind this photo, that was taken shortly after a lot of tears were flowing. Barbara Neu (right) lost her mother Millie early last year. Over the years Millie made friends with hundreds of people in the domain business, including Ilze Kaulins-Plaskacz (at left) who was an especially close one. At the opening night reception, Barbara brought Ilze a double strand of Millie's pearls (that immediately went around Ilze's neck) as a gift to remember her mother and the bond she and Ilze had. It was a very emotional and heart warming scene to witness.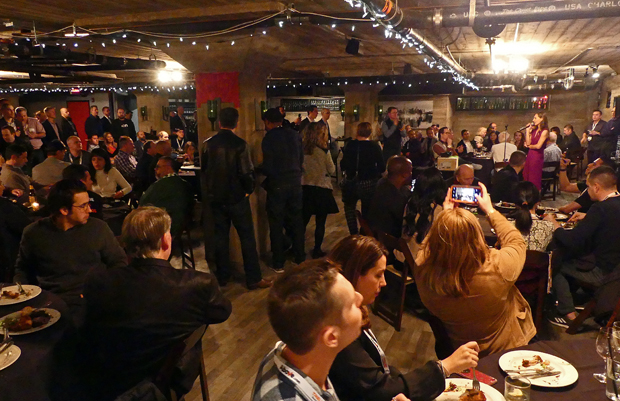 Above: In a grand finale to Wednesday night, the Internet Commerce Association (ICA), the non-profit organization that works to protect domain registrant's rights, held their annual dinner at Max's Wine Dive with a sell-out crowd on hand for the event (another sign of the remarkable strides the rapidly growing organization has made over the past couple of years).
Below: A highlight of the dinner was a presentation of the ICA's 4th Annual Lonnie Borck Memorial Award, made by (L to R): ICA General Counsel Zak Muscovitch, Executive Director Kamila Sekewicz and Board Member Nat Cohen. The award was created in honor the widely known and universally loved domain investor that we lost way too soon in 2016. In its first three years, the accolade recognized outstanding work in protecting the rights of domain name registrants. However, this year, in keeping with Lonnie's generous spirit, The ICA decided to broaden the scope of the award to honor those whose contributions have fostered a sense of community within the domain name industry and members selected nine outstanding nominees.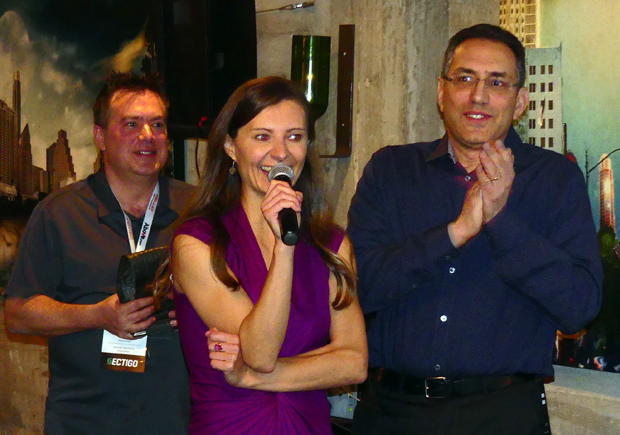 Below: I was was waiting to take photos of the winner when I was shocked to hear Nat Cohen call my name. I felt there were several other nominees more deserving of the award but was deeply moved and appreciative to receive it from the peers (ICA members) that I respect so much. Nat was so generous in his comments in introducing me, I was pretty sure he was talking about someone else! Most of all, thank you to Lonnie, one of he most caring and inspiring individuals I've ever met, not just in this industry, but in life. Receiving an award with his name on it and that of the ICA, means the world to me.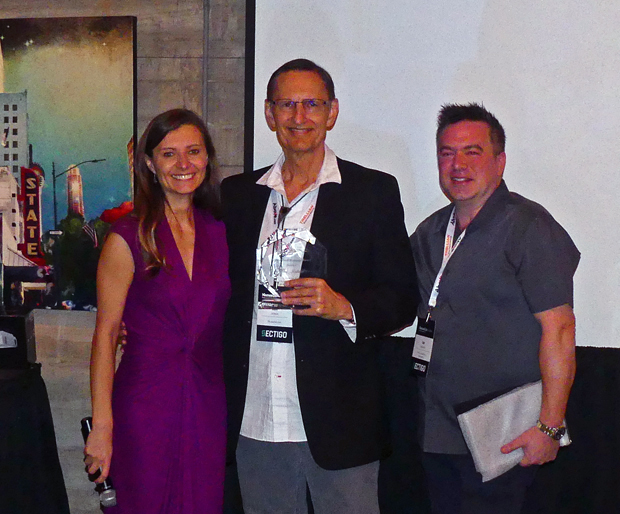 Kamila Sekiewicz, Ron Jackson (DNJournal.com) and Zak Musovitch.
Now it's on to day two Thursday. I'll let you know how it went in my next post Friday morning!
(Posted January 30, 2020)