clock for three days? Fortunately, NamesCon Online provided a solution to the problem by making replays of every conference session available online to registrants through the end of this month. That allowed me to report the events that happened in our U.S. time zones at the end of each day, then spend last week watching the 18 sessions on the South Asia Track that ran live during what were the wee hours of the morning in the U.S. Sept. 10 and 11.
I also caught up with three sessions on the Europe Track from Sept. 10 that I will be telling you about in my next Lowdown post. All told that was about 20 hours worth of excellent content to enjoy after the live show ended. I found all of to be well worth viewing as it brought me up to date on what is happening in other rapidly growing regions around the world. I can also now fill you in on who spoke on the busy track (that highlighted the booming domain industry in India), and the topics that region's leading experts covered.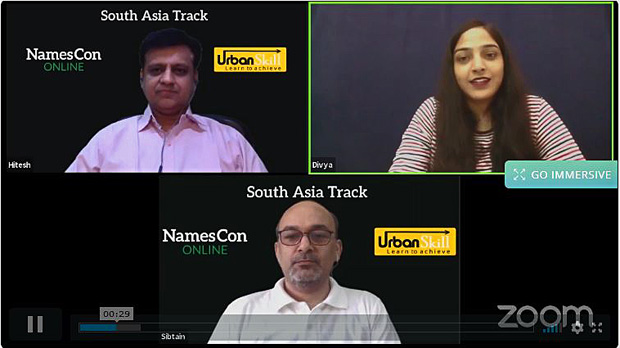 Since this was the first NamesCon event held entirely online, the first order of a business on the South Asia track was an introductory walk-through session on How to Get the Most Out of NamesCon Online on the Virtual Venue! It featured, clockwise from top left above, Hitesh Wadhwa (Domainofy.com), Divya Shukla (Community Manager, Urban Skill) and Sibtain Zaheer. Hitesh, Divya and Sibtain would go on to serve as moderators or interviewers in the sessions that followed over the next two days.
The first business session (below) featured a Welcome Address from a guy many call the "Father of the Indian Domain Industry," Deepak Daftari. Deepak is well-known outside of India as well. Universally recognized as one of the most successful investor/developers in the business, Deepak has been a frequent speaker and attendee at major domain conferences in the U.S. and other industry hot spots around the world for more than a decade.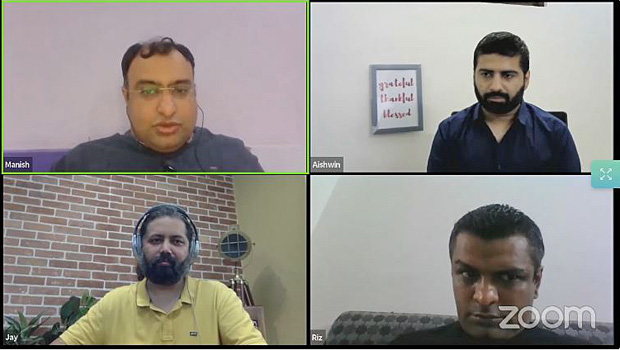 The first panel discussion focused on Growing Domain Aftermarket Industry in South Asia. When it got underway, the time in the U.S. was 1:35AM, so you can see why watching live wasn't the best option in for those of us on this side of the globe. However, thanks to the replays, we were still able see and hear some great ideas and information provided by (clockwise from top left above) Manish Lunja(BrandPros.com), Aishwin Vikhona (Global Websoft), Riz Memon (Empire Names) and Jay Paudyal (DomainKhan.com), who also did double duty as a featured moderator throughout the show.

Next up, Vinesh Bhaskarla (Sculpt Digital), seen below, provided a Workshop on Finding Good Domains

. Vinesh is known as a classic high volume domain flipper. He has sold many names within 2-3 days of acquiring them. In addition to providing tips on finding and selling names quickly, he discussed his strategy for finding buyers for them.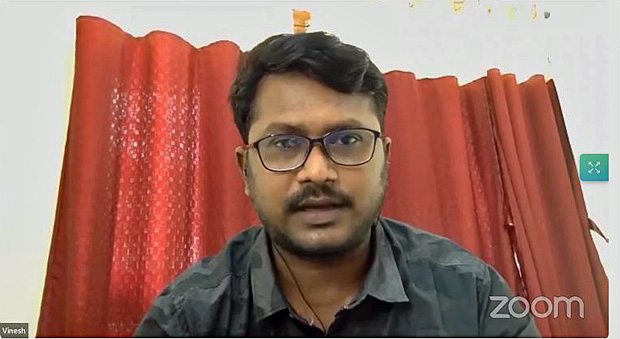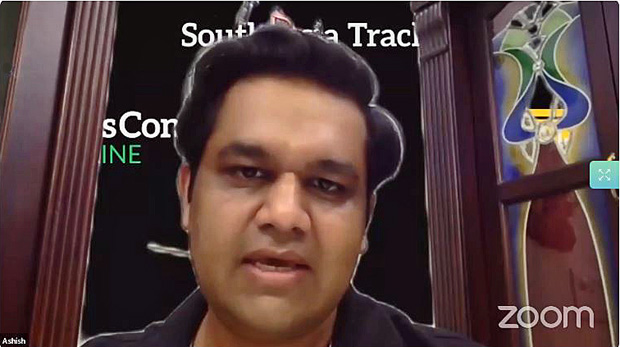 The next session featured a Fireside Chat with Ashish Tulsian (CEO, POSist Technoligies Pvt Ltd), above. Jay Paudyal interviewed Ashish who is one of India's top entrepreneurs and the man behind the creation of POSist– a leading online POS and Restaurant Management software product. He offered insight into what brands and businesses look for in a domain name, include how his own companies decide on the names and TLDs, including ccTLDs and new GTLDs, they believe will boost their businesses.
Below, the topic turned to Domain Names as Digit Assets in a panel discussion that featured, clockwise from top left below, technology guru, entrepreneur and angel Investo Abhishek Rungta (INT), Arun Bansal (Founder of ServerGuy Inc. & Breeze.io) and Jay Paudyal. They delved into the kinds of words, terms and domains that generate enough value to merit being classified as true digital assets.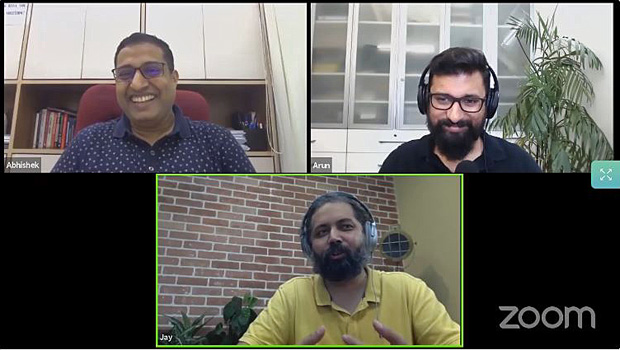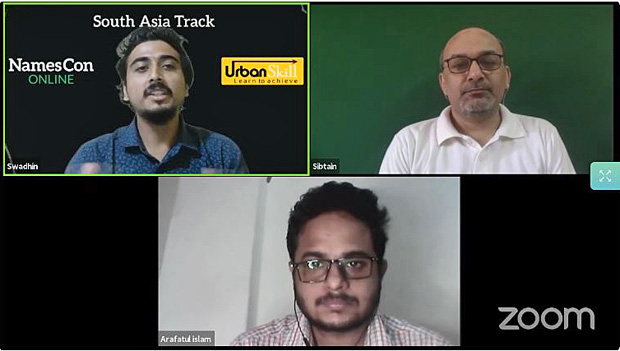 There are lots of different places to list domains for sale on the web and - in a special breakout session on Listing Domain Names - the panelists above discussed how the various options stack up against one another. This half-hour featured, clockwise from top left, Khan Mohammad Nakib, moderator Sibtain Zaheer and Arafatul Islam Akib. Khan and Arafatul are prominent domainers from Bangladesh who started domaining as their part-time career and went on to build one of their country's largest domaining communities, DAB.
The panel discussion that followed shared Inspiring Stories of Young Domainers - Domaining in Your Early Twenties. Industry veteran Deepak Daftari (at top left below) who has mentored many of the region's young people that have found success in domaining, moderated the session. The group of rapidly rising investors included, clockwise after Deepak, Jai Gupta, Aman Tibrewal (BrandSilk.com), Avjit Roy (ViableNames), and Mukesh Kumar (WebDudeIndia.com). They talked about the challenges they faced as domain "newbies" and the things they learned that helped them get established.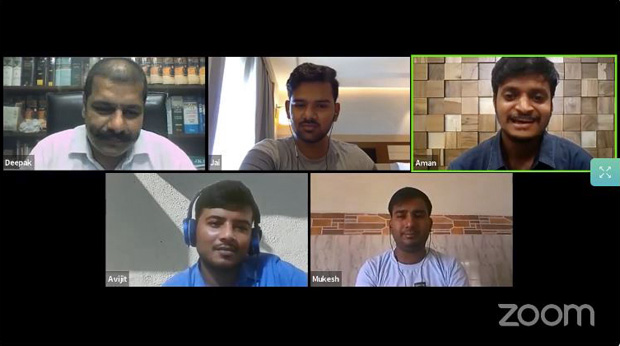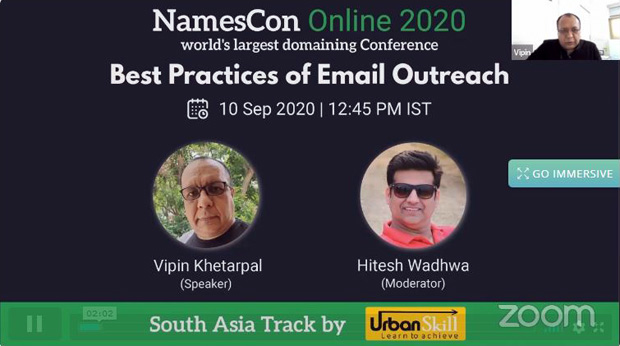 In another breakout session that ran concurrently with the Young Domainers discussion, Vipin Khetarpal (Founder/CEO, Datameter Technologies Pvt Ltd), talked with moderator Hitesh Wadhwa about Best Practices of Email Outreach. Vipin has over 20 years of experience in domain services, brand building, web hosting and email solutions and is a solution consultant to many companies in India. Vipin currently heads Datameter Technologies, which provide managed cloud hosting, Email servers and helps in solving complex problems relating to web and email services.
As they headed down the home stretch on the first day of the South Asia track, Abhishek Talwar (Founder of Delvelogic), at left below, got together with Jay Paudyal (Founder of Urban Skill) for a Domaining Rap. In addition to talking about domains, Abhishek and Jay sang about them in a cool rap that combined both English and Hindi languages!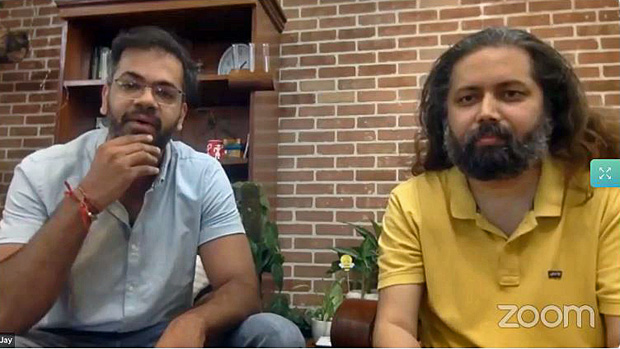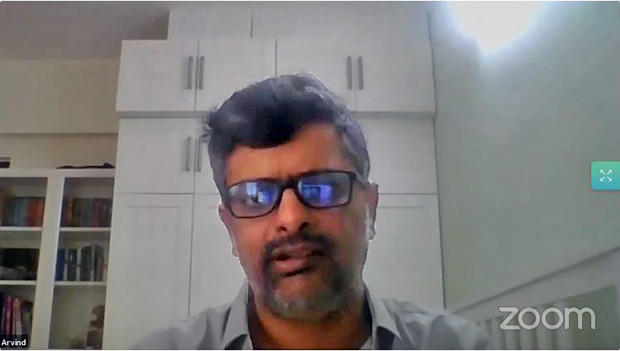 Newcomers to the domain world often have no idea where to start, so industry veteran Arvind Reddy (100DollarDomains.com), above, was featured in session that addressed that - How to Begin Your Domaining Journey. Arvind provided advice on everything from market research to finding good names, selecting a niche and choosing the right business structure for your online presence. Divya Shukla, the coordinator & curator of a popular Webinar course on domaining at Urban Skill, and a relative newcomer to the space herself, joined Arvind for this informative talk.
At the same time, a special breakout session conducted in the Hindi language covered the same ground - How to Start a Domain Name Business. It was presented by Hitesh Wadwha and Praneet Thakur, founder of an SEO Agency named ShoutRank where he also shares valuable information on his blog. Praneet also co-founded a popular expired domain analysis tool called CheckDuck. These two sessions for newcomers closed a busy opening day on the South Asia track, with seven more sessions left to go on closing day (September 11).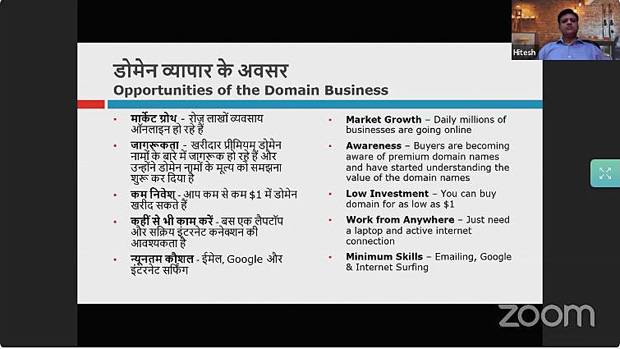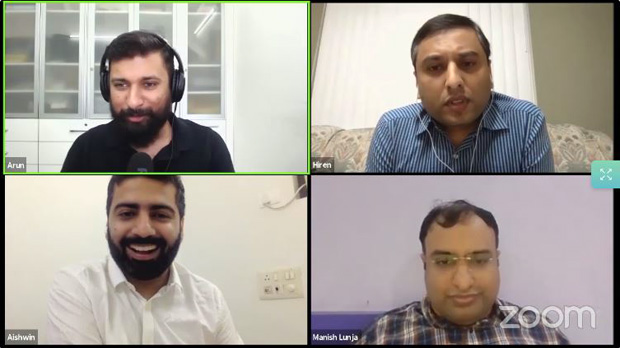 Things on the NamesCon Online South Asia Track got started Friday, September 11 with a Welcome session hosted by Urban Skill Founder Jay Paudyal. It was followed by the panel discussion above on the Art of Buying Five-Figure Premium Domains. It featured, clockwise from top left, Arun Bansal (ServerGuy.com) Hiren Patel (QualityNames.com), Manish Lunja (BrandPros.com) and Aishwin Vikhona (Global Websoft). All of these gentlemen have posted high dollar sales, just one example being Hiren's recent $180,000 sale of ElectricCar.com.
At the same time a breakout session (shown below) dug into Domain Name Disputes and Digital Rights. It featured legal experts Rodney Ryder (Founding Partner, Scriboard), at left and attorney Ankur Raheja (Cylaw Solutions) at right, with moderator Sibtain Zaheer in the row below them. Anyone entering the domain industry needs to understand the respective rights of domain owners and trademark holders to avoid potentially expensive legal issues. Rodney and Ankur are both world renowned experts in the domain and IP field.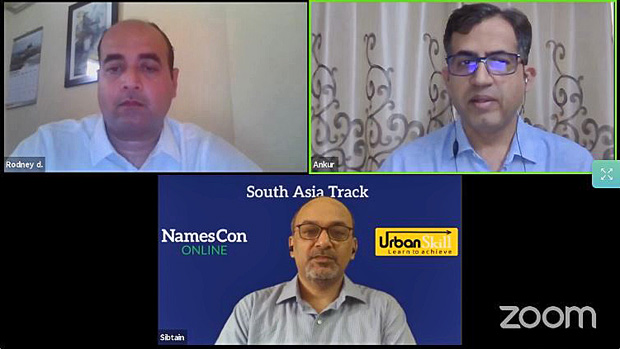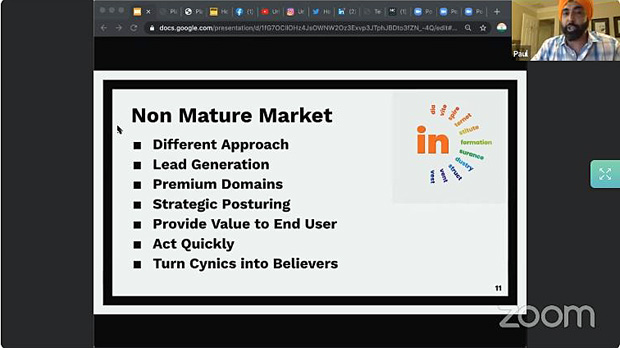 Another pair of sessions that rain concurrently covered How to Sell Domain Names, with one presented in English and the other in Hindi. In the English session, Paul Singh (Platform.in), inset above, delivered an excellent presentation on the subject, covering all of the bases including issues unique to India's rapidly growing market.
The Hindi language session on the same topic, below, featured (clockwise from top left) Divya Shukla (Urban Skill), Rohit Goyal (Domain Mojito) and Hitesh Wadwha (Domainofy.com)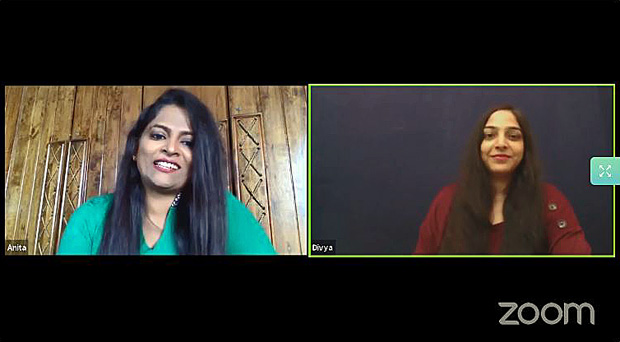 When DNJournal.com started 17 years ago there were very few women in the domain business but things have improved dramatically for the better on that front in both mature markets like the U.S. and growing markets like those in South Asia. Experiences and opportunities for Women in Domaining was discussed in the session above by Anita Walker (SmartWebby.com), at left, and Divya Shukla (Urban Skill).
In the next session the topic turned to Best Practices for LinkedIn Outreach. That was covered by Hitesh Wadwha, at left, and Riz Memon (Empire Names). Hitesh and Riz have found that, among all the social media options, LinkedIn can be especially effective in connecting with potential customers. They offered tips on how to craft outreach messages that can trigger domain sale conversations.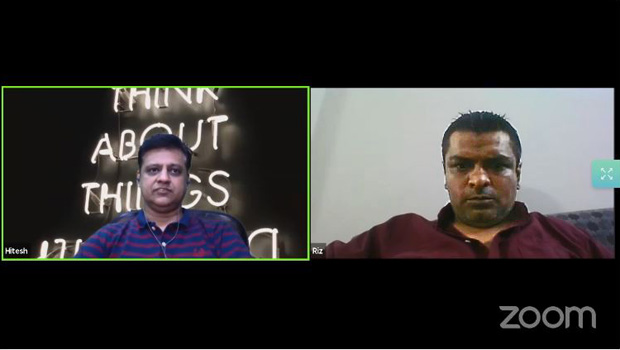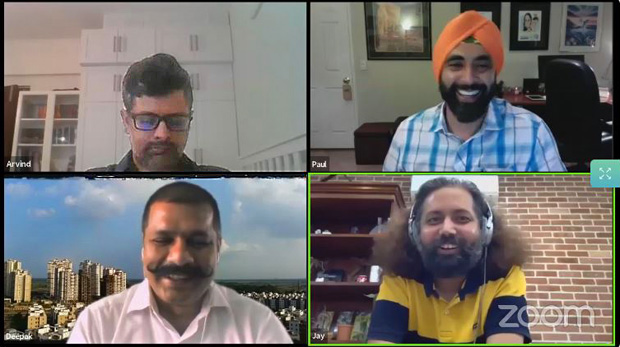 After two days of non-stop action on the South Asia Track at NamesCon Online, it was time to bring down the curtain with one final panel discussion. For this one, a topic that never goes out of style was chosen - Domain Appraisal: What's My Domain Worth? It featured four of the show's most active and experienced experts, clockwise from top left, Arvind Reddy, Paul Singh, moderator Jay Paudyal and Deepak Daftari. The audience was able to get into the act too by submitting names of their own for appraisal.
After this popular session, Jay Paudyal delivered the closing remarks and thanked all who attended the South Asia Track sessions - a true conference within a conference that played a huge role in making the first ever NamesCon Online a home run. As for us, we have one more NamesCon Online base to touch - the Europe track - that I will detail in my next post.