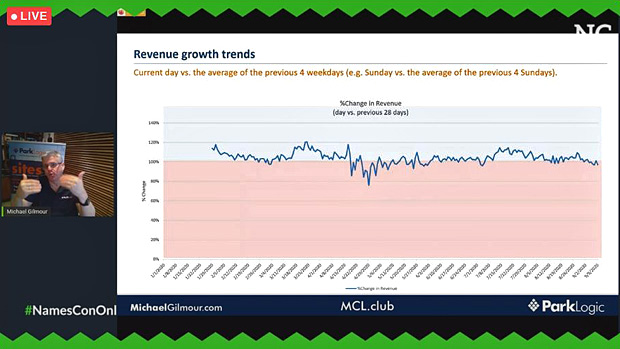 The first two Keynote Hall sessions of the day Friday focused on domain monetization. Above, ParkLogic.com Founder Michael Gilmour kicked things off with an interesting data-rich presentation detailing The State of the Industry: Monetization.
Below, Michael returned for a timely panel discussion on How to Maximize Your Parking Revenue During the Crisis. That session featured, clockwise from top left, Moderator Bill Sweetman, Michael Gilmour, Above.com CEO David Warmuz and Bodis.com Founder Matt Wegryzn. The encouraging upshot from these sessions was that the monetization business, like most other corners of the industry, is booming as the pandemic has pushed millions of consumers and companies to go online so they can safely get things done.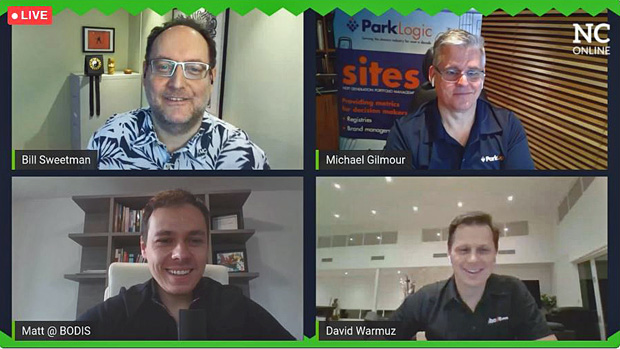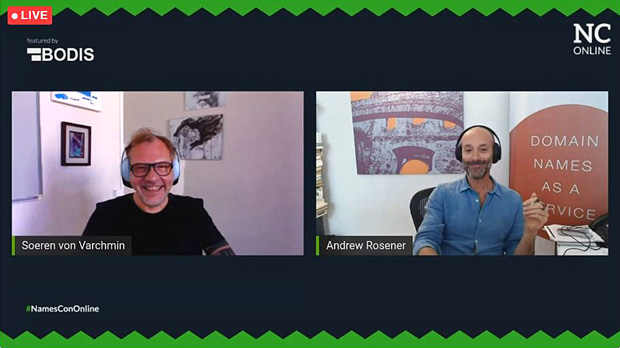 Speaking of business, the legalization of both both medicinal and recreational use marijuana in so many jurisdictions has created a booming new industry based on cannabis. Above, Soeren von Varchmin (left) interviewed MediaOptions.com CEO Andrew Rosener about that development in The 4:20 Session. Andrew has accumulated one of the world's best .com cannabis related portfolios over the past decade. Early on he was convinced legalization was coming and he put his money on that happening before everyone else got on the bandwagon. It's a bet that now has him positioned to collect extraordinary rewards.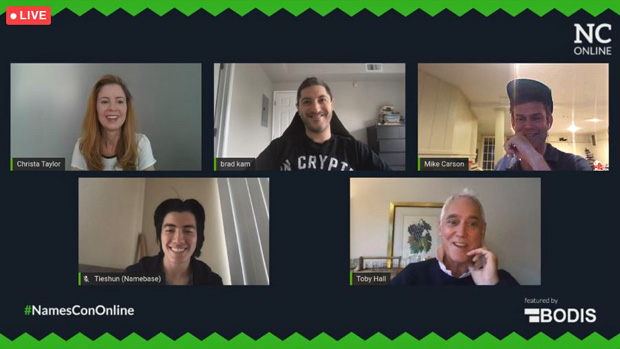 In the next session the topic turned to Blockchain Domains: The State of Play. An expert panel featuring, clockwise from top left, Moderator Christa Taylor (CMO, MMX), Brad Kam (Unstoppable Domains), Mike Carson (Park.io), Toby Hall (CEO, MMX) and Tieshun Roquerre (NameBase) discussed the future of naming—and domaining—on an internet forever changed by blockchain and peer-to-peer.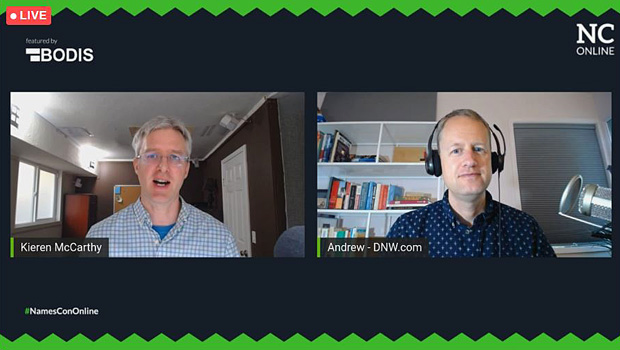 Next up, Andrew Allemann (DomainNameWire.com) interviewed author Kieren McCarthy (at left), who literally wrote the book on the unbelievable battle for Sex.com (a domain that sold for $13 million, currently the 2nd highest price ever publicly reported for a domain name). Their session, Someone's Getting Screwed: The War for SEX.COM, was fascinating as Kieren recounted details of a story that, had it been fiction, people would have dismissed as too crazy to be believable. But it all happened - and even though I thought I knew most of this story, I realized I didn't, so I am getting the book - Sex.com: One Domain, Two Men, Twelve Years and the Brutal Battle for the Jewel in the Internet's Crown. Great presentation Kieren and Andrew!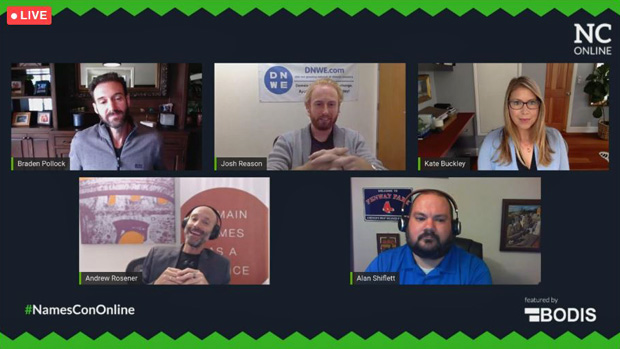 With the final day of NamesCon Online winding down, the next to last session covered a topic that never gets old - What's my Domain Worth? To tell you everything you ever wanted to know about valuing domains, the panel brought together, clockwise from top left, Moderator Braden Pollock (LegalBrandMarketing.com), Josh Reason (DNWE.com), Kate Buckley (Buckley Media), Alan Shiflett (GoDaddy) and Andrew Rosener (MediaOptions.com). The experts, with many millions of dollars in sales between them. discussed how they use their experience, intuition, and the latest diagnostic tools to settle on an individual domain's approximate value. This is one of the many sessions you may want to replay (a function NamesCon Online is making available for all show sessions through the end of September.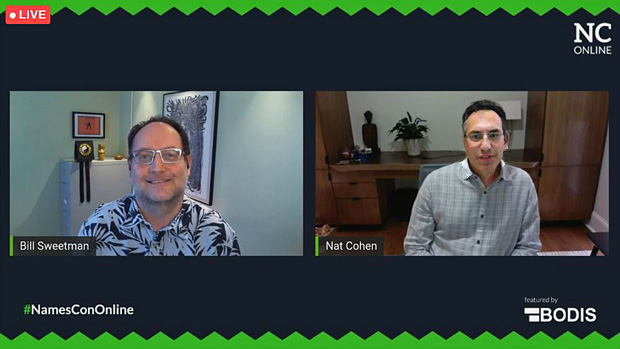 The final Keynote Hall session of NamesCon Online could be seen as a prime example of saving the best for last. Moderator Bill Sweetman interviewed Telepathy Founder Nat Cohen (at right above) who holds a domain portfolio that is universally recognized as one of the best in the world (if not the best). When you hold valuable assets, there are always people who covet them and Nat has been no exception. Over the years, unscrupulous parties have attempted to use (or I should say abuse) the UDRP process to take very valuable domains from Telepathy, without paying for them. Nat, one of the nicest and most humble guys you will meet in any industry, has spent a lot of money fighting for what is rightfully his (and almost always winning), but several years ago he tired of the endless battles and became one of the industry's most vigorous defenders of domain owner rights (his service on the board of the Internet Commerce Association is one way Nat is taking the fight to would be reverse domain hijackers). In this session, Bill did a great job getting the back story on The Reluctant Activist in A Fireside Chat With Nat Cohen. Put this one on your replay list too!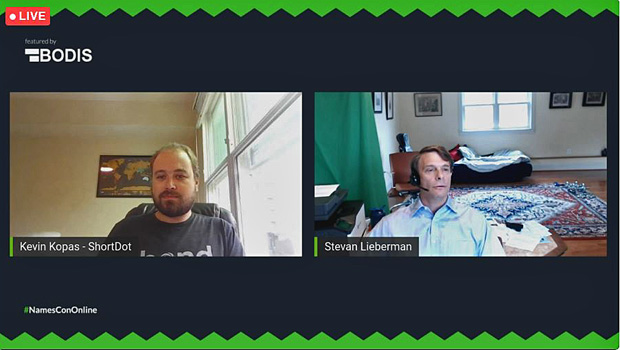 At the same time all of those great sessions were going on the Keynote Hall, seven more live sessions were unfolding in the Breakout Hall. I will be using the replay system to see most of those over the next few days, but I was able to pop into a couple of them as they unfolded live today. In the opening session above Kevin Kopas (Co- Founder, ShortDot) talked with attorney Stevan Lieberman (top right)about Trademarking a Dot and What That Means for Domainers.
In a later panel discussion (below), the topic was Bulk Domain Search for Investors, Developers, Resellers, and End Users. It featured, clockwise from top left) Bennett Collen (GoDaddy), Todd Han (Founder, Dynadot), Morgan Linton (Bold Metrics) and Alvin Brown (KickstartCommerce.com).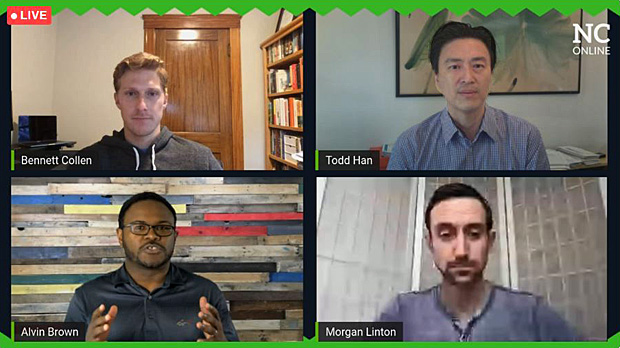 Earlier in the day, Alvin had a timely solo presentation on Guarding Your Domain Portfolio Against Economic Downturn. In other Breakout Hall sessions (all of which can be replayed until the end of September), Jason Sheppard (Eagle Nebula Media) covered Buying and Selling on Aftermarkets, Drew Walsh told his audience how to Develop a Lead Business On The RIGHT Domain, Bill Hartzer (Hartzer Consulting) had The Latest SEO and Domain Name Research, and Alan August (Domain Banana) delivered a talk titled United We Brand to let people know about Branders Union, an association of brandable domain name investors who collaborate and advocate for their collective interests in the domain industry.
...and that's not all! Things were just as busy on the South Asia Track, but for those of us in the U.S., those sessions ran overnight as NamesCon Online continued to rock around the clock! That's why I love the ability to replay sessions I couldn't get to live. Some of the world's most active domain investors are in India and other parts of the region that represents one of fastest growing domain communities on earth. So, I am looking forward to taking in what the experts from South Asia had to say so I can put together a report devoted to that track that will be published one day next week here in the DNJournal Lowdown section).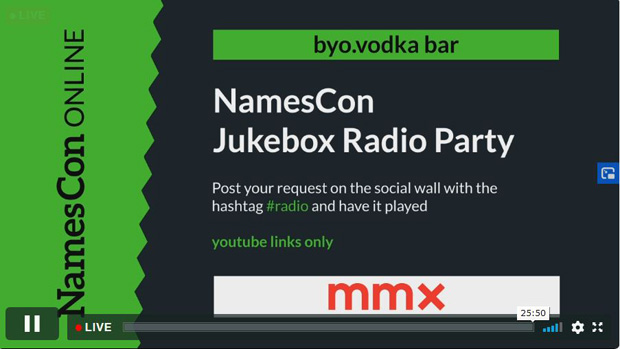 As you all know, NamesCon is not all business - there is always time for some fun too...and that is how the conference officially closed today. After the last business sessions there was a BYO.Vodka Bar Jukebox Radio Party (the screen shot above is just a graphic, so no need to try playing it - no matter how much vodka you drank, it won't work)! This event essentially turned the NamesCon site into a private radio station programmed by attendees. With a chat window open adjacent to the Play button, you could enter YouTube links to your favorite songs and they would be added to the play list. While listening to the music people could share their thoughts on how the show went in the chat. A lot of people also headed over to the Networking Lounge to chat face to face via their webcams. Though the show is now over, NamesCon is leaving the Networking Lounge open Saturday (Sept. 12), so you may want to pop in and see who's there!
Above: Just before the Jukebox Party got underway, NamesCon CRO Timo Kargus (top right) joined Moderators Bill Sweetman and Christa Taylor to thank everyone for coming to NamesCon Online.
There was another great moderator that I saw for the first time this week, Peter Schwinge. I didn't catch a screenshot of Peter but I know many shared my appreciation for his skills - he is as smooth as any personality you will see on national TV networks. Also deserving credit for how good NamesCon Online looked on your screens are the people behind the scenes at StreamYard and ProductionPool, as well as the final platform their work was displayed on, Hubilo.
I usually close these final day conference wrap ups with a thank you to the show organizers and their team, but I did that at the top this time because what they did with NamesCon Online deserves top billing. In a time when we can't get together face to face, NamesCon put together a fabulous online alternative to fill the gap for all of us. How they did this for a $59 registration fee (and free to those who have never been to a NamesCon event before) is beyond me, but I sure am glad they did it and it was a wonderful gift to the domain community.
They may have done their job too well though! There are already people calling for NamesCon Online to be an annual event. I am certainly looking forward to seeing everyone in person again, but the way this industry is growing, in the midst of one of the century's most challenging times, it looks like there would be plenty of room for both - just saying. After all, who doesn't want to have their cake and eat it too?!