The Europe Track featured three special sessions. There wasn't a need for more because the time difference between Europe and the USA isn't as pronounced as it is between the US and South Asia. As a result, many of the leading European experts played key roles in the Keynote and Breakout Hall sessions we covered while the show was running. One example was the State of the Industry: Aftermarket session (in the photo below) that GGRG.com's Giuseppe Graziano (top left) participated in from his home base in Lisbon, Portugal while I (top right) and moderator Christa Taylor joined the discussion from our homes in the U.S.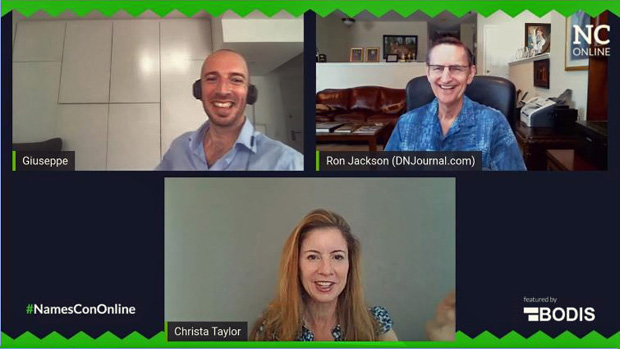 Above and below: the dedicated Europe Track got underway with a panel discussion about The Future of WHOIS in the Light of GDPR – The Final EPDP Report. It featured Lars Steffen (Director, eco International), Thomas Rickert (Director Names & Numbers Forum, eco), Elena Plexida (Government and IGOs Engagement Senior Director, ICANN) and Catharin Bauer-Bulst (Head of the Cybercrime Unit, European Commission DG HOME).
In May 2018, against the backdrop of the GDPR, ICANN required domain name registrars to stop publishing registration data, which until then had generally been freely available. That led to an expedited policy development process (EPDP) that produced a final report that examines what data is collected, for which purpose and on what legal grounds it can be handed over if requested by law enforcement, rights holders or others claiming a legitimate need for the information. Also, how those requests can be balanced with the concerns of domain registrars and registrants who want to minimize liability risks. Given how much ground this panel covered and the importance of the subject matter, this session would be a great one to put on your replay list while those are still available (September 30, 2020 will be the last day registrants can be access the NamesCon Online replays).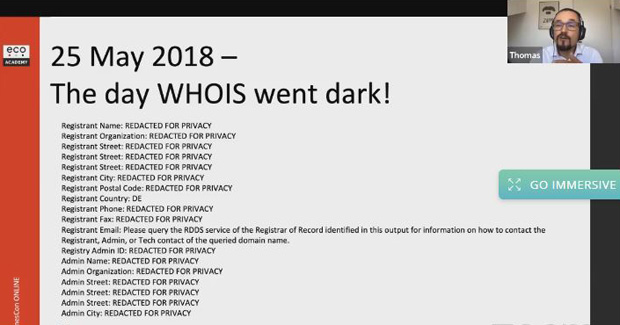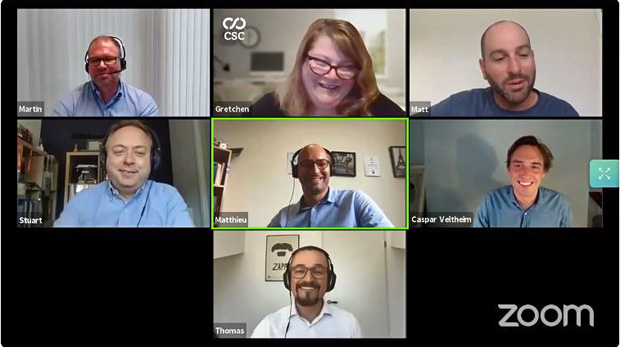 In the second session (above) the topic turned to Prevention, Attack and Defense in the World of Domains. This panel addressed how domain registrants can stay clear of trademark infringements but also defend their legitimate rights when faced with reverse hijacking attempts or other threats to the domain assets they hold. The panel featured (in top row, left to right), Martin Kuchenthal (CEO, LEMARIT GmbH), Gretchen Olive (CSC Global) and Matt Bamonte (Donuts Inc), (in row 2, left to right) Stuart Fuller (CentralNIC Group), Matthieu Aubert (SafeBrands SAS), Caspar von Veltheim (mmx.co) and (in row 3) Thomas Rickert (eco).

Pursuing legal recourse to right a wrong is always possible but obviously comes with what can be a high economic cost, so panelists discussed other effective ways to protect yourself. A good start is to familiarize yourself the UDRP procedures that govern domain disputes as well as the newer Uniform Rapid Suspicion process (URS).
The final session on the Europe Track (above), addressed a topic that is foremost on just about everyone's mind these days - The Impact of the Corona Crisis on the Internet & Domain Name Industry. It featured, clockwise from top left), Tobias Sattler (CTO, united-domains AG), Christian Voss (CMO, Sedo), Thomas Rickert (eco - Association of the Internet Industry), Dr. Nejc Jakopin (Principal, Arthur D. Little) and Marco Hoffman (Head of Domain Services, InterNetX).
Covid-19 has obviously head a massive negative impact on a wide variety of industries worldwide but as devastating as it has been some have managed to thrive with most of the winners having the luxury of operating primarily online rather than in the real world. The panelists talked about how various sectors or the domain industry have been impacted, negatively or positively, and how the future shapes up in a world that is vastly different than it was at the start of this year. In a related note, we took a deep dive into how Covid-19 has impacted the domain aftermarket in this DNJournal Cover Story).
With our coverage of the debut edition of NamesCon Online now done, we are, of course, looking forward to the day we will all be able to meet in person again. However, we are also relieved to have learned that as long as the current situation persists, NamesCon is fully capable of producing a great conference experience online.