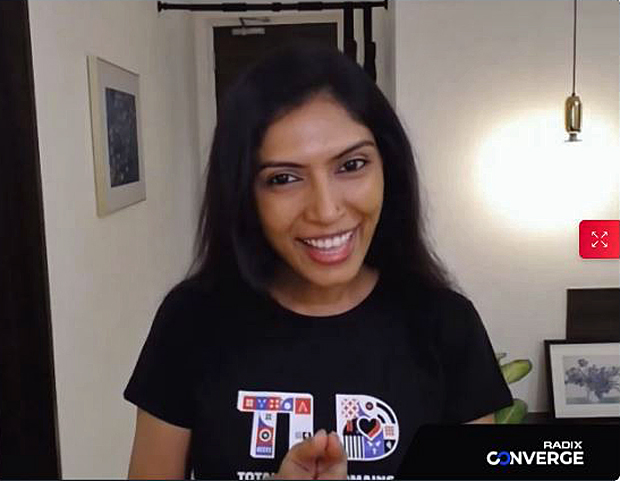 Above: Neha Naik, Director, Channel Partnerships, served as both the host of the Radix Converge conference and as the featured speaker in the second business session. Neha open Converge promptly at 11AM (U.S. Eastern time) with welcoming comments and advice on how to navigate the well-laid out Converge interface. After introducing CEO Sandeep Ramchandani, who provided the opening presentation, Neha returned for her own session on Radix's Journey So Far and the Path Ahead for the registry operator that now has over 6 million domains under management.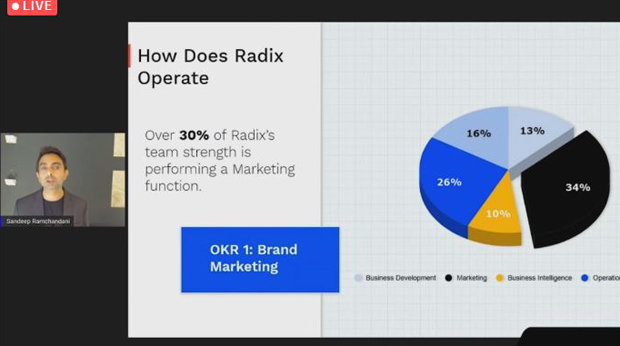 Above: Radix CEO Sandeep Ramchandani got the show off to an excellent start with his Keynote presentation appropriately titled Being Radical. Sandeep's talk took attendees on a deep dive into Radix's company culture - Who they are (including what their core values are), How they go about achieving their mission and Why they chose the business they are in. Since some of the attendees were from the mainstream business world, Sandeep gave them a quick lesson on the domain name system and why the right domain is critical for any business. In the How portion of his talk one thing that struck me is that over one third of Radix's team strength is devoted to Marketing. One knock you consistently hear about new gTLDs is that the registry operators don't do enough marketing to make the public aware of new gTLDs. Radix has been a leader in that area and it has paid off on their bottom line that has grown substantially every year since they started.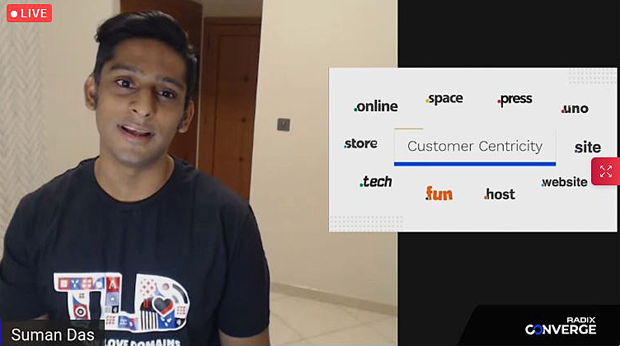 Above: In the third presentation Suman Das, Director of Brand Operations, detailed Radix's customer-centric approach in a talk titled Customers at the Heart of Everything. Suman outlined the purpose behind each of Radix's TLDs and the six business groups they focus on - Startup Founders, Developers, SMB Owners, eCommerce Founders, Solopreneurs and Students (many of whom go on to be business leaders and evangelists for the TLD they started with).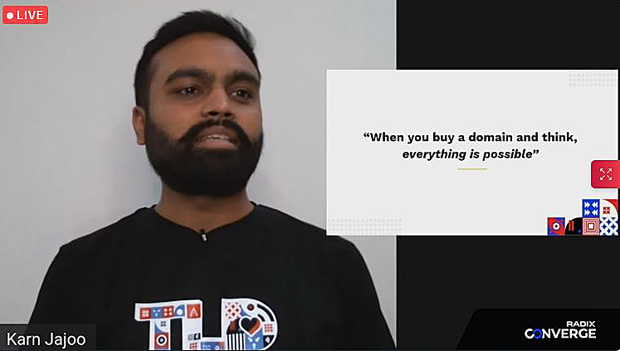 Above: Karn Jajoo, Senior Manager, Premium Domains, wrapped up the opening business hour with Premiums in the New Normal, an interesting talk about how Radix's premium domain sales are surging in the middle of the global Covid-19 pandemic. Radix's premium sales have gone up every year. In fact after the first three quarters of 2020 have already surpassed their revenue for all of 2019 (when there was no pandemic to contend with). Karn noted that Radix has now sold over 7,800 premium domains, producing over $12.5 million in revenue.
In between the opening hour's presentations Radix played a number of informative and entertaining short videos that focused on other key team players like the brand managers for specific TLDs, as well as clips spotlighting developers who have established their businesses on Radix TLDs.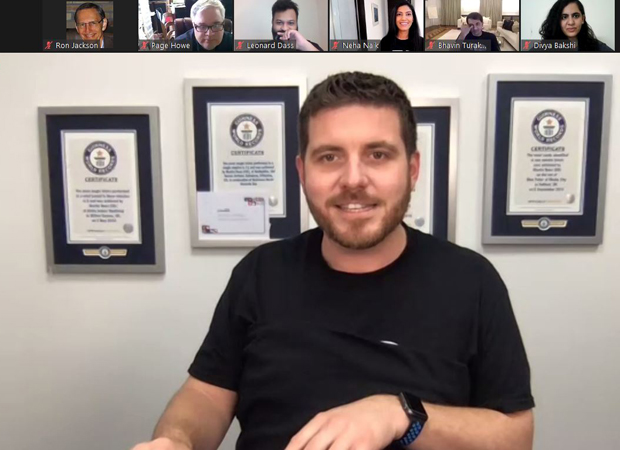 Above: At 12 Noon (US Eastern time) attendees could take a break or jump over to Zoom where Radix arranged an entertaining hour with marvelous magician Martin Rees called Illusions Just Begin. Martin is enjoying global fame and holds a number of entries in the Guinness Book of World Records. Now, if he could just make a handful of two and three-letter .coms magically appear in my portfolio!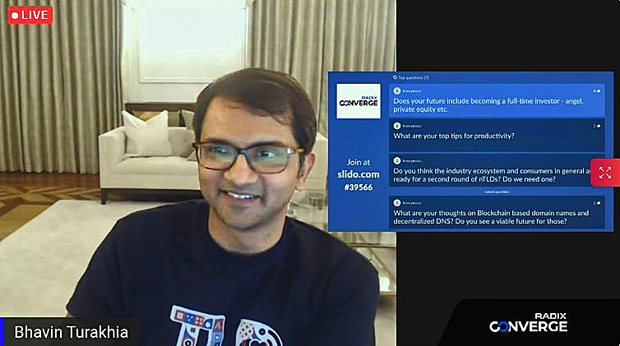 Above: As I noted at the top, the last presentation at 1pm featured a highly anticipated Q&A with Radix Founder Bhavin Turakhia who fielded a wide variety of questions from attendees. Bhavin obviously had a lot to say about domains but attendees were even more interested in his overall business philosophy and his tips for productivity that can make one successful in any field.
One of his top pieces of advice was to standardize anything that has to be done more than once. Whenever possible he seeks to automate or delegate those tasks. In one example of how far he goes to standardize his work environment, Bhavin noted that he does business in different locations he has around the world. In each location he as the exact same workspace setup - the same computers, peripherals, desks, chairs, you name it - it's the same! When he sits down there is nothing new to get used to so he can get right down to work. Bhavin is not big on multi-tasking, saying that he takes a single task to completion so there are no distractions, something that produces higher quality work.
As much as he has accomplished Bhavin says he is still on a "pursuit of mastery" rather than money - that is mastering whatever task he sets his mind to. He said he is fully focused on building something much bigger - by orders of magnitude bigger - than anything he has accomplished so far. Bhavin said, "I just love building stuff and solving problems around spaces I am passionate about". As far as money goes, he noted that much what he has made has been poured back into building his endless string of new enterprises.
After Bhavin closed the presentations on a high note, Radix opened up their Networking Lounge so attendees could sit down (virtually) together and chat for the remainder of Converge. The shot of the lounge below was taken right after the lounge opened and guests had just started coming in to take seats. All you had to do was pick a table where the topic interested you, then click on a seat to claim it and join the discussion via your webcam. At any time you could hop from one table to another whenever you wanted as long as there was an open seat.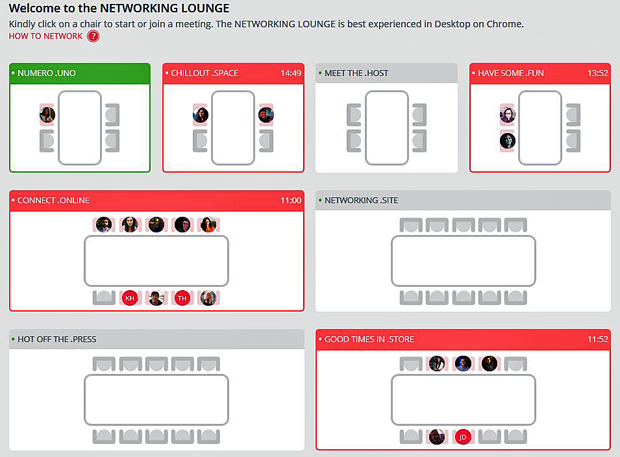 As you would expect from a leading tech company, the technology worked flawlessly during Radix Converge. I am sure other companies will look at what Radix did here and consider a similar approach to connect with their customers and partners, at least until the day Covid-19 is vanquished and we can start meeting in person again. Even then, these virtual platforms have proven there worth well enough to assure there will still be a place for them, often as hybrid events that have both in-person and online components. With no need to travel and the ease of attending from home, being able to have both live and virtual events to choose from will give us the best of both worlds.
Update: Radix has now posted video replays for each of the sessions covered in this article. You can see those here.