The Internet Commerce Association will present their 5th annual Lonnie Borck Memorial Award at the NamesCon Online conference in January. The ICA has now named nine nominees for the award that was established to honor universally loved domain investor Lonnie Borck who unexpectedly passed in October 2016.
In its first three years the award was based on outstanding work in "protecting the rights of domain name registrants." Last year, to broaden the scope of the award, the criteria was changed to recognize an individual for "extraordinary contributions to the domain name community" as a whole. The previous winners were:
2017 - David Weslow
2018 - Kathy Kleiman
2019 - John Berryhill
2020 - Ron Jackson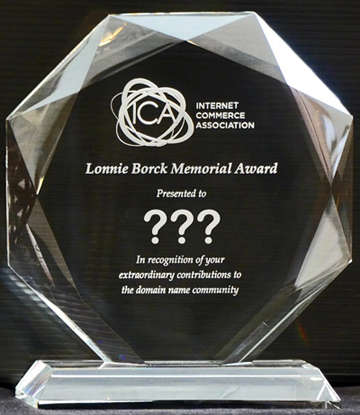 The nominees for the annual award are chosen in balloting open to everyone in the domain industry (this year's balloting closed November 7). Three finalists are then chosen in voting among ICA members, with each member selecting their top 3 choices in order (that voting will close on November 20). In the final step, the ICA Board of Directors will select the 2021 award winner from among the finalists chosen by members.
For the 2021 award, the domain community has again to provided the ICA with a stellar pool of nominees to choose from. They are (alphabetically by last name and shown left to right in the photos below):

Row 1 - Andrew Allemann (DomainNameWire.com), Michael Cyger (DNAcademy.com), Jothan Frakes (a community ambassador with expertise in all facets of the industry).

Row 2 - Richard Lau (Founder, NamesCon and Logo.com), Gerald Levine (noted attorney, author, mediator and arbitrator), Donna (Mahony) Adams (Founder, DomainBoardroom.com).

Row 3 - Gregg McNair (Chairman, Premium Traffic Ltd. Group), Bob Mountain (Chief Revenue Officer, Afternic - a GoDaddy Company), Adam Strong (Founder, Evergreen.com, Domain Name Broker).
I'm fortunate to have known all of these nominees for many years now and, while it may sound trite to say, I truly believe they are all equally deserving of the award and I am sure each one feels honored and humbled to have been singled out by their appreciative colleagues around the world.

In looking at these faces it occurred to me that every one of these nominees has positively influenced me and, in one way or another, helped me on my own path through the industry over the past 18 years. I also believe each one of them would look at the other eight and say the same thing about them. That's a pretty good indicator of both the quality and quantity of top notch leaders we are blessed to have in this business. They have been instrumental in building a thriving community that gets stronger every year and for that, I am happy to send a big THANK YOU from this corner!