NamesCon Online 2021 will also feature the virtual Networking Lounge that worked so well in September, so you will again be able to talk with other attendees live via webcam when you are not absorbing information from the business sessions. While some were understandably skeptical about how well the conference experience could be translated to the web, NamesCon Online in September made so many converts that an online component will likely be a part of the real world conferences when they resume post pandemic.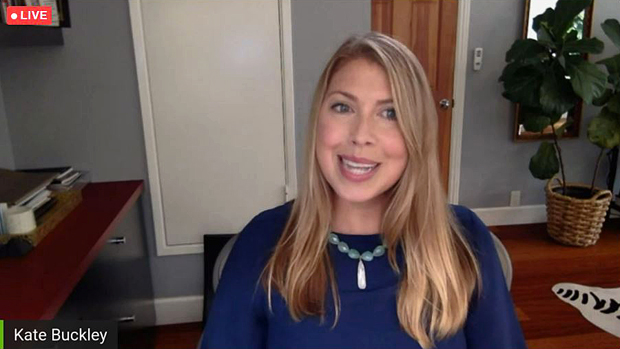 Above: Domain broker Kate Buckley (BuckleyMedia.com) speaking at the first NamesCon Online.
NamesCon is maintaining a rock bottom price to make it affordable for everyone to see the online version for themselves. Registration for NamesCon Online 2021 is already open and if you sign up by November 30 you can get one of the $59 Early Bird tickets. That's an extraordinary value, especially when you consider what it costs to attend a NamesCon event in the real world (with air travel and hotel costs included, that can easily top $2,000).
There are so many positive things going on in our industry the news is too good not to share and we are looking forward to doing just that less than two months from now. I hope to see you there!