Despite the rock bottom price, the NamesCon content may be richer than ever. I spent the entire day hopping from one session to another across three different tracks and also popped into another discussion in the Workshop Rooms. The amount of valuable information flowing from those panels was remarkable and I was constantly reminded of how nice it will be to have online replays of all sessions available to registrants soon. Thanks to those, we will all have plenty of time to catch up on whatever we miss live this week.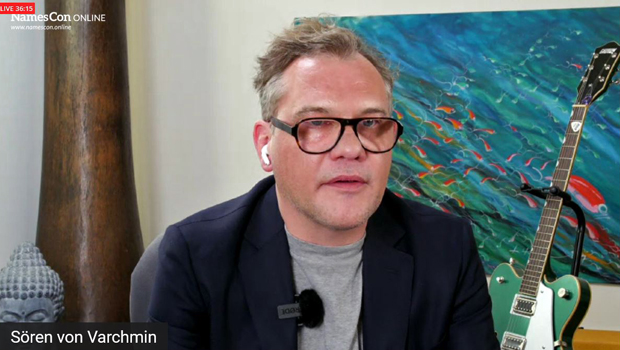 Above: The day officially began with von Varchmin welcoming the crowd to the event, doing so from the comfort of his own home in Barcelona, Spain. While everyone was excited to see NamesCon return, the opening moments were a time for reflection as Soeren paid tribute to a friend of so many of us, the beloved founder of Domaining Europe, Dietmar Stefitz, who passed in 2020. In honor of Dietmar, NamesCon produced a moving video tribute that was shown before people down to business (as Dietmar surely would have wanted them to do). The photo below is a screenshot from that video, one that reminds us how much our unique industry is not just a business, it is also a family.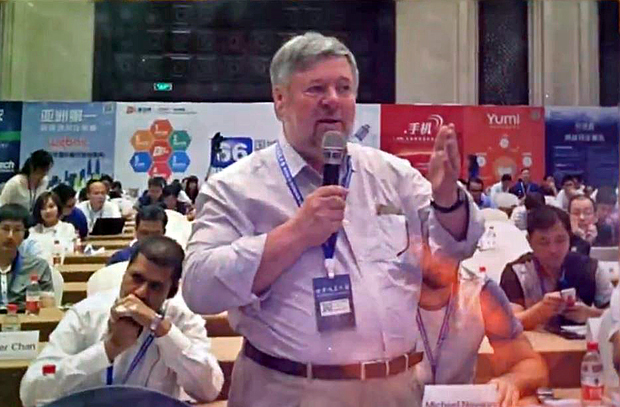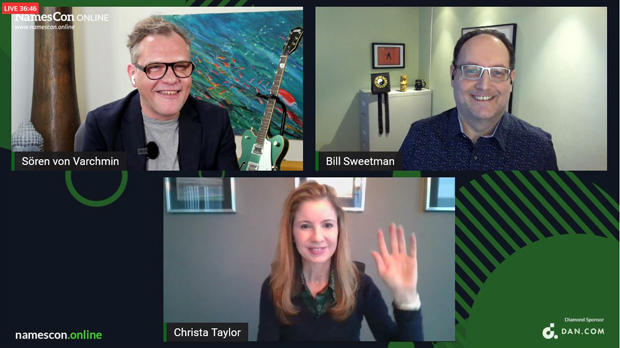 Above: To get the opening day of business under way, Soeren introduced NamesCon's two primary moderators - Bill Sweetman (Name Ninja), at top right, and Christa Taylor (DotTBA.com) in row 2. Then the moderators for additional sessions were introduced, including Braden Pollock, Jay Paudyal (Urban Skill), Andrew Allemann (DNW.com) and Ron Jackson (DNJournal.com).
Below: Soeren then got the things rolling on the Keynote Track by having a Fireside Chat with his Barcelona neighbor, NameAgency.com Founder Jordi Gasull. Jordi is a veteran domain investor, developer and broker who is known around the world as one of the industry's nicest guys. When I met Jordi in person for the first time at Dietmar Stefitz's 2017 conference in Berlin, I felt I already knew him well because of how many good things I had heard about him over the years.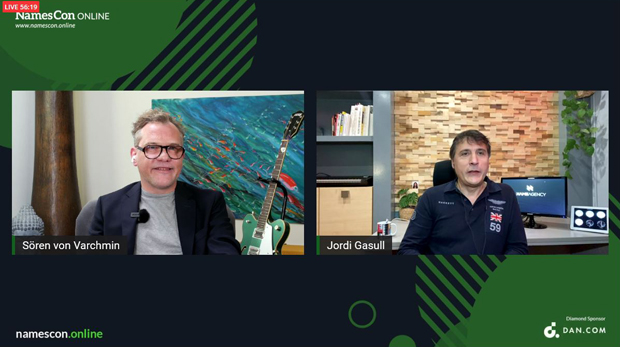 Above: NamesCon Online 2021's first panel discussion was a State of the Industry: Corporate Leaders session that I had the honor of moderating. It was the first of three sessions I am doing this week as an expansion of DNJournal's annual State of the Industry Cover Story (the 17th annual edition was published last week). On Thursday I will have a panel featuring leading Domain Brokers and on Friday I will speak with top tier Domain Investors and Developers.
I couldn't have been happier to have four of the industry's most experienced and most innovative leaders on today's panel. They included CentralNic CEO Ben Crawford (top left), DAN.com CEO Reza Sardeha (top center), Radix CEO Sandeep Ramchandani (top right) and, next to me in the 2nd row at right, GoDaddy VP, Domains (Investors & Corporate), Paul Nicks. All of their companies are experiencing extraordinary rates of growth and they expect that boom to continue in 2021.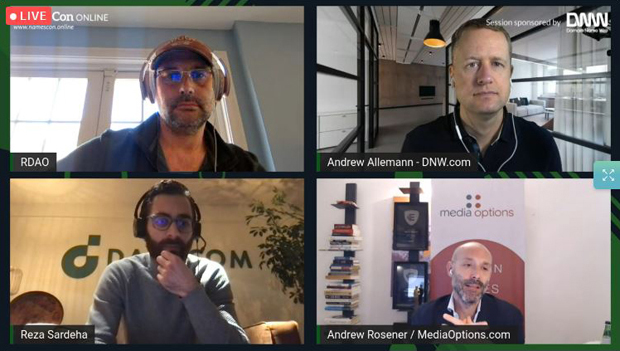 The first afternoon session on the Keynote Track was titled We're Richer Together: Fractional Ownership as an Asset Class. The panel discussed the possibility of fractional ownership of high value domains names finally gaining traction. The idea has been bandied about for years but many experts think its time has finally come. The panelists were (clockwise from top left), Chad Folkening (Leader, RealtyDAO), moderator Andrew Allemann, MediaOptions.com CEO Andrew Rosener and DAN.com CEO Reza Sardeha.
Below: Next up, the subject was SEO Domains: A Crash Course in Valuations that featured (clockwise from top left), Sean Markey (Publisher, Rank Theory), Grace Adato (SEO Analyst, Hennessey Digital), Kalin Karakehayov (Founder, Edoms.com) and moderator Braden Pollock.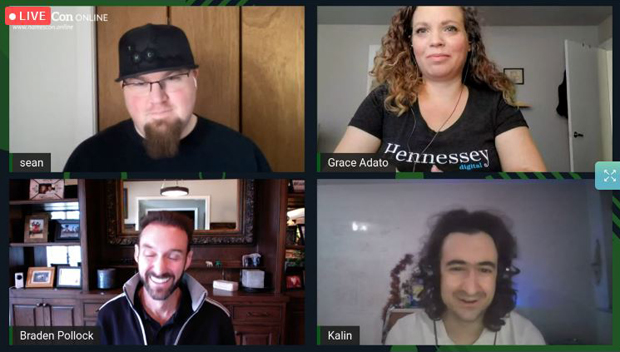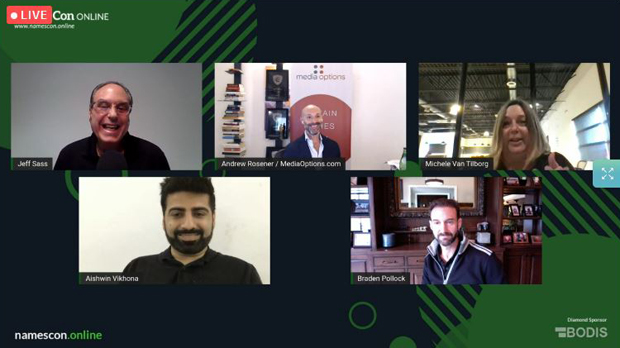 Above: By now many of you have probably heard about the red hot new audio only social media platform Clubhouse (currently available only as an Iphone app). Many domainers have already adopted the invitation-only service so this timely session, Learn about Domaining on the Clubhouse Platform, was widely attended. It featured (clockwise from top left), Jeff Sass (CMO, .CLUB Domains), Andrew Rosener (CEO, MediaOptions.com), Michele Van Tilborg, President, .CLUB Domains), Braden Pollock (LegalBrandMarketing.com) and Aishwin Vikhona (Founder, iLoveDomains.com).
Below: The grand finale of the Keynote Track Wednesday was a Domain Investor's Journey, in which a panel of experienced domain investors discussed how they got into the business and found their place in it. The popular session featured (clockwise from top left) moderator Alan Shiflett (Director, GoDaddy), Mike Mann (DomainMarket.com), Jamie Zoch (DotWeekly.com), Jason Sheppard (Domain Folks) and Josh Reason (DNWE.com).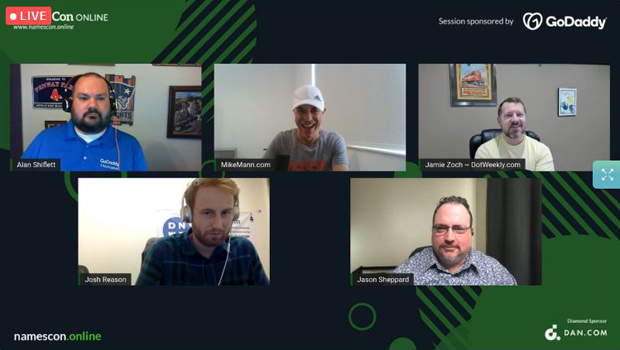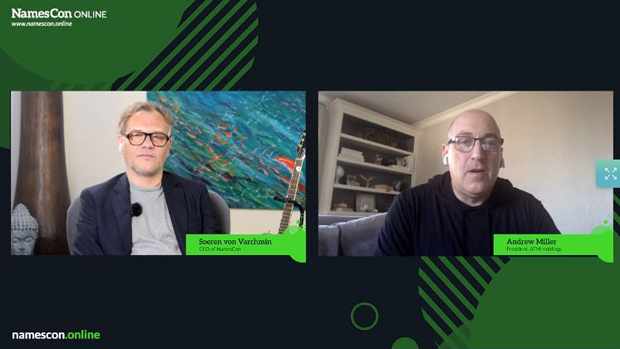 After the Keynote Track business sessions ended .CLUB presented a LIVE comedy show featuring award-winning comedians Lauren O'Brien and Jesse Egan but I wasn't able to get the Zoom link to the show to work for me. I know others did get in, so it must have been some local issue on my side. I tried to console myself by remembering Groucho Marx's immortal words (paraphrased a bit to suit the occasion), "I would never want to go to a club that would allow someone like me in anyhow!" :-)
On a more serious note, to show you how much invaluable content is available at NamesCon Online, two of the best sessions ran before the conference even started! Soeren von Varchmin (left, above) pre-recorded a pair of Fireside Chat interviews with pioneering domain investor/brokers - Andrew Miller (ATM Holdings), above right, and Andy Booth (Booth.com), below right, that were made available this morning as special previews before the show started. Since they were pre-recorded the replays are already available for registrants to watch. These two gentlemen have been involved in some of the biggest domain sales on record and you will want to make a point of listening to both at your first opportunity.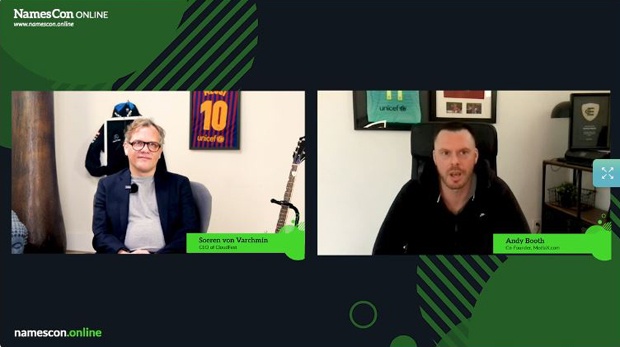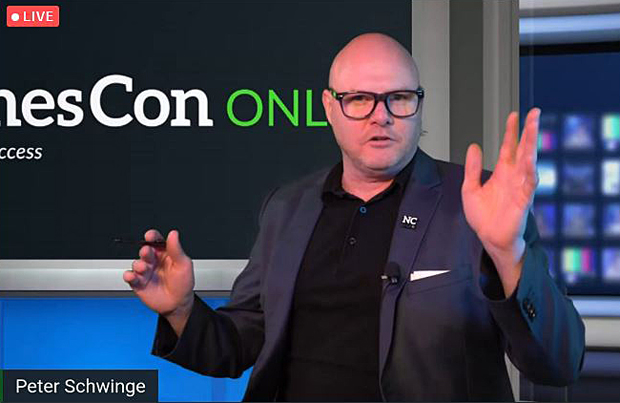 At the same time the Keynote Track was running, action was fast and furious on the Breakout Track with most sessions clocking in at a brisk 15 to 20 minutes each. Ultimate pro Peter Schiwinge (above) expertly managed the traffic and moderated throughout the day. I regrettably missed the first session because, at the time, I was onstage myself over on the Keynote Track. That was a Global Domain Report 2021 – Facts & Recommendations for Domainers and Registrars, presented by Marco Hoffman (InterNerX) and Christian Voss (Sedo). Knowing how sharp these two guys, this is the first session I will be watching when the replays go up!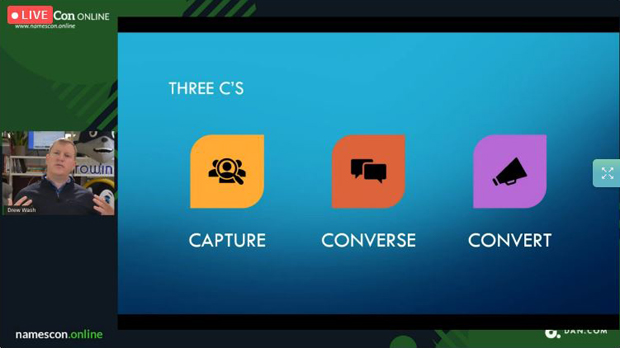 The Breakout Track continued with the first part of Drew Walsh's Development Series: Starting to Capture Interest and Build a List. Drew (above), who runs MovingSites.com, offered some great advice for domain developers. Right after Drew, Michael Gilmour (ParkLogic.com) delivered another can't miss session - Investing in Domains as a Business, Not a Hobby.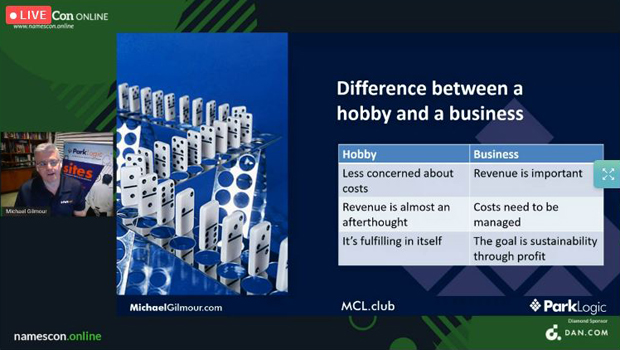 Next up the merger of the DNA and the i2Coalition was covered by Christian Dawson (executive Director i2Coalition), above left, and Alvaro Alvarez (EVP, General Counsel & Secretary, Donuts Inc.), above right, in a session titled Stronger Voice Together: DNA & i2Coalition. The Domain Name Association began as a trade association focused on promoting growth, innovation, education around domain names. In 2020, the DNA merged with i2Coalition as the DNA recognized the opportunity to increase both resources and reach to grow awareness, adoption, and access by forming the largest Internet infrastructure advocacy group in North America.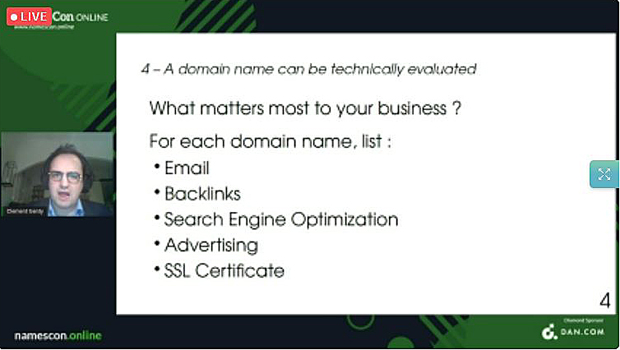 Unfortunately, I missed a session on Blockchain DNS with Brad Kam (Founder, Unstoppable Domains) that fell during the lunch hour but got back on the Breakout track at 1:30pm (US Eastern time) for the session above titled Valuing a Domain Name According to the Iceberg Method that was presented by Clement Genty (Associate Researcher - ENSAM, Arts & Metiers). Clement's Iceberg method was created from scientific research in the context of a PhD thesis.
In the next session (below) CentralNic's Tony Kim and Francesco Cetraro, delivered an illuminating session called Don't Leave Money on the Table: How to Maximize Your Profits as a Domain Registrar or Reseller. If you are in that business, you will want to put this one on your replay list.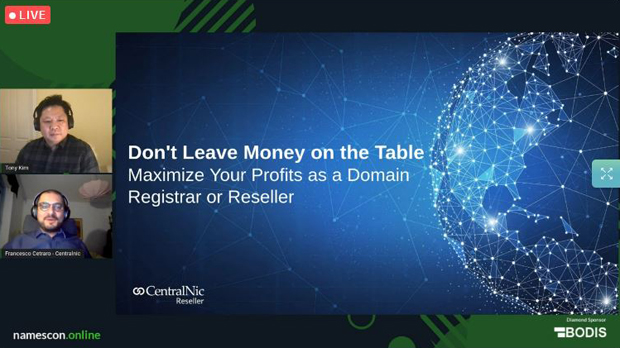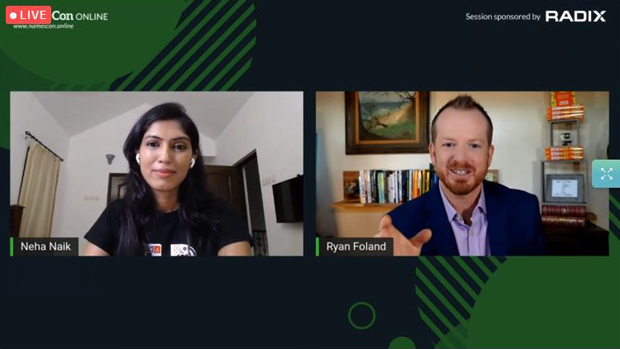 Wednesday's Breakout Track concluded with the sessions above and below. Above, Neha Naik (Director of Channel Partnerships at Radix) interviewed speaker, author and consultant Ryan Foland who gave his take on New Domains in the Marketing & Personal Branding Space. Below, Michiel Grotenhuis (COO, FLATsite) discussed How Domain Investors Can Benefit From FLATsite. FLATsite is a WordPress static site generator that gives you a platform to make all of your WordPress sites faster and more secure.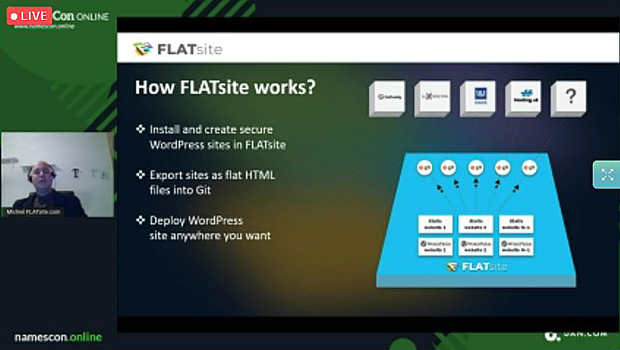 As soon as the Breakout Track ended, I headed over to the Workshop Rooms to catch an excellent Internet Commerce Association presentation on Defending Domain Name Investing (photo below). The important topic was covered by ICA General Counsel Zak Muscovitch, Board Member Nat Cohen and Executive Director Kamila Sekiewicz.
NamesCon Online is an around the clock show. While the ICA session was wrapping up, the America's Track was just getting started with a late afternoon session (below) on How to Value Domain Names Step-by-Step, presented by Michael Cyger (DNAcademy.com).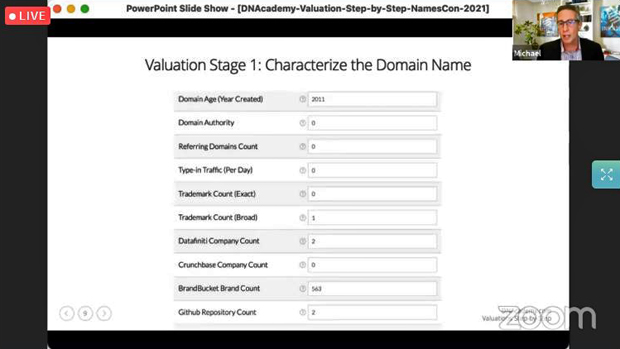 In a second America's Track session at 6pm (below) .CLUB's Jeff Sass moderated a discussion called Domain Names: From the Outside Looking In. Jeff talked with influential marketers from outside our industry to see what they really think and understand about domains. Jeff is at top left, with the panelists (clockwise after Jeff) including Jason Falls (Cornett), Leo Morejon (ProveItMatters.com), David Berkowitz (Serial Matters) and Elisabeth Klughardt (Open Eye).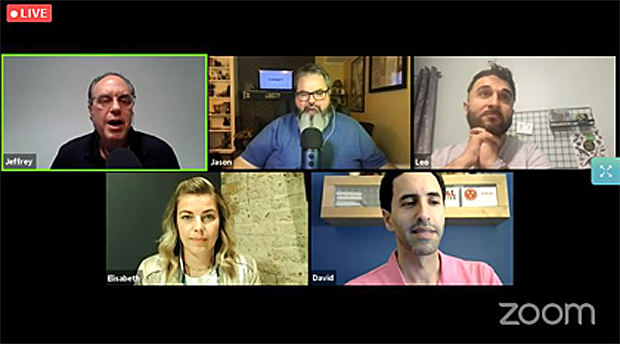 As I write this Wednesday night, NamesCon is finally in a short lull, but the action resumes at 12 Midnight U.S. Eastern time when the South Asia Track opens! Being human (or a reasonable facsimile of one) I do need sleep, so I will have to cover that Track the way I did for the first NamesCon Online conference last September. After NamesCon concludes and all of the replays have been posted, I will watch the South Asia sessions and give those a post of their own that will be published next week.
Right now, it is time to start getting ready for Day 2 Thursday. I will be back on stage at 11:20am (US EST) for my next State of the Industry panel featuring leading Domain Brokers Monte Cahn, Dave Evanson, Cate Lim and Jen Sale. Tomorrow night I'll be back here with the Day 2 photos and highlights for you.