world's top ten domain brokers based on total dollar volume transacted on the Escrow.com platform.
We were there for all of it, so let us take you through the day as it unfolded. Things got started on the Keynote Track at 11am (U.S. Eastern Time) when Domain Name Wire's Andrew Allemann interviewed CentralNic CEO Ben Crawford in an informative fireside chat (below). CentralNic has been one of the industry's fastest growing companies over the past couple of years during which time they have made numerous acquisitions that have made them a company that everyone is paying close attention to now.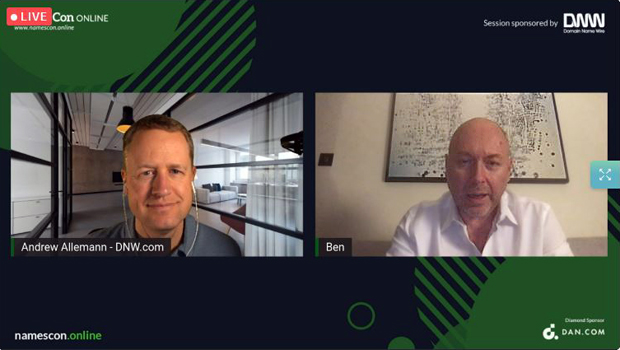 Ben was also one of the panelists on my first State of the Industry (SOI) session Wednesday morning when we heard from Corporate Leaders. This morning I hosted the second session in the SOI series, interviewing some of the industry's leading Domain Brokers (the series will conclude Friday morning when I talk with top Domain Investors and Developers at 11:35am Eastern).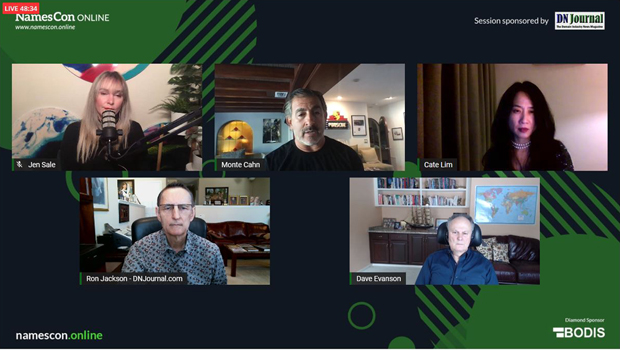 Above: The panelists for the State of the Industry: Domain Brokers session were (clockwise from top left) Evergreen.com CEO Jen Sale, RightOfTheDot.com President Monte Cahn, NameRunway.com CEO Cate Lim, Sedo Senior Broker Dave Evanson and moderator Ron Jackson (DNJournal.com). I know I'm biased on this point but I thought it was a great session with excellent information and advice on industry trends and opportunities from every member of the panel. If you missed the session live, it, like all NamesCon Online sessions, should be available to attendees for replay within the next 24 hours (replays of the Wednesday sessions were already up this morning).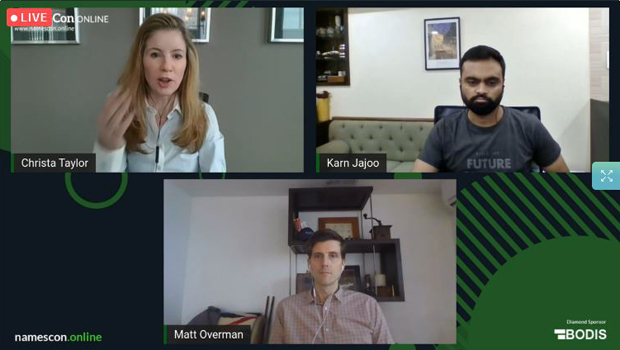 Above: Next up Moderator Christa Taylor top left) conducted a timely session on How the pandemic has favored new gTLDs that featured Radix Head of Premium Domains Karn Jajoo (top right) and Donuts Senior Sales VP Matt Overman (row 2). They detailed how organizations are using new gTLDs to expand their online presence using analytical insights and statistical trends in numerous segments including eCommerce, social and more.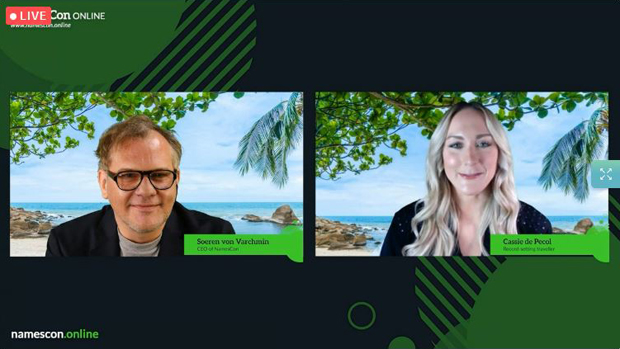 Above: NamesCon is known for reaching beyond the industry to pull in speakers who have done extrarordinary things in their lives. It is always a source of inspiration and a reminder that there are few limits on what you can do if you set your mind to to. Today was no exception when NamesCon CEO Soeren von Varchmin interviewed Cassie de Pecol, the first woman to travel to every country in the world! (a perfect choice for a conference that draws attendees from all over the world). Cassie, who is CEO of Expedition 196 LLC and the Founder of Her International Inc., has spoken to over 16,000 university and high school students, as well as countless corporate and non-profit industry professionals since her history making 196 country Expedition.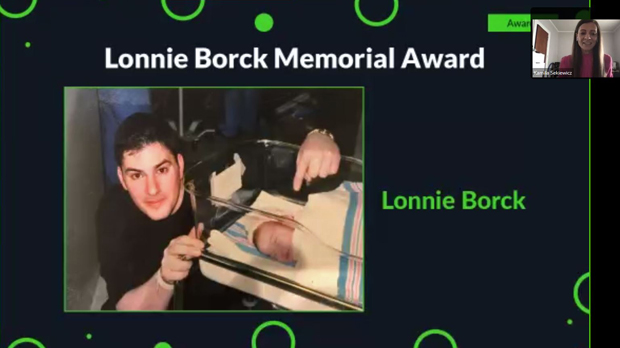 At 1:15pm (US Eastern time) the Internet Commerce Association presented their 5th annual Lonnie Borck Memorial Award - an honor that goes to an individual the industry recognizes for their efforts to build a sense of community in our space. The award, in memory of the late, great domain investor and exemplary human being, Lonnie Borck, is usually presented every January during an ICA members dinner at the in-person edition of the NamesCon Global conference. Since the pandemic squashed that opportunity this year, the ICA and NamesCon has to get creative and come up with a new way to bestow the award on its recipient - and they did a great job of doing that.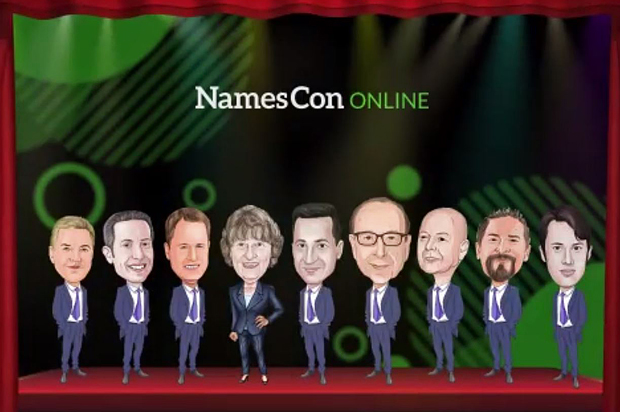 Above: The Lonnie Borck Award ceremony started with a pre-produced film introducing the nine nominees who were rendered as cartoon characters whose resemblances to the real people was uncanny. Left to right they were Bob Mountain, Michael Cyger, Andrew Allemann, Donna Adams, Richard Lau, Gerald Levine, Gregg McNair, Jothan Frakes and Andrew Strong.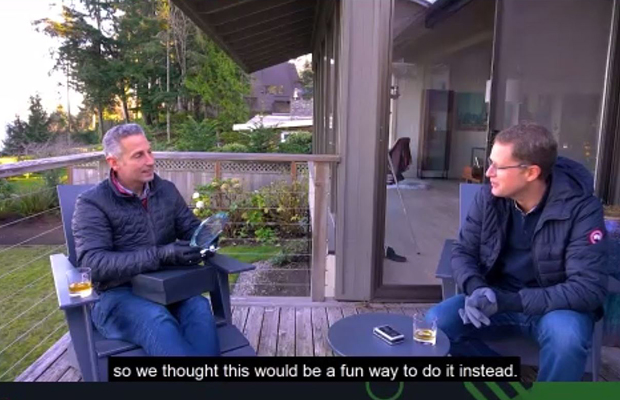 Above: Now, with personal meetings severely limited, it was hard to figure out a way to surprise the winner (always a big part of the fun in a Lonnie Borck Award ceremony). As it happens, two of the nominees, Michael Cyger (at left) and Andrew Allemann live near each other on Bainbridge Island in Washington State. So, the ICA was able to enlist Allemann to successfully pull off their plot. Andrew called Michael and told him he would like to tape a pre-NamesCon interview with him. Using that ruse, Andrew had the camera already set up when Michael arrived. But once he started recording Allemann confessed to Cyger that he had fudged a bit on the truth. Andrew then handed him a black box. Inside it Michael was stunned to find the Lonnie Borck Memorial Award with his name on it! Well played Andrew and the ICA!
Below: While Cyger was understandably at a loss for words during the taping, ICA Executive Director Kamila Sekiewicz brought him up live on a Zoom call today in which Michael was effusive in his praise for Lonnie, what the award means to him and how thankful he was to those who nominated and voted for him. Another film clip was played in which Lonnie's wife, Ronit, expressed her pleasure at seeing the honor go to Michael. It was indeed a great choice. Michael has played an enormous role in helping knit together the unique community we all enjoy within this industry today.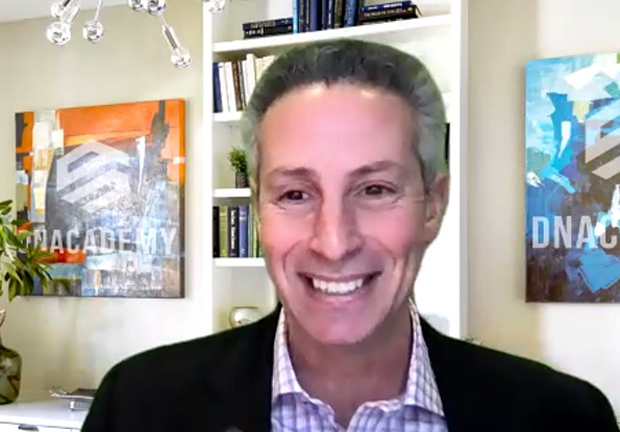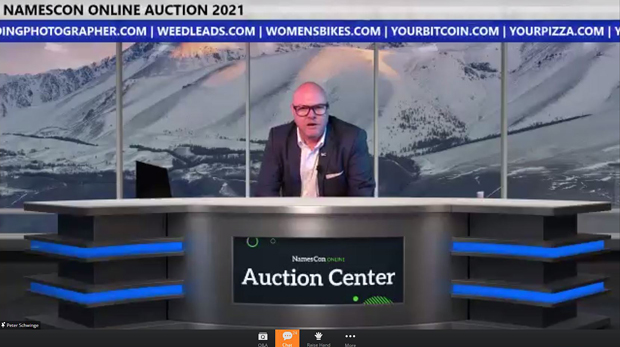 Above: The final order of business on the Keynote Track Thursday was the live domain auction that got a shiny new production coat designed for NamesCon Online, with Peter Schwinge directing traffic from an Auction Center News Desk.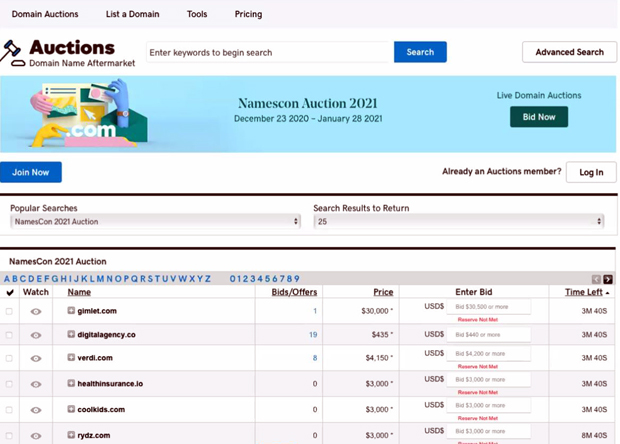 Above & below: While viewers watched bids come in as each lot neared expiration, auction emcee Jonathan Tenenbaum (below), the COO at MediaOptiojns.com, called on a variety of experts, including Ammar Kubba, Braden Pollock, Shane Cultra, Michael Cyger and many others to comment on the merits of each domain. That made the whole process an education in itself as the commentators shared their thoughts on the value of each name and whether the prices being bid were too high, too low or just about right. It can take some time to tabulate votes, verify bids, etc. so we don't yet have the final auction results in.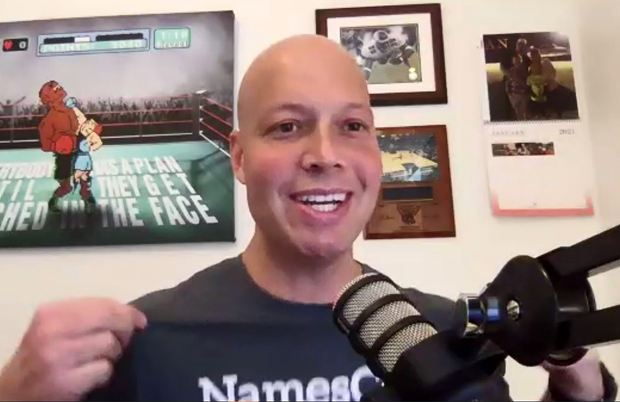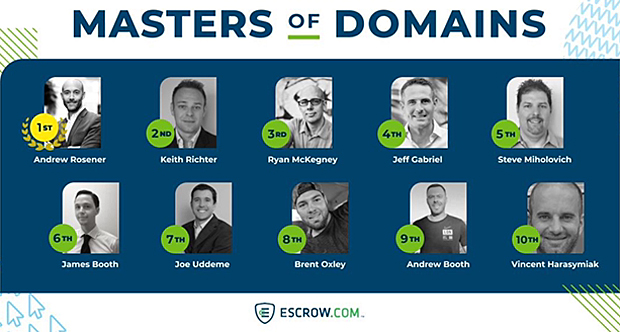 Above: In another special event midway through the auction, the winners of Escrow.com's annual Master of Domains Awards were announced. Awards go to the world's top ten domain brokers based on the total dollar volume they transacted on the Escrow.com platform. For the third consecutive year the top spot went to MediaOptions.com CEO Andrew Rosener. Congrats on the hat trick Andrew - that is a remarkable accomplishment! The first five was rounded out by Keith Richter (Lumis.com), Ryan McKegney (DomainAgents.com), Jeff Gabriel (Saw.com) and Steve Miholovich (NameArena.com).
As is the case every day at NamesCon Online, there was also plenty of activity on the Breakout Track that ran simultaneously with the Keynote Track. The Breakout sessions began at 11AM (US Eastern time) when Kickstart Commerce Founder Alvin Brown (below) covered The Pros and Cons of Buying and Selling Geo Service Domains.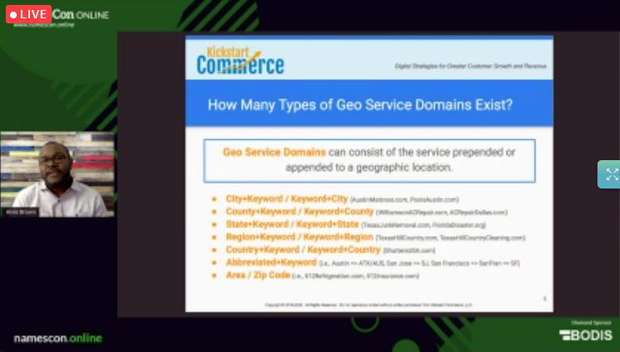 I had to miss the next two sessions on the Breakout Track because at the time they were running I was on the Keynote Track stage doing my State of The Industry interviews with Domain Brokers. Those sessions were Michael Gilmour's (ParkLogic.com) State of Domain Monetization talk and GoDaddy Tips to Selling More Domain Names that featured GoDaddy execs Dan Adamson and Todd Cantwell. Fortunately, I will be able to catch both of those when NamesCon posts the replays.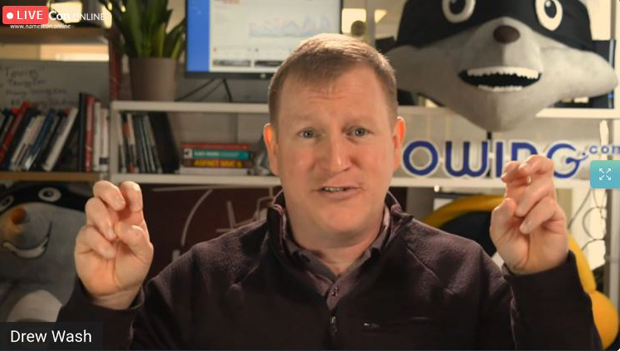 Above: Drew Walsh (MovingSites.com) continued his Domain Development Series with A Way to Soft Launch the Business Thursday afternoon. In part 2 of the series Drew showed some ways to create revenue with a soft business launch on your domain.
Below: Next on the Breakout Track, the SEO Benefits of Aged Brandable Domains were covered by Affiliate Marketer Craig Campbell.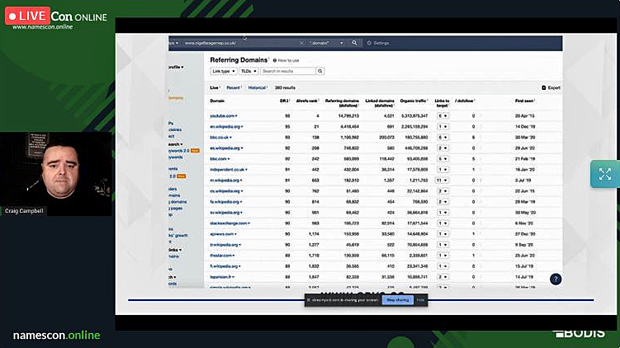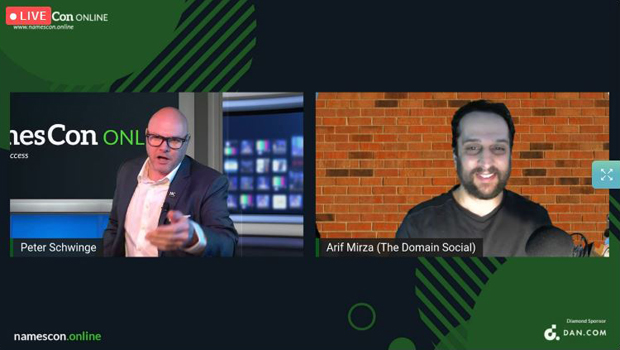 Above: In the final Breakout Track session Thursday, NamesCon's Peter Schwinge introduced Arif Mirza (The Domain Social) for an eye opening session titled Exploring the Math Behind Your Domain Portfolio to See if You're On Track for Rags…or Riches.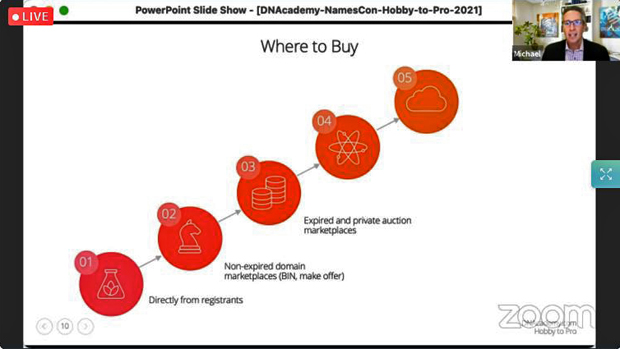 While the Thursday Keynote and Breakout Tracks were now done, there were still two late day sessions on the Americas Track to go. In the first one at 4pm DNAcademy.com Founder Michael Cyger (above) showed how to Make the Jump from Hobbyist to Professional Domain Name Investor.
Two hours later, .CLUB CMO Jeff Sass (below) brought four fellow experts together for a session titled Domains: Essential to Brand-based Marketing. Jeff was joined by consultant Joe Alagna (Alagna.com), Jonathan Thomas (Blacknight), Tim Smith (GM, Canadian International Pharmacy Association) and Neha Naik (Director of Channel Partnerships at Radix). The group explained how to leverage the right domain(s) to amplify your brand's messaging, making it an essential session for marketers, brand managers, and anyone who wants to understand the power of domains in marketing. If you missed, look for the replay Friday!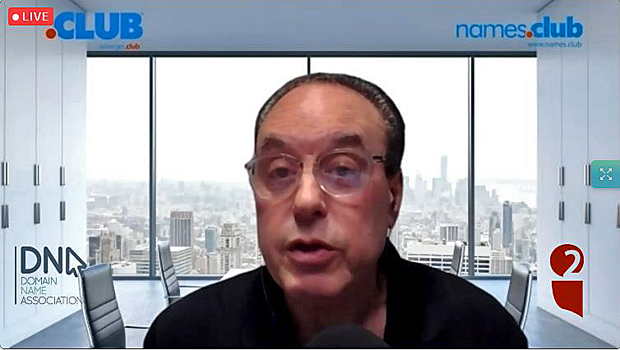 ...and that's still not all! While most of us are sleeping in the U.S. tonight, the South Asia Track, that fires up at Midnight (U.S. Eastern time), will be running all night! We will use NamesCon's replay system to write a separate article about the South Asia Track that will be published next week.
So, now just one day to go. We'll have photos and highlights from the busy Closing Day Friday for you in this column Friday evening.