The world's #1 domain sleuth, George Kirikos, has done it again. As he reported on his FreeSpeech.com blog Sunday afternoon, Kirikos presented incontrovertible evidence that a US-based insurance technology company, Hippo Enterprises, purchased the Hippo.com domain name in the first quarter of this year for $3,300,000. With that, Hippo.com charges into the top spot on the 2021 top domain sales list (we will be officially charting it when our next bi-weekly domain sales report comes out Wednesday, September 1.
This sale eclipses the $3.15 million sale of Christmas.com that has topped our YTD Top 100 Sales Chart since February. This wasn't as easy find for George. He first found evidence that a big sale had been completed while looking through a Hippo Enterprises SEC filing. However, as he details in his blog post,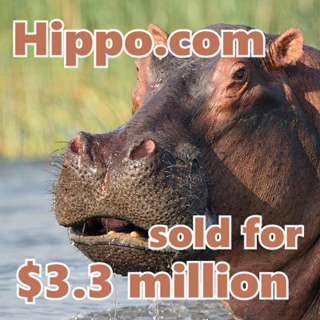 Image from Bigstock
after the initial reference that piqued his interest, he had to dig out several other bits of information from multiple sources to definitively lock down the price paid for this premium domain.
Since Larry Fischer has also announced a 7-figure sale since our last domain sales report - (Near.com at $1.15 mllion) - there will at least two seven-figure sales at the top on our next bi-weekly Top 20 Sales Chart, the first time that will have happened in a year that has now had ten 7-figure sales come to light.