We've gotten used to seeing eye-popping prices in the domain aftermarket this year, but many registry operators are also scoring big gains with new premium registrations and renewals. Radix just released their semi-annual report on those categories, covering the 1st half of 2021 (.pdf file) and it showed the highest premium domain revenue total they've posted in one half to date.
Just under $1.24 million came in from new premium domain registrations (the chart at right breaks down how much was produced by each of Radix's 10 TLDs). The figure was even higher for the company's premium domain renewals, coming in at $1.67 million, for a grand total of $2.91 million. Total revenue was approximately $2 million in the previous half. These numbers reflect a 43% jump in revenue from new premium registration over the previous half (2H-2020) and a 47% surge in premium renewal income over the same period.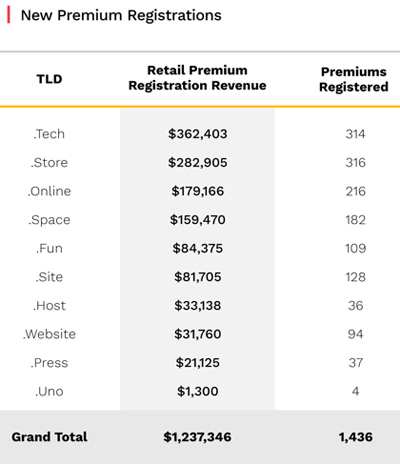 .Tech generated the most new premium registration revenue at $362,401 (an average cost for its 314 registrations of $1,154 each). #2 earner, .Store, had a slightly higher number of registrations (316) but, with a $282,905 total, a lower average cost at $895).
63.5% of premium names up for their first renewal were kept by their owners (the renewal cost is the same as the original registration cost). The renewal rate is over 80% for renewals in the second and third years after the initial registrations.