The pandemic is still far from over, of course, but a mix of factors including, vaccinations, natural immunity developed by some and careful attention to following safety protocols made it possible for this to finally happen for those ready to take the plunge back into the physical world.
There is a theory that we are all living in a computer simulation. I don't know about the rest of you, but after doing almost everything online for almost two years now, I definitely feel like I've been living in one! Regrettably, I wasn't able to go to to the ICA meeting that ended the day before the latest NamesCon Onine conference began, but I was there with my colleagues in spirit. Better yet, thanks to some information and photos I got from ICA Executive Director Kamila Sekiewicz, I was able to see and hear about some of what happened and now share that with you.
Kamila, ICA General Counsel Zak Muscovitch (who came in from Canada), Board Members Paul Nicks (GoDaddy), Jay Chapman (Digimedia) Nat Cohen (Telepathy) and long-time ICA supporter Gregg McNair (who traveled from Panama) were among those who flew in to greet several dozen of their fellow members.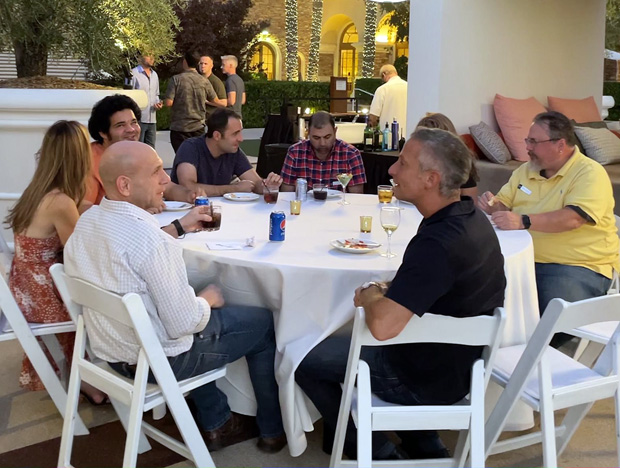 Above and below: Nevada currently has an indoor mask mandate in place but the Green Valley Ranch made it possible to hold many functions outside, including meals and casual networking in cabanas near the pool.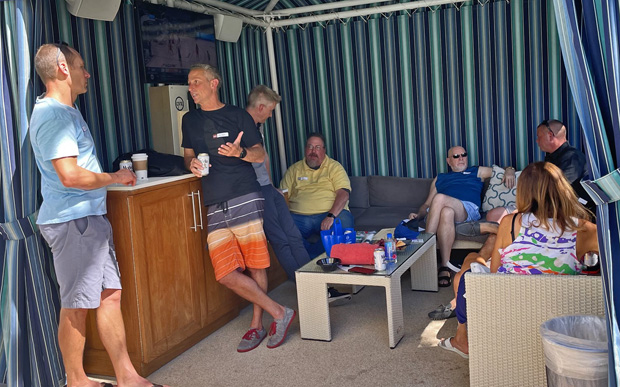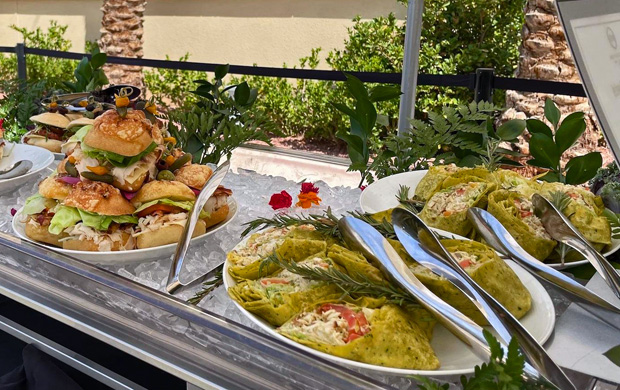 Above and below: There was no cost to attend the meetup and generous sponsors provided the meals, drinks and cabana rentals at no charge throughout the event. Thank yous for that went to GoDaddy, Above.com, Michael Cyger (DNAcademy.com), Zak Muscovitch, Ammar Kubba, Dynadot, Bodis and Gregg McNairís PTL.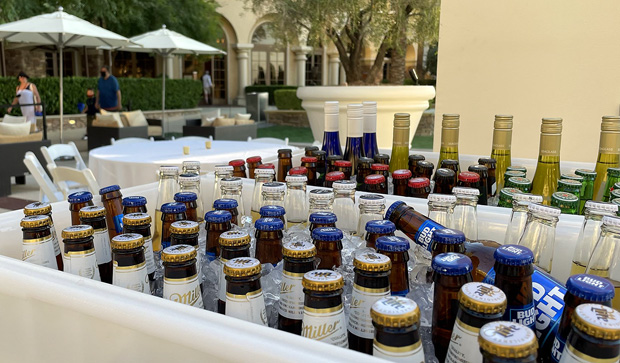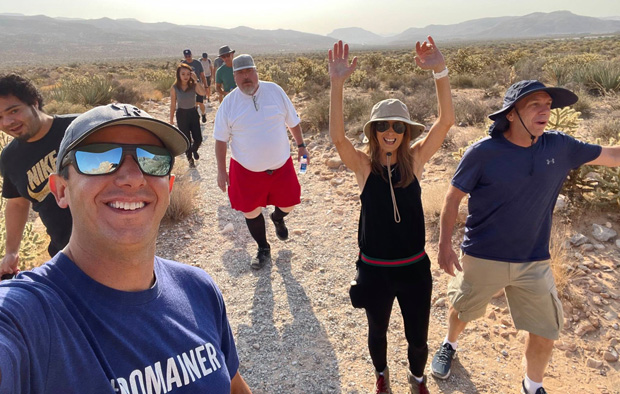 Above and below: After a busy opening day of socializing, casual talks and an evening reception, nearly half of the attendees got out of bed early the next morning for a hike near scenic Red Rock Canyon. Michael Law rounded up the ICA adventurers long enough to snap these shots.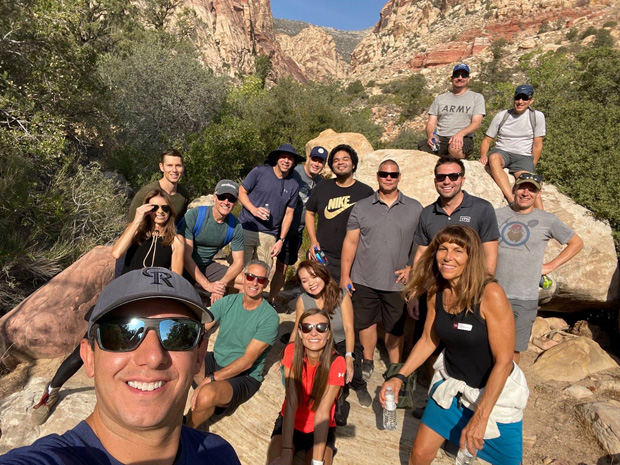 (Below) Everyone got back to the ranch in plenty of time to sit in on a Q&A session with Paul Nicks, the Aftermarket Director at GoDaddy, as well as a presentation from DNAcademy's Michael Cyger and a Town Hall discussion about the past, present, and future of the ICA. During the town hall, one of the earliest ICA members, Nat Cohen, shared stories many members had never heard before. General Counsel Zak Muscovitch then spoke about issues the ICA is currently focusing on and their importance to the domain industry. After that the floor was opened for members to ask any questions they had.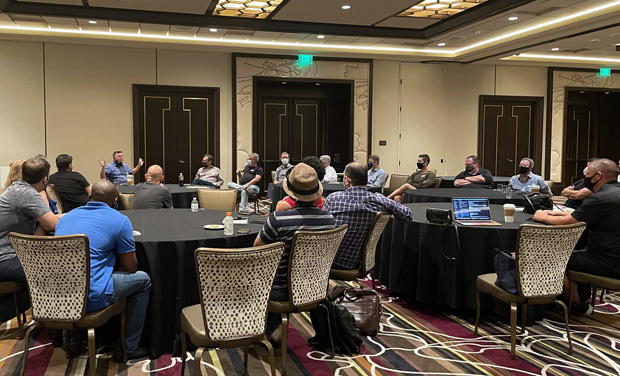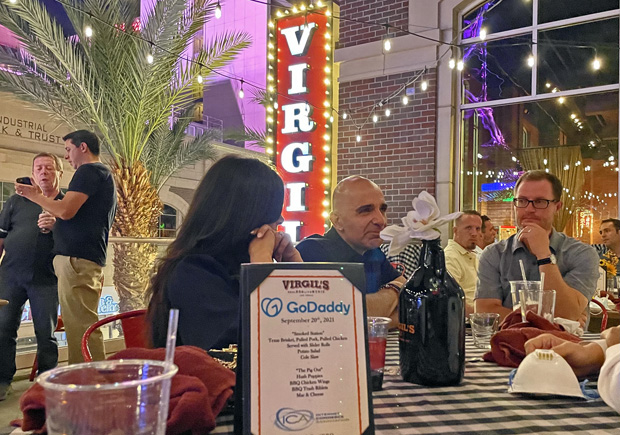 (Above and below) With the business day done, attendees were taken to Virgilís BBQ on the Las Vegas Strip, where they were treated to a sumptuous and drinks.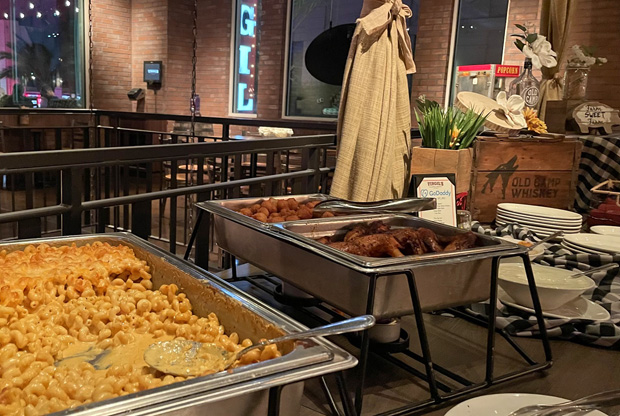 With a large outdoor patio overlooking the LINQ promenade (at right), Virgil's was the perfect location to start a night out in Vegas.

The next day (closing day, Tuesday, September 21), the members of the ICA leadership team who attended the meetup got together for a team breakfast. It gave them a a rare opportunity to meet in person and review how the meetup went - which seems to have been all good judging from the comments we have seen on social media, More importantly, it was a chance to plan for the future and address the challenges ICA members and the domain industry are most concerned about.

Kamila Sekiewicz gave me this closing note - "Judging by the response we received after this event, we hope to do this again soon!" That should be music to everyone's ears.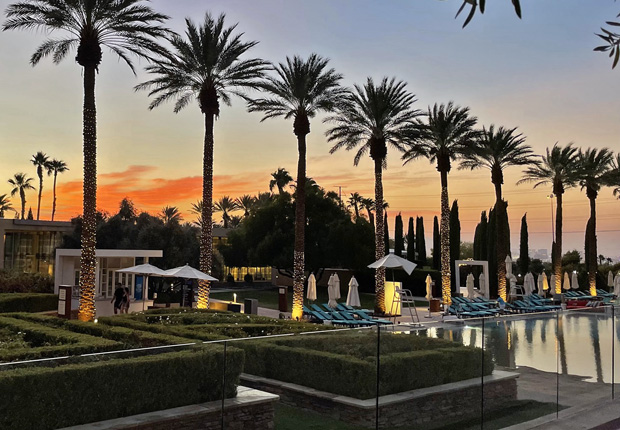 Sun setting over the Green Valley Ranch where the Internet Commerce Association celebrated the organization's 15th Anniversary. If you are not an ICA member, you should be! You can join here.