Thought Convergence Selling Off Their Top Tier .Com Domains in NameJet/SnapNames Auctions

Over 800 domains from one of the industry's best portfolios of premium domain names are going up for sale in a series of auctions on Newfold Digital's NameJet and SnapNames platforms. The landmark sale is the result of a decision by Thought Convergence co-founders Ammar Kubba and Kevin Vo to liquidate the remaining assets of their holding company and distribute the proceeds to their shareholders.

The term "premium" tends to get over-used when it comes to domains, but in this case the term is a perfect fit for the collection that includes Beer.com (part of a fabulous lot of 27 domains that includes "beer" in other popular languages around the world, including Cervezas.com (Spanish), Biere.com (French), Beoir.com (Irish), and many more). Then there is AKA.com, NonStop.com, Aftermarket.com, Trainer.com, Illustrate.com, HelpLine.com and hundreds more. Most of the auction lots are being offered with a low or no reserve.

You can place pre-release backorders on the various domains before their specified deadlines (those are staggered across three nights beginning Friday night, December 3). The live auctions will follow once the backorder period closes. You can view the domains on either NameJet or SnapNames using the following links:

Beer Portfiolio: NameJet ~ SnapNames / Individual Domains: NameJet ~ SnapNames

The liquidation of the Thought Convergence portfolio does not mean that veteran domain investor/entrepreneur Ammar Kubba is exiting the domain space. Far from it. Earlier today, Ammar told DomainInvesting.com's Elliot Silver, "My company, afterTHOUGHT, Inc., still owns thousands of domain names, and we continue to invest and acquire on a regular basis. Without a doubt, I'm incredibly bullish on domain names and other emerging digital asset classes (cryptocurrencies, NFT's, etc.)."

(Posted November 30, 2021) To refer others to the post above only (and not the full Lowdown column) you can use this URL:
https://www.dnjournal.com/archive/lowdown/2021/dailyposts/20211130.htm

*****
America is celebrating its Thanksgiving Day holiday today. At DN Journal we are especially thankful for all of our readers around the world. Many of you have been regularly visiting us online for almost 20 years now (January 1 will be our 19th anniversary)! While our daily interaction has mostly been in the virtual world, we also loved spending time face to face with thousands of friends across the globe until the pandemic halted in-person conferences. While Covid continues to cause problems for many, this too shall pass and we will be on the go again. In the meantime, we are wishing you all happiness and good health and and can't wait to see as many of you as possible in person again soon!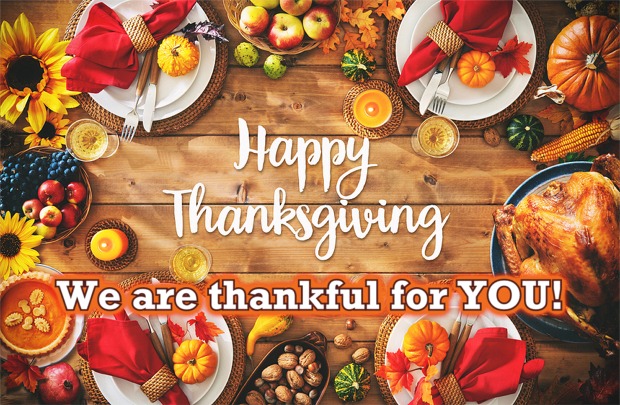 Image from Bigstock
(Posted November 25, 2021)