Final Update: After getting additional information from the buyer's broker (Andrew Rosener of Media Options Monday (Jan. 31) we now have the remaining available details on the Galaxy.com sale. The price the seller received in the sale was $1.8 million, the same amount that the buyer, Galaxy Digital, declared paying for an unnamed domain in their SEC filing that turned out to be Galaxy.com (as first reported by George Kirikos Saturday). However the buyer, who commissioned Media Options to try to acquire the domain for them, also paid a generous fee to Media Options for succeeding in that task that was not included as part of the cost of the domain itself in their filing (Media Options is not releasing that fee cost, which, for competitive reasons, is to be expected). When charting sales, we normally use the total price a buyer paid to acquire the domain, including brokerages costs, as that price most closely reflects the current market value of the domain to a buyer. However, in cases like this, where brokerage fees are not known, we have charted names based on what the seller received for the name as long as we have the exact price paid. We have that for Galaxy.com, so will be charting it at $1,800,000 in our next bi-weekly domain sales report Wednesday evening (February 2).
Story Update #1: We posted the story below on Saturday (Jan. 29) but we received new information from the buyer's broker, MediaOptions.com on Sunday. Founder Andrew Rosener confirmed his company handled the acquisition but he added that the price paid was substantially higher than the $1,800,000 figure an SEC filing seemed to clearly indicate (based on further evidence that George Kirikos detailed in his blog post). Since we don't yet know exactly what that higher price was we have appended a plus to the minimum number we do know in the graphic accompanying the story. If and when more information becomes available on the price and/or filing, it will be added to this post.
George Kirikos has uncovered the biggest domain sale reported in the new year to date. Today, on his FreeSpeech.com website, George provided details of a $1,800,000 sale of Galaxy.com that he found while examining an SEC filing. The domain was purchased in the 3rd quarter of 2021 by a crypto company that is based at GalaxyDigital.io. They have not yet started using Galaxy.com as a new base or redirect so it remains to be seen exactly how it will be deployed.
Unless something changes before we release our first 2022 Year-to-Date Top Sales Chart Wednesday evening (February 2), Galaxy.com will be the #1 sale of the new year, followed by the $1,228,200 sale of Unlock.com that was reported earlier this month. We chart sales based on when they are first publicly reported (as long as the sale has occurred within the previous 12 months).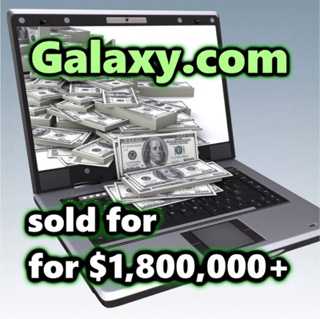 Image from Bigstock