The domain industry got some great news today when organizers of its biggest event, NamesCon Global, announced they will return to staging the show in person this summer. The event will run Wednesday, August 31, 2022 through Saturday, September 3 at the Omni Hotel in Austin, Texas. That is the same venue where the last face-to-face NamesCon event was held in January 2020. When we all headed home from that show we never could have dreamed it would be over two and a half years before we would have an opportunity to meet in person again.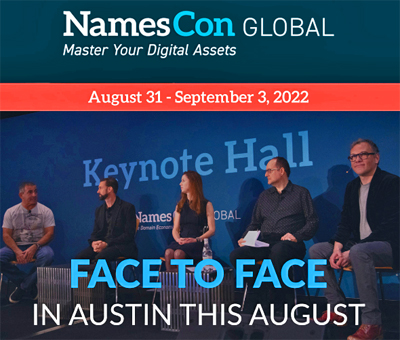 Just a few weeks after it ended, the Covid 19 virus reared its ugly head and began wreaking worldwide havoc, forcing NamesCon to make a quick switch to virtual conferences, the last of whish was held in September 2021. While those were well-produced and widely appreciated replacements for the temporarily sidelined traditional format, there is no way to duplicate the benefits of spending time together in person. That made this some of the best news we have gotten in a long time.
The decision was made possible by current trends showing the pandemic is finally receding in most locations around the U.S. It is certainly not over yet but, barring the appearance of any especially virulent new strain, looks to be controlled enough to to allow most people, following sensible precautions, to safely travel and get back to a lot of the things we used to take for granted. That being the case, NamesCon has opened registration for the show with $349 early bird tickets available for those who register within the next 30 days. We most definitely plan to be there and are excited to see as many of you as possible in person again this summer!