In the 2nd largest domain sale ever publicly reported, NFTs.com has changed hands for $15 million, a figure eclipsed only by the $30 million sale of Voice.com in 2019. The news came this morning in a joint press release (.pdf file) from Escrow.com and premium domain brokerage and acquisition specialists Domainer.com.
The deal was brokered for an undisclosed buyer by teams at Domainer.com and GoDaddy.com who worked together in hand with Escrow.com who facilitated the landmark transaction. Plans for the marquee domain have not yet been announced but a Domainer.com statement said the buyer has associations with other web3 projects, such as DigitalArtists.com (a curated web3 service to artists).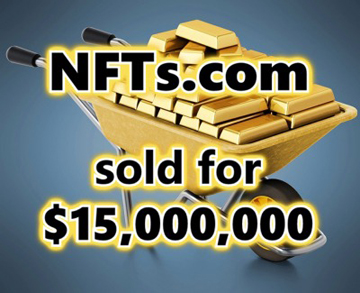 Image from Bigstock
The lead broker of the deal, Domainer.com's Matt Holden, said "It was a pleasure to work with all parties involved with NFTS.com, an incredible opportunity for the buyer to acquire a category killer domain and one of, if not the best, possible .com's in the entire web3 space." Ian Garner, Director at Domainer.com, added "The recent purchase of NFTS.com is an acquisition all brokerage platforms would love to be involved in. It has truly been a privilege to have played our part in the deal and to continue to represent a very happy buyer."
This news takes away any suspense about what the #1 sale will be in our next bi-weekly domain sales report that will be out this evening. At the same time, NFTs.com will be placed in the #1 position on our Year-to-Date Top 100 Sales Chart. Congratulations to all of the parties involved in making it happen. I think for just about everyone in our industry, this is the kind of news you love to wake up to!