fight well, as it was his fight too, but his thoughts were about how the disease was affecting others and memorializing those it had already taken. That was Shaun - a man who will most certainly live on in our hearts and memories.
Shaun was a very successful domain investor and developer, having owned and/or helped develop top tier assets like Jobs.ca, Candy.ca, Houses.ca, GoldCourses.ca and many others. His CandyCrave.ca ecommerce site has proved to be a big hit too. Sean was also a well-known player in the geodomain space as the owner of Kelowna.com, Kamloops.com and Penticton.com. Still his domain acumen is not what drew so many people to Shaun and made him one of the most beloved people in the business. It was the way he treated and connected with everyone around him.
I met Shaun in person for the first time in 2005 when we were both at the Domainfest conference in Los Angeles and the T.R.A.F.F.I.C. East conference in Delray Beach, Florida. We already knew each other from the domain forums online but to really appreciate Shaun you had to meet him in person. My first impression was this guy was a living, breathing teddy bear - you were instantly comfortable around him and would have been happy to give him a big hug - in fact many did just that!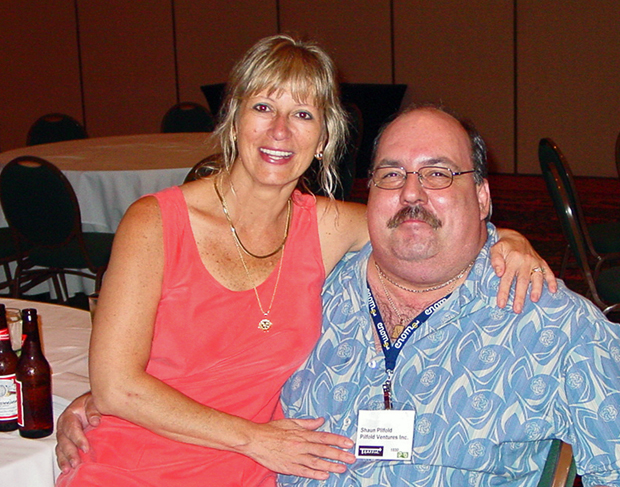 Above: Marcia Lynn Walker giving her friend Shaun Pilfold a hug at the
2005 T.R.A.F.F.I.C. East conference in Delray Beach, Florida.
Above: Many of us first got to know Shaun through DNForum.com,
owned at the time by Greg Ricks (at right above), who is seen here with
Shaun at the 2007 T.R.A.F.F.I.C. East conference in Hollywood, Florida.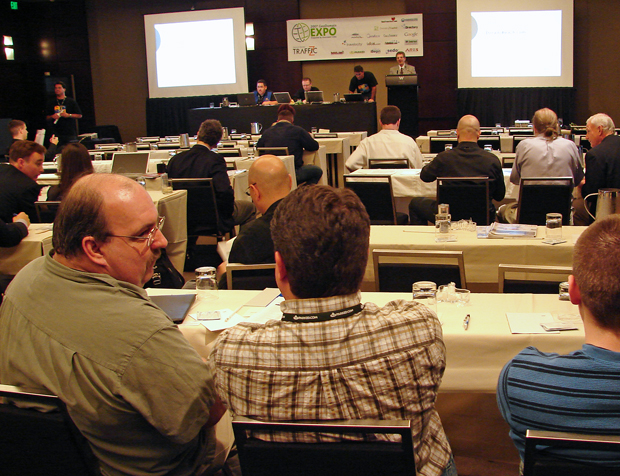 Above: Shaun made many other friends in the geodomain community where he was well-known as the owner/operator of several Canadian city .com websites. In this shot from the 2007 GeoDomain Expo in San Francisco, Shaun (at far left), chats with a friend during the live domain auction.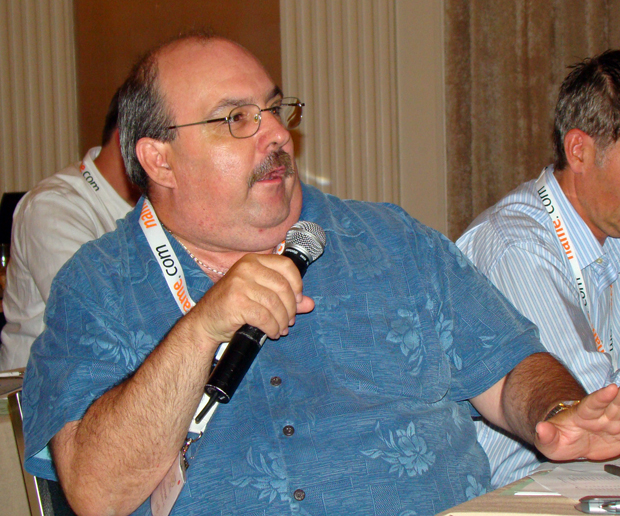 Above: Shaun was also at the 2008 GeoDomain Expo in Chicago where he is seen
sharing some thoughts from his seat in the audience during a panel discussion.
Above: Wherever domain people got together, Shaun was most likely there,
making new friends and enjoying the chance to see old ones again. Here he is
chatting with Eliot Silver at the 2007 T.R.A.F.F.I.C. conference in New York City.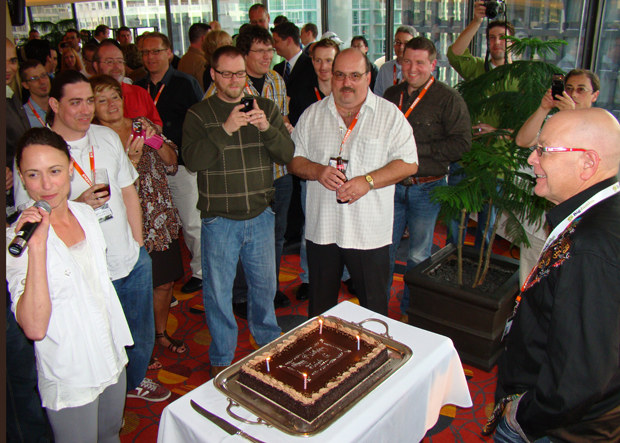 In 2010, Shaun finally had a chance to welcome his many industry friends to a big event on his side of the border at the T.R.A.F.F.I.C. Vancouver conference in Canada. This particular occasion was a surprise birthday party for Gregg McNair (at far right). When it comes to wishing people well, Shaun was always front and center and this was no exception.
With Shaun gone now, all we can do is send heartfelt condolences to his family and friends and share our stories of how he positively impacted our lives with his quiet manner, kindness and grace. It was a wonderful blessing to know him and I have no doubt that anyone who ever met him will tell you the same. Thank you Shaun, for being the man you were and showing us how to do it right in both business and life.