Broker Igor Furdyk of Linkoeln.com, who helped Intis Telecom acquire the IT.com domain name for $3.8 million, was at the London Domain Name Summit and was kind enough to send us a few photos from the event.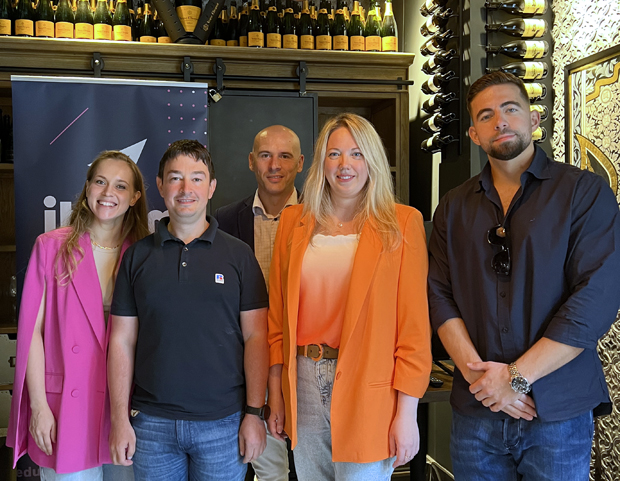 Above: The IT.com team at the 2022 London Domain Name Summit (LDNS) included (left to right) Tatyana Tarassenko (Growth Marketing Director), Rolandas Japertas (Business Manager), Andrey Insarov (Founder & CEO), Natalija Japerte (Business Development Manager) and Munir Badr (It.com Advisor and Owner of Aeserver.com).
Below: IT.com Advisor Munir Badr manning IT.com's stop in the London Domain Name Summit Exhibit Area. As someone who likes to have an occasional glass of red wine, I have to say that there is something about the LDNS's venue - Yum Sa - that I really love. I just can't quite put my finger on it!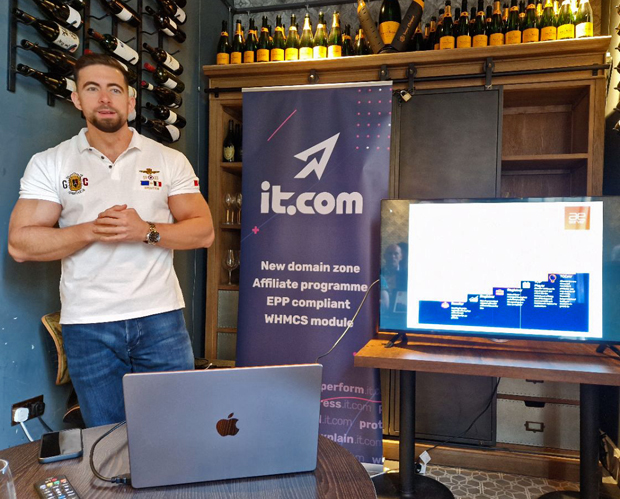 Above: IT.com Business Development Manager Natalija Japerte with
London Domain Name Summit Founder Helmuts Meskonis.
Igor also let me know that Growth Marketing Director Tatyana Tarassenko recorded a video interview with LDNS Founder Helmuts Meskonis shortly before the show began. Post show, it is still interesting because it focuses on why Helmuts started the new event and how he believes it will benefit domain investors in the UK and Europe going forward. You can view that 5-minute clip on YouTube.
The IT.com crew that was at the LDNS the first half of this week has to get back to work, but IT.com will still be well represented at NamesCon Global by one of the industry's most familiar faces, our long-time friend Joe Alagna, who is now an IT.com Advisor. Joe was CentralNicís General Manager for North American Markets for 12 years prior to joining 101domain and then the Afilias Registry. Joe will be providing an Introduction to IT.com on the Bodis Keynote Hall Stage on Friday morning, September 2, starting at 11:35am.

The 2022 NamesCon Global conference will get underway Wednesday morning, August 31, at 10am (U.S. Central Time) at the downtown Omni Hotel in Austin. That is the same venue where the industry's last major in-person conference - NamesCon 2020 - was staged in January of that year. The long wait is just about over and that is something we can't wait to celebrate.

Joe Alagna
IT.com