customer pain points, resulting in campaigns like Ideato.store and Startin.tech, which connected deeply with their audience. Their platform, Namify.tech, also opens opportunities for Radix to bridge the gaps in the customer journey from ideation to execution. Radix has confirmed other projects in the pipeline that they are confident will keep the company's blazing growth going over the next decade and beyond.
After working so hard to achieve their vision over the past 10 years, Radix certainly earned their right to celebrate and they did it in style during NamesCon Global with a big anniversary party at the popular Roosevelt Room in Austin on the opening night of the conference on August 31.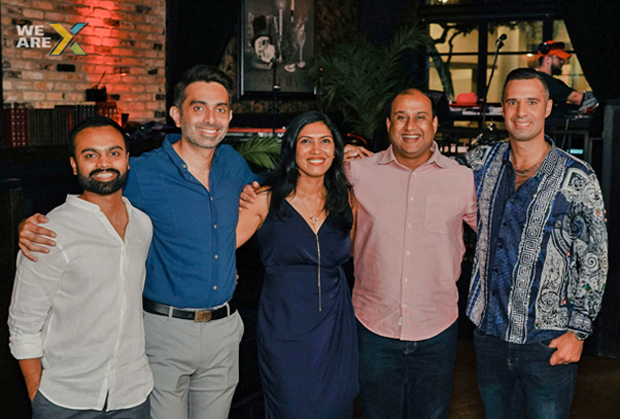 Above: Radix leaders ready to welcome guests to the Roosevelt Room. Left to right are Karn Jajoo (Director, Premium Names), CEO Sandeep Ramchandani, Neha Naik (VP, Channel Partnerships), Joel Rasquinha (Associate Director, Strategic Partnerships) and Mark Ghoriafi (Senior Manager, Strategic Partnerships). All photos are courtesy of Radix.
Heading into the evening Sandeep noted, "Even when we started as a team of 10 with a big vision, success to us had always been about creating more value for our customers and partners than we ask of them. As we look forward to the next decade, we hope to continue contributing towards helping our customers succeed while they work towards realizing their dreams."
Below: In selecting the Roosevelt Room for their celebration, Radix booked an Austin institution that features what may well be the most well stocked bar in Texas's capital city!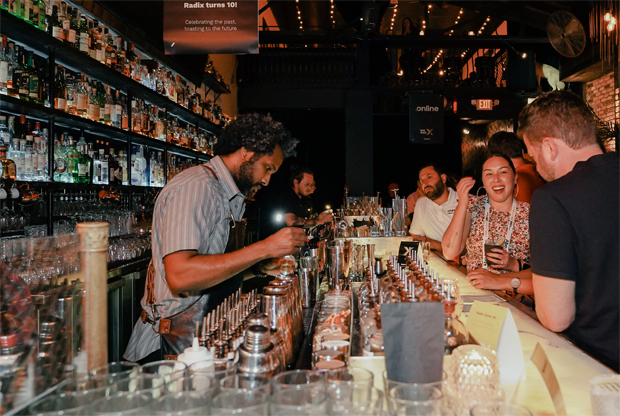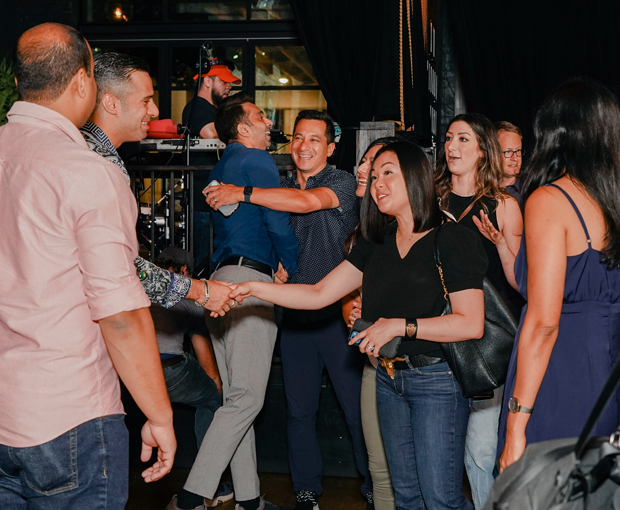 Above: It seemed like everyone in Austin for NamesCon Global was overjoyed to be able to see each other in person again (after a two-and-a-half year wait caused by the global Covid pandemic). That was certainly the case at the Radix 10th Anniversary Party. In the center of this photo you see Sandeep greeting NamesCon Co-Founder Richard Lau with a big hug.
Below: In this shot, Neha is happy to have a chance to catch up again with Richard's fellow NamesCon Co-Founder, Jothan Frakes.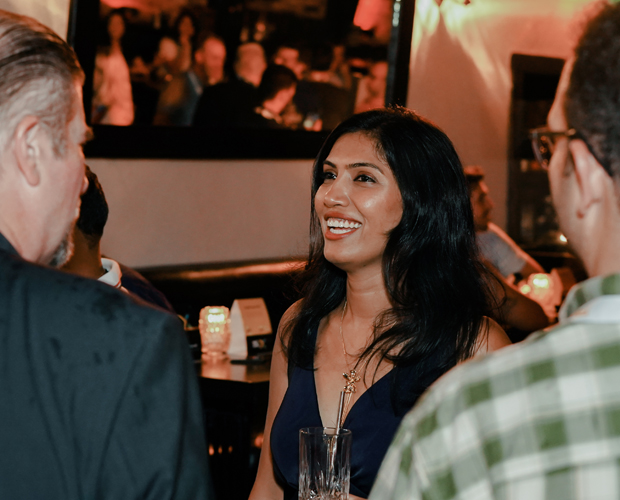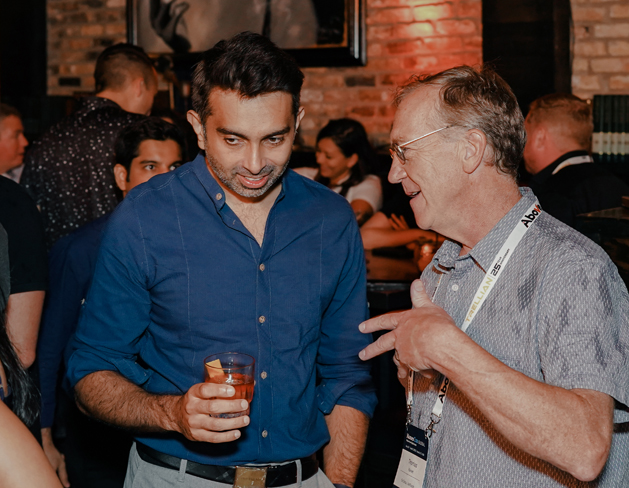 Above: Leaders from many of the industry's other well-known firms were on hand to celebrate with Radix. Encirca President Thomas Barrett (at right) was among those congratulating Sandeep and his team.
Below: Radix also had a camera crew on hand, led by Mark Ghoriafi, so they could document the big event for posterity. Here Mark is interviewing WordPress Senior Manager Jason Nickerson.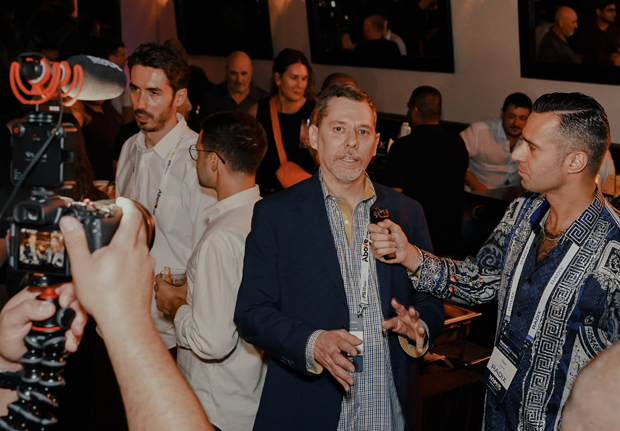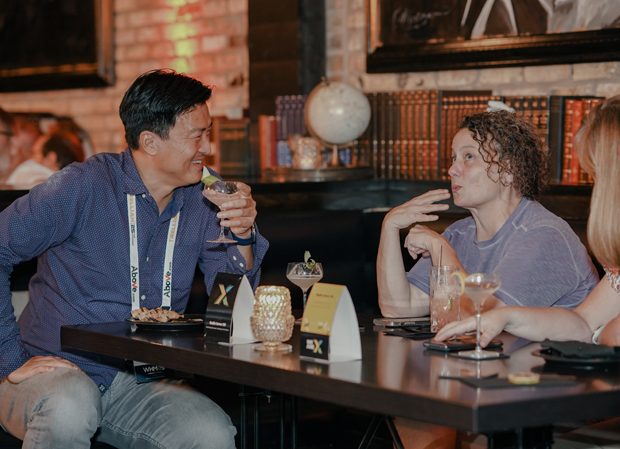 Above: Dynadot Founder Todd Han (left) was there too and having a great time catching up with Kellie Peterson. Todd knows full well what it takes to stay on top for the long run as Dynadot is celebrating their 20th anniversary this year.
Below: More familiar faces in the crowd, (left to right) Prakhar Bindal (NameKart.com), Mark Ghoriafi, Aishwin Vikhona (Gloabl Websoft), Candice Castro (Dynadot) and Shaun Wilkinson (Bodis) turned out to toast Radix.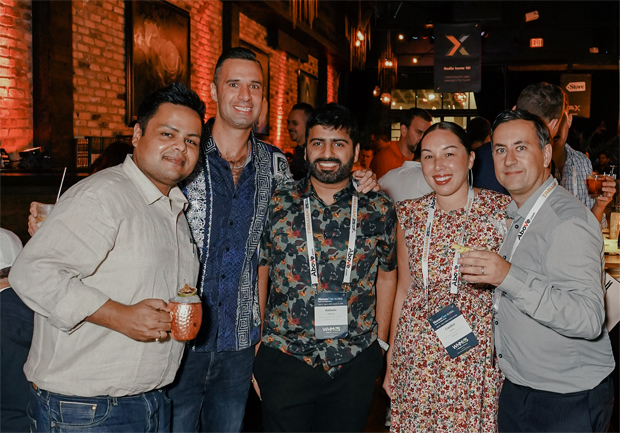 Radix was founded by domain industry giant and serial entrepreneur Bhavin Turakhia. His previous ventures in the domain industry include ResellerClub and BigRock, both ICANN accredited registrars, and LogicBoxes, a web products and consulting company. These companies were acquired by Endurance International Group, now Newfold Digital, in 2013. Bhavin went on to launch Titan, Flock, and Zeta, all of which he continues to run successfully as CEO.
With this history of an unwavering commitment to excellence, it is not surprising that Radix had upheld the "family tradition" so well. We wish many more decades of success in the years ahead!