GGRG's latest quarterly Liquid Market Report, covering domain sales from this category reported in the second quarter of 2023, is now out. The report covers a subset of the overall aftermarket - short acronym and numeric domains - that, due to steady demand, tend to have more liquidity than most other domain categories. These are .com domains comprised of 2-4 letters, 2-5 numbers or a combination of 2-3 characters mixing letters and numbers.
After a spectacular opening quarter of the year, many were wondering if sales would continue to boom as they did in 1Q-2023. 2Q also wound up being one of the best quarters for liquid domains in recent years but even so, in a perfect illustration of just how strong the previous quarter was, 2Q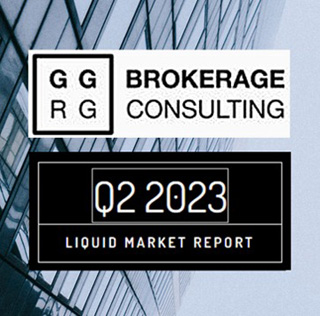 sales were down 50% from 1Q-2023. Still the almost $22 million in total sales (dwarfed by the eye popping $43 million posted in the opening quarter) was quite respectable.
Q2-2023 was another excellent quarter for two-letter .com domains, which reached $11.5 million in sales at GGRG's data partner, Escrow.com, giving that group the highest sales volume. The 5th percentile values (a representation of a reasonable category price floor in any given time period) for the most liquid categories (four letter, five number and three character domains) stayed stable or showed encouraging increases that GGRG Founder Giuseppe Graziano said attested to the solidity of liquid domains over time.
You will find much more detail in the free full report that you can view here.