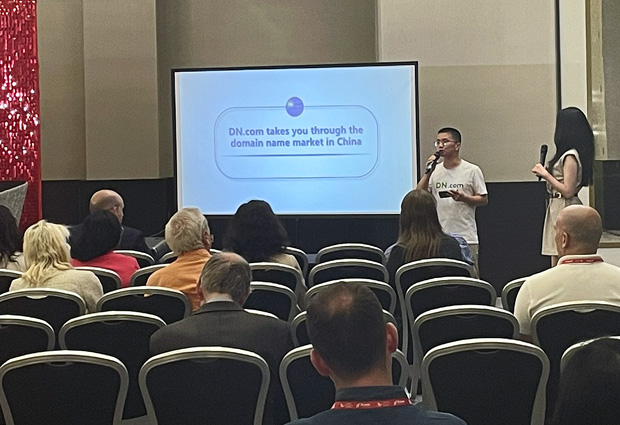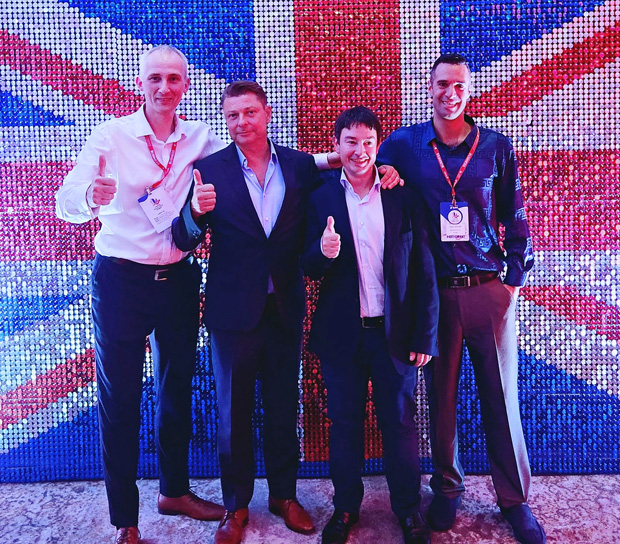 Day 1 concluded with an evening social event at the Metropole. Among those on hand were (left to right) London Domain Summit Founder Helmuts Meskonis, ShortDot SA Founder Lars Jensen, IT.com Founder & CEO Andrey Insarov (IT.com was the conference's title sponsor) and Mark Ghoriafi (MrPremium.com).
Since we weren't able to make it to London this year, it was good to see photos posted on social media by Mark and many other attendees so we could share a pictorial taste of the event with you. IT.com provided some of the best shots from the colorful event including this one spotlighting their crew (left to right), Business Manager Rolandas Japertas, Andrey Insarov, Business Development
Director Natalija Japerte and a very properly attired British footman.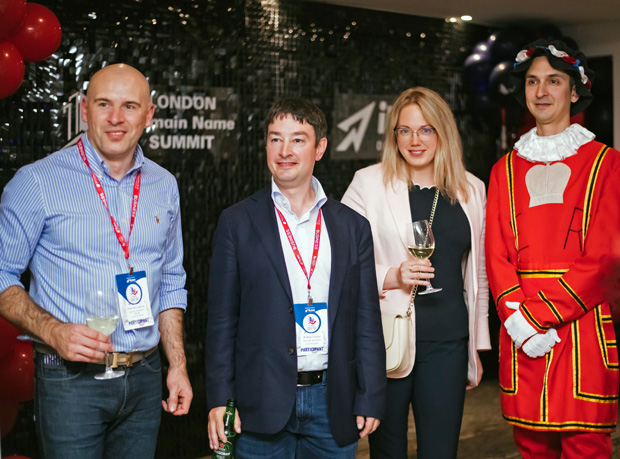 The second and final day of this year's London Domain Summit got underway at 10am Wednesday morning (August 23) with a panel discussion devoted to Buying and Selling Premium Domain Names. That session featured (left to right in the photo below) Moderator Tess Diaz, Michael Law (Grit Brokerage), Braden Pollock (LegalBrandMarketing.com), Adam Wagner (ParkingCrew.com), Mark Ghoriafi (MrPremium.com) and Ryan De Corsie Ewen (Digital Candy). Photo credit: Mark Ghoriafi.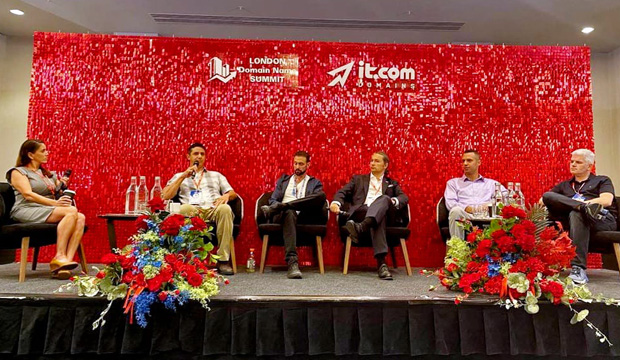 A trio business sessions followed to take attendees up to the 2pm lunch break. Those break times provide the best networking opportunities for attendees and nothing is beats those face to face chats with friends and fellow domain investors from around the world. The UK's Sam Charles (at right below) posted this shot of him with one of America's most well known industry figures (and all around good guys), Braden Pollock.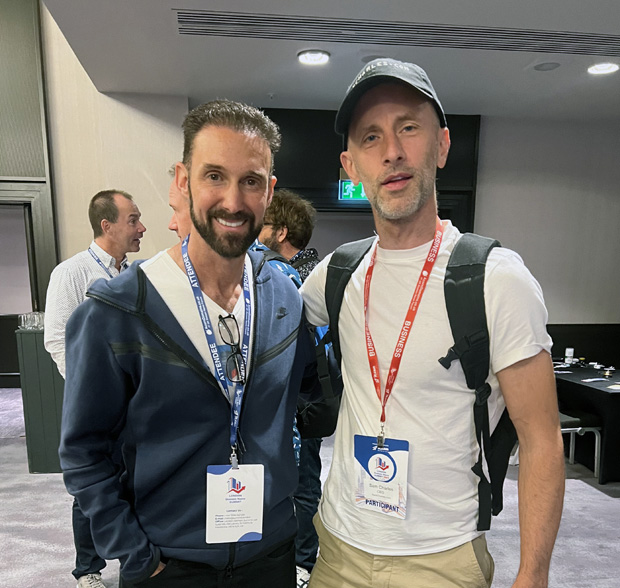 After the lunch break it was time to head down the home stretch with a quartet of final business sessions. In one of those FreeName.io's Eleonora Bellotto (Head of Partnerships) and Federico Costa (Co-Founder & CTO) delivered an informative presentation on what is happening with Web 3 domains (that is Eleonora and Federico with London Domain Summit Founder Helmuts Meskonis at right).

Below: The final session of the 2023 Summit was an In-Person Debate featuring two of the candidates for the post of member-elected non-executive director at Nominet (the administrator of the .uk registry). Left to right are candidates Thomas Rickert and Steve Wright with moderator Andrew Bennett.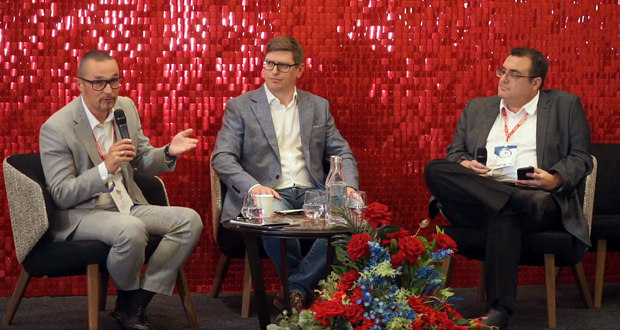 Once business is out of the way, London night life always beckons. The shot below, from IT.com, captured (left to right) Munir Badr (AEServer.com Founder and Founder of the highly anticipated Domain Days Dubai conference that will be launching in November (dates are November 1 & 2, 2023), Joe Alagna (IT.com), Yue Dai (DN.com), Andrey Insarov (IT.com Founder) and Rolandas Japertas (IT.com).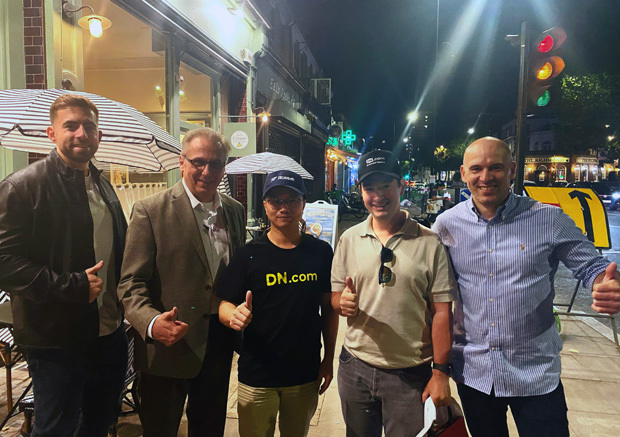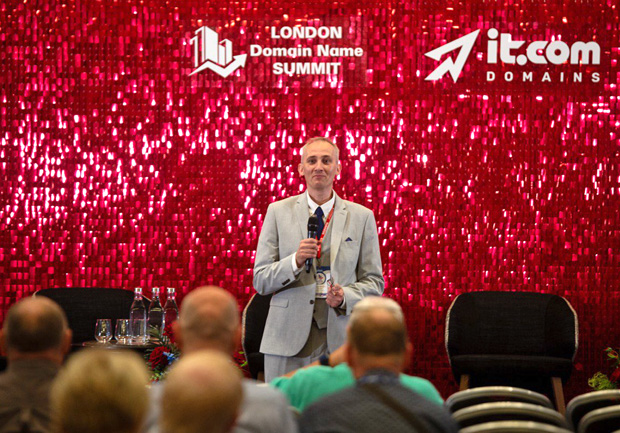 With a second London Domain Name Summit now under his belt, conference Founder Helmuts Meskonis (above) is no doubt already thinking about #3 in 2024. The groundwork has been laid. Now comes the tough part - finding a way to top yourself again next year!