comes hand in hand with new and more complex cyber threats. The directive aims to establish a comprehensive framework to address these threats, ensuring the resilience of critical infrastructure and promoting a high common level of cybersecurity across the EU member states.
The objectives of the NIS2 Directive can be broadly categorized into three primary goals:
● developing a culture of shared responsibility in addressing cybersecurity risks
● ensuring that essential service providers and digital service providers adhere to strict security standards
● facilitating swift and efficient information sharing and collaboration for responding to cyber threats among member states
The NIS2 Directive poses challenges for the domain industry, particularly regarding verification processes and the allocation of responsibilities between registries and registrars. It emphasizes stringent verification for domain registrations, but the lack of clear procedures presents difficulties for domain professionals. Additionally, the directive has implications beyond the EU, affecting companies outside the EU that offer services to EU customers, which raises concerns about balancing legitimate access and data privacy.
Article 28, for example, focuses on the necessity for TLD registries and domain name registration service providers to gather and maintain accurate, comprehensive data on domain name registrations. Therefore, TLD registries and domain name registration service providers must craft policies and procedures to validate the accuracy of the information in their databases. Non-personal domain name registration data should be made publicly available promptly after domain name registration.
Although it aims to strengthen cybersecurity in the EU, the directive will result in significant changes and problematic situations for digital operators and domain professionals. For this reason, the industry must remain vigilant and make an effort towards collaboration in order to navigate its complexities effectively.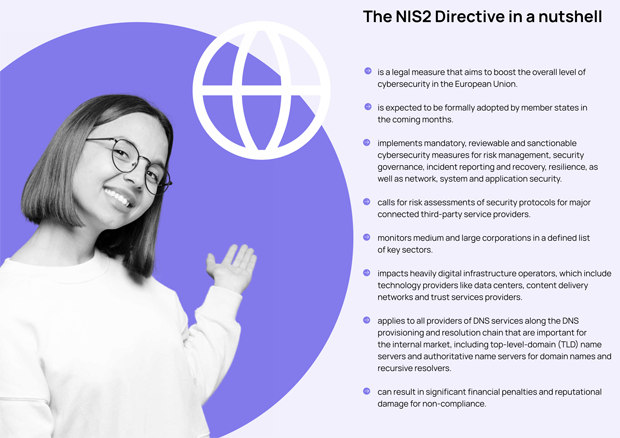 To help you understand this complex piece of legislation, InterNetX has developed an insightful e-book titled "NIS2: Unraveling the Directive". It provides an in-depth understanding of the EU regulatory shift and explores its impact on multiple parties within the domain industry. You will gain valuable perspectives on how the EU's mission of ensuring a safer digital environment for users and businesses can be achieved through accurate domain registration data and recognize its broader implications for the domain industry.