We connected with Rick to get the full story on how all of this all happened. Blockbuster sales have been nothing new for him since they began with Men.com at $1.3 million in 2003 and continued with over a half-dozen more in seven figures, including an $8.8 million sale of Porno.com in 2015. Rick said, "I have had some pretty notable sales but the sale of Candy.com is my most important sale for a number of reasons, even beyond the eight-figure total it eventually generated."
"It all started in 2009 when I got a call from these two young guys, Greg Balestrieri and Joe Melville, who were cousins from a family in the candy business. I think Greg was 20 at the time. I hung up on them multiple times, something all three of us laugh about now! But they had what it took for me to be interested. First of all their family was in the candy business for 37 years. So they had a true pedigree and they were hungry and energetic. So, I told them I would sell it to them and let them pay for it over time but they would have to come up with a $60,000 down payment first. With their family's help they put the money together and we made a deal that gave them the name for $3 million with a multi-year payment plan but the most important piece of the puzzle was me also getting 5% of the company."
"They did well - they grew and grew and grew some more! In 2017 I went to visit them for the first time and they had a warehouse that was as big as a Costco! They also told me that every piece of that inventory turned within 48 hours. Absolutely mind-boggling! As they grew they expanded, becoming a food service company with bigger margins and more buyers nationwide. When Covid hit they kept their heads down and continued to grow as challenging as it was. Still, they had some growing pains along the way, so I made a few concessions on their payments in return for more shares in the company. Three years ago, when an investor came and bought into the company, I sold some of my shares and got a $1.7 million payout but still retained a stake in the company because I always believed in Greg and Joe and always told them that. I didn't want to cash out. I wanted to go for the ride!"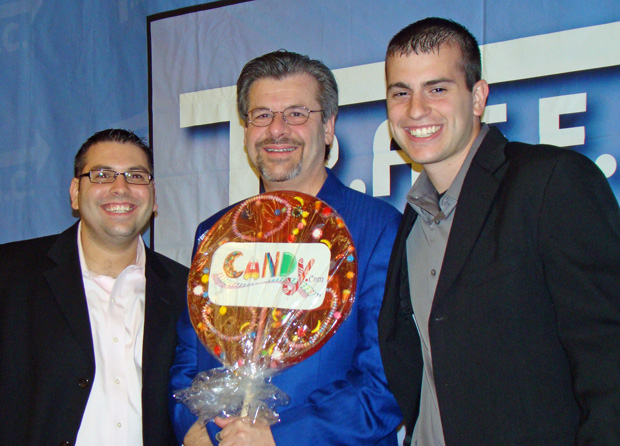 Joe Melville (left) and Greg Balestrieri (right) of the Melville Candy Company with Rick Schwartz celebrating the $3 million deal they made for Candy.com at the 2009 T.R.A.F.F.I.C. conference in New York City.
"They used Candy.com like a booster rocket. They used the credibility that domain gave them to elbow their way right into the center of their industry and they grew as expected. When they expanded into other categories they became GreenRabbit.com and that allowed them to sell off Candy.com in 2021 and use those funds to grow the company even more without having to get outside financing."
"So here we are in 2023 and I got an unexpected call last Monday morning (September 25), and Greg and Joe were just giddy. They told me they had agreed to sell the company and it was going to be BIG news that would be happening within the next seven days. Oh my! I was smiling so hard for 45 minutes I created new wrinkles!," Rick laughed. "We had such a wonderful phone call and talked about what we have been through these past 14 years, about how much I believed in them and how much they appreciated that I did believe in them and still do. It literally changed their lives. They and the friends and family members who invest in them become multi-millionaires now - and that is the greatest satisfaction of all - middle-class to upper class with a domain name!"
"I walk away with slightly over $7 million plus the millions received before, so now I have a total deal worth over $11 million. One hell of a return on a low six-figure investment and this is a successful formula - allow someone the time and a long enough runway to get their business off of the ground. I am an angel investor but invest with domains, not dollars. I invest in people that I believe in. This is now my baseline sale. This is the sale that I point to when I make other deals. This is my model And now this model is proven. It has come full circle."
"But the story doesn't even end there. Now, Greg and Joe have a great success under their belt. They will be able to parlay that success into an even bigger success in the future. They know the path and they're not a one trick pony. In the meantime, Greg and Joe and their families are going to come to Florida and we're going to have a yacht party. One that none of us will ever forget!," Rick smiled.