That initial trepidation quickly evolved into appreciation as I learned that NameBlock is an innovative new tool that actually helps insure that web users DO connect with you rather than some bad actor trading on your name. As a side benefit, I also learned the service can also be a source of new revenue for registrars, registries, brokers, attorneys and other industry professionals. OK, now we're talking!
Considering the people who are behind the product, I should have known from the start that something good was in the works. NameBlock was founded by Rolf Larsen, who previously founded the .global domain registry that he and his team turned into a new TLD success story that led to Afilias acquiring the enterprise in 2019. Rolf also co-founded and continues to serve as Chairman of iQ Global (a provider of cybersecurity, business intelligence, consulting and DevOps services for the domain industry) and leads several other enterprises as well. His Senior Vice President at iQ, Pinky Brand (whose rich industry resume goes all the way back to the 1990s!) has taken on the same role at NameBlock, The all-star team helping guide the new service, as well as use it in their own business, also includes ShortDot SA Founder and CEO Lars Jensen and ShortDot Co-Founder & COO Kevin Kopas. Kevin is also a NameBlock board member and is serving as their Senior VP of Business Development.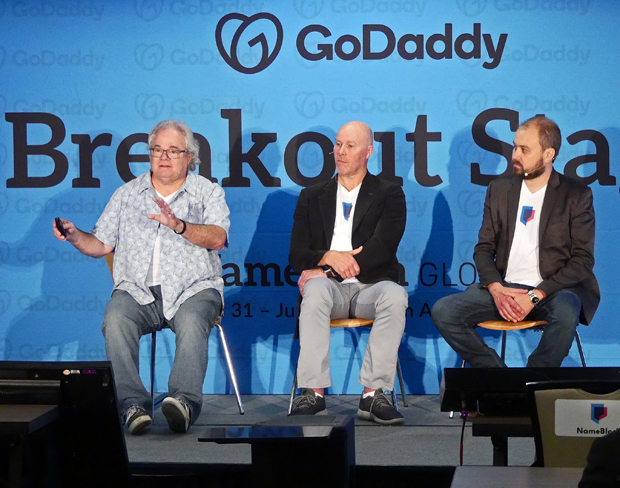 Introducing NameBlock at the 2023 NamesCon Global conference in Austin
are (left to right), Pinky Brand, Rolf Larsen and Kevin Kopas.
NameBlock was created to solve a problem that has been bedeviling businesses with an online presence since the domain name system was born - that of bad actors registering confusingly similar domains in an effort to siphon traffic away from legitimate sites and send unwary consumers to bogus sites where a variety of scams, malware and other assorted ills are often waiting for them. For decades that has resulted in an endless game of whack-a-mole in which a new threat pops up as soon as an old one is shut down. That led Larsen to wonder "what if there was a way to prevent domains whose only purpose is to deceive from being registered in the first place?" In NameBlock he and his teammates may have found a way to turn that seemingly impossible dream into a reality.
They started by using sophisticated machine learning algorithms to create a database, called the iQ Threat Intelligence Repository, that allows NameBlock to identify and block the most common terms used to conduct phishing, spamming and other forms of DNS abuse. That allows them to examine a domain name and determine the most likely forms deceptive names would take through typos, homonyms, substituting a single character (like a zero for the letter O), etc. With that information, which is the foundation for NameBlock's Abuse Shield, participating registry operators in any TLD can then automatically block all of those permutations from being registered at all.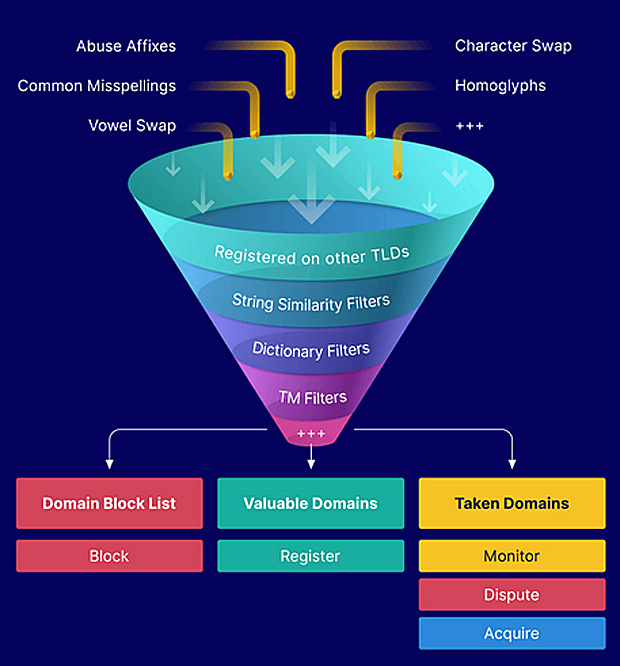 AbuseShield is able to identify and block only the variants that would otherwise be used for abuse. Up to 500 variants will be generated, consisting of homoglyphs, abuse suffixes & common misspellings.
NameBlock is easy for the registries to integrate and they don't lose any meaningful revenue because what they are sealing off is basically a dead zone littered with names that would only be created for the purpose of DNS abuse if they were registered. Conversely, their share of NameBlock registration fees could have a very positive impact on their overall revenues.
Rolf Larsen noted, "NameBlock aims to fill a gap in the domain protection and DNS abuse space. Our Abuse Shield and BrandLock product levels ensure that all business name variations are blocked across domain extensions enrolled with NameBlock, , thus securing the name from abuse. We aim to make the Internet safer and more secure, and we are certain that NameBlock is the perfect instrument to do it."
Of course, how much protection a given registrant may want or need will vary from one to another, so NameBlock is offered as an add-on product to a domain registration. So when you register a name at a participating registrar, you will be able to add the NameBlock service at the same time if you want it. You can also renew it (or drop it) at the same time you renew your domain. In exactly the same way that registrars set their own retail prices for domains, they can set the price they want to charge for NameBlock (the need to compete in the crowded domain registration field should keep pricing at attractive levels).
I mentioned at the top that Nameblock creates new revenue opportunities for entrepreneurs beyond registries and registrars. Brokers, brand consultants, attorneys and others can sign up as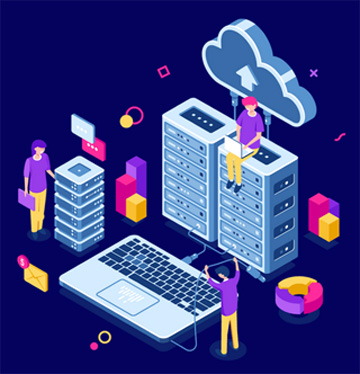 NameBlock resellers and offer the service in conjunction with domains they are helping clients acquire and/or protect. That is why the company refers to NameBlock as A Marketplace for Domain Name Blocking - there is room for buyers and sellers of all kinds to utilize the service.
Lars Jensen's ShortDot SA, a domain registry operator, has put their TLDs in the NameBlock system. Lars noted, "NameBlock is a revolutionary domain protection service that makes it possible for startups and young businesses to block their domain name without needing a trademark. It is a fantastic value to registrants, a great product offering for registrars it reduces abuse on the DNS. Everybody wins!"
While the term "domain name blocking" had my Spidey senses tingling a little at first, they made a 180 degree turn after I got a look under the NameBlock hood. Just as blocking is a positive - actually critically important - part of football, this blocking service may go a long way toward fixing a problem we have all been dealing with for far too long.