The 2023 NamesCon Global conference held at the downtown Omni Hotel in Austin, Texas May 31 through June 3 was the 10th edition of the domain industry's biggest event and the third in a row held in the Lone Star State's capital city (the first seven were staged in Las Vegas). However, this one was unique as it was the first time NamesCon's parent company, WHD Events GmbH (who acquired NamesCon and the hosting industry's biggest event, Cloudfest in 2021), ran NamesCon concurrently with a Cloudfest USA conference.

The result was a bigger crowd (over 1,200 tickets distributed) that brought the two related fields closer together in a venue that never felt over-crowded. That's because each conference
had their own stages and special events so they didn't directly cross paths outside of two big social events where everyone came together. Those were the June 1 night time ConneXion Party (a popular staple of Cloudfest events) and a show ending Fun Day June 3.
The experiment worked so it will likely be the new standard for future events. At the conclusion of NamesCon, Soeren von Varchmin, Chairman of the Advisory Board for Cloudfest/Namescon, announced that NamesCon Global will be held at the Omni in Austin again next year, running June 5-8, 2024.
As you would expect from the domain industry's news magazine, we focused on the NamesCon Global conference for this review, though like many in the domain crowd, we thoroughly enjoyed crossing paths with so many of our friends from the hosting business throughout the week. To give you a sense of how everything flowed from start to finish, we will share the photos and highlights we gathered in chronological order with one exception. NamesCon sessions run on two tracks - one running in the Above.com Keynote Hall and the other on the GoDaddy Breakout Stage. To avoid giving you whiplash by going back and forth between two venues in same time frame, we will run down everything that happened on the Keynote Stage in order, then do the same for the Breakout Stage for each daily recap. With that....let's get this party started!
The Night Before NamesCon - Tuesday, May 30, 2023
Speaking of parties, those actually began before the conference even started! Since many attendees come into town a day early to get settled in, some companies hold private pre-show events for their clients and friends. It's something sister companies Sedo and InterNetX have been doing ever since NamesCon started and this year they were joined by a third co-sponsor, IT.com.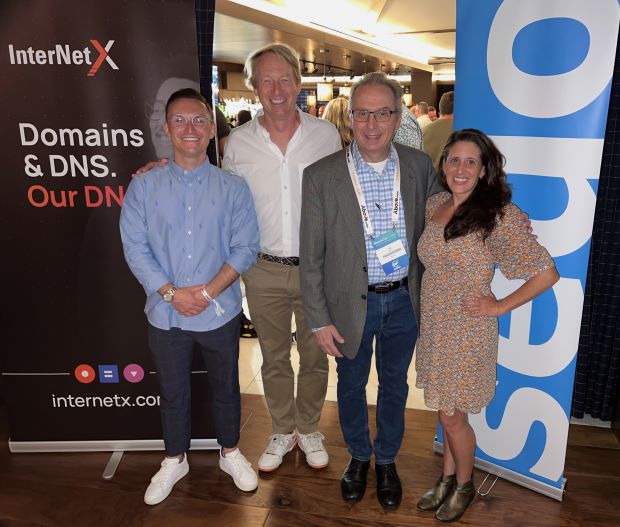 Above (left to right): Claus Barche (InterNetX), Christian Voss (Sedo), Joe Alagna and Tess Diaz (both from IT.com) were all on hand to welcome guests to Austin's AC Bar for their NamesCon Global pre-show party in Austin Tuesday night, May 30, 2003.
Below: Some of the first guests to arrive wasted no time re-connecting with friends and colleagues and meeting new ones.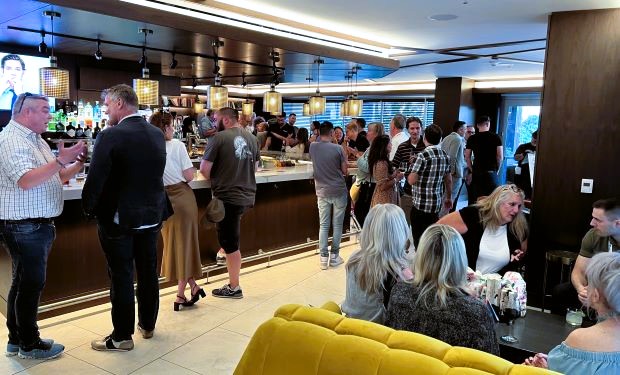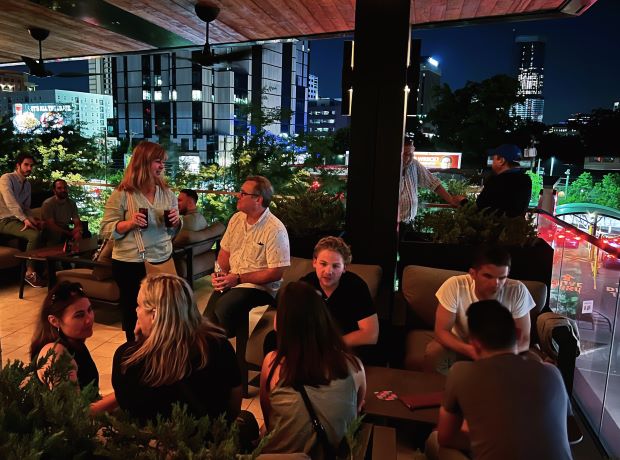 Above: The comfortable venue and ample space inside and out for guests to mingle. The outdoor patio was especially popular after the sun went down and the temperature dropped to an ideal level.
Below: Inside, Info.at CEO Sebastian Roethler (at left) enjoyed catching up with InterNetX Head of Sales Claus Barche. For more on this event see the full article about it that was published in our Lowdown section.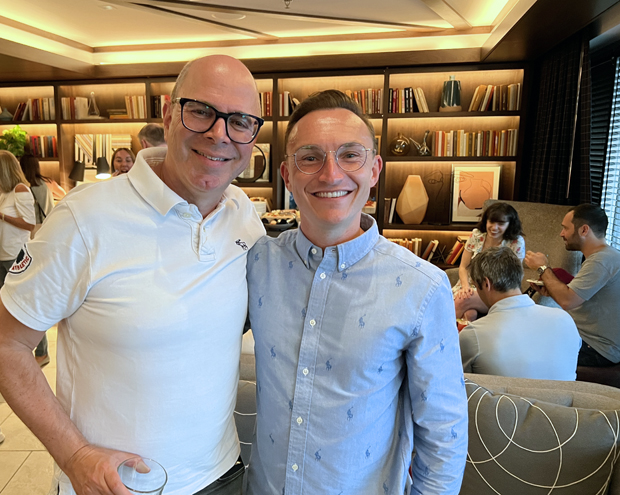 After that pleasant head start on the busy weekend ahead, everybody was ready to get down to business!
Opening Day (Wednesday, May 31) - Above.com Keynote Hall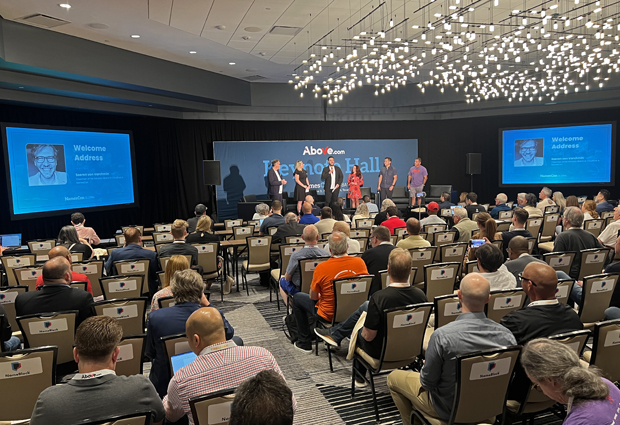 Above: Soeren von Varchmin, the Chairman of the NamesCon Advisory Board, opened the show at 10am on Wednesday, May 31, with everyone gathering in the Keynote Hall for his welcoming comments and introductions to some of the people who would play key roles over the four days ahead.
Below (left to right): Soeren von Varchmin and the overall conference moderators, Elisabeth Klughardt (Founder at Finding Betty LLC) and Dennis Tinerino (Founder at Domain Smoke).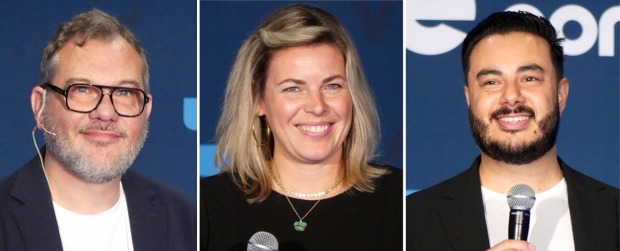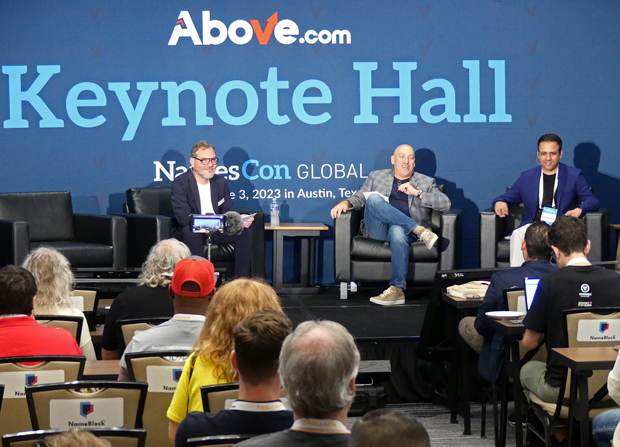 Above: In the first business session of NamesCon Global 2023, (left to right) Soeren von Varchmin welcomed Andrew Miller (President, Hilco Digital Assets) and Darpan Munjal (Founder & CEO, Squadehlp.com) to the Keynote Hall stage to talk about AI and Brandable Domains: The New Frontier of Domain Investing. They detailed the transformative impact of artificial intelligence on domain investing and discussed opportunities AI has created for investors.The rising significance of brandable domains and tools to harness the power of cutting-edge AI technologies to make better domain investment choices were also prime topics in this timely session.
Below: Next up, Ron Jackson (Editor & Publisher, DNJournal.com) conduced a Fireside Chat with UK domain investor and Crunch.id Founder Leanne McMahon. They discussed sources of valuable domain sales data that provides insight into the latest domain sales trends. In Crunch.id, Leanne has created a site that masterfully slices and dices that data into tidy packages that lets you see what is happening with various TLDs, whether prices are rising or falling for specific categories, as well as a number of other key metrics.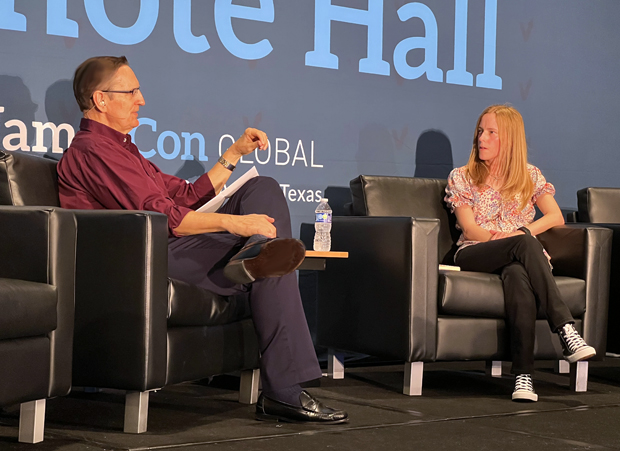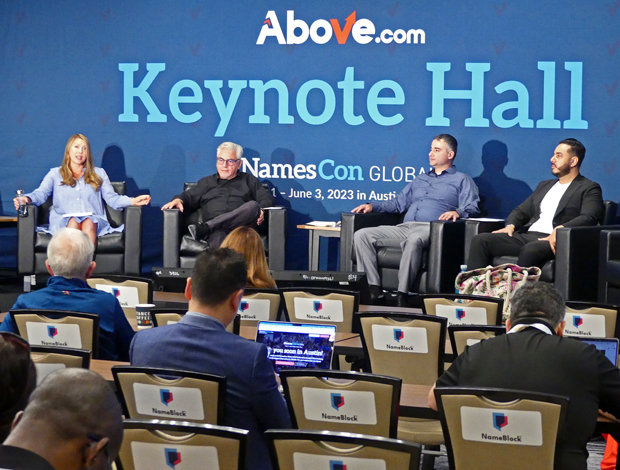 Above: The final Keynote Hall session before the lunch break, titled The Future is Now: Position Your Portfolio to Meet Emerging Trends featured (left to right): Kate Buckley (Founder & CEO, Buckley Media), Joseph Ciprut (Managing Director, Mindthrust), Alex Verdea (Sales Magician, AudiencePortal) and moderator Dennis Tinerino. They provided innovative ways for finding the best domain names that can help build brand dominance and create a digital identity that stands out from the crowd. They also offered advice on how to price your hand-registered domain names to increase your sell-through rate.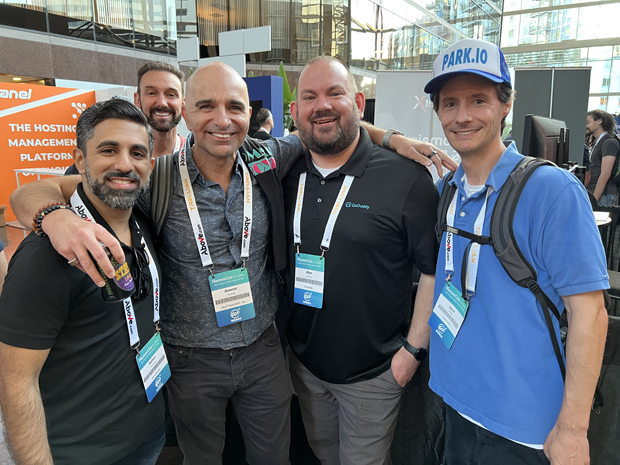 Above: The 90-minute lunch break from 12:30 to 2:00pm gave attendees ample time to both grab a bite to eat and visit company booths in the towering light-filled Exhibit Hall located in the Omni's impressive atrium. That's where we caught up with (left to right): Rehan Ahmad (AccuMedia), our favorite photo bomber Braden Pollock (Legal Brand Marketing), Ammar Kubba (afterTHOUGHT), Alan Shiflett (GoDaddy) and Steve Webb (Impervious).
Above: Back in the Keynote Hall for the first afternoon session, the audience had an opportunity to get Up Close and Personal with the ICA, meeting members of the leadership team at the invaluable Internet Commerce Association, the non-profit organization that fights to protect domain owner's rights. Left to right are ICA General Counsel Zak Muscovitch, ICA Member Kate Buckley, ICA Executive Director Kamila Sekiewicz and ICA Board Member Braden Pollock. During this session, ICA Board Member Nat Cohen, who has played an instrumental role in establishing and growing the ICA since its founding in 2006, spoke from the audience. By getting to meet the people leading the ICA and learning about the organization's priorities, attendees came to understand why it is in their own best interests to join and support the organization as so many of their industry colleagues have done.
Above: Next up, Johannes Steck (Reseller Head at CentralNic) and the company's Data Engineering Manager, Mirco Pyrtek (seated), presented The Data Advantage: Leveraging Data and AI to Build and Maintain First-class Reselling Platforms at CentralNic. They detailed how CentralNic's large-scale organizational structure helps domain resellers achieve their goals.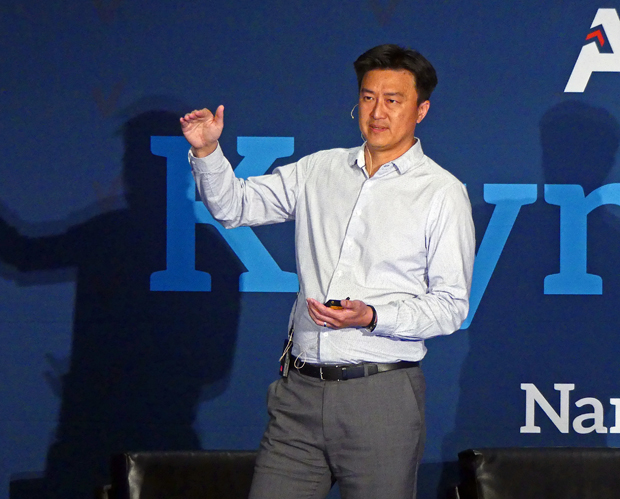 Above: Dynadot President & Founder Todd Han was next with Dynadot: Stay Ahead with Bespoke Domain Experiences. For over 20 years now, Dynadot has been providing customers with world-class registration services. Todd provided a behind-the-scenes look at the past, present, and future of one of the industry's most popular registrars (Dynadot is one of three primary registrars I use myself and after many years with them my experience has always been a good one).
Below: I go back even further with friend and ParkLogic Co-Founder Michael Gilmour who came on stage next to talk about Monetization for Professionals. Michael detailed how high-end individual and corporate investors can earn substantial revenue from monetizing domain traffic. He also provided a comprehensive update on the opportunities that recent changes to the wider monetization ecosystem present. Michael's advice is always backed up by data and his own proven insights into increasing the earnings potential of your portfolio.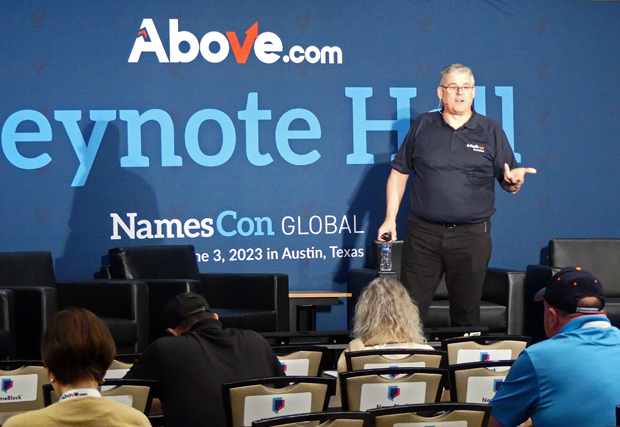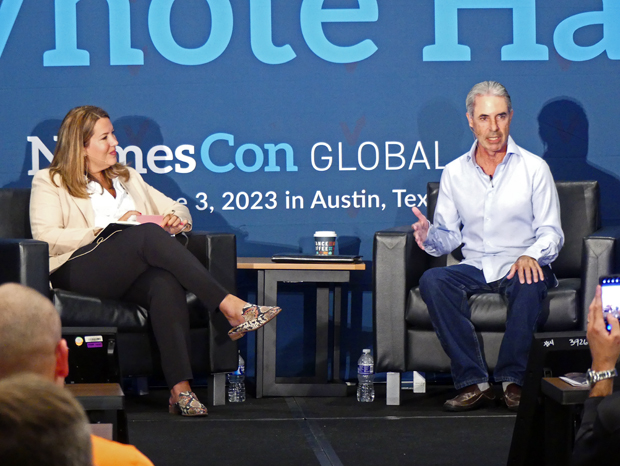 Above & below: NamesCom Global 2023 scored a major get by convincing industry pioneer Michael Mann (Founder & CEO at DomainMarket.com, among many other companies) to get on a plane and come to Austin for an interview with Amanda Waltz (Waltz Digital Media). We've written two cover stories about Michael who was already an industry legend when we arrived on the scene over 20 years ago. While he has made rare appearances at events near his homes in Florida and the Washington, D.C. area, this is the first time he ever flew to a conference! Mike has made tens of millions of dollars over the years, all with the primary purpose of giving it away to charity (toward that end he wrote the book Make Millions and Make Change). Mike also founded Phone.com, SEO.com and the nonprofit MakeChange.com, to name just a few. Mike was his always forthright and transparent self in dispensing sound advice on a wide variety of domain investment topics while discussing his mistakes as well as his successes.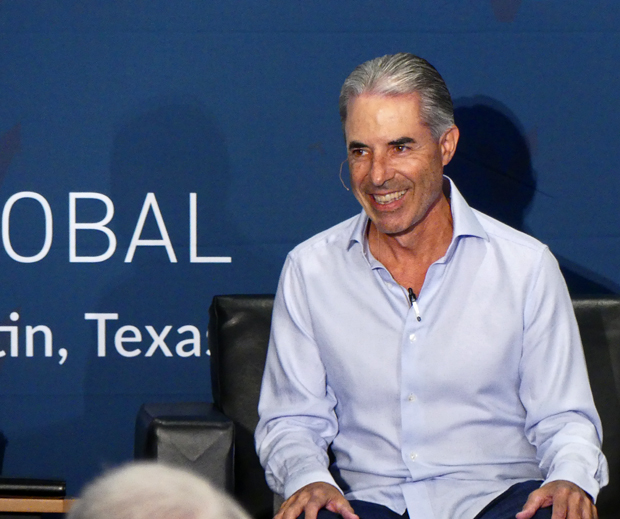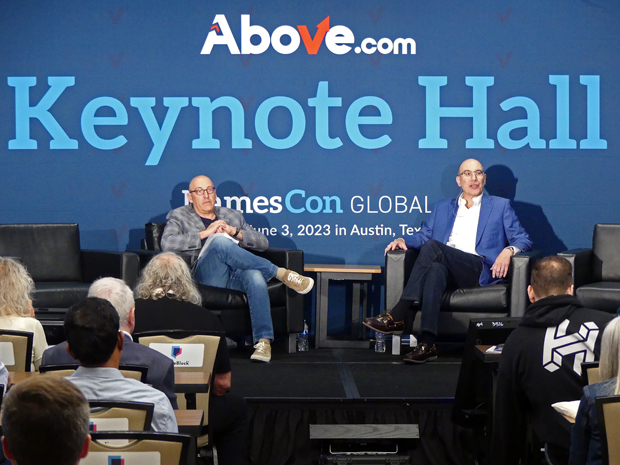 Between Mike Mann's session and the two that followed, NamesCon Global got on a tremendous roll Wednesday afternoon, May 31 (and they weren't even in Las Vegas any more)! The next session, The Greatest Stories Never Told, featuring super brokers Andrew Miller (Hilco Digital Assets) and Larry Fischer (GetYourDomain.com), left and right above, was not only one of the best of this year's show, it was one of the best of any I've seen ever. That was cinched by Andrew getting his long-time friend, David Lazowski (below), to appear via an Internet connection, to round out the never before told story of the Home.com sale in 2021. Andrew and Larry teamed up to broker the deal (one of the biggest ever, though the exact amount remains undisclosed), while David works for Fairway, the company that bought Home.com and has big plans for it. David's commentary on what that domain will mean for his company and why it was worth every penny should be saved as a video to show every corporate buyer in the world who is thinking about investing in a category killing domain name. The story behind the negotiations was also fascinating.
As if that wasn't enough, Andrew and Larry also co-brokered the sale of Chat.com, confirmed to be over $10 million by the buyer who later re-sold it for even more. They provided a lot of inside baseball about how that deal got done too. This session alone was worth the entire price of admission to NamesCon Global 2023.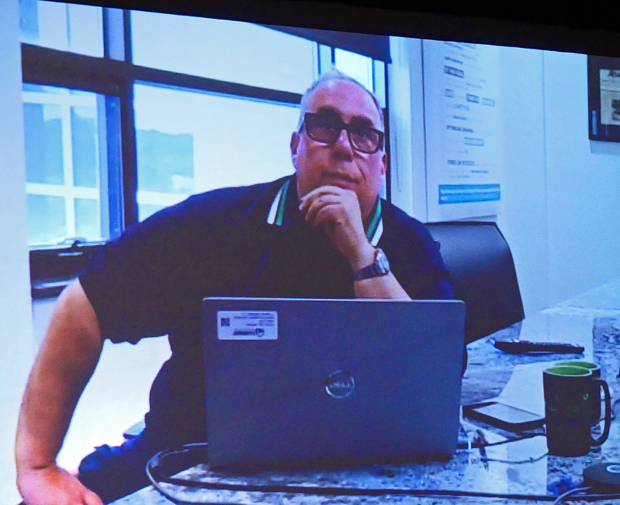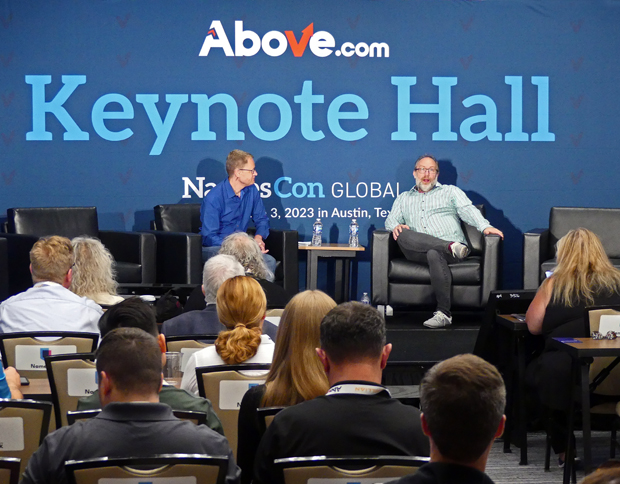 Above & below: NamesCon continued to outdo themselves by reaching outside the domain industry for another major headliner, Wikipedia Co-Founder and Internet icon Jimmy Wales, who closed the opening day of business in a Fireside Chat conducted by DomainNameWire.com Founder Andrew Allemann. Wikipedia is the #1 most-visited website in over 40 countries and is one of the most important tools for domainers in assessing the viability of a name. Jimmy provided his unique perspective on the challenges and opportunities facing the domain name industry as well as the internet at large as it grapples with issues around fragmentation, trust, and the collision between technology and human rights. The engrossing, wide ranging conversation gave attendees a better understanding of how emerging forces may impact what we do in the domain business.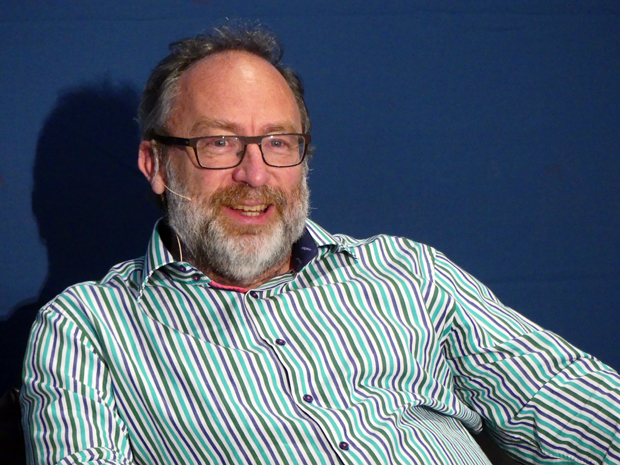 Opening Day (Wednesday, May 31) - GoDaddy Breakout Stage
Now let's review what happened on the GoDaddy Breakout Stage on opening day. The program there began with an 11:05am talk about ENS/DNS and NAME.ART that featured Jeff Sass, the CMO at .ART domains, introducing an innovative new platform for domain investors, brokers, and enthusiasts. I'm a Jeff Sass fan but regrettably missed this session because I was onstage in the Keynote Hall at the same time doing the Fireside Chat with Leanne McMahon noted above. However, I did get to see Jeff when he returned to the stage for a panel discussion in the afternoon that we will get to shortly.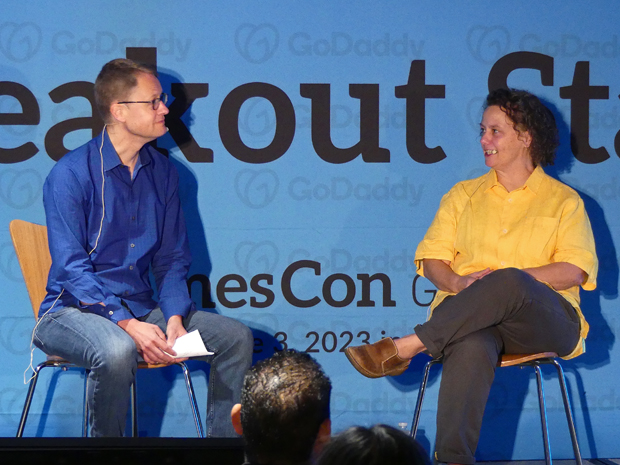 Above: At 11:40am, Andrew Allemann welcomed industry veteran Kellie Peterson (CEO at Logo.com) to the stage for a session titled The Only Constant is Change. During her 20+ years in the domain industry, Kellie has seen it all. She's worked in various roles at registrars, registries, web hosts, site builders, domain monetizers and as a broker. In this chat, Kellie shared her thoughts on the changes the industry has been through, what is going on now and what she thinks the future may have in store for us, including the role of new top level domains and artificial intelligence.
Unstoppable Domains COO Sandy Carter followed with a discussion of The Value of a Web3 Domain with a focus on creating business strategies, driving growth, and moving forward with long-term goals in the web3 space. Sandy was also part of an afternoon devoted to Web3 topics on Day 3 and we will have more on that on page 3 of this report that covers the Friday, June 2 sessions.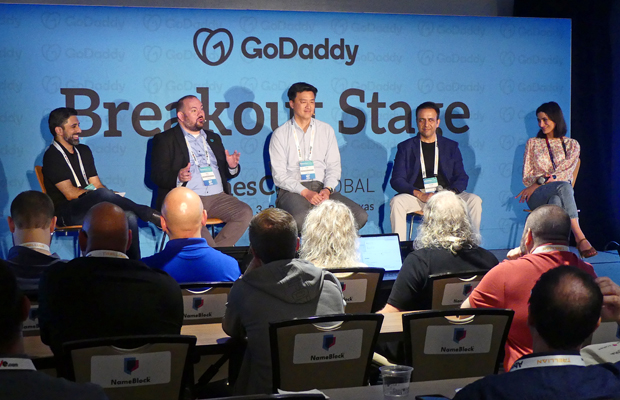 Above and below: After the lunch break, action resumed at 2pm on the Breakout Stage with a panel session about The Aftermarket Domain Name Game: Strategies for Buying and Selling in a Competitive Market. It featured (left to right) Rehan Ahmad (AccuMedia), Alan Shiflett (GoDaddy), Todd Han (Dynadot), Darpan Munjal (Squadhelp) and Negar Hajikhani (Sedo Senior Sales & Brokerage Consultant (Negar is also seen below). With commission structures changing across the various domain sales platforms, the panelists provided advice on the best strategies for buying and selling in a competitive environment. They covered the ins and outs of market research, domain valuation, and negotiation techniques for the aftermarket both now and going forward.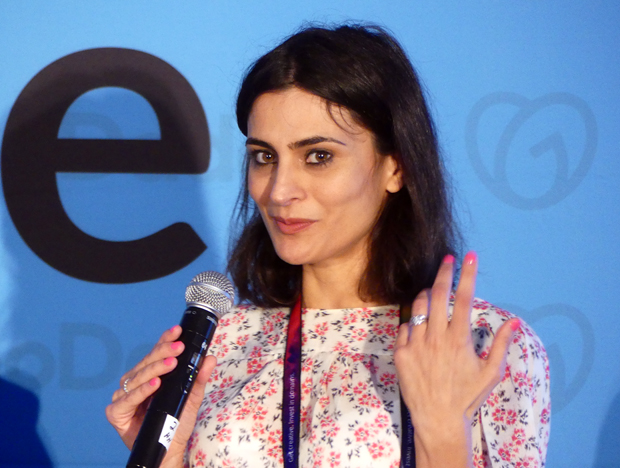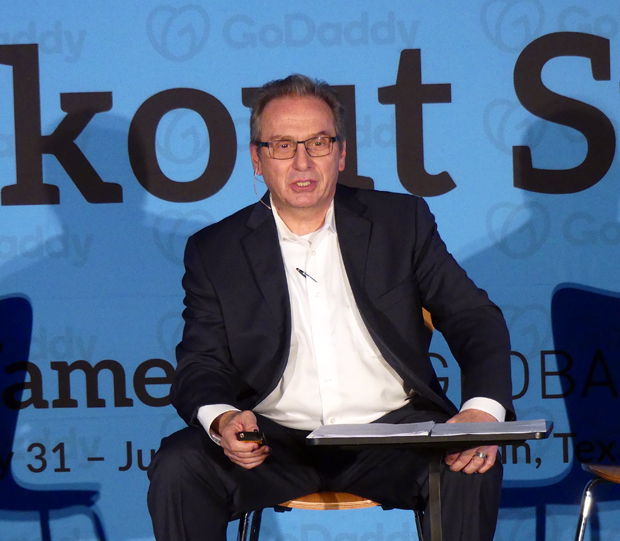 Above: Next up, IT.com Advisor Joe Alagna took the stage to talk about Maximizing the Name Space – Our Best Ways Forward. With all of the domain options available today (over 1,500 TLDs now exist) Joe covered ways you can benefit from innovation and how the industry can best serve end users.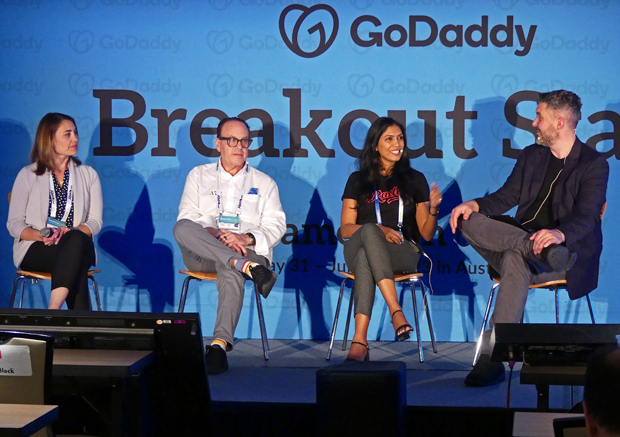 Above: The opening day Breakout Stage program concluded with a session titled Is the Domain Name the Real Blue Checkmark? that featured panelists (left to right) Mariah Reilly (Sr. Director, Channel Management, at Identity Digital), Jeff Sass (CMO, .ART Domains), Neha Naik (Director of Channel Partners at Radix) and Christian Dawson (Executive Director, i2Coalition). This group detailed the importance of using your own domain name as the base for your enterprise, noting businesses who build their identities on social media infrastructure are less trusted in the marketplace. Social media platforms and similar walled-gardens provide easy ways to build businesses, but that ease of use can show only short-term benefits, and trust, stability, and affordability can suddenly shift in unfavorable directions.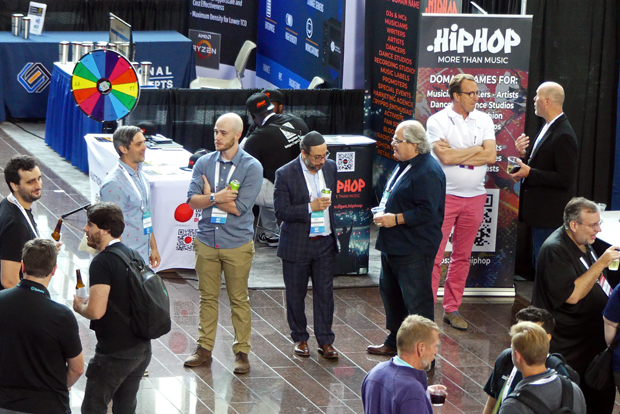 Now that the work day was done, NamesCon Global attendees could pop into Identity Digital's opening reception in the Exhibit Hall (above) for a drink and some casual conversation. From there many headed out for private functions at a variety of locations. One was the Internet Commerce Association member's dinner at Eureka! (below) which was our final day 1 destination.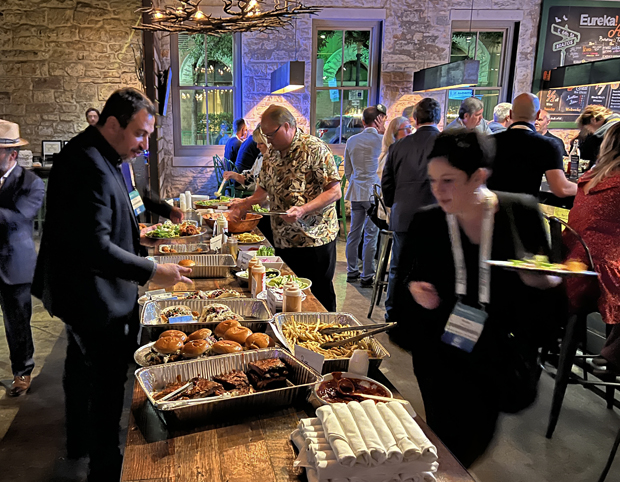 Above: The Eureka! Restaurant, just a couple of blocks from the Omni in downtown Austin, was a new venue for the annual ICA Member's Dinner and it was a popular one with excellent food and drink across the board and plenty of space to spread out at tables located around the square shaped bar.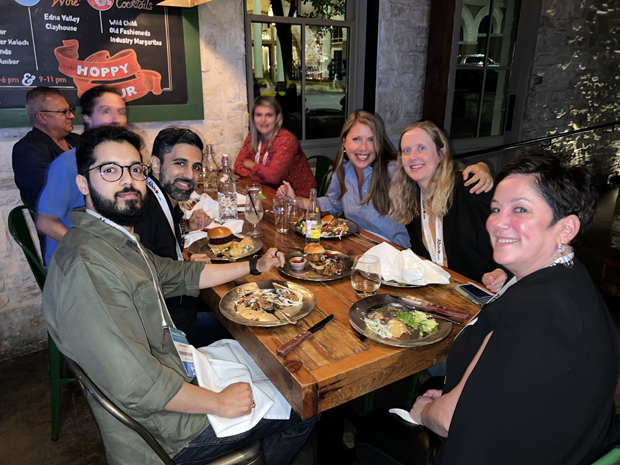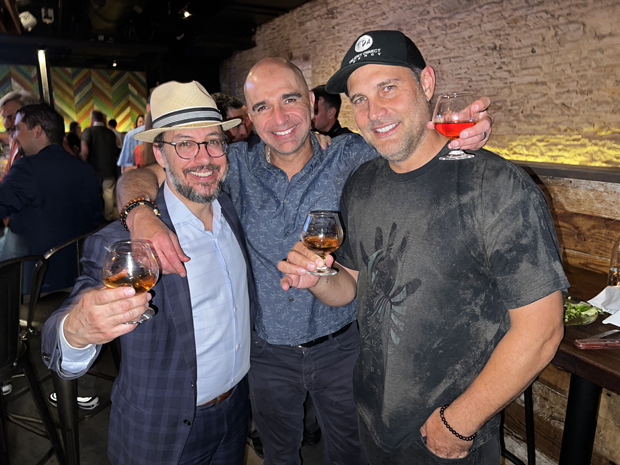 Above: Among the ICA members enjoying the annual dinner were (left to right) Jason Schaeffer (ESQwire.com), Ammar Kubba (afterTHOUGHT) and Chad Folkening (Realty DAO - CONTRIB).
Below: Also on hand, Trellian/Above Co-Founder and CEO David Warmuz (left) and DNJournal.com Editor & Publisher Ron Jackson.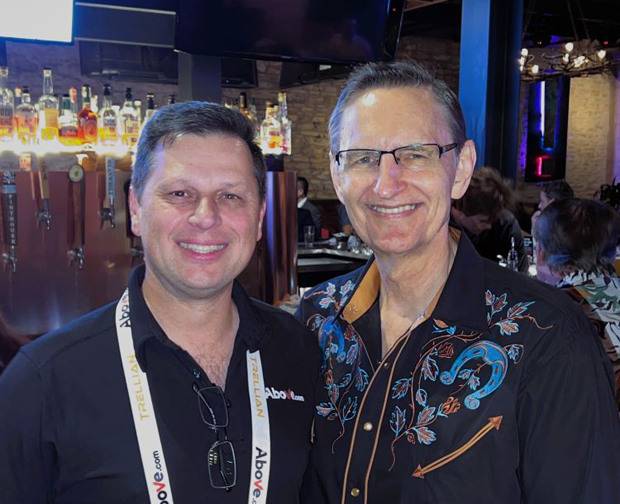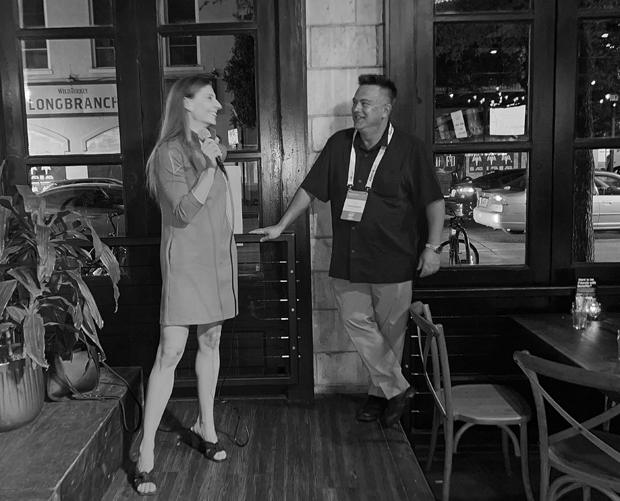 Above: ICA Executive Director Kamila Sekiewicz chatting with ICA General Counsel Zak Muscovitch before giving members at the dinner a rundown on ICA activities and plans for the year ahead.
Below: Kamila, Zak and board member Nat Cohen (seated behind Zak and Kamila) have put in endless hours working on behalf of domain industry registrants. In fact, after the dinner ended late Wednesday night (May 31) they were up early the next morning to host this casual ICA Town Hall meeting June 1 before the conference schedule even began!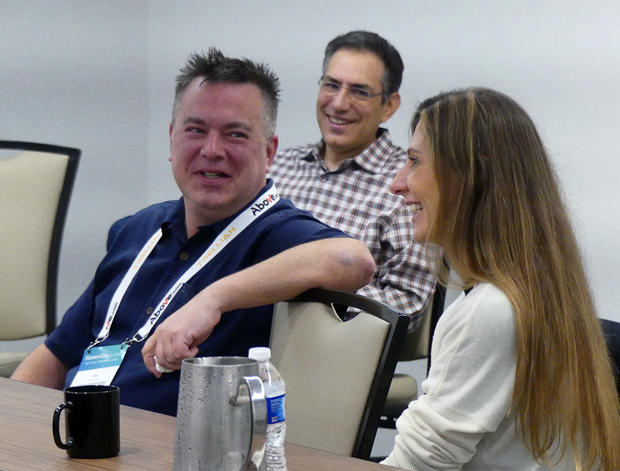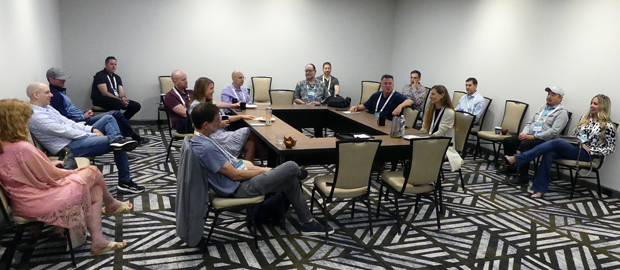 Right after this meeting, NamesCon Global Day 2 (Thursday, June 1) got underway. Click here to see what 2023 attendees enjoyed on that busy day (and night)!
*****