| | |
| --- | --- |
| After two action-packed days and nights, the 2023 NamesCon Global conference resumed Friday morning, June 2 for day three of the four-day event that continued at the Omni Hotel in downtown Austin, Texas through Saturday, June 3. (If you missed them, Day 1 photos and highlights are available here. Day 2 photos and highlights can be found here). Show organizers have already announced that NamesCon Global will return to the same Austin venue next year, running June 5-8, 2024. Now, let's continue with our comprehensive NamesCon Global 2023 review. | |
Day Three (Friday, June 2) - Above.com Keynote Hall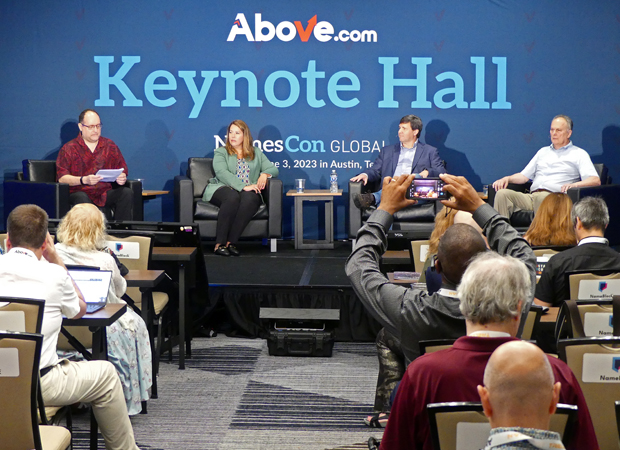 Above: The final business day at NamesCon Global 2023 got underway Friday morning, June 2 with a panel discussion that took attendees Inside the Mind of a Buyer: The Decision-Making Process Revealed. The session featured (left to right) Bill Sweetman (President at Name Ninja), Amanda Waltz (Managing Director at Waltz Digital Media), Fred Kauber (Founder & CEO at Digiventures Media Group) and Dave Evanson (Senior Broker at Sedo). With years of experience under their belts, each broker has a keen understanding of how high dollar domain sales get done. They laid out the process buyers typically follow to acquire premium domains, and how domain owners and brokers can adjust their strategies to help insure a deal gets done.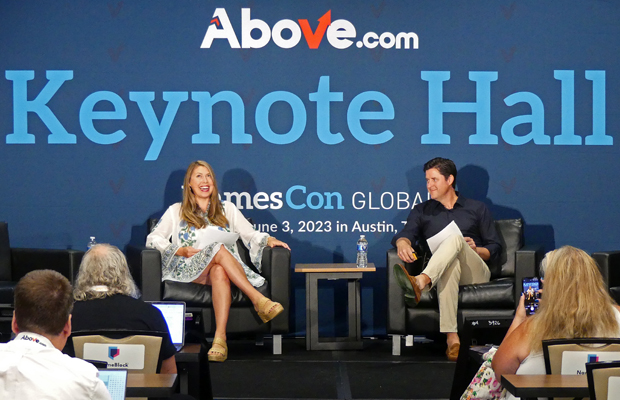 Above: Next up on the Keynote Hall stage, Kate Buckley (CEO at Buckley Media) and Todd Henderson (CEO at INK) gave attendees the scoop on Domain-First Branding: The Key to a Winning Corporate Branding Strategy.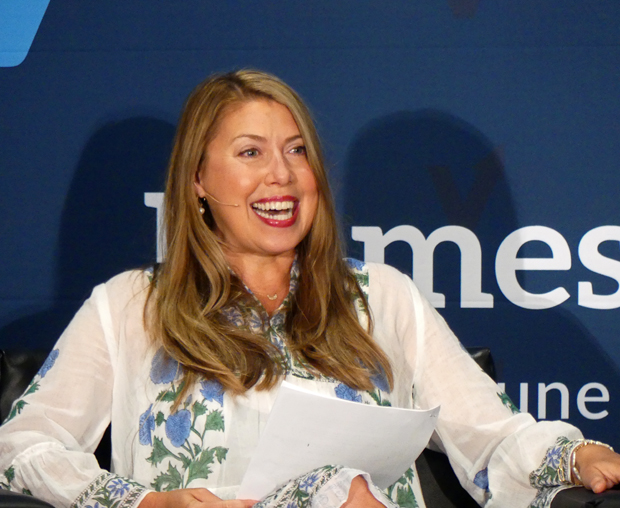 Above & below: Kate, a premium domain broker and branding expert who has often appeared on DNJournal's top sales charts, and Todd, co-Founder of and agency known for building billion dollar brands, discussed strategies for branding companies effectively from the start. They emphasized that's a far more cost-effective way to succeed than waiting until you've build brand recognition on a weak or forgettable name. The domain is your point of distinction and proof of credibility - an asset you must have to get your enterprise off the ground and take it to high altitude.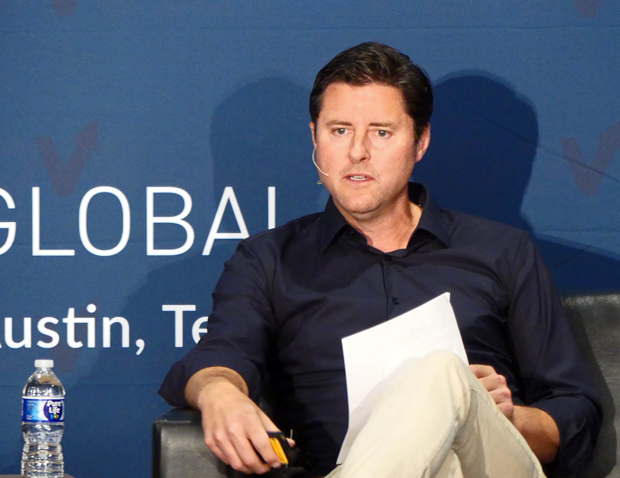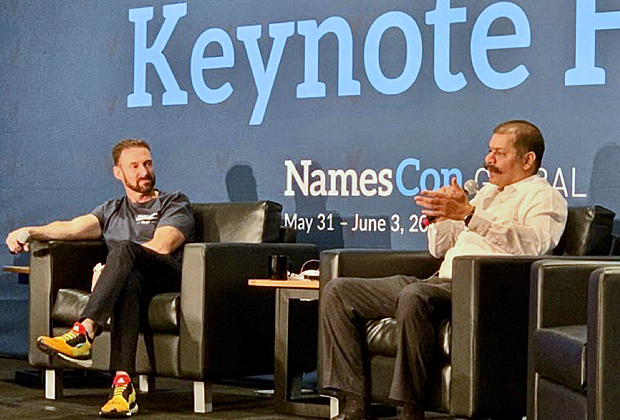 Above: The morning sessions in the Keynote Hall continued with Braden Pollock (left) interviewing eSiksha.com CEO and veteran domain investor Deepak Daftari to find out how he achieves Maximum Monetization of his portfolio. Deepak covered his winning strategy for optimizing, managing, and monetizing portfolios for maximum ROI - an approach centered on research and analysis while monitoring your portfolio's performance.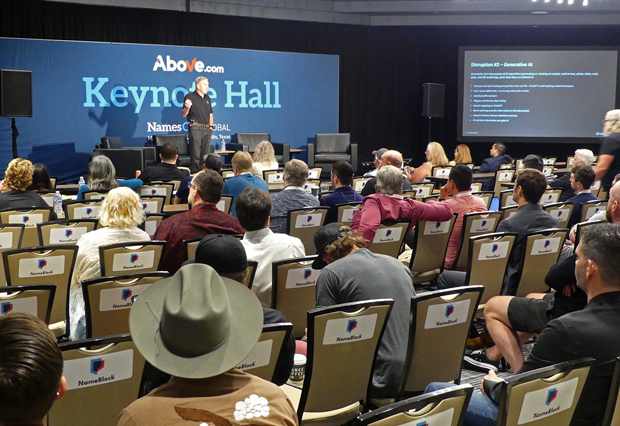 Above & below: In the final morning session in the Keynote Hall, Bob Mountain, the VP of Strategic Partnerships at GoDaddy, presented his views on The Future of Domaining and Navigating Innovation.
While we have seen many innovation cycles since the domain name system was created, domains have only increased in their importance to the Internet, revolutionizing how much of society transacts and communicates. With potential disruptors like Blockchain, AI, and human-machine interfaces arriving now Bob gave his forecast for what's ahead of us.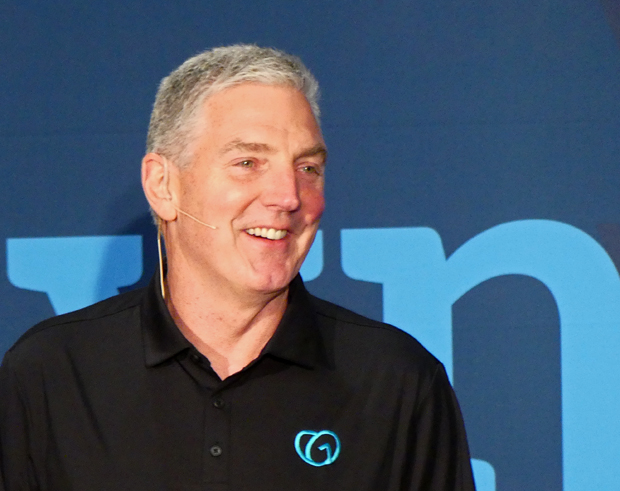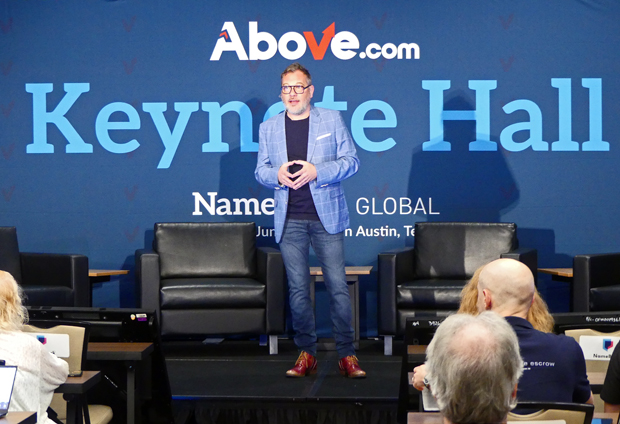 Above: At 12:20pm Soeren von Varchmin, Chairman of the NamesCon/Cloudfest Advisory Board, took the stage for his traditional conference wrap-up and recap - even though NamesCon still had a few hours to go (plus an entire Fun Day Saturday). With NamesCon Global and Cloudfest USA running simultaneously and Soeren constantly shuttling back and forth between the two, it's no wonder the recap timing needed to be adjusted a bit! It was at this session that Soeren confirmed NamesCon Global will return to the same venue in Austin next year, running from June 5-8, 2024.
Below: As domain investing has become a more mature industry it is interesting to see more and more cases of it being a family affair. I've known Philadelphia's John Deneen (far left) for over 15 years and remember when his kids were still in elementary school. At NamesCon Global his sons Robert and William were with him, having now grown into young men. While the sons are still at an age where they are weighing their options, given their family lineage, I would be surprised if domains didn't have a role of some kind in their business lives.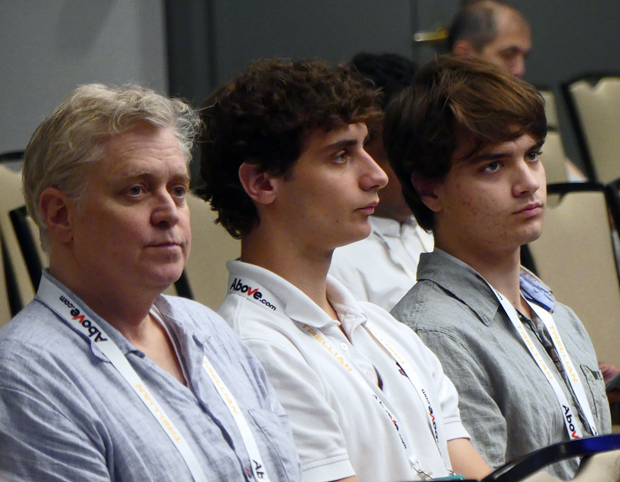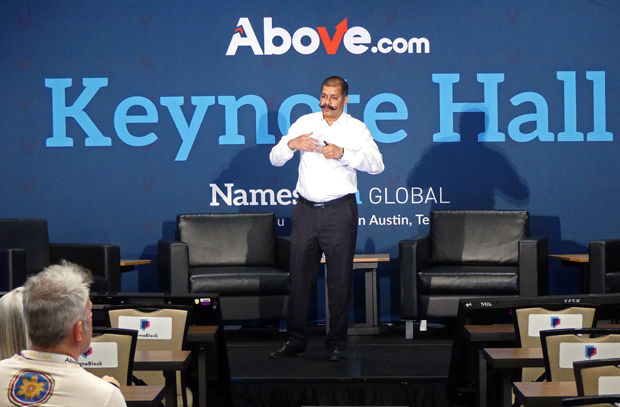 After the lunch break Friday Deepak Daftari returned to the Keynote Hall stage for a solo session - Revealing the Path to Domain Investment: Empowering Austin's Tech Community with Essential Knowledge. James Brown was known as "The Hardest Working Man in Show Business," and with the time Deepak is putting in on stage, it might be time to crown him as "The Hardest Working Man in the Domain Business" - and that doesn't even count the travel time between his home in India and back! It's all good for us and attendees though. This session was specially designed to extend a warm welcome to the vibrant tech community in Austin and give them an extensive primer on domain investing for those who want to share the journey with us.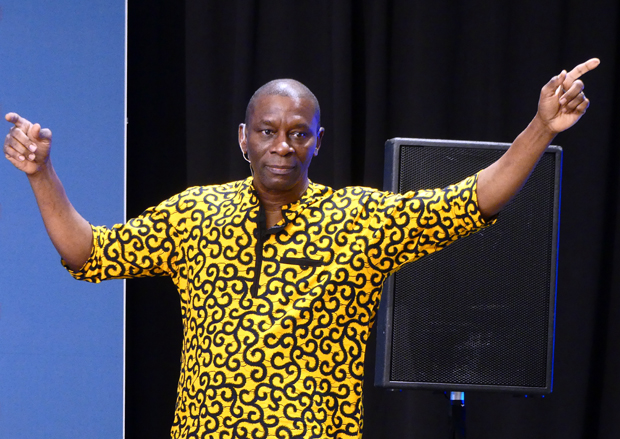 Above: In the show's final Keynote Hall session, Elie Eweka (Brand83), shared his Hidden Secrets of Domain Names. In this interactive session, Elie used trivia to test the audience's knowledge of the domain industry and used two domain name case studies to connect the dots between a company's name and brand success. The audience also learned more about relevant domain name sales and left with a deeper understanding of how investing in the right domain name - either for your startup or investment purposes - is also good for the local economy.
Day Three (Friday, June 2) - GoDaddy Breakout Stage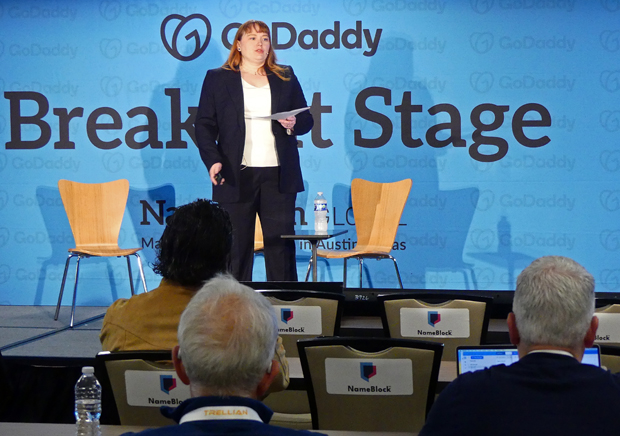 Above: Friday was also a busy day on the Breakout Stage where attorney Brianna Dahlberg (Partner at Rome LLP) kicked things off with a session on Domaining Law: What You Need to Know. Brianna gave attendees a deeper understanding of the emerging legal issues surrounding the evolving domain name and NFT spaces. She covered recent trademark litigation, enforcement trends and collisions between blockchain domains and traditional naming conventions to help domain investors avoid making costly mistakes.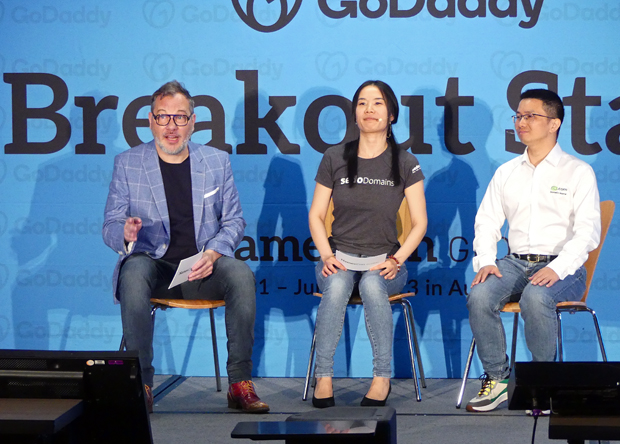 Above: Another highlight of NamesCon Global for me was meeting China's Yue Dai who had messaged me before the show to tell me he was a DNJournal reader and wanted to meet. Yue and his partners own an astonishing 18 incredibly valuable two-letter .com domains, including DN.com (a multi-million dollar asset by itself). We met on day one and struck up an immediate friendship, so I was looking forward to hearing what he had to say in this session. Soeren von Varchmin (at left), with translation help from Sedo's brilliant Account Manager for the Europe and Asia-Pacific regions, Yiqiu Tao (center), conducted the interview with Yue Dai, who has chosen "Jack" as his English name. In a session titled How to Succeed in the Chinese Domain Market: An Insider's Perspective, Jack commented on the current state of the Chinese domain market, how Western domainers can do smarter business in Asia and several other topics on interest.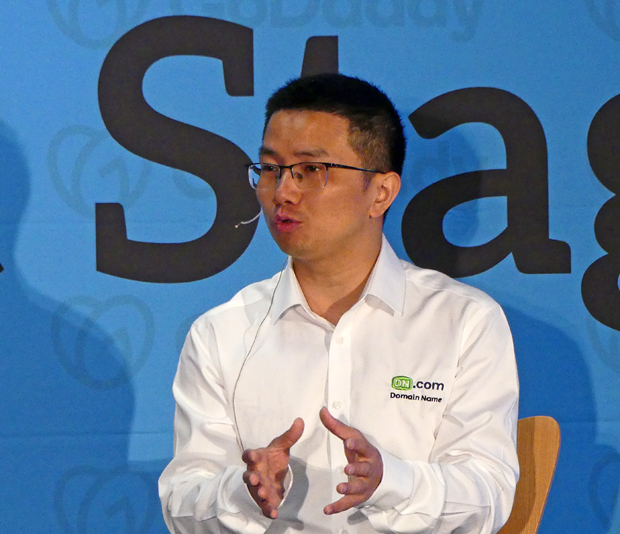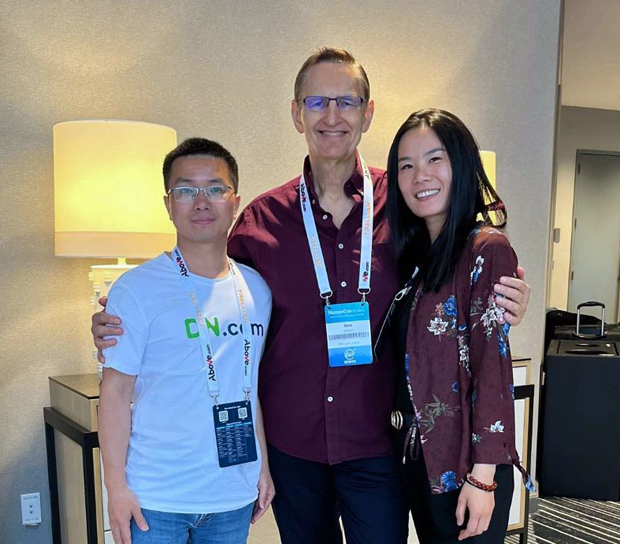 Above: A photo of Jack (Yue Dai)and I with translator Yiqiu Tao from Sedo on the opening day of NamesCon Global 2023.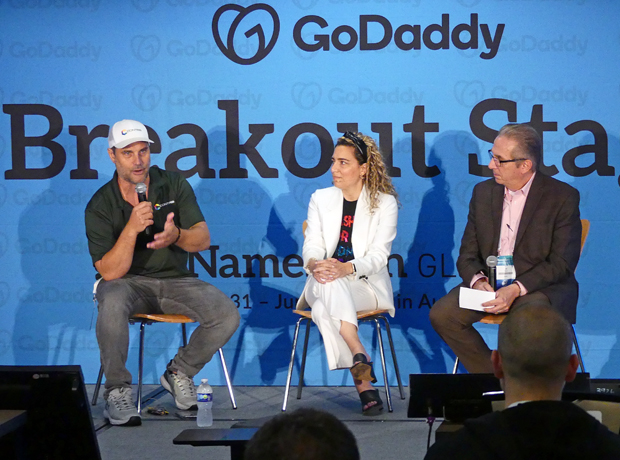 Next up on the Breakout Stage Friday morning (June 2) was The Rise of Digital ID: Game Changer for the Entire Domain Industry featuring (left to right) panelists Chad Folkening (Realty DAO/CONTRIB), Rachel Sterling (CMO, Identity Digital) and Joe Alagna (Advisor at IT.com). As noted in the session synopsis, "Your domain will only grow more closely linked to your real-world identity going forward: as the Digital ID use case grows more popular, expect the hundreds of millions registered today to become billions in the near future. Meanwhile, as registrars and CSPs offer more tightly-integrated payment solutions when you buy a domain name or web hosting package, small business websites become shops right out of the box." The purpose of this panel was to help attendees recognize the wave that is coming and to catch it early.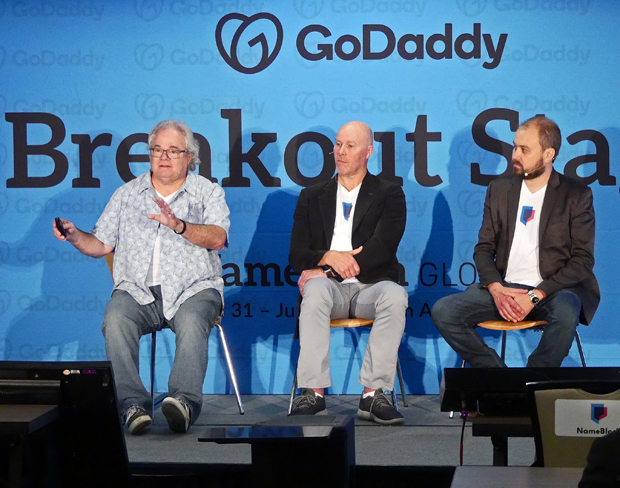 In the final Breakout Stage session before lunch Friday, the topic was Safeguarding Your Digital Identity: Nameblock's Innovative Solutions for DNS Abuse Prevention. Ways to do it through the new NameBlock service were laid out by (left to right) Pinky Brand (Senior VP, Marketing & Business Development at IQ Global AS), Rolf Larsen (Chairman at NameBlock) and Kevin Kopas (COO at ShortDot). The panel introduced Nameblock's cutting-edge tools, AbuseShield and BrandLock, designed to combat DNS abuse and protect your brand and domain names. They also detailed the functionalities, benefits, and the importance of securing your digital identity so attendees can employ effective strategies for monitoring and managing their online presence while enhancing your brand reputation.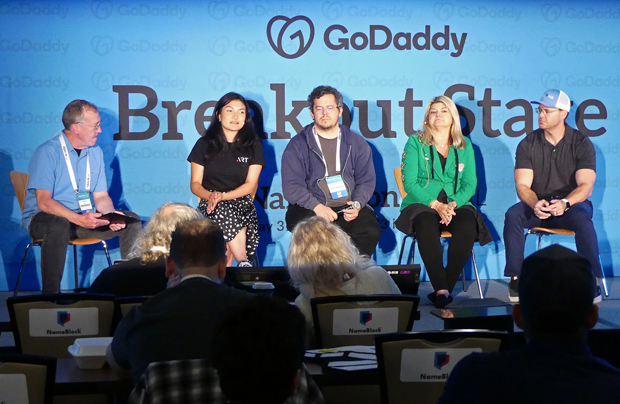 Above: After the lunch break, the remainder of the afternoon was devoted to four sessions covering the Web3 domain system. The panelists above had roles in the individual half-hour sessions. They are (left to right): Thomas Barrett (President at Encirca & AltRoots), Tina Feng (Communications Officer at .ART), Aaron Oxborrow (CTO at Namebase), Sandy Carter (COO at Unstoppable Domains) and TJ Larkin (founder at ENS HQ). The sessions provided the latest information on How to Invest in Web3 Domains, Most Popular Use Cases for Web3 Domains, Unique Opportunities for Domainers in Web3 and What's Stopping Web3 Domains?
Below: With that the business portion of NamesCon Global 2023 was complete and most attendees made a beeline for the Open Door Happy Hour that ran from 4-6pm in the Atrium at the Omni - complete with free beer and wine.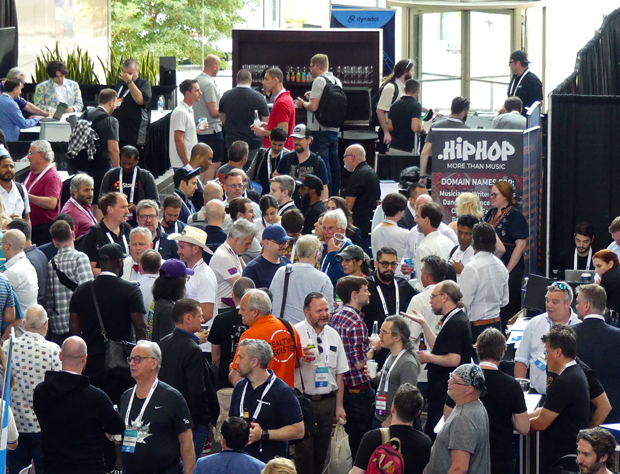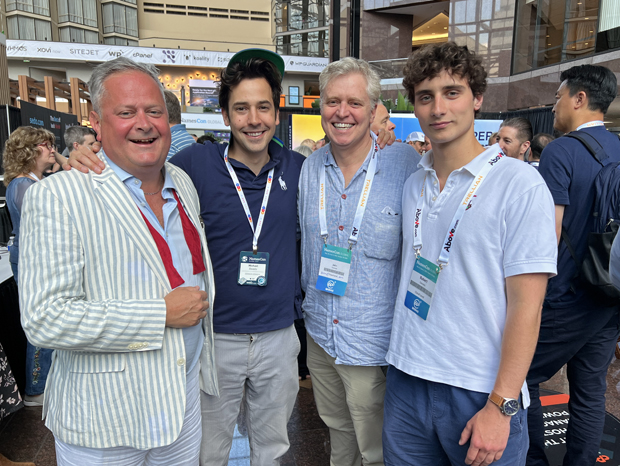 Above: Some of the happy campers from the domain world at the Open Door Happy Hour late Friday afternoon (June 2) at the Omni in Austin - (left to right) Yancy Naughton, Michael Awada, John Deneen and Robert Deneen. While the happy hour closed out the Omni's role in NamesCon Global 2023, there was still a full day left to go at another location...so read on!
Fun Day (Saturday, June 3) - Banger's Sausage House & Beer Garden - Austin TX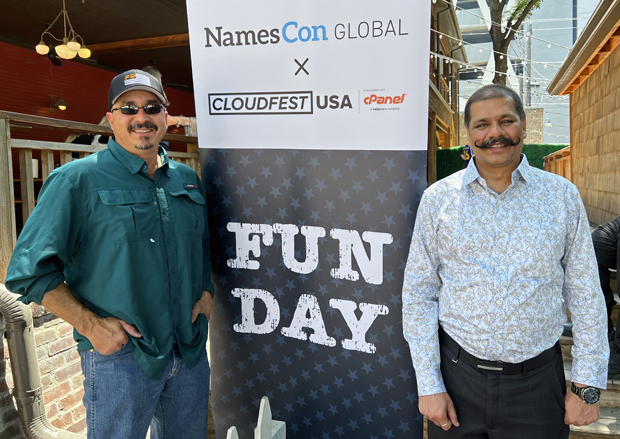 Above: Bennie Sparkman (left) and Deepak Daftari arrive for NamesCon Global 2023 Fun Day Saturday, June 3 at Banger's Sausage House & Beer Garden in Austin. The close friends are another representation of the domain industry's global reach. Bennie is an American (and a Texan) while Deepak is based in Kolkata, India. People from all over the world come to NamesCon.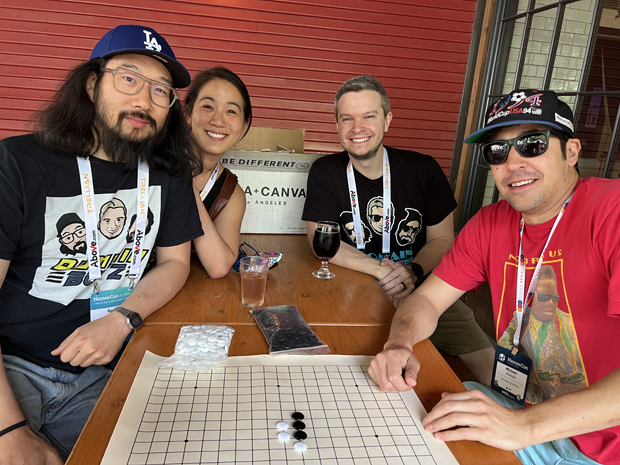 As you can see, the mysterious Domain Boyz take Fun Day seriously - even bringing their own games with them! Left to right are Roger Kim, Jess, Edward Zeiden and Michael Awada. I'm still not sure exactly what is the Boyz do but I would bet Jess is the one who runs the show!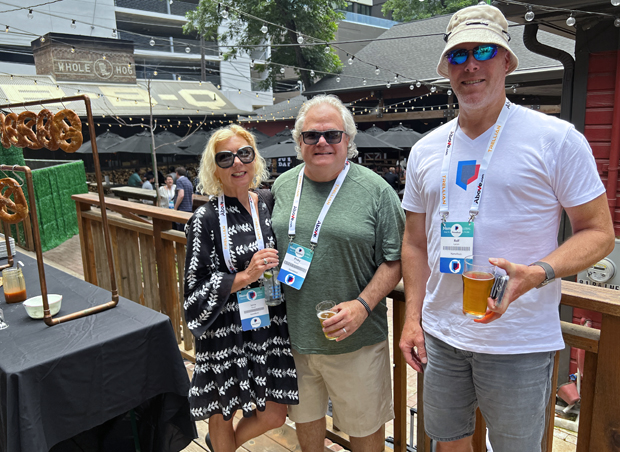 Above: Sylvia and Pinky Brand (at left) didn't have to drive far to get to NamesCon - the live in Austin. The hike is a little longer for Rolf Larsen (right) who came over from France.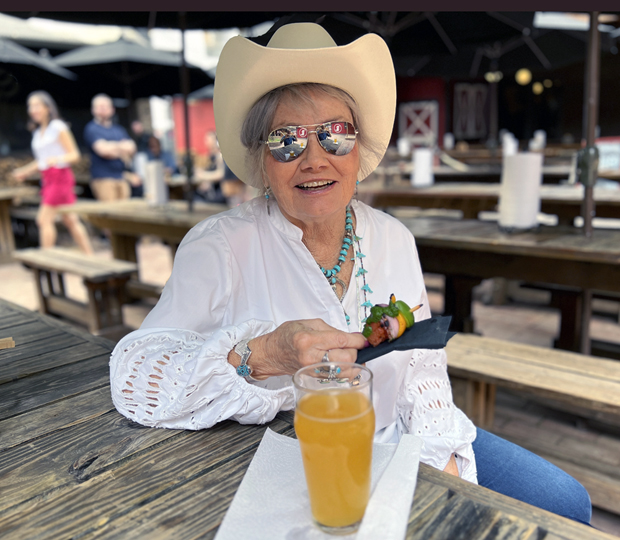 Above: When I spotted this lady in the crowd I thought "that has to be the most gorgeous cowgirl I've ever seen!" Even better, she turned out to be my wife, Diana!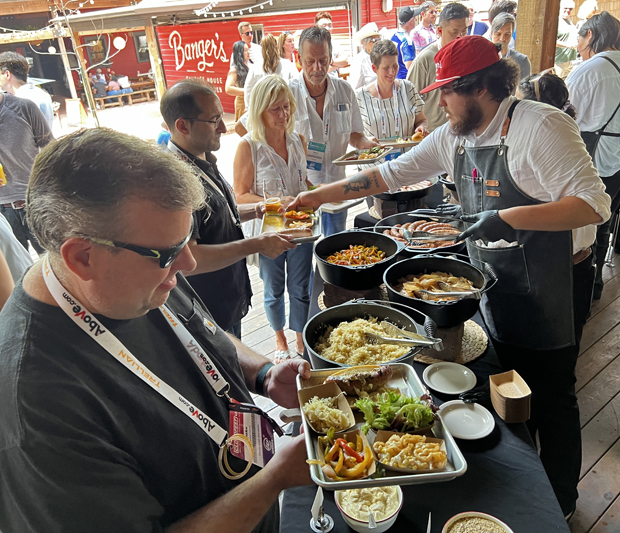 Above: Nobody does beer or brats better than Banger's in Austin. That's why NamesCon Global has had their Fun Day here on each of their three trips to Austin thus far.
Now, a bit of an explanation is in order for the next three photos - a little bit of inside baseball for you. We had to catch a mid-afternoon flight home from Austin, so we went to Fun Day as soon as it started at 10am but had to leave about 12:30pm. When I got there I told NamesCon CEO Christian Jaeger I was going to try to round up a group of attendees, each from a different country, for a picture with him to illustrate NamesCon Global's worldwide appeal. Unfortunately, the time flew by so quickly I didn't get that done. Then on the way out at 12:30, with our ride waiting at the curb, we bumped into Soeren von Varchmin who was arriving just as were leaving, so I missed a shot of him too! Of course, I had plenty of photos of Christian and Soeren at the Omni but this was Fun Day and, especially since they made it possible and hosted it, I wanted them to be shown enjoying the social environment they helped create.
This is where my friend Braden Pollock came to the rescue. Braden didn't get over to Banger's until later in the afternoon, so we had missed seeing him and hanging out like we usually do. So, we were at the Austin airport getting ready to board when I got a message from Braden who was now at Banger's. I knew it was getting late but I said "if you happen to see Christian or Soeren it would be great if you could grab a shot with them for me." Well, Braden, like he seems to do in every situation, came through and sent me even more than I hoped for.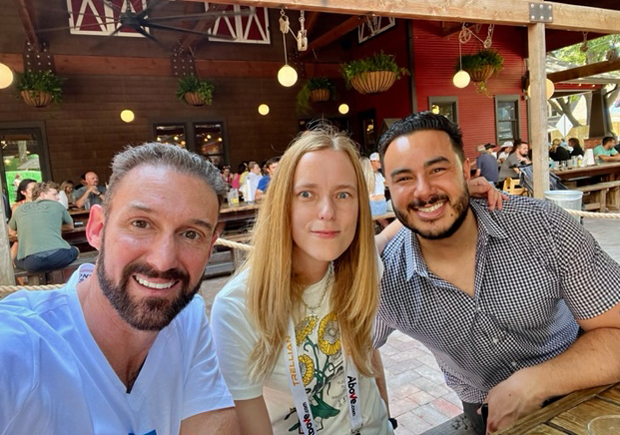 Above: Braden at Banger's with Leanne McMahon (Crunch.id), who I had done a Fireside Chat with on opening day, and Dennis Tinerino (Domain Smoke) who did an excellent job in his first turn as one of the two main show moderators this year.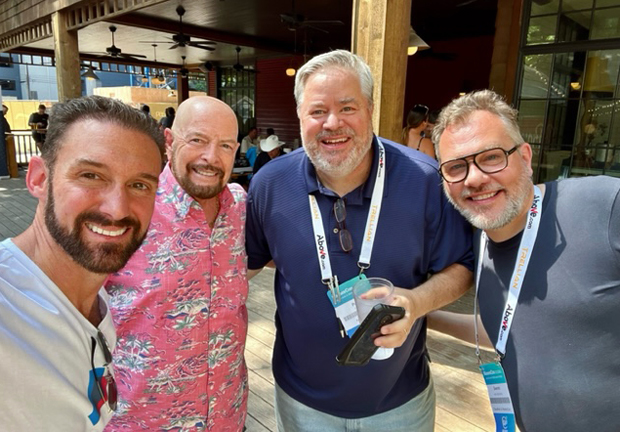 Above: There's the shot of NamesCon Chairman of the Advisory Board Soeren von Varchmin (far right) that I wanted, plus a great added bonus with longtime friends Gregg McNair and Page Howe also in the shot with Braden. However, I am starting to get a complex. How come so many of my "friends" waited until after I left to show up! (Full disclosure: I did get to see Page before we left so maybe I'm just being paranoid). :-)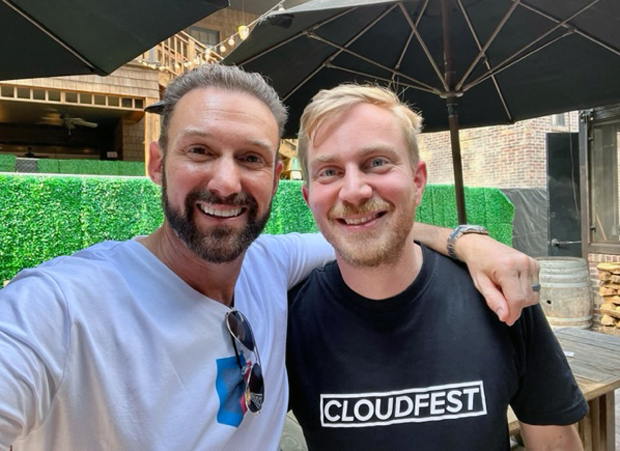 ...and yep, Braden even came through with the photo of Christian Jaeger (thanks Pal)! - and Christian, sorry I didn't get the international group photo I planned, but it occurs to me that Braden has literally traveled all over the world so this one comes pretty close!
Thanks to you and your team for another great conference and congratulations on the successful pairing of Cloudfest USA with NamesCon Global. Looking forward to next year's edition - June 5-8, 2024 - when everything will be bigger - just like Texas itself!
*****