| | |
| --- | --- |
| After a very busy opening day and night, the 2023 NamesCon Global conference resumed Thursday morning, June 1 for day two of the four-day event that continued at the Omni Hotel in downtown Austin, Texas through Saturday, June 3. (If you missed them, Day 1 photos and highlights are available here. Day 3 and Day 4 photos and highlights can be found here). Show organizers have already announced that NamesCon Global will return to the same Austin venue next year, running June 5-8, 2024. Now, let's continue with our comprehensive NamesCon Global 2023 review. | |
Day Two (Thursday, June 1) - Above.com Keynote Hall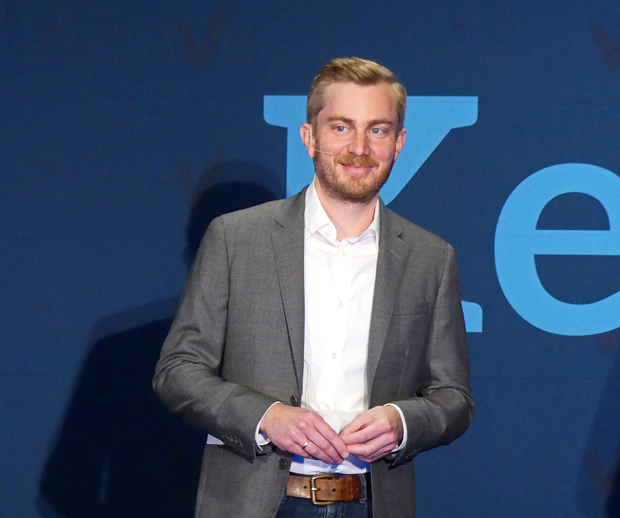 Day two of NamesCon Global 2023 opened at 10am on Thursday, June 2 with NamesCon//Cloudfest CEO Christian Jaeger outlining what attendees could look forward to in the day and night ahead.
Below: A few minutes later GoDaddy Senior Director of Domains Alan Shiflett kicked off the slate of business sessions in the Keynote Hall with advice on Mastering Inbound Inquiries: Insights from Analyzing Millions of Domain Leads. Alan shared his insight on inbound domain inquiries gained from analyzing millions of leads received by GoDaddy over the years. By leveraging data-driven strategies and best practices he detailed how you can improve your ability to effectively respond to and convert inbound inquiries into sales with your response time, communication style and pricing strategies.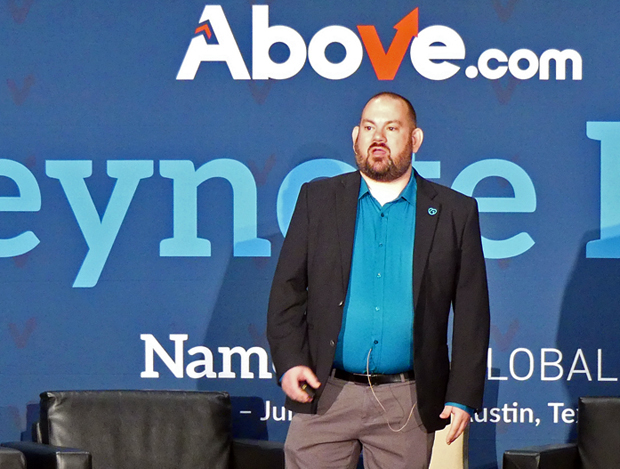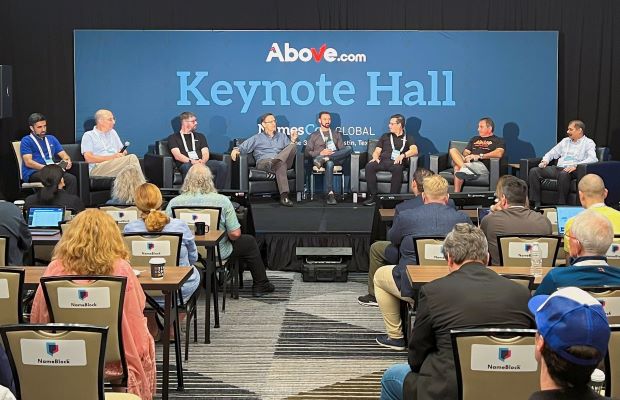 Above: After Alan's talk, a personal conference highlight for me was having the opportunity to interview seven of the industry's most successful sales and acquisitions experts in a Domain Brokers Roundtable in the Keynote Hall. Left to right on stage are Rehan Ahmad (AccuMedia), Larry Fischer (GetYouuDomain.com), Nathan Parker (Senior Domain Broker at Above.com), Ron Jackson (DNJournal.com), Braden Pollock (LegalBrandMarketing.com), David Warmuz (CEO at Above.com), Monte Cahn (President at RightOfTheDot.com) and Deepak Daftari (CEO at eSiksha.com). In this informative and entertaining session, attendees learned how domain values are determined and the processes the best brokers use to buy and sell domains. Getting direct advice from an array of brokers of this caliber is a gift that will keep on giving for those wise enough to put their suggestions into practice.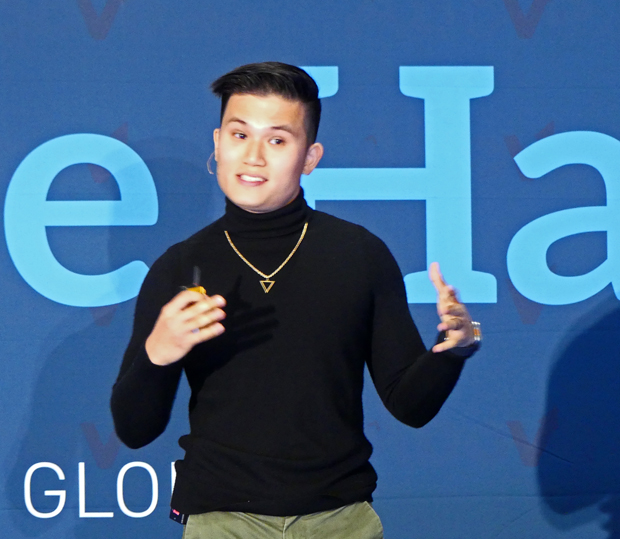 Above: The morning sessions continued with Steven Tey (Founder at One Word Domains) speaking to the timely topic of AI-Driven Brandable Domain Name Generation with DomainsGPT. Steven detailed how DomainsGPT is changing how brandable domain names are created through the expanding power of artificial intelligence. He explained why this innovative approach to building an online identity can be transformative for you and your customers once you look past the hype and apply AI's powerful tools to your own domaining business.
Below: In the final morning session the topic was Turning Traffic into Profit: Monetizing Your Domain Name Portfolio with the how-to information coming from four of the industry's best in this field. Left to right are Michael Riedl (CEO at CentralNic), David Warmuz (CEO at Trellian/Above.com), Dr. Gregg McNair (Group Chairman at Premium Traffic Limited Group) and Christian Voss (CMO at Sedo). The panelists delivered actionable advice on turning domain name traffic into profits with attendees learning how to identify and acquire domains that can generate revenue with traffic generated through search engine optimization, pay-per-click advertising, affiliate marketing and developing landing pages.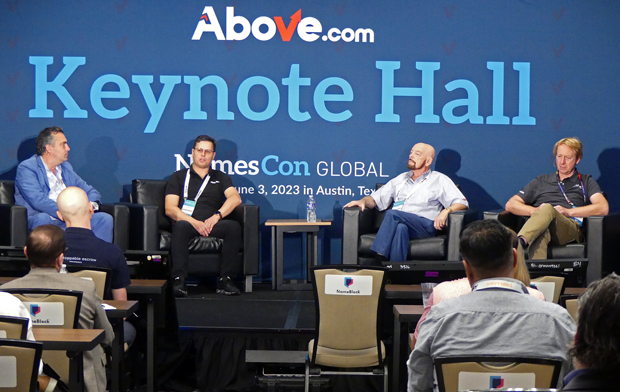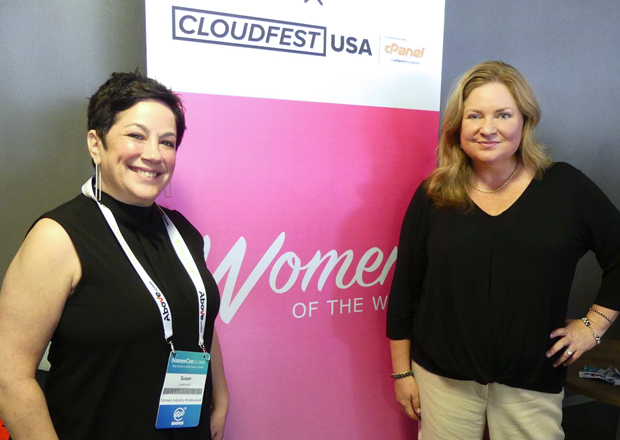 Above: The Thursday (June 1) lunch break was a special one because it marked the post-Covid return of Women of the Web (previously known as Women in Domaining). This great event came back bigger and better than ever under the energetic guidance of Susan Lawrence (OpenSRS/Enom, Key Account Manager, North America), at left above, and Lisa Box (Identity Digital, SVP, Strategic Alliances and Business Development) who were instrumental in producing the original editions of this celebration of the talented women in our industry.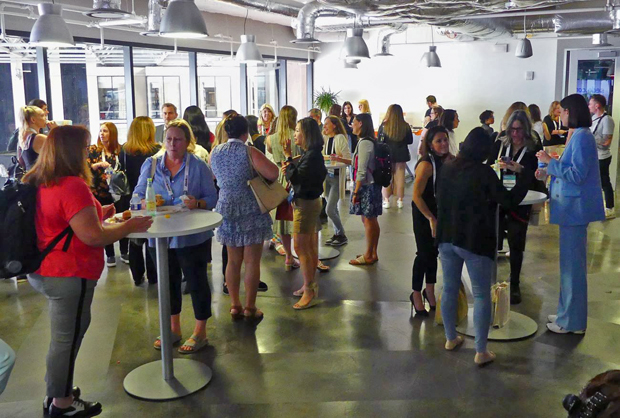 Above & below: The WOW meeting, held in a large, open gathering space on the 16th floor of the Omni, included a buffet, drinks and a variety of special services and activities geared toward professional women. The photo below shows what WOW is really all about though - making new contacts and supporting each other as you blaze your trail through the business world.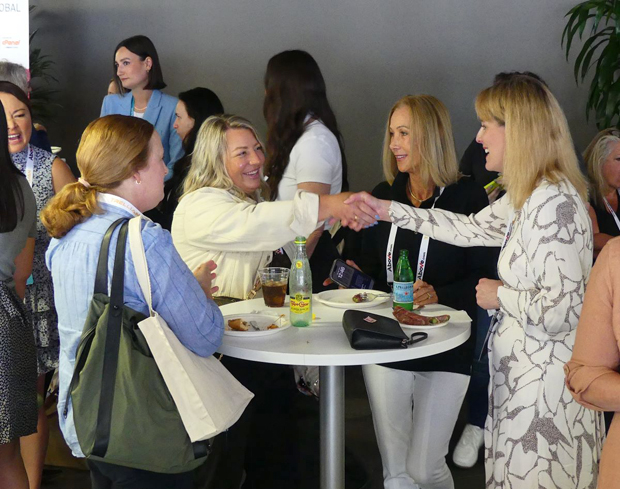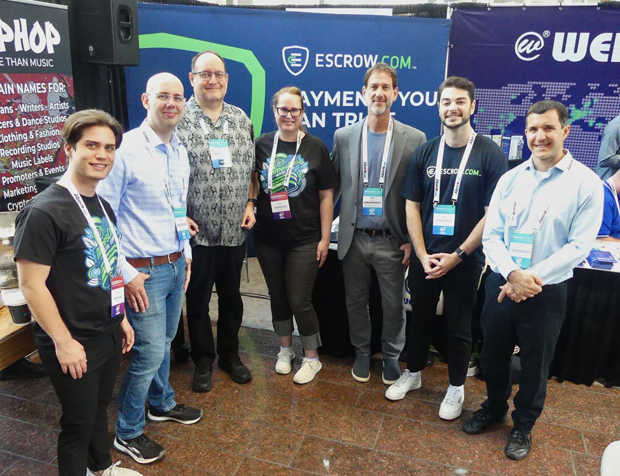 Above: In another newsworthy event during the lunch break, Escrow.com invited reporters to their booth in the Exhibition Hall for the announcement of their Masters of Domains Awards for the prior year (2022) that go to the top ten domain brokers on the Escrow.com platform, based on the total dollar volume they transacted through that popular venue. Or course, domain sales are transacted through a number of popular aftermarket venues and financial services, but Escrow.com has had a large share of the escrow market over the past two decades, giving their awards added luster. For the fifth consecutive year, MediaOptions Founder Andrew Rosener took the #1 Award. Here is the complete top ten.
Andrew Rosener - Founder & CEO of DomainX, LLC

Keith Richter - Co-Founder of Lumis Group

Louis Pickthall – Co-Founder & VP of BrandForce.com

Bill Sweetman - President of Name Ninja

Joe Uddeme - Principal of Name Experts LLC

Jeffrey Gabriel - Co-Founder of Saw.com Incorporated

Jack Kalfayan - CEO of ApexMoon.com

Ryan McKegney - CEO of DomainAgents

James Booth - Founder & CEO, DomainBooth.com

Mark Daniel - Managing Director of Domain Holdings Group
Several of the winners were at NamesCon and four are in the photo above Left to right are Manuel Rábade (Escrow.com), winner Ryan McKegney, winner Bill Sweetman, Mauli Fry (Escrow.com), winner Mark Daniel, Marko Zitko (Escrow.com) and winner Joe Uddeme. A fifth winner, Jeffrey Gabriel, was at the presentation but had to leave for a meeting before the photo was taken.
Above: After lunch the focus shifted entirely to the NamesCon RightOfThe Dot Domain & Digital Asset Auction. The hour long Red Zone: Pre-Auction Warmup session set the stage for the big sale as panelists voiced their opinions about the various names that would be put up for bid starting at 3pm. The experts included (left to right): Steven Tey (One Word Domains), Deepak Ramani (BrandX), Dennis Tinerino (Domain Smoke), Braden Pollock (Legal Brand Marketing), Ammar Kubba (afterTHOUGHT) and Larry Fischer (GetYourDomain.com).
Below: Every year many cite the warm-up session as one of their favorites as there is a lot to learn from how the experts analyze a variety of names - plus it tends to be an entertaining, casual affair with the information often interlaced with humorous commentary (possibly because the auction's free bar at the back of the room is already open)!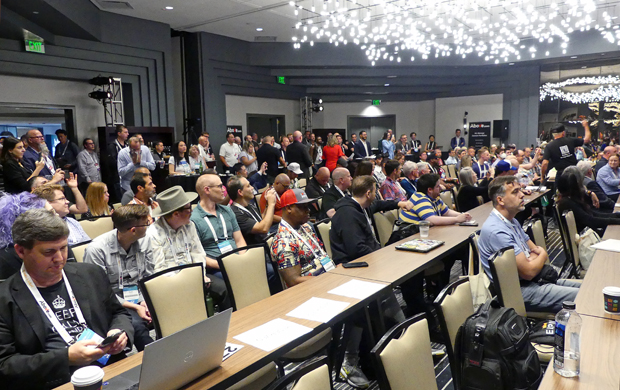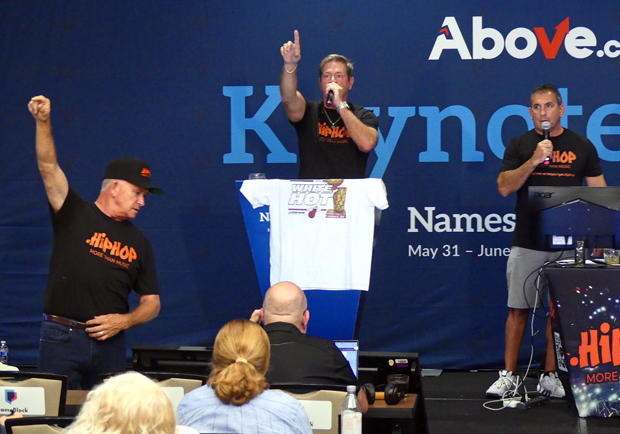 Above & below: Once the auction got underway with World Champion auctioneer Wayne Wheat calling the action (assisted by Lebbeus Kemp at left and ROTD President Monte Cahn at right), the bidding was hot and heavy with total sales coming in at more than $2.2 million, the highest total in several years.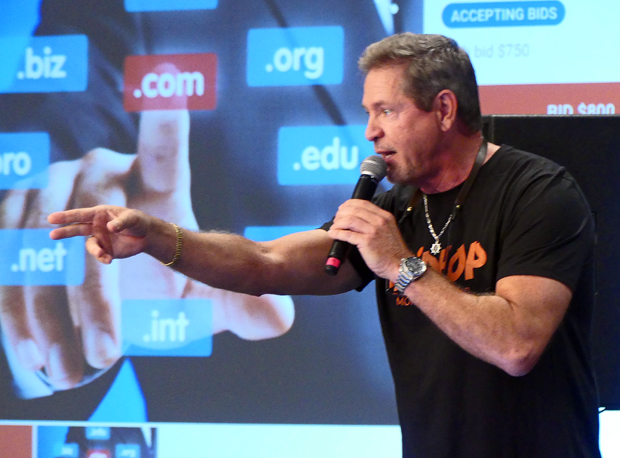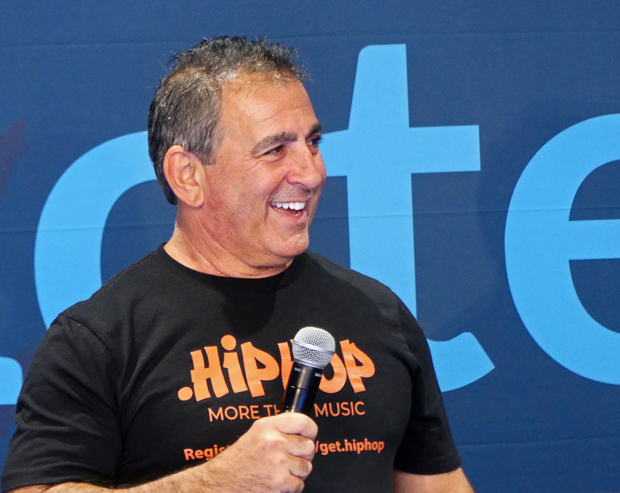 Above: RightOfTheDot President Monte Cahn had good reason to smile after the company's latest NamesCon Global live domain auction that was led by a $1.4 million sale of Holiday.com. Additional top sales included Programming.com at $385,000, Sandra.com at $70,000, Megan.com at $67,500 and Caveat.com at $50,000.
Day Two (Thursday, June 1) - GoDaddy Breakout Stage
With the afternoon Thursday devoted to the live domain auction, activity on the Breakout Stage was limited to two morning sessions. In the first of those (below) Louis Pickthall, Co-Founder and Vice President at BrandForce.com, who was interviewed by Soeren von Varchmin, told attendees How to Give Domain Buyers What They Really Want. Louis is a personable, young Frank Schilling protégé who has had a meteoric rise since he left Uniregistry and co-founded his own brokerage dedicated solely to top tier domains. As one of the top brokers in the world last year he racked up over $60 million in sales, so the audience, as you would expect, paid careful attention to the information he shared about what has worked for him.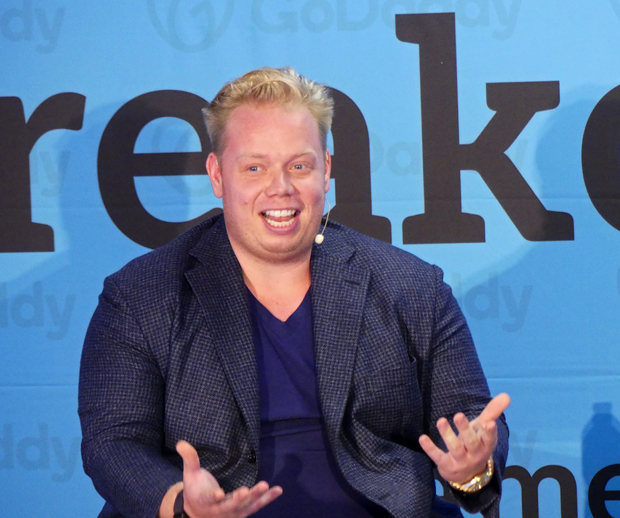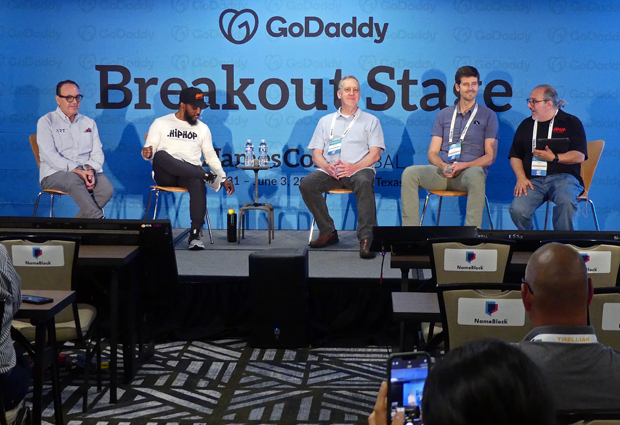 Above: In the final Breakout Stage session Thursday (June 1) a panel of experts discussed nTLDs as Cultural Drivers: The Art of Identity in the Hip Hop Era. The session featured (left to right) Jeff Sass (.ART Domains), Arjene Watson (Managing Director at Dot Hip Hop), Thomas Barrett (President at Encirca and AltRoots), Matt Overman (CRO at Identity Digital) and Jeff Neuman (Founder & CEO at JJN Solutions). With the music and fashion worlds celebrating hip hop's 50th anniversary, the panelists explored the latest trends in end-user nTLD uptake that are helping to shape modern culture.
ConneXion Party - Thursday night June 1 - at the Summit Rooftop Bar in Austin
With the day's business done, attendees from both NamesCon Global and Cloudfest USA united for CPanel's big ConneXion Party at Austin's Summit Rooftop Bar. They got a pleasant surprise when The Spazmatics (Google them) appeared on stage delivered an electrifying, crowd pleasing 80s music revival that ran late into the night.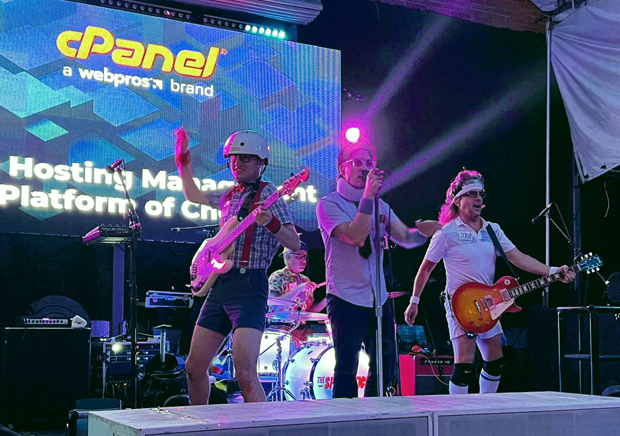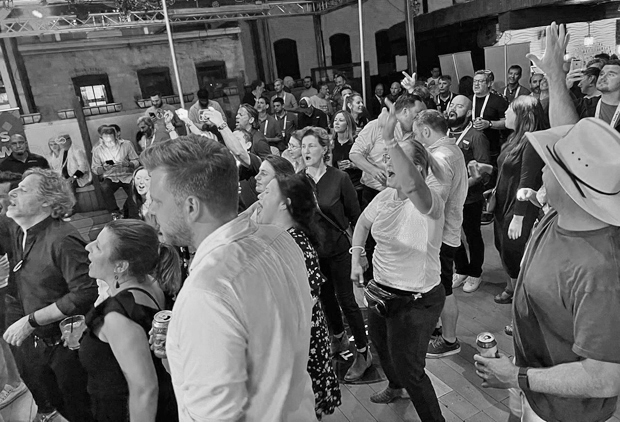 Above: The ConneXion party crowd getting into The Spazmatics!
Below: The band was equally adept and delivering music and unforgettable selfies!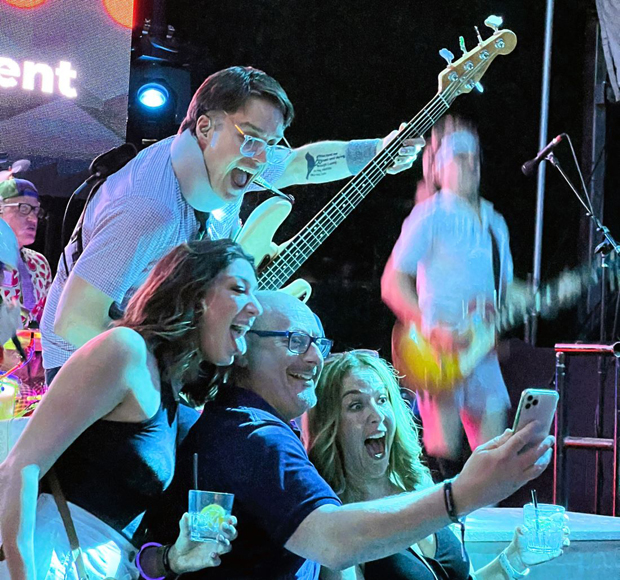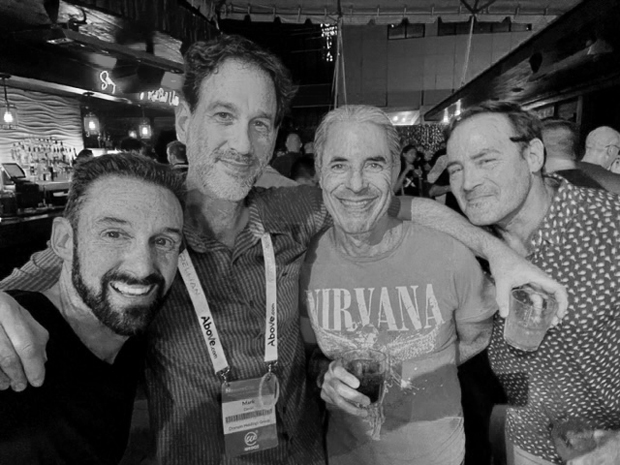 Above: Domain investors spotted in the crowd at the ConneXion Party (left to right): Braden Pollock, with three of our fellow Florida residents, Mark Daniel, the one and only Mike Mann and Curt Silbert. Thanks to Braden for the photo!
It was a late right for many but bright and early the next morning it was time to rise and shine for NamesCon Global Day 3 (Friday, June 2) - the final business day, followed by the show closing Fun Day (Saturday, June 3). Click here for photos and highlights from both!
*****