DomainFest Conference Day 1 Summary
(Monday, March 31, 2014)
Debra Domeyer and Dwayne Walker Kick Off Conference
DomainFest 2014 kicked off in the bright sunlight of a California morning. Oversee.net's CEO Debra Domeyer welcomed guests with brief opening comments that set the mood for the day. Lighthearted and funny, Debra talked about breaking tradition and having multiple simultaneous tracks on hot topics of the day: gTLDs, monetization, and strategies for raising capital. She then offered some reasons for attendance. The crowd favorite was getting "free booze" with meeting Lindsay Lohan a close second.
She then turned the program over to Dwayne Walker, SVP of Oversee.net, who thanked .Club and Verisign for their support. He then recognized all the sponsors. In the history of DomainFest, this is the largest outpouring of sponsor support that the conference has enjoyed. He also gave kudos to the team that put the show together, commenting on how a great team is needed to coordinate all aspects of the show. Dwayne shared a bit about his personal history in the domain business and how important it is to look beyond parking. He noted that we all need diversification strategies that include building out our personal brand.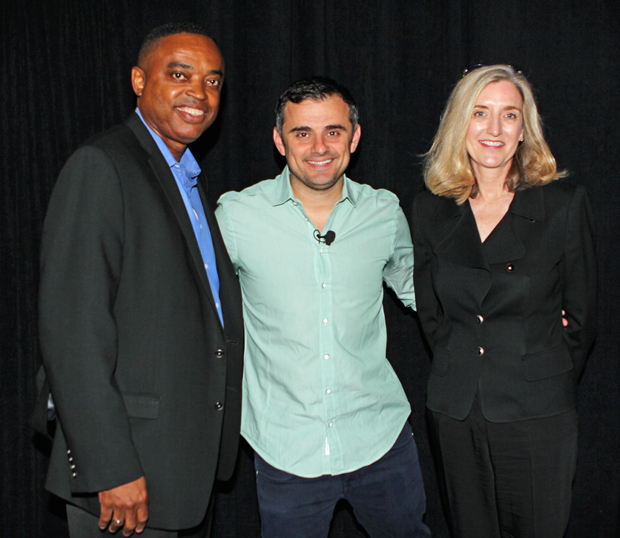 (L to R): Oversee.net SVP Dwayne Walker, Keynote Speaker
Gary Vaynerchuk and Oversee.net CEO Debra Domeyer.
Knockout Keynoter Gary Vaynerchuk
For the first time, the primary keynoter, Gary Vaynerchuk opened the show. He was a powerhouse and the audience loved him. Gary was a very poor kid but one with an entrepreneurial mind and a genius for spotting trends. His personal stories delighted the audience and the Twitterverse lit up. He talked about the DNA of an entrepreneur and quickly related it to the audience and the domain business. He is a firm believer in leveraging diversification and building out the domains you buy. Gary describes himself as an "on-line commerce guy," and he brought humor and complete candor to this talk. His essence is all about "selling stuff" and learning how to engage and connect with customers. For those wanting to start their own business, he was inspirational.
Born in Russia, he and his family came to the United States dirt poor. He considers his parents "heroes."At 13, he started a baseball card business and soon had $30,000 tucked under his bed. The stories about his ability to make money had the audience hanging onto every word. His entire speech made being successful sound so easy yet he was quick to tell us about the time and effort it took for each endeavor, always having the long-term goal of buying the New York Jets.
By the time he was 17, he had transformed his father's liquor business into a $60 million wine business. He now has multiple companies, including VaynerMedia, a new breed of agency that helps Fortune 500 companies find their social voices and build their digital brands through micro content and other story telling actions. He also launched Vayner RSE, a $25 million seed fund that will help invest in and launch the next generation of world-changing technology companies.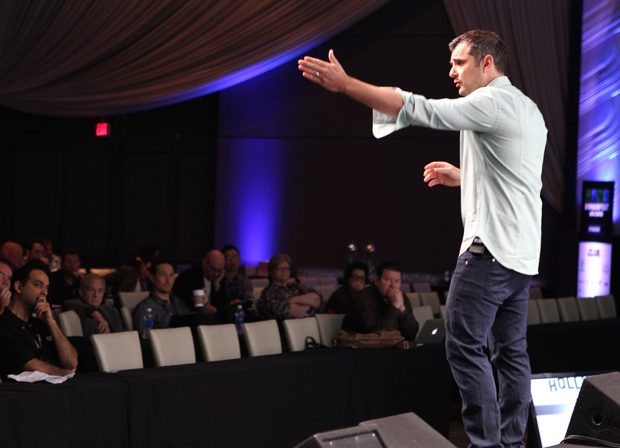 Gary Vaynerchuk delivering his Keynote speech at DomainFest 2014
Gary believes that we are living through the single biggest shift in history other than the Industrial Revolution. He has enormous respect for our space and advocated that domain owners start developing now to engage audiences and sell product. Social media is where you should be spending your time as the value of display and email marketing is declining.
Gary believes that the velocity of change is increasing and that we are grossly underestimating the momentum of changes to come. Once it becomes a behavior and the people sniff it out, things change. Perhaps his best line of all was: "Don't be romantic about how you make your money!"
Networking and Sponsors
Starting with breakfast, DomainFest followed its tradition of encouraging networking. Throughout the day and after each of the breakout sessions, there was ample time for attendees to do some casual networking. With comfortable chairs set up within the sponsor exhibit area and others outside in the sun, many attendees were huddled in discussions and private meetings. With more sponsors than ever before, breaks also gave attendees the ability to visit with our sponsors and learn about their new offerings. Conversations were going on everywhere.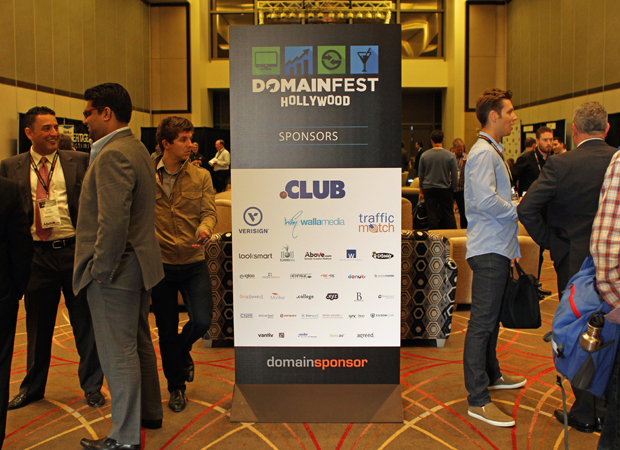 Change in Format: Alternative Tracks on Hot Topics
This year, DomainFest held alternate tracks on hot topic areas. Speakers were excellent provoking questions in all sessions. Covering two or three tracks at the same time is a challenge. Here's a brief snippet of each.
The New gTLD Land-Grab discussion was moderated by Dan Schindler, Co-Founder & EVP of Donuts. He was joined by Steve Banfield, SVP & GM, Registrar Services for Rightside and Ray King, CEO, Top Level Design LLC. They gave straightforward opinions on the gTLD landscape, and both the opportunities and challenges that lie ahead. Various opinions were exchanged on what gTLDs would be the winners.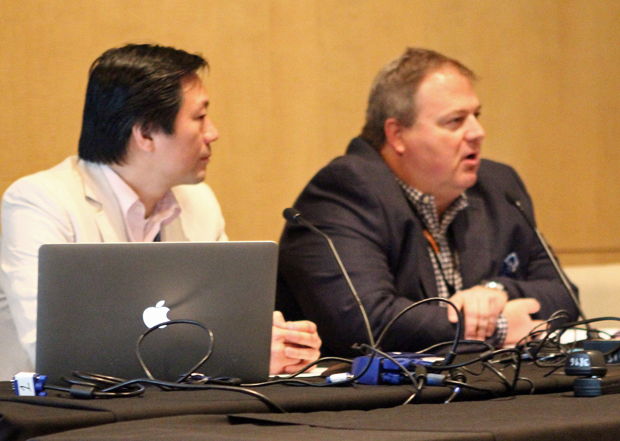 Ray King (left) and Steve Banfield talk about the New gTLD Land Grab
Winning Registry Strategies – Picking a Winning Horse in the gTLD Race was moderated by Karen Bernstein, Principal, Bernstein IP. The panelists included Colin Campbell, CEO, .CLUB Domains LLC; Daniel Negari, CEO .XYZ and .College; and Daniel Schindler, Co-Founder & EVP, Donuts Inc.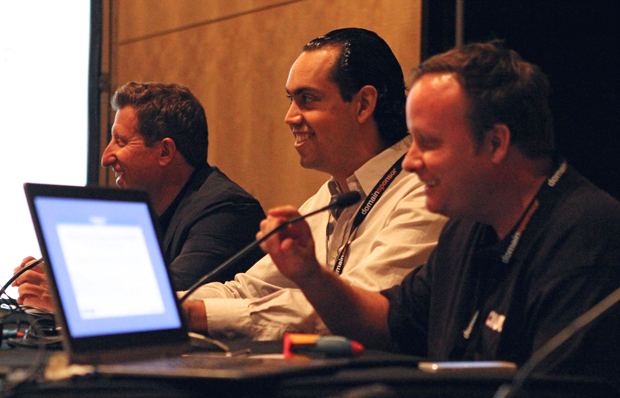 (L to R): Daniel Schindler, Daniel Negari & Colin Campbell share registry strategies.
The last session on the gTLDs track was Rising Stars – Who's Hot, Who's Not and Who Has a Shot! Moderator, Tina Dam, Co-founder, MyTLD, and panelists, that included Aaron Grego, CEO, Punto 2012; Mohammad Salihie, Business Development Manager, 101domain.com; and Bret Fausett, Esq. General Counsel, Uniregistry, discussed and debated which gTLDs are the clear winners in the market and which are the ones to watch and why.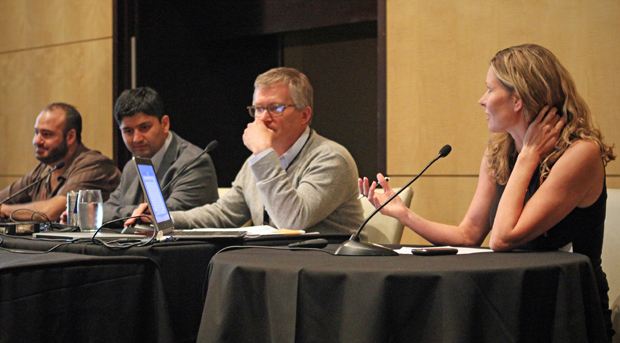 The Rising Stars panel featured (L to R) Aaron Grego,
Mohammad Salihie, Bret Fausett and moderator Tina Dam.
The second track focused on domains. Michael Cyger, Publisher, DomainSherpa.com lead a lively session on How to Build a Diversified Domain Business Beyond Parking. Luke Webster, Founder, TheShaveNetwork.com, Bill Karamouzis, CEO, TeachMe, David Fairley, Founder & President, Websiteproperties.com and Jon Yau, Owner, StockPhoto.com shared experiences and success stories on growing the business beyond parking. Experts offered tips on making money and using strong content and social media to get to the next level by engaging customers.
The Beyond Parking discussion featured (L to R) moderator Michael Cyger,
Luke Webster, Bill Karamouzis, David Fairley and Jon Yau.
Domain Valuations LIVE! featured a lively discussion with industry experts who appraised domains that were submitted by the conference attendees. Valuations varied and the audience voted on values. The moderator was Page Howe, Owner, JoeDomains.com & DomainOutlet.com while the panelists included Amanda Waltz, Director of Sales & Acquisitions, Igloo.com; Dave Evanson, Senior Sales and Brokerage Consultant, Sedo.com; and Ammar Kubba, CEO, Thought Convergence, Inc.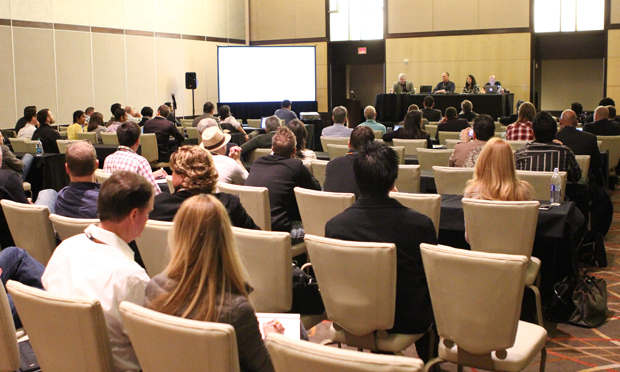 Wide view of the audience at the Domain Valuations LIVE! session.
The third session in this track was Alternative Monetization, which was moderated by Jeff O'Neal, Director of Sales & Business Development, Oversee.net. The panelists included Mateusz Drela, Director of Business Development Zeropark; Michael Onghai, CEO of Looksmart; and Jean Touboul, President and CEO of enContext. The discussion focused on using TrafficMatch.com and affiliate offers to increase domain monetization.
Discussions on Startups were a new feature of DomainFest and judging by the attendance at the Where are the Best Startup Opportunities panel, attendees were very interested in the topic. Moderator Mike Jones, CEO, Science led the discussion with experts Dave Carter, Co-founder and Strategic Advisor at Amplify.LA, Amir Banifatemi, Managing Partner, K5, William Hsu, Co-founder & partner, Mucker Capital. Panelists talked about alternatives for raising money in today's tech driven economy. With no shortage of angel investors, entrepreneurs need to understand the importance of a strong strategic plan for a new business.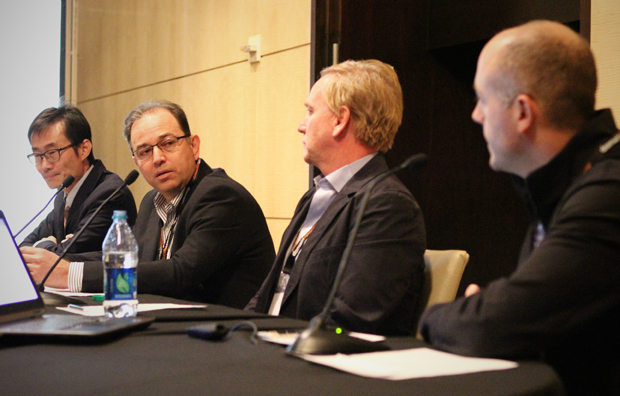 Moderator Mike Jones conducted this discussion of Where the Best Startuo Opportunities Are.
The second session in the Startups track was How Startups Can Buy Domain Names Like a Pro. Moderated by Brad Wilkinson, Director of Product Management and Analytics, Oversee.net, this panel discussed how to successfully negotiate, make offers, and purchase domain names for your startup.The panelists included Dwayne Walker, Senior VP DomainSponsor; Morgan Linton, Founder, Linton Investments; and Tessa Holcomb, Co-Founder & CEO, Igloo.com.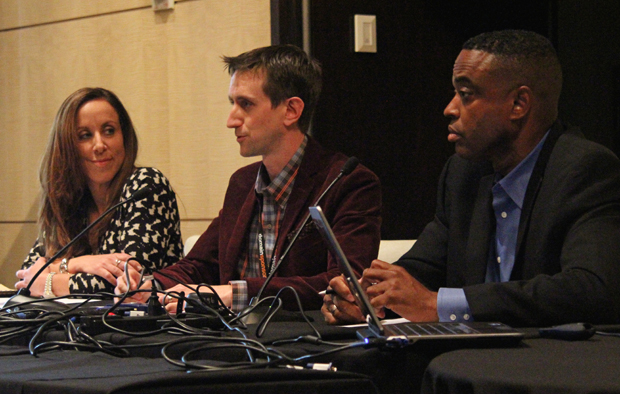 (L to R) Tessa Holcomb, Morgan Linton & Dwayne Walker
provide advice on How Startups Can Buy Domain Names Like a Pro.
The third session in the Startups track was How to Raise Capital for Your Domain, Mobile or Startup Business. The audience learned how to raise capital from the Domain Community, Angel Investors, Crowdsourcing, Venture Capital (VCs) and Private Equity. There was a variety of opinions put forth by the experts. The moderator was Raj Beri, VP & GM, Online Travel for Oversee while the panelists included David Siemer, Managing Partner, Siemer Ventures; Bill Chui, Co-founder of BPO Solutions; Buck Jordan, Managing Partner, Canyon Creek Capital; and Alon Goren, Co-Founder and CEO, Invested.In.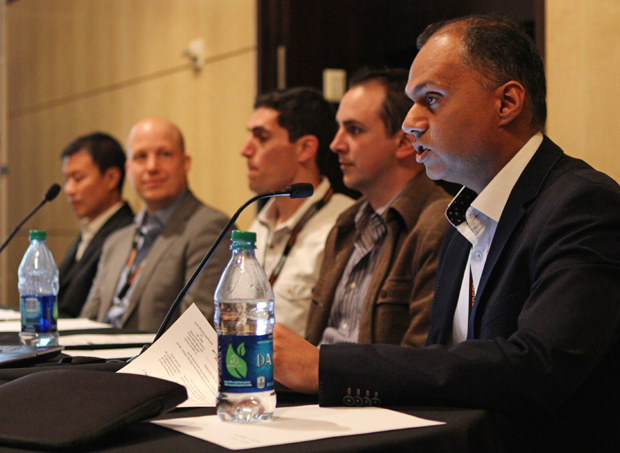 Raj Beri (far right) moderated the session devoted to How to
Raise Capital for Your Domain, Mobile or Startup Business
The first day also featured a general session about the .Sexy Rollout Success Story. Uniregistry's General Counsel Bret Fausett, Amanda Fessenden, Director of Industry Relations, and Ian Deveau, Marketing Associate told the unique story of .sexy. It all started in 2005 when Bret got a call from Frank Schilling who wanted to go big with gTlDs. Over the next few years, there was a lot of policy work up until 2011 when ICANN voted to launch new TLDs. Uniregistry gained the first mover advantage in being the only applicant in 2012. By summer 2013, the sales channel was built and the marketing was crafted around being fun and edgy without any X-rated meaning. Marketing is the key and this message rang true for all the experts who talked about gTLDs.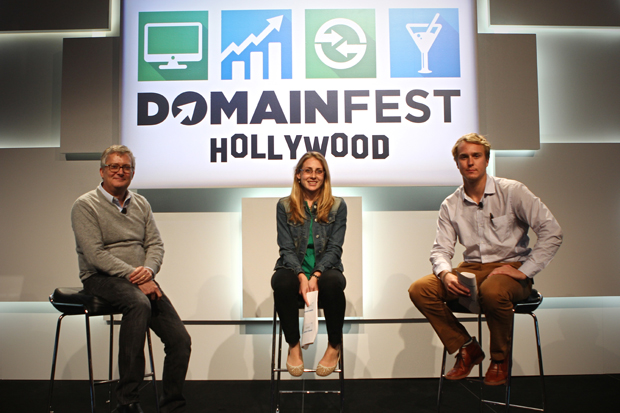 (L to R) Bret Fausett, Amanda Fassenden and Ian Deveau share the .Sexy Rollout Story.
Party Time
Now it was time to network and party and this DomainFest was no exception. It all started with a cocktail party which was quickly followed by a great party sponsored by .Club. Held in the Annex across from the Dolby Theatre, guests were great by paparazzi and none other than a Joan Rivers impersonator who gave her personal opinion and greeting to all who entered. It was uproarious. Then the real fun began with the party ending in the "wee" hours.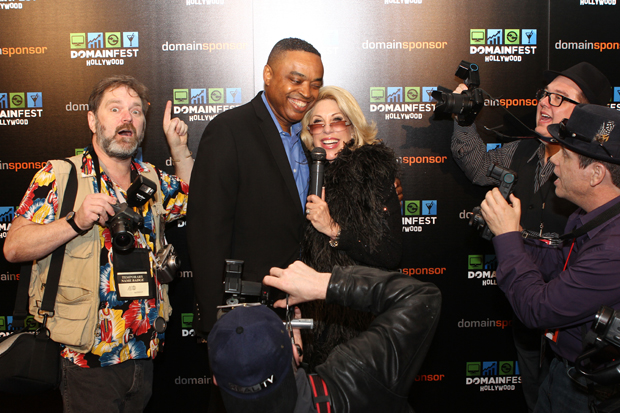 Above: A crowd of paparazzi gather around "Joan Rivers" and Dwayne Walker
when he arrived on the red carpet at the Monday night .CLUB Party.
Below: The crowd enjoying the party scene Monday night (March 31) at DomainFest 2014.
DomainFest Conference Day 2 Summary (Tuesday, April 1, 2014)
It was sunny once again amidst the threat of rain. The day started out with the CMO of .CLUB, Jeffrey Sass delivering his keynote address, Follow the Money. He stated that brands are the key to gTLD success. Jeff believes that for the consumer to understand top level domains, they must call them something that the consumer will understand to speed adoption. A domain name used to be called a web address, but now a domain name is about branding and is an integral part of who you are. Marketing is the call to action.
Jeff started out in entertainment business and was a bit of a geek, especially with video games. He was excited by the convergence of digital and traditional entertainment. Then he met Colin Campbell who is the CEO of .CLUB.
.Club ended sunrise on March 29. Applicants included sports, retailers, colleges who can now create meaningful domain names. For example, there is Art.gallery. A domain name can also be created that is semantically correct, such as golf.club. With the new domain names, there is balance on both sides of the dot.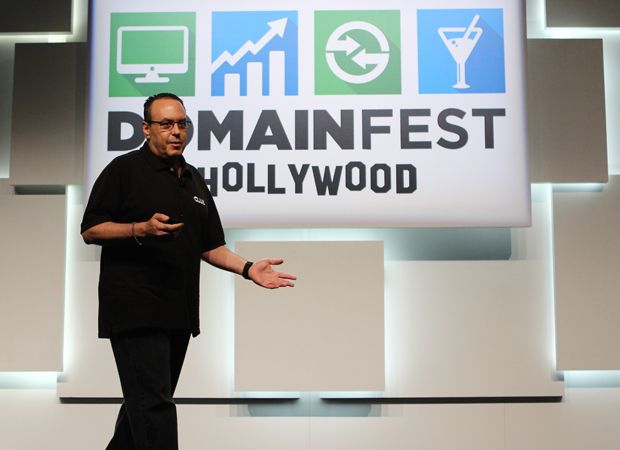 .CLUB CMO Jeffrey Sass delivering his Tuesday keynote address Follow the Money.
A brand can rethink their brand strategy. A brand can also have brand.app that points directly to their apps, such as brand.club for a loyalty program. It is very important because mobile matters. When you take that phone out, you are purpose driven. It must be easy and convenient. There is a specific domain that gets a person to where they want to go. These domain names can be used to make it easier for customers to find things.
His clear message to the audience was: We are here to monetize domain names. So focus on brands and brand marketers. As domain investors, you become our sales force. It is about having the ability to buy the names that marketers go after. The Land Rush has begun.
The gTLD and Domain tracks continued on the second day. The gTLD track started with Untapped Opportunities for Promoting gTLDs. This session covered how to use new business models to generate revenue. It was moderated by Andrew Allemann, Editor of DomainNameWire.com with panelists Melisa Dafni, Marketing Strategist for Punto 2012, and Bob Mountain, Chief Revenue Officer for Afternic.com.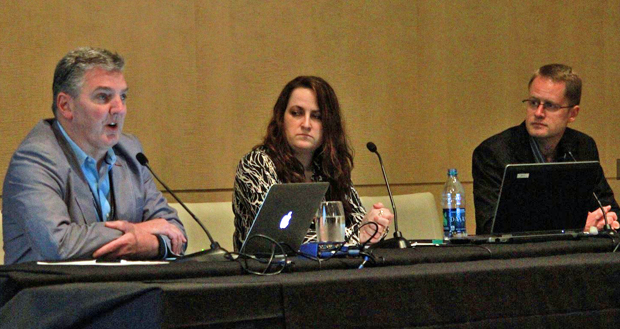 (L to R) Bob Mountain, Melisa Dafni and moderator Andrew Allemann
cover Untapped Opportunities for Promoting gTLDs
The second session was Self Regulation within the DNS Industry. The moderator was Raymond King, CEO of Top Level Design LLC. Panelists include Akram Atallah, President of the Global Domains Division for ICANN, and Reg Levy, Vice President of Compliance and Policy for Minds and Machines. The DNS Seal of Approval outlines the best practices within the DNS community. It is a marking system for registries and registrars and creates a voluntary code of conduct.
Akram Atallah, President of the Global Domains Division for ICANN presented an ICANN Update on gTLD Rollouts.
The Domain track began with Aftermarket Q & A Showdown. Moderated by Adam Dicker, CEO, Digital Intelligence, it featured Joe Styler, Director of Aftermarket Sales and Support for GoDaddy, Brad Lemire, Vice President of Business Development-Registrar/Registry Services North America for Sedo., Daniel Adamson, Sales Director, DomainNameSales.com and Brian Kleiner, Sales Executive, Afternic. Experts discussed the healthy state of the aftermarket and trends affecting the cost of domains with the price of dot coms remaining steady. There is also more awareness by the end users who realize the value of a good name. More gTLDs have been brought onto platforms. Sales of these now boost the domain business. There is much more marketing around the domain space now as was clearly demonstrated during DomainFest.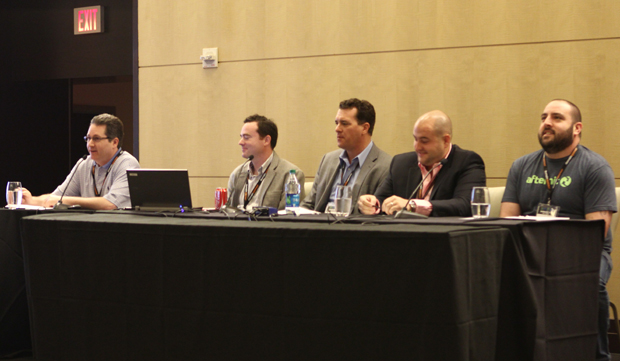 Adam Dicker (far left) moderates the Aftermarket Q&A Showdown.
The second session was Premium Domain Brokerage Life Cycle moderated by Braden Pollock, Founder of Legal Brand Marketing. Panelists included Andrew Rosener, CEO of Media Options; Larry Fischer of GetYourDomain.com and Co-Founder of Smartname.com; and Alan Hack, President of Names Plus Marketing. First and foremost, when dealing with a broker, it is important to build trust. Panelists shared recent examples of major deals including chat.com which was one of the largest domain sales in the last few years. Experts on the panels then talked about challenges they faced giving real examples and how they succeeded in specific transactions. They also added that timing and good partnerships are everything.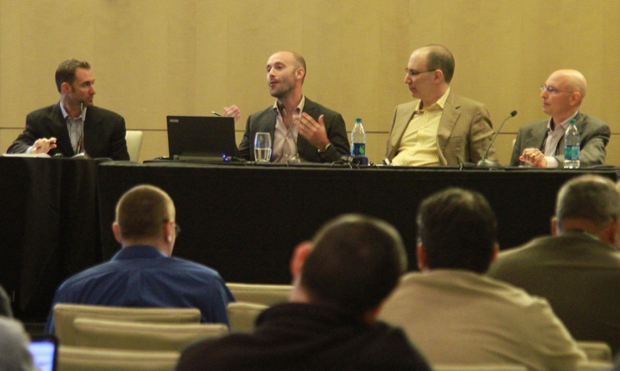 (L to R) Braden Pollock, Andrew Rosener, Larry Fischer and Alan Hack broke down
the Premium Domain Broker age Life Cycle for the DomainFest audience.
The last session in this track was Alternatives to Monetizing Your Mobile Traffic. This seminar provided information on how to make more money knowing more about traffic. The moderator was Vincent Meyer, Vice President of Business and Publisher Development for Admarketplace. Panelists included Melissa Lai, Mobile Business Development Manager for Pulse Mobile; Michael Ritter, Senior Vice President of Business & Corporate Development for SGN; and Mateusz Drela, Director of Business Development for ZeroPark. This discussion first focused on gaming and Candy Crush. Then there was a lively discussion with audience participation on mobile. The conversion process on the mobile web is different and often difficult to quantify. It was predicted that in the next five years, 50 per cent of traffic will be mobile.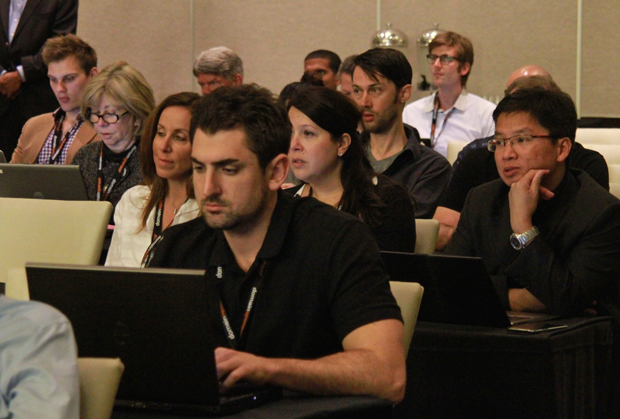 Part of the audience at the Tuesday (April 1) business sessions at DomainFest 2014.
The general session featured Daniel Negari of .XYZ and .College . He registered his first domain name in 1999 at 12 and is now 28 years old. He chose .XYZ and has been marketing it very aggressively. It is meant for every website everywhere. Daniel expects one billion domains will be registered over the next five years. He chose .XYZ because it doesn't have a specific meaning. Daniel has a pro-active marketing approach, focusing on the next generation of Internet users. He believes they will receive one million registrants in the first year from guerrilla marketing and TV commercials. The thing about .XYZ is that it is really sticky and can never be forgotten.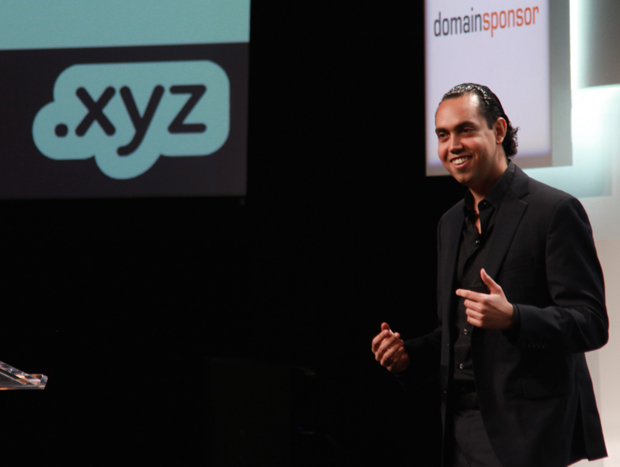 .XYZ's Daniel Negari delivering his Keynote Tuesday (April 1).
Daniel also talked about .college extension, recalling that some of his best domain acquisitions are PhD.com, Degrees.com and CommunityCollege.com. These top tier education domains helped him understand the need for an online presence by educational organizations.
With the sessions completed for the day, there was much anticipation for the Stone Temple Pilots private concert.
Stone Temple Pilots Private DomainFest Concert
The concert was held at OHM Nightclub where the DomainFest "gang" had partied hard before. We were greeted by Daniel Negari's Purple People dancing and handing out purple "lights.' What a night! The Stone Temple Pilots delivered big time. They are an iconic alternative rock band with a bit of heavy metal. The addition of Chester Bennington lifted this already edgy music. This was a once-in-a- lifetime experience. The audience loved every minute of it. STP made it personal, acknowledging attendees and our industry. Mostly it was great fun and everyone partied on when the show was over.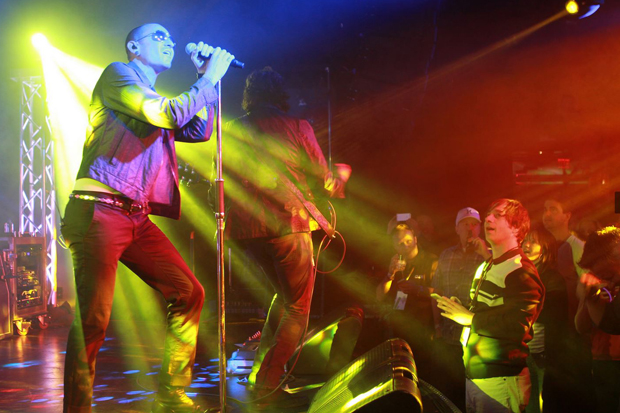 Above: Stone Temple Pilots rock the house in private concert for
DomainFest 2014 guests Tuesday night (April 1, 2014).
Below: (L to R) Sam Tseng, Howard Hoffman, Joe Higgins and Henry Hsu get into STP
.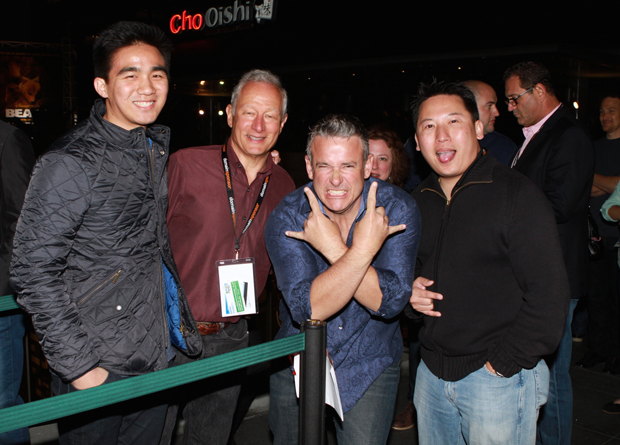 DomainFest Conference Day 3 Summary (Wednesday, April 2, 2014)
Day 3 started with a keynote from Dan Schindler, Co-Founder of Donuts, and Rich Merdinger, Vice President of Domains for GoDaddy. The space has seen tremendous change over the past twenty years. Yet, new extensions introduced at that time, such as .co. and .biz, did not generate the kind of excitement or acceptance that the new gTLDs are garnering.
GTLDs are also called vtld because they define vertical spaces and are more likely to succeed. Pricing is higher and investor must be savvy for the dollars spent. Take advantage of pre-registrations. Don't compete with yourself by going to multiple registrars. Registrars have premiere services so let them help you.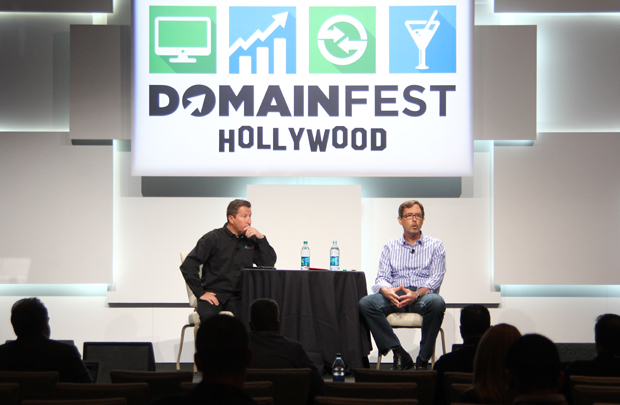 Dan Schindler (left) and Rich Merdinger on stage Wednesday morning (April 3).
Registries do reserve some names. In the case of Donuts, the company wants the names out there and people using their TLDs. They may hold some back to boost the value of a brand. An example is car.insurance. If an organization like Geico were to advertise car.insurance, it would be worth more than just the domain. The benefit to all is that it elevates all gTLDs. When brand holders start their marketing campaigns, it will educate people about these new extensions.
Donuts has targeted marketing plans such as going to specific conferences and launching affinity programs. GoDaddy wants to get the right domain to the right person. Both keynoters advocated that a new organization is needed to help in marketing and the technical piece.
The gTLD track started off with The Next Generation Registrars and Registry Services. This seminar provided insights into the engines behind gTLDs. Panelists included Rich Merdinger, Vice President of Domains for GoDaddy, and Ben Crawford, Chief Executive Officer for CentralNic PLC. The experts addressed questions such as, "Why would you support a dot club over a dot com?" The group debated when .college or. xyz will overtake .com. There is a movement toward standardization as is currently being tried by GoDaddy. Go in and buy a pre-registration. It's a great time to get in early on these tlds and make smart investments.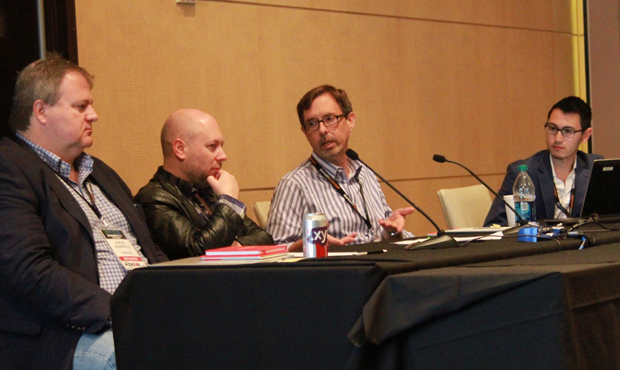 This session centered on The Next Generation Registrars and Registry Services
The second session was Risks and Limitations. The panelists shared their thoughts on brand, trademark, and legal issues involved in owning gTLDs. The moderator was William A. Delgado, Partner, Willenken Wilson Loh & Delgado LLP. Panelists included Karen Bernstein, Principal of Bernstein IP; Kelly Hardy, North American Business Development for .ME; and Don Moody, J.D. and M.S., New gTLD disputes .In the land of litigation and risks, there are many issues to consider so be sure to have the right partnerships and funding in place. If anything looks amiss, be proactive and fix it. Always make sure your domains are used in the right way
The last gTLD session was How Long Until This Pays Off? This seminar discusses building long-term value around gTLDs and when to buy, hold, resell and flip. The moderator was Victor Pitts, Director of Domain Services for Above.com. Panelists included Alan Dunn, Senior Vice President of Acquisitions and Divestments for Domain Holdings, and Pinky Brand, Vice President of Strategy and Partner Relations for TLD Registry Ltd. The experts discussed the advantages to developing the new names quickly. No one can accurately predict their success. The best advice was to look at these gTLDs the same way you would make an investment in the stock market. Pick the ones that are right for you—those you know something about, and that you are passionate about. There is a different attitude and excitement about the new gTLDs. There are being supported by smart people, smart marketing, and a new mindset of acceptance.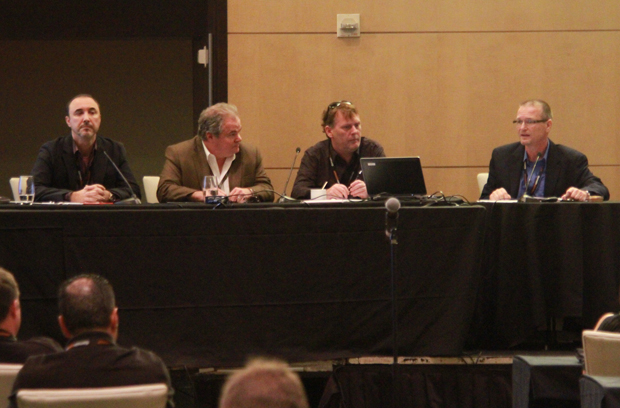 (L to R) Steve Kaziyev, Pinky Brand, Alan Dunn and moderator Victor Pitts
discuss how long it will be until the New gTLDs will payoff.
A compelling monetization session on Strategies to Enhance Domain Value was led by Zappy Zapolin of Zappy.com. Panelists were Adam Dicker, CEO of Digital Intelligence; Chad Folkening, President of Contrib; and Michael Castello, President/CEO of Castello Cities Internet Network. These experts shared their thoughts on buying and selling websites as well as the differences between online businesses and selling domains. Michael discussed the sale of Whiskey.com reinforcing the idea that as content builds so does value. Adam noted that you can build a great business from your domains rather than just parking them. Chad encouraged attendees to test sites and build relationships. All agreed that it was important to prioritize how to spend your time. It all starts with buying the right domain and then it is about adding links, content, and service.
The SEO panel was led by Mike Mothner, Founder & CEO of Wpromote. Panelists were Jason Hennessey, Co-Founder, EverSpark Interactive; Mike Floyd, Managing Partner, Highly Relevant; and Rick Egan, VP, The Search Agency. The experts agreed that search has changed dramatically. Now, there is a more holistic approach focused on good content. Give users information that helps make decisions. Know your audience and then create the video, image, audience and voice of your brand.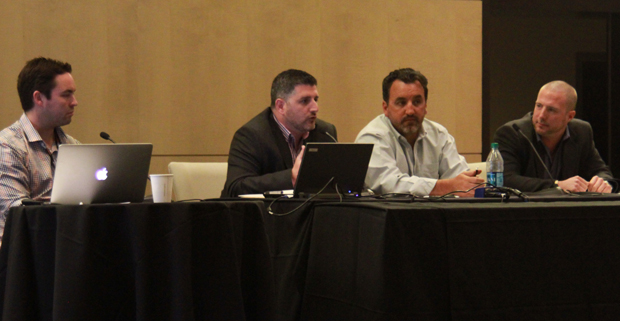 The SEO Panel gave advice of coping with the rapid pace of change in Search.
Some specific tips offered are:
-Capture a broader number of keywords.
-Reverse engineering the competition.
-Entertain the user.
-Social becomes a natural extension of your content.
-Add Google+ to your website
The last domain session was How to Best Optimize Your Traffic. The panelists recommended the best keyword and lander combinations based on traffic as well as illustrated how to optimize and monetize based on international, mobile platforms, and vertical industries. The discussion was led by Michael Gilmour, Founder, ParkLogic. Panelists were Brad Wilkinson, Director of Product Management and Analytics for Oversee.net and David Warmuz, President, Above.com.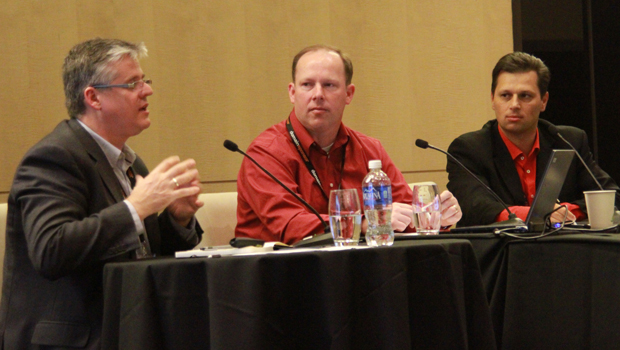 (L to R) Michael Gilmour, Brad Wilkinson and David Warmuz
offer tips on How to Best Optimize Traffic.
The concluding general session at DomainFest was .Bar Rollout Success Story, featuring Aaron Grego, CEO of Punto 2012, and Melissa Dafini, Marketing Strategist for Punto 2012. Aaron discussed the team's deep background in the restaurant business in Latin American. They chose dot rest and dot bar because both are global terms and are easy to pronounce. They also talked about the key role registrars play in the process and the importance of partnerships.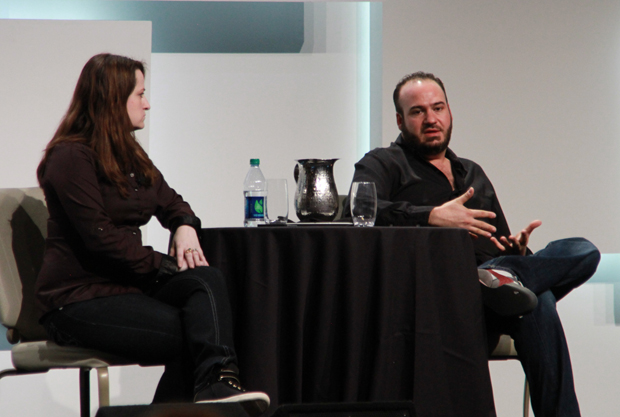 Melissa Dafini (left) and Aaron Grego detail the .Bar Rollout Story.
They reiterated the fact that users (consumers) do not understand what is happening with the new extensions. It's essential to know how to educate the client base and their plans call for direct outreach. In May, the National Restaurant Association (NRA) will have an event to introduce restaurateurs and suppliers to this opportunity. In the restaurant business, more hand holding may be necessary so they have started a VIP founders program to ease them into program.
Networking and Fun
The program ended with a networking cocktail party and an evening at SkyBar at the Mondrian Hotel hosted by DomainSponsor.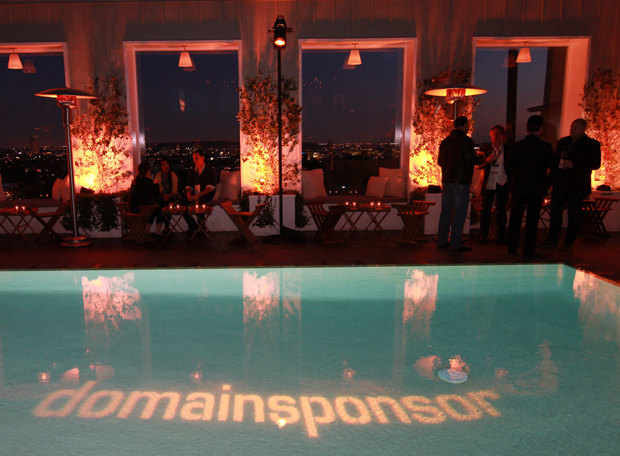 Closing networking cocktail party at SkyBar.
In the end, this DomainFest conference proved, once again, the strength of our industry and the expertise and professionalism of our attendees. Nothing prepares us for the future more effectively than getting together face to face to exchange ideas and debate the merits of the many opportunities we have. It proved that we are on the edge of a completely new dimension in our business.