As the first regional DOMAINfest event of 2007, the conference aimed to bring together European domain industry stakeholders for a smaller and more intimate networking and learning experience. What the organizers found was that interest in the regional conference extended far outside of Europe. As Ron Sheridan of show host Oversee.net stated in his opening remarks, around 150 attendees had come in from 20 different countries to attend DOMAINfest Amsterdam, including the United States, Netherlands, Germany, Thailand, and India.
Oversee CEO Lawrence Ng (left)
and EVP Jeff Kupietzky

The first day's sessions were kicked off with a brief welcome from Lawrence Ng, CEO and Co-founder of Oversee.net. Ng spoke about the overall importance of the European market for the entire industry and remarked on the true international spirit of the event. Ng said, "There's a lot we want to learn here [in Europe]. We want to hear what your needs are and what it is about your respective countries that makes your business tick." With respect to goals for DOMAINfest Amsterdam, Ng told the audience, "My hope over the next two days is really for us to get to know each other and at the end of these two days we really want you guys to see how committed we are to Europe."
Keynote speaker Liz Williams
Sr. Policy Counselor for ICANN

The keynote speaker was Liz Williams, the Senior Policy Counselor for ICANN. Based in Brussels, Belgum, Williams leads the policy development process for the introduction of new top level domains. With new TLDs including .asia and .mobi represented at DOMAINfest Amsterdam (as well as Austria's .at ccTLD), Williams covered an area which is still a mystery to many domainers—ICANN's standardized process for applying for new TLDs, including why new TLDs are introduced, and how they are evaluated by ICANN.

Williams said, "There's a great deal of interest in applications for new TLDs. However, everyone's keeping their cards very close to their chest." With the mounting interest in new TLDs and ccTLDs, we can probably expect some interesting new applicants to emerge in the months to come.
The show's first seminar centered on The Domain Aftermarket and featured Nora Cotter of Sedo.com, Tom Murphy of BuyDomains.com and Richard Martin of NICIT with Oversee.net Senior Manager of Business Development Scott Higgason serving as the moderator.
Ms. Cotter, who heads up the UK/International Parking Team for Sedo, presented an overview of the secondary market which she defined as registered domains, expired domains, domain trade, and domain parking. Cotter remarked, "That's a massive market primed for investment…Over 6 million domains are listed with Sedo alone and we sold 17,850 domains last year." Drawing from numbers reported on DN Journal, Cotter gave attendees a summary of last year's domain trade. From 2005 to 2006, there was a 69% increase in transaction value. Sales totaled nearly $100 million last year, which was double the amount in 2005. Factoring in the vast number of sales that go unreported, Cotter believes that 2006 may have been the first year where the value of domain sales on the secondary market exceeded that on the primary market (new registrations).
Next, Tom Murphy, Senior Director of Business Development for BuyDomains.com, (a division of NameMedia), provided his take on the aftermarket. Murphy stated that prior to 2006 there were only a few select players in the aftermarket including BuyDomains, Afternic.com (which was acquired by NameMedia), Sedo, and SnapNames.com. Murphy quoted Rob Hall of Pool.com saying, "The secondary market IS the primary market."

Domain Aftermarket Panel (left to right): Moderator Scott Higgason, Nora Cotter (Sedo), Tom Murphy (BuyDomains)
and Richard Martin (NICIT)
The first half of 2007 saw the entrance of more aftermarket players, most notably GoDaddy.com and MelbourneIT. Murphy expects that "every single registrar of any import will integrate secondary market names into their main purchase path in 2007 and 2008."
Richard Martin who is Area Manager for Domain Transfers in Spain and South America for NICIT, gave an overview of the company's offerings as many in the audience were unfamiliar with the German domain trading platform. NICIT had signed on to sponsor and organize the first ever DOMAINfest auction. Martin's colleague, Maximilian Heinrich then took the stage to review instructions for participating in the live auction that would be held on day two of the event.
| | |
| --- | --- |
| The cocktail hour always offers great networking opportunities | The opening day of DOMAINfest Amsterdam concluded with a lively cocktail party in the Hilton's Amstel Room. Guests were treated to an array of hors d'oeuvres, cocktails, and beer. It was a great opportunity to meet fellow attendees and learn more about their businesses and backgrounds. The DOMAINfest team also got to know their global colleagues in a very congenial setting. |
Day two got underway with a TLD Updates session featuring dotMobi's Pinky Brand, Klemens Pidner of nic.at and Edmon Chung of DotAsia. Chris Sivertsen, Business Development Manager of Oversee.net, served as the moderator for this panel.
Mr. Brand, Director of New Markets for dotMobi, provided an update on the mobile extension. Since the dotMobi launch last September, 520,000 .mobi domains have been registered. Among others, dotMobi has recently added Visa as an investor. Brand defined the mobile web opportunity as four time bigger and four times faster than the market for PCs. He believes that .mobi will be an additional distribution channel for companies who want to reach the mobile audience. To get attendees started on the .mobi business opportunity, Brand gave each person in the audience a free .mobi domain as well as instructions on developing their own mobile-ready site.
Klemens Pidner, IT Developer for Austrian registry nic.at, highlighted key domain industry trends. Nic.at specializes in .at domains which target the German-speaking market of over 100 million users. On the IDN (Internation Domain Name) front, Pidner remarked that 70% of all internet users do not speak English, and 28% use non-Latin script. On ccTLDs, Pidner predicted the policy liberalization for acquiring ccTLDs, as well as the decreasing prices and vast buying opportunities through TLD aggregators will trigger even more growth and development in the sector. There have already been approximately 38 million ccTLDs registered to date.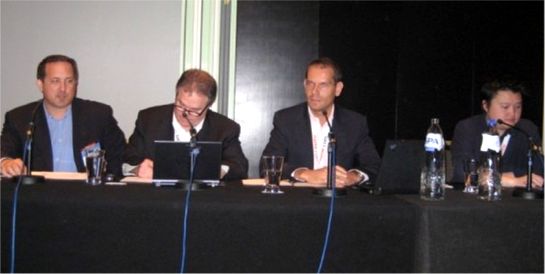 TLD Update Panel (left to right): Moderator Chris Sivertsen, Pinky Brand (dotMobi),
Klemens Pidner (Nic.at) and Edmon Chung (DotAsia)
Edmon Chung, CEO of the DotAsia Organisation, gave a briefing on the status of .asia. The company has secured a contract from ICANN and is on track to launch the .asia TLD later this year. Chung informed the audience of the requirements for obtaining a .asia domain, which include having either an Asia-based Admin or Technical Contact listed on the domain records. Chung compared the Asian market to other markets by scale, saying that Asia has the largest online population—399 million to Europe's 315 million and the US's 253 million. Finally, Chung announced DotAsia's Pioneer Domain Program, a contest that will grant the right to operate the best .asia domains to applicants with the best proposals. This program will get underway this summer.
Following a brief break, attendees settled in for a 2-hour networking session led by Charles D.A. Ruffolo, the self-proclaimed NetworKing. A US Army veteran turned professional

networking speaker and trainer, Ruffolo co-authored the book, Network Your Way to Success. "The Rufman," as he refers to himself, led a high-energy, direct session that required attendees to "look each other in the eye." Attendees strolling in after the session had started were put on the spot for a self-introduction. Three DOMAINfest first-timers were put in the hot seats—the speaker panel. Those that chose to sit next to people they already know were asked to relocate.

At one point, "The Rufman" shut one attendee's laptop closed, saying, "I see people SMS-ing, MSN-ing, and emailing—turn that crap off! You can do that everyday of the week! Now you're here to meet new people. Why?...You came here to do business, nothing else." He entertained and inspired the audience with his own stories of networking success, one of which led him into President Clinton's house.

Charles D.A. Ruffolo
The NetworKing
Next on the agenda was Ask the Legal Experts featuring a panel composed of Paul Keating of Renova, Ltd., Christian Kerschbaum, John Berryhill and Richard Lau of DomainManager.com. The panel was moderated by Oversee's Executive Vice President Jeff Kupietzky.
Paul Keating, founder of Renova, Ltd, an international business and legal consultancy, gave attendees a primer on trademarks and risks. Keating believes that "trademark issues exist in every domain portfolio." The key is to handle issues appropriately and in a timely manner in order to avoid claims and litigation. To minimize risk, Keating advises domainers to (1) segregate their portfolios to avoid jeopardizing an entire portfolio over one UDRP, and (2) respond to Cease & Desist letters within 2-5 days. Domainers must also weigh the costs of fighting a claim against the monetary value of a domain.
Christian Kerschbaum presented next, focusing on legal risk and specifics of registering .de (German ccTLD) domains. He began by providing the audience with background on the .de TLD which is the largest ccTLD and the second largest extension of any kind (trailing only .com). Kerschbaum detailed qualifications set by DENIC, the regulating authority for .de domains, for registering .de domains. Anyone is able to register .de names as long as the administrative contact listed is a natural German person. There are key differences with the DENIC system and .de names that everyone registering them should be aware of. For example, there is no WIPO or UDRP process; domain disputes have ordinary jurisdiction in German courts. Additionally, if you get a ruling in your favor concerning a domain dispute, the court will only grant you relief in the form of the cancellation of the domain and not (like UDRP) a transfer of the domain name. In order not to have someone else quickly reregister the domain (after you have been granted relief in form of cancellation) the Denic provides you with a procedure called "dispute". If you have placed a dispute on the domain name in question, it can not be transferred (no owner handle update possible) and if it is cancelled, the dispute claimant will automatically become the new owner of the domain.

Legal Panel (left to right): Moderator Jeff Kupietzky, Paul Keating (Renova Ltd.),
Christian Kerschbaum, Dr. John Berryhill and Richard Lau (DomainManager.com)
Dr. John Berryhill, who holds the unique honor of being a three-time speaker in the DOMAINfest series, took to the mic with his freshened stand up routine, which touched on wind power, the Amsterdam flag and the Dutch people's affinity for the letter 'a'! When he turned straight man, Berryhill offered the kind of wisdom and industry insight that has made him one of the most popular speakers in the industry.
Richard Lau (left) chatting
with Charles Ruffolo

Richard Lau of DomainManager, the 2004 Domainer of the Year, has generated millions of dollars in revenue in the domain industry. As an expert in hijakced domain recovery, he is credited for the rescue of stolen high-value domains such as God.com and Wifi.com. Lau talked about the importance of understanding what's really being said in your registrar agreements. He compared policies of top registrars including GoDaddy, Fabulous, and eNom, demonstrating the crucial differences that lie in each registrar's agreements, which are probably being overlooked by many domainers.

Most important, according to Lau, is to "make sure that [your registrar] knows you, so that when you call them, they recognize you by your voice. If you have to explain to a customer service rep why you need to be escalated to someone…who is actually going to act on an issue, you are at the wrong

registrar." Lau said that another option domainers have is to become their own registrar. This, he estimates, can cost $20,000-$30,000 to set up, and is by no means a cost savings measure, but one of security and control.
The final seminar session, Global Domain Experts, featured Xavier Buck of EuroDNS, Marcus Schnermann of KeywordDomains, Emiliano Pasqualetti of DomainsBot and Sean Moriarty of Yahoo! The moderator was Arthur Lathrop, Product Manager for Oversee.net.

Xavier Buck, CEO and Co-Founder of EuroDNS, gave the audience a brief update on the status of key

Domain Experts Panel (left to right): Moderator Arthur
Lathrop, Xavier Buck (EuroDNS), Markus Schnermann (KeywordDomains), Emiliano Pasqualetti (DomainsBot)
and Sean Moriarty (Yahoo!)

European ccTLDs including .FR (France), .BG (Bulgaria), .FI (Finland), and .IE (Ireland). As a firm believer in the accessibility of domain names for everyone, Buck outlined ways non-residents could obtain domains in each ccTLD.
Buck says that the .FR market is where he sees the biggest movement of new registrations. He also mentioned PayPal Europe's recent announcement of the company's move into Luxembourg in July of this year. This allows the company to operate under a Luxembourg bank license, creating what Buck refers to as a "safe harbor for domainers" on a legal and tax optimization viewpoint.
Markus Schnermann, Managing Director of KeywordDomains, familiarized the audience with his four key ventures: KeywordDomains, DomInvent, ConsultDomain, and DomainersClub. Schnermann echoed what Lau had said in the previous session about the importance of having close relationships with registries and registrars. He also commented on the liberalization of registration restrictions for European TLDs and the continuing trend of localized content and advertising which presents key business opportunities for domainers.
| | |
| --- | --- |
| Emiliano Pasqualetti, COO, Director of Business Development and Co-Founder of Italy-based DomainsBot spoke next. As an active promoter of the partnership between the primary and secondary markets, Pasqualetti believes that "we are at the eve of a revolution with the secondary market." Through partnerships with primary market players like GoDaddy to offer secondary marketing offerings (DomainsBot is behind GoDaddy's recently introduced secondary market feature), DomainsBot provides technologies that help identify adjacent or related domains in the context of extending a sale from one domain to the next. | Part of the crowd listening in at panel discussion |
Sean Moriarty, Director of Business Development for Yahoo!, discussed Yahoo!'s perspective on domain monetization. Moriarty gave attendees a brief history of Yahoo!'s involvement in the domain industry, saying that the company formally entered the market in 2003 with the acquisition of Overture. Moriarty informed attendees of Yahoo!'s intentions to expand their publisher network, as well as their focus on the international markets. Moriarty concluded by making an announcement of great importance to many domainers in the audience: Yahoo! will continue to monetize adult traffic.
Xavier Buck of Euro DNS gets in
a bid during the live auction

Next it was time for the first DOMAINfest auction, an event sponsored and organized by German-based aftermarket platform, NICIT. Most notable of the auction results was the sale of Poker.de for 695,000 Euros, which is approximately $940,000 USD. Selling for well above the reserve price of 500,000 Euros, Poker.de becomes the highest sale for a .de name ever.

Of course no conference that DomainSponsor is involved in would be complete without a show-stopping party that people will talk about for months to come. Attendees were shuttled over to Rain Nightclub, located in Rembrandtplein, the nightlife district of Amsterdam. DomainSponsor had transformed the trendy hotspot into a lush tropical rainforest. Guests were invited to enjoy "cocktails under the canopy" of imported palm trees and nibbled on an array of Asian- and Dutch-inspired cuisine.
The drinks and dancing went on until around 2 a.m., at which point guests either retired to the Hilton, or left in search of an impromptu afterparty. Judging by the number of heavy-lidded attendees and all-night partiers (some still wearing their party clothes) at the farewell breakfast the next day, the party was another success.
DOMAINfest Amsterdam proved to be a memorable meeting of international minds. Attendees were a mix of seasoned pros and industry newcomers. The event provided something for everyone: face-to-face time, informative sessions, and of course, as "The Rufman" so matter-of-factly stated, what we're all ultimately here for: the opportunity to do business.

DOMAINfest has already solidified plans for its annual Global event. The team is returning to the majestic Renaissance Hollywoodhotel for another big event January 21-23, 2008.

Scene from the DomainSponsor party at Rain

You are invited to visit the DOMAINfest website (http://www.domainfest.com) for complete photos and video from DOMAINfest Amsterdam, l as all the speaker presentations from the event.
*****
---