By Ron Jackson
More than 100 domain owners converged on the Marina del Rey Marriott in Los Angeles September 20-22 for DomainFest LA 2006, an event hosted by L.A. based domain monetization giant DomainSponsor.com. Co-sponsors, Afternic.com, Afilias, .Mobi, Name.com, Low.com and Revenue.net also helped pick up the tab so attendees could enjoy the week at no cost (aside from accommodations and travel expenses).
The idea for the event originated with Los Angeles domain investor Adil Shakour. The long-time DomainSponsor client said he got the company to get behind the project and make it a reality.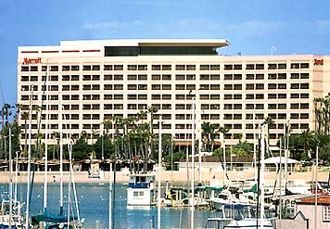 Marina del Rey Marriott in Los Angeles
Site of DomainFest LA 2006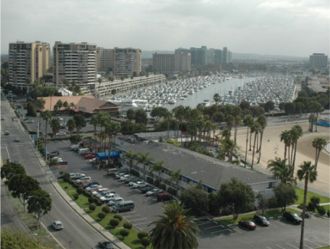 View of Marina del Rey from top of Marriott
(this and all following photos courtesy of MyrtleBeachInc.com)
The three day event revolved around informative seminars with well-known industry leaders and
networking sessions that allowed attendees to make new connections and develop new business. Of course, the opportunity to simply hang out with like minded people in a beautiful setting and have a great time was also a huge attraction.
Professional videographers (and domain developers) Warren Walker and Marcia Lynn Walker of MyrtleBeachInc.com were among those on hand and they were kind enough to share their photos from the event with us. You can also see their video coverage of DomainFest LA at DirectNavigationMarket.com.

The DomainFest got underway Wednesday evening (Sept. 20) with a cocktail reception and dinner at the nearby Harbor House Restaurant. Canada's Shaun Pilford worked up an appetite by driving 1,400 miles to get to the event! Other faces in the crowd included domain attorney John Berryhill and wife MJ, iREIT President Marc Ostrofsky, Afternic President Roger Collins and CentralNic's Joe Alagna.

Thursday was the first full day of business with DomainSponsor's Director of Business Development, Ron Sheridan, delivering the welcome address.

Dinner buffet at the Harbor House Restaurant



Tina Dam
Director of IDN Program at ICANN

Tina Dam, the Director of ICANN's IDN Program, then conducted the kickoff seminar on International Domain Names (ICANN's offices are located in Marina del Rey, just down the street from the DomainFest hotel). Ms. Dam presented an update on progress being made toward making the Internet accessible to global users in their own language and local script. Various technical issues are steadily being sorted out as IDNs continue to make headway on the web.

CPA Selwyn Gerber of Gerber & Company followed with a session called "Tax Planning For a Grand Exit" that offered advice on minimizing the tax bite when selling your domains. After a lunch buffet in the Marriott's Pacific Ballroom, there was a one-hour networking mixer before the afternoon business sessions.

Noted domain and patent attorney John Berryhill presented the first of four post-lunch seminars and drew a large crowd for his talk about "Domain Name Trademark Concerns". Dr. Berryhill discussed what domain owners can do to make sure they do not infringe on registered trademarks.

Next up was Pinky Brand, the Director of New Market Development for the .mobi registry. Brand's program "Are You Ready for .Mobi?" was especially timely as it came just a few days before the Sept. 26 .mobi land rush.

John Berryhill's session on
"Domain Name Trademark Concerns"
Brand presented an excellent primer on the new TLD for those interested in investing in and developing sites optimized for the world's 2.5 billion mobile devices.

Afternic President Roger Collins

Afternic.com President Roger Collins followed with an interesting hour devoted to "Domain Aftermarket Trends". Collins reminded domain owners that selling at the right price is just as important to sound profit strategies as PPC monetization is. Drawing upon sales data from his company's records (Afternic has 2 million sale listings on their site), Collins was able to illustrate the impressive returns that can be realized by acquiring, monetizing and selling domains.

Oversee.net's Vice President of Corporate Development, Steve Hisey, closed the day with a seminar titled "Selling a Portfolio" that provided helpful advice on how to value and sell a portfolio of domains. Attendees then got a one-hour break before enjoying a gala cocktail and dinner reception in the top floor Bayview room that was sponsored by DomainSponsor. That event entertained everyone right up to the midnight hour.
The closing day Friday (Sept. 22) was also packed with activity that started with a one-hour social gathering at 8:30am. That was followed by a wide-ranging panel discussion, "Deep Domain Industry Insight" that featured Dr. Berryhill, IP attorney Bret Fausett of LexText.com and Jothan Frakes of DomainSponsor. Some of the topics covered were ICANN (and how registrants can have more of a voice in ICANN affairs), current TLD contracts under review by ICANN and how passage of those contracts could affect domain owners, and how the process of rolling out new TLDs works.

(Left to right) John Berryhill, Bret Fausett and Jothan Frakes
conducting "Deep Domain Industry Insight" panel Friday (Sept. 22)
After a brunch buffet and a 90-minute session set aside to allow attendees to go online as part of the global One Web Day celebrated Sept. 22, Revenue.net's Raj Chauhan kicked the afternoon schedule off with "Domains - A Marketer's Perspective". Mr Chauhan talked about how domain owners could benefit from the ad dollars flowing to the internet from agencies that are starting to understand the value of domain traffic. In addition to tips on how to deliver what current advertisers are looking for, Chauhan discussed measures the industry could take to attract even larger, brand conscious advertisers.

That closed the business portion of DomainFest LA but there was still a lot of fun left on the agenda. DomainSponsor conducted a gift drawing and presented closing remarks before instructing everyone to regroup at 3pm at the nearby FantaSea Yacht Club for a four-hour harbor cruise around Marina del Rey.

A beautiful yacht was commissioned for that grand finale to the DomainFest that included drinks, appetizers, a poker tournament and a lot of great conversation among friends both old and new. Additional photos from this memorable event are in the photo gallery below.

Domainfest LA attendees aboard
yacht for closing day cruise
DomainFest LA Photo Gallery (courtesy of MyrtleBeachInc.com)
Adil Shakour, the domain owner who
came up with the idea for DomainFest LA

Joe Alagna of CentralNIC and
Marcia Lynn Walker of MyrtleBeachInc.com

John and M.J. Berryhill

(Left to right) Donna Mahony, Sally Letzer
and James Mahony

The lunch buffets always drew a crowd.

Roger Collins of Afternic (far left)
with a group of new and old friends.

Pinky Brand presents the case for .mobi

DomainSponsor's Ron Sheridan preparing
to announce winners of prize drawings

Sevan and Susan
from DomainSponsor share a laugh.

Ron James of NamePros.com (right) can't bear
to look as Roger Collins rakes in another
pot during harbor cruise poker game.

Thanks to the entire DomainSponsor team for being such gracious and generous hosts.