At the T.R.A.F.F.I.C. conference in New York City last June, Michael, David and Patrick extended the invitation for me to come to San Francisco this fall to speak and meet their AC colleagues. Though it didn't start out as a story assignment, as soon as I met the organization's other leaders for the first time, I knew I had to write an article about this group and their gathering because what they are doing now may well be what many of you will be doing in the future. That is building a full scale ecommerce site and/or media property on a blue chip domain name.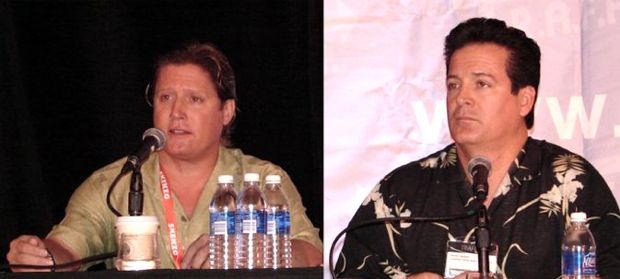 Michael Castello (left) and David Castello speaking at T.R.A.F.F.I.C. New York - June 2007
Associated Cities was started three years ago by a group of leading .com city geo domain owners who felt everyone who owned a domain in that category could benefit by working together to share ideas and cross promoting each other's properties. Since every city is unique no member was in direct competition with another. The concept clicked and with membership essentially a no-brainer, new city .com owners are continually joining the family.
For our readers, I think the most important thing to understand about AC members is that this a different group of people, with a completely different focus than those who own large domain portfolios and monetize their assets through pay per click parking or domain sales. Most of our readers fall into the latter category but over the past couple of years many in that group - disenchanted with lower PPC revenue trends despite a huge surge in online advertising - have started exploring the development path that AC members took long ago. While developing obviously entails much more work and there are no guarantees of success, a single home run can produce more revenue than thousands of parked domains combined.
The first day at the Expo, November 15, was devoted to meetings and seminars for Associated Cities members only (the two-day public conference opened on the 16th). On the afternoon of the 15th I was at the podium to give members a preview of the talk I would give the next day and to conduct a question and answer session. To be sure my perception of their interests was accurate I asked for a show of hands to see how many in the crowd owned or was interested in owning and monetizing a large portfolio of domain names. Very few raised their hand. Most of the attendees had concentrated their efforts on acquiring and operating a relatively small number of key

Seminar at 2007 GeoDomain Expo

properties that they were developing into full scale businesses. For them it was more about quality (especially in terms of development potential) than quantity.
It was also interesting to see that most of the large portfolio owners who were there were familiar faces to me who were attending their first GeoDomain Expo - people like Canadian partners Shaun Pilfold and Rob Montgomery, who have had success monetizing large portfolios but are now taking it to the next level and starting to build out some of their key properties. Pilfold told me "You know a lot of us who have large portfolios have been talking for years about doing something with the best domains we have. I finally got tired of talking about it and decided to start doing it. I'm learning a lot of new things from this group."
At the end of the members only day, Associated Cities Chairman Dan Pulcrano, whose SanFrancisco.com site served as the show host, treated attendees to a trolley ride through the streets of San Francisco and a tour of his company's offices. Pulcrano owns a phenomenal group of major U.S. city domains, including LosAngeles.com, Philadelphia.com, Dallas.com and others. All together he holds 20 of the 30 largest American city .com domains.

My wife and I had dinner with Pulcrano and Mauricio Mejia (who arranged the Expo's evening social events) later that night and it was a pleasure to learn about Dan's background and beliefs as well as some of the things we have in common (both of us had started our first publications before we reached high school). Pulcrano has spent almost all of his adult life as a publisher and journalist (in addition to his online properties he operates a number of popular print weeklies in California) and is devoted to building great media outlets on his city domains. It is going to be a lot of fun watching him develop one of the world's great new media networks in the years ahead.

Dan Pulcrano
AssociatedCities Chairman
It was also a treat to meet and listen to so many of the other giants in the geo domain space, including Skip Hoagland (Atlanta.com, MyrtleBeach.com and BuenosAires.com as well as non-geo monsters like Fishing.com and Hunting.com), Sean Miller (NewYorkCity.com), Josh Metnick (Chicago.com) and Barry Hodge (Richmond.com) as well as up and coming stars like Jessica Bookstaff (PigeonForge.com and Durango.com) and Fred Mercaldo (Scottsdale.com). There are valuable lessons to be learned from all of them and as interest in developing grows among our readers, I expect to be writing more about people like this in the months and years ahead.
If this is a direction you are interested in going, I think you could jump start your plans by attending future AC events. Since this was my first trip to the GeoDomain Expo I concentrated primarily on meeting the people involved in this space which often meant spending time chatting

Truman Hedding, VP of Internet
Marketing for Boulevards New Media
speaking at the 2007 GeoDomain Expo

in the halls while some of the seminars were going on. However I did attend enough of the educational sessions to see the high value they offer anyone who wants to develop a business on their domain name (whether it be in the geo space or some other category). The seminars centered on development issues such as building content, attracting advertisers, the best SEO techniques and incorporating new technologies to improve your site.

The two-day public Expo got underway Friday morning (Nov. 16) with Dan Pulcrano's State of the Industry update on developments in the geo domain world and Moniker CEO Monte Cahn's preview of Saturday's first ever live geo domain auction. A trio of morning seminars followed featuring these timely topics; Building a GeoDomain from Scratch (featuring panelists Michael Castello, Jessica Bookstaff, Sean Miller and Fred Mercaldo) , Cracking the Content Code (presented by Brad Shapiro, Truman Hedding and Thomas Rask), and Advertising Sales & GeoDomain Monetization (a one-man tour de force from David Castello).
My keynote address came during the luncheon that followed and a fair amount of my time was spent confessing my envy of the geo domain owners in the room (and the reasons why I think they are in such a great position). I can't think of a better platform for building a great media property than a definitive city geo domain. I can see a not too distant future where well-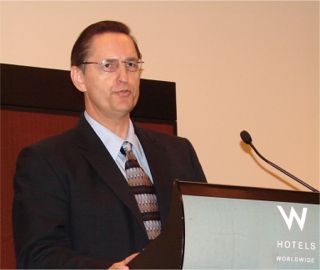 Ron Jackson speaking at the GeoDomain Expo
developed city domains will be more important and valuable than any of that city's newspapers, radio stations or TV stations. Everything the traditional outlets offer - print, audio and video - can be delivered through the domain and it can be delivered globally at a tiny fraction of the distribution cost incurred by old line media operations whose circulation is limited to a small local area. Holding the exact city name also gives the domain registrant ownership of that city's "brand" on the Internet and a never ending flow of search engine independent traffic from around the world. It's a platform that in the long run simply can't be beat.

After my talk, the Internet Commerce Association's Legal Counsel and Washington D.C. lobbyist Phil Corwin
took the stage to fill the geo domain owners in on the ICA's efforts to fend off increasing attacks on the rights of domain registrants. The ICA began just over a year ago and after some initial growing pains appears to be gaining solid traction through new memberships now as more and more domain owners have come to realize that there is an organized effort underway in Washington and within ICANN to get laws and current UDRP procedures changed in a way that would be extremely harmful to current domain registrants. That is a separate story in itself and I will talk more about it in our November newsletter that will be going out before the end of the month.
The afternoon session Friday included five more seminars and a structured speed networking event. I spent those hours sampling the panel discussions, visiting some of the company booths in the exhibit area and talking with friends old and new. The seminar titles will give you a sense of the broad range of development issues that were addressed including Mapping Out SEO Strategies, Positioning GeoDomains for Local Search, Making the Most of Third Party Booking Engines, Incorporating New Technologies and Innovation and PPC Parking & GeoDomains.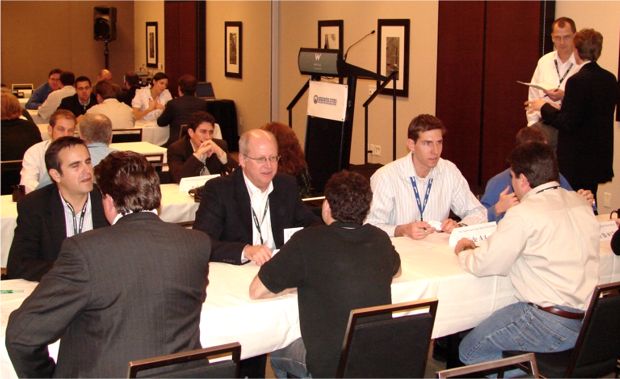 eXtreme Networking session at the 2007 GeoDomain Expo
Brad Spirrison, President of eXtreme Networking and Midwest Business Inc., oversaw the popular speed networking event. The hour was set up to insure that each participant met 10 other people in their area of interest. This kind of session has become a staple of just about every domain conference and for many it is the highlight of the week.
The busy opening day continued well after the sun went down with the first annual Geo Awards dinner, followed by TrafficZ's official GeoDomain Expo Party at the Roe night club. I had the honor of handing out awards in five categories at the Awards dinner. PigeonForge.com won as the best resort destination site and Jessica Bookstaff accepted that award, Fred Mercaldo's Scottsdale.com was named the top small-medium sized geo site, Richmond.com was recognized for having the best local content (Barry Hodge accepted the honor), Sean Miller's NewYorkCity.com won for best overall U.S. site and BuenosAires.com for best international site (Skip Hoagland accepted for his BuenosAires.com team). The winners were chosen by their peer members from Associated Cities and no one was allowed to vote for their own site.
Winners of 1st Annual Geo Awards

At Right: Jessica Bookstaff,
PigeonForge.com

2nd row left: Fred Mercaldo,
Scottsdale.com

2nd row right: Barry Hodge,
Richmond.com

3rd row left: Sean Miller,
NewYorkCity.com

3rd row right: Skip Hoagland,
BuenosAires.com
After dinner the action switched to the Roe Night Club, conveniently located just across the street from the conference hotel. I thought this venue was an excellent choice because the comfortable lounging areas and relatively low noise level made it possible for networking conversations to go on around the club without losing the party atmosphere people enjoy at night (see photos below).
Ammar Kubba, COO of the party host - TrafficZ.com and
Jen Sale, Partner Manager at the Domain Distribution Network

(L to R): Jessica Bookstaff, Jonathan Boswell (LeaseThis.com) and Patrick Carleton at Roe

Roe DJ spun the hits

Eric Litman (WashingtonVC Managing
Partner) and the firm's Regional
Manager Lori Anne Wardi

(Left to right): Natalie Lambert, David Castello, Ron Jackson and Diana Jackson
The final day Saturday featured three morning seminars and Moniker's latest live domain auction in the afternoon. Jothan Frakes of DomainSponsor.com and Sedo.com CSO Matt Bentley discussed the merits of .coms vs. other extensions in the opening educational session. While membership in Associated Cities is limited to .com owners, Bentley pointed out reasons why it made sense to consider adding some other versions of your base domain name - especially major country codes that provide an advantage in local search engines as well as improved localization of your marketing and additional type in traffic.
Ari Bayme of Modern Capital Group and Moniker's Monte Cahn followed with a session on appraising and valuing domains then DomainCapital.com President Robert Alfano and Andrew Conru, who founded the wildly popular FriendFinder Network in 1996, closed the seminar schedule during a panel discussion on Raising Capital to finance your development project.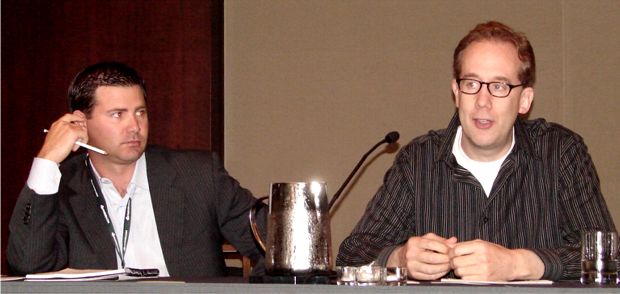 DomainCapital President Robert Alfano (L) and Andrew Conru, Founder
of the FriendFinder Network, conducted a seminar on Raising Capital
After a break for lunch it was time to close the show with Moniker's first live auction of geo domain names. Moniker pioneered the live auction space with their series of events at the T.R.A.F.F.I.C. conferences and are now expanding the concept by taking the platform to more

specialized trade shows like the GeoDomain Expo. They are plowing new ground with each of these narrowly focused auctions and each one presents a learning curve that has to be navigated as they get to know the nature of the bidders and what interests them in each specific vertical. Those factors can vary dramatically from event to event.

When the dust had cleared in San Francisco, 32 domains had been sold for a total of just under $480,000 (an average price of $14,232 per domain). Some, using Moniker's more broadly based multi-million dollar T.R.A.F.F.I.C. auctions as a yardstick, deemed that a disappointing number but Cahn said it was in line with his expectations, pointing out that the

Moniker.com CEO Monte Cahn (left) and auctioneer
Joel Langbaum run the live domain auction
at the 2007 GeoDomain Expo

total was higher than each of the first three T.R.A.F.F.I.C. auctions. It's true that Moniker is attempting to open new markets with these specialty events and they will see varying results as they get a handle on what plays best in each segment. The final total for the GeoDomain Expo remains to be tallied because an accompanying silent auction is continuing through Wednesday, November 28.
My take on the auction was that this particular crowd is going to be interested in only the very best geo domains - for example a name like Perth.com, that did sell for $200,000. Associated

Cities members hold some of the most valuable geo domain real estate in the world - the exact names of well-known cities. Few of them are interested in anything less because their sole interest is in building one, or perhaps a handful, of full blown businesses on true blue chip domains.

That is not to say that multiple word domains, like NewYorkMortgageRates.com aren't decent domains that would be useful to the right buyer - just that someone who owns NewYorkCity.com has little need to buy up every domain that describes a product or service related to their city. They already have the core name from which everything can be sold. The more specific names can be useful in driving traffic to the main site but there are an almost infinite number of permutations, so most core .com city owners are not interested in starting down that road.
I would guess that buyers of multi-word geo names and alternate extensions to .com will probably have to come from a broader pool of potential customers than the highly focused group at the GeoDomain Expo. If the second tier names are to sell in quantity in conjunction with this event, I think it will be necessary to woo off-site buyers who are interested in working these smaller service or product specific niches within the geo space.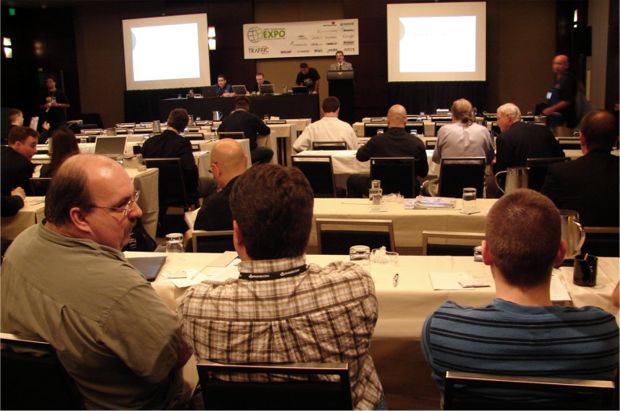 Scene from the live auction at the 2007 GeoDomain Expo
I remain impressed with Moniker's tireless efforts to expand the live auction format. They seem to be everywhere and they are taking the risks necessary to learn what works and what doesn't in untried markets so they can continue to build on their successful franchise.
After the auction those still on hand scattered around the city for private dinners or got an early start on the return trip home. One thing I would like to see added to the schedule next time is an official closing event (usually a celebratory cocktail party/casual dinner at other conferences). This puts an exclamation mark on a successful meeting by bringing everyone back together for a final relationship-building social activity. It gives everyone a chance to share
their view of the week's events and an opportunity to set up future contacts with the people they met. A great play gets a curtain call, a killer concert demands an encore and a highly rewarding conference like the GeoDomain Expo deserves no less.

For me, this show was a refreshing change of pace that generated many new friendships and a wealth of ideas to explore. I'm looking forward to doing it again and I can tell you now that with the surge of interest in developing real businesses on great domains, this show is sitting in a sweet spot that is going to produce tremendous

growth in the years ahead. I'm told this year's conference doubled the size of last year's event in Chicago and I would wager that is just the start. Geo or no, if you are a domain developer you should give the next GeoDomain Expo a go.

#####
---