(London, Feb. 2, 2007) The sun shone on a new era for the "dot-UK" domain industry with its first country specific domainers' conference. UK DomainChannel launched with an electrifying day of seminars, networking, negotiations and deals.
130 Domain owners, executives, service providers and equity analysts from the US, Germany, Spain, France, Finland, Poland and the UK met for the first time in the Victoria Park Plaza in central London, for what will be the first of many to come.
Ed Russell, NameDrive President and premium sponsor said: "We are delighted to have achieved something that nobody in the UK domain industry has done before. This is the biggest domain conference anywhere outside the United States."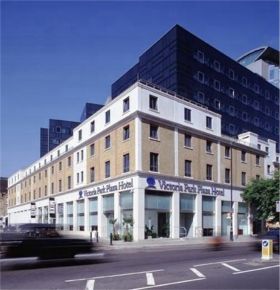 Victoria Park Plaza Hotel - London
Site of UK DomainChannel Conference
"Many of the most influential members of the UK domain community are gathered here and it is clear that the UK domain industry is booming," Russell added. "At a time when many US companies are looking to invest in Europe, I can only see these events growing in popularity in the future." This was a feeling upheld by many."



Aiming to centralise networking in the UK domain market and exposing the UK to a more global audience, the day was opened by event coordinator, charismatic David Brayshaw. He welcomed attendees into a new era for the industry and introduced them to a vision for where the industry is heading.

Arguably one of the hottest topics of the conference was the eagerly awaited revision of .UK Registry Nominet's Dispute Resolution Service (DRS). Attendees listened keenly as CEO Lesley Cowley spoke of Nominet's plans and held her ground as questions were thrown at her about what is being done for the protection of their industry.

Lesley Cowley
CEO of of Nominet
More exciting for some was the announcement of plans to discuss the long awaited release of two letter .co.uk domains, via a possible charitable auction; as well as the possible launch of new UK domain extensions such as .scot, .cym, .scot.uk and .cym.uk. Nominet also plans for the coming year to discuss lengthening the domain registration period to as much as 10 years.

Angus Hanton
Giraffe.co.uk

Angus Hanton of www.giraffe.co.uk gave a captivating seminar on effective sales techniques in the UK and domain value. With the use of various props, Angus guided us through the complicated world of domain valuation and sales. Girraffe.co.uk hold 18,000 domains, mainly .co.uk, and in the past have made some impressive sales: three.co.uk to the mobile phone giant Hutchinson, egg.co.uk to the financial group and 3121.com to Prince.

Angus commented on domain value, "The trite answer is always 'a name is only worth what someone will pay for it' but this is hardly a satisfactory response because it is so subjective and as owners we are often in a position of needing to quote a price or as buyers to make a firm offer." Throughout the attendees it was interesting to find that over half the audience had both bought and sold domains with the same number again having been asked to price the domain and faced legal action over them.
After his presentation, he was joined by Michael Toth, owner of a first-class .uk portfolio, including UnitedKingdom.co.uk, and Daniel Law, CEO of Sombrero domains and broker of several industry-known sales, among them Blackjack.de, the second largest published .de sale of all time.

Michael discussed the potential trademark issues surrounding apparently 'generic' domain names while Daniel highlighted the differences between the UK market and others such as Germany and the US where traffic plays a greater role in valuation, and how continue maturation of the UK domain market would continue to mirror the recent developments in the US.


Left to right: Angus Hanton,
Michael Toth and Daniel Law

Legal panel (left to right): Jim Davies,
Stevan Lieberman & Paul Keating

After a refreshments break to recharge the batteries, the next seminar was a legal panel of some renown. Paul Keating of Renova Ltd., Stevan Lieberman of Greenberg & Lieberman and Jim Davies of Bell Denning provided the attendees with one of the strongest panels on domain law anywhere in the world.

Paul began with a simple question: "Can I ask how many lawyers there are in the audience?" Only one hand was raised. "You're a much better-dressed crowd than the guys in the US. The only people in suits there are the lawyers!"

Keating continued to give an overview of risk management cov ering domain transactions, hijacking and dispute resolution – His buzzwords – Always reply to C&D letters and Never default as this harms the domain industry itself. Stevan focused on trends in domain law in the US while Jim provided the counterbalance by lending his extensive expertise on UK domain law, the under-fire Nominet DRS procedure and several case law studies, including BernardMatthews.co.uk, a man who is in the news for other reasons currently.
The afternoon session kicked off with a monetisation panel featuring Peter Smith from Miva UK, Tyson Pearcey of BUY.AT, Tommy Butler from Glasgow.com and Ed Russell of NameDrive. They argued over the best ways to make the most of the monetisation options available.

The general theory was monetising domains can take up to 2 years to find the right solution for you and your domain. Each domain should be treated as an individual, analysing each one to figure out where the revenue would come from. By starting with domain parking you can see what traffic exists and where best to deve lop but that only work for domains with traffic. By talking to your affiliates and PPC networks you get better value from them. They are the experts and are there to help.

Tommy Butler was keen to push development, by branding and getting repeat traffic. The better the site looks and the more content and information, he opined, the more repeat traffic won and advertisers will feel they want to work and be associated with you. If your sites link to each other and have good content the more likely you will be to keep the customer within your site. The key question is, "would I go to that page and use it?"

Tyson Pearcey & Ed Russell

Peter Smith & Tommy Butler
In the second session of the afternoon, Ross Sandler of RBC Capital Markets gave an in-depth look into the equity market's perspective on the domain industry. In a tale of two cities, Sandler compared the fortunes of Mountain View's Google and Sunnyvale's Yahoo. With 81.3% revenue growth in 2006 Google has outperformed Yahoo by almost 58% whilst maintaining a dominate market share of search query volume worldwide.

In terms of implications for the domain industry, Sandler said that Google views the domain community as strategically positive. Looking to the future, Google wants to reshape all media, making them faster, fresher and more relevant with moves into Google audio, Google Print and the hot new buy of You Tube for Google video.

The big new current development for Yahoo is Project Panama. This will lead to a shift from a max bid approach for advertising to a relevancy approach. Project Panama is expected to be fully rolled out by the end of 2007. The implications of this in the short term are not very transparent but long term should lead to advertisers increasing their spending. For domainers, however, the implications look likely to be problematic for some while others will benefit.

Ross Sandler
RBC Capital Markets
In terms of the financial markets, what is clear for the year ahead from Sandler's talk, is that they are watching with keen interest the progress on the NASDAQ of Marchex and the upcoming IPO's of Name Media and Demand Media.
In the closing seminar Mark Van Dyke of Army.com spoke about developing a site's brand by sourcing everything from content management systems to content and moderators for free. Van Dyke explained how the five principle steps toward success in your domain depend upon determining strategy, developing and launching the site, selecting technologies, joining ad and affiliate networks and most importantly monitoring statistics and performance and adjusting accordingly.

By sharing his money-winning optimisation principles with the domainers of the UK, Van Dyke inspired the attendees that they, too, could develop their sites into the cash cow that is Army.com. The only question left on the minds of all was, "How can I do that with my two word, hyphenated, .co.uk?"

Mark Van Dyke
Army.com
So much for the structured content of the one-day conference. What happened behind the scenes? With only one day to network, there was quite a bit of table-hopping and more than a few "quiet words" were exchanged at the after party.
In true British fashion, the after-after party went on until 8:00 am, well lubricated with pints of proper English bitter and smooth single malts. In terms of highest valued domains batted about, entrepreneur Steve Russell chose Domain Channel to formally announce he's offering his portfolio of villas.com and another 130 "villas" domains and trademarks for £2.5 million. It was also leaked that a group of UK domainers are banding together to start their own commercial development of monetisation and cooperative development, The Domain Name Association.
The next show is scheduled for September; we'll see you there!
*****
Editor's Note: Thanks to Daniel Law for providing photographs from this event.