While the Castellos are very well-known for their prime Geodomains, they also have a superb collection of generic domains, including Kennel.com, Bullion.com, Banana.com, Daycare.com, Driven.com and many more. While they have focused their energy on the city domains the past nine years, they said the generic domains would get their turn in 2007.
Michael said, "Kennel.com, Daycare.com, GolfClub.com and others are becoming businesses of their own. Daycare.com has over 12,000 facility members that have personally registered their daycare with us. We charge $3 per month for a basic listing and we help children along with parents and caregivers. GolfClub.com is a brick and mortar business that in its first year booked over $1 million in sales and Kennel.com is one of our newest startups. These are the kind of names that not only have regional, but world-wide market potential. We may partner with some of them. We are always looking for the right people, ideas and chemistry to move these names and ideas forward.
| | |
| --- | --- |
| Screen shot from CCIN's GolfClub.com | As you can tell, the Castellos are very focused on developing their domains. Other owners of high quality names are content to monetize them through pay per click parking rather than take on the workload that full scale development entails. There has been a long running debate in this industry about those two strategies. David said, "In my opinion, there is no comparison between parking a name and developing one. I find premium domains analogous to real estate. Parking a premium domain name is the same as using prime real estate to build a parking lot. People pay you to park their car and they walk off the lot to bring their business elsewhere. Can you make money this way? Of course. But let's say that instead of a parking lot you built a luxury hotel. Not only will you generate more revenue and keep people on your site, but you've also enhanced the value of your property. The same rule applies to a premium domain name." |
Parking still has a role, even with determined developers like the Castellos. "We have an extensive premium domain portfolio, so we presently need to park some names until we can get to them," David said. Developing is a time consuming process and that is why I've become an advocate of development experts partnering with premium domain owners. If there was ever a marriage made in heaven it is this one. The synergistic capacity for revenue generation is unstoppable. It all comes down to people understanding the limitations of their current situation and wanting more. Yes, good developers will always make money. Yes, premium domain name owners can always park their names and generate revenue via their intuitive traffic. But very few in either situation will ever make real money."
Michael added, "The URL could be the ultimate search engine. A visitor should be able to put up any word, add .com and get exactly what they are looking for. To not do so loses market share for that name. If a visitor types in a top-level name and does not find what they are looking for they will look elsewhere, you then help to create you own competition. If a good domain is parked, it is not going to get you the full value of that name. PalmSprings.com does seven figures a year in advertising revenue. If PalmSprings.com was just a parked name it would fetch far less. Intuitive names must be developed," he said.
When people have the kind of success the Castellos have, everyone wants to know if it is still possible to duplicate what they have done by doing the same thing. Michael's answer is an emphatic yes. "The domain name market is still a gold mine! Get a second mortgage, sell the family jewelry! If you can find a premium name that relates to your business for less than $100,000, buy it! With an hour's work a day you could have an imprint on that market in two years. Be the master of your own universe. How many within your family tree could have said that? They will be talking about you in future generations. What is that worth?," Michael asked.
"I am truly excited about the potential grand scale of the internet. Selling advertising on the internet has become almost common place. It was so hard years ago trying to convince businesses that the Internet was going to be an advertising bonanza."
"These days just about everyone has email and a web page. Just the other night David and I were having a cigar at a local Palm Springs cigar shop. There were three other customers that all became involved in a conversation with us about the web. By the end of the night every one of them wanted to have their businesses promoted on PalmSprings.com!," Michael said.

He added, "The internet combines all the major technological phenomena of the past century in one. Telecommunications combined with television along with the PC computer. In the future I believe people will cocoon more in the security of their homes. Imagine a wall in your room that is completely a portal to others. Along with holographs and the speed up communications of fiber optics we will have escapism to the extreme. The internet will be at the forefront of that revolution."

Screen shot from CCIN's PalmSprings.com
David said, "If you have the money, purchase the best domain name you can get your hands on. But remember the golden rule: a domain name is only worth what you can do with it. We've turned down $5,000,000 for PalmSprings.com and didn't think twice about it because we've monetized it so well. However, in someone else's hands, PalmSprings.com could have been parked or less developed and worth nowhere near as much. If you have the talent and vision to develop a generic mega-domain, please give people like us a call."
"Whatever you do, learn to trust your instincts. I will always be grateful that in the music business you have no choice but to trust your instincts. Way too many sharks in those waters. If you truly believe in something, go for it and let no one dissuade you. And if you're wrong, so what!? Learn from your mistakes like everyone else. And if you're right, there's no greater satisfaction. Go for it. Otherwise, you'll always be one of the sheep!" David declared.
Michael also wanted to talk about what he thinks is a key ingredient to Internet success. "I must explain how I feel about .com above all else. Major industry and Madison Avenue have spent literally billions to brand a name they do not own. Using .com has been burned into the learning curve of what is the internet. I view it no differently then the 0 though 9 numbers on your phone or TV. The public accepted those ten numbers as the way to control the phone or TV and .com is no different when finding an address on the web. Look at all of the major advertisers on TV or in print ads. They use .com as their address and that has been imprinted on the public. I believe a standard has been set and it will not deviate from it. The other TLDs are of interest but they do not rise to the level of .com. Figure on spending much more to advertise a TLD that is not a .com."
| | |
| --- | --- |
| | David offered another secret of their company's success. "We generate almost all of our revenue using static advertising rates. Static advertising is how traditional media makes their money. Magazine and newspapers charge a fixed rate based on ad size/placement and radio and cable charge a fixed rate based on time/placement. In 1997, I didn't want to reinvent the wheel and the whole CPM/click-through method seemed like pennies on the dollar. I simply looked at traditional media and said, "These guys have it made. Why can't we do that?" Of course, everyone said I was crazy. But I persisted and that is the method CCIN utilizes today on its city sites. It is also the reason why the front page of PalmSprings.com alone generates nearly a million dollars a year in pure advertising revenue." |
Success has given the Castellos the freedom to do anything they want. I asked each of them what was important to them away from work. Michael said "I love water and snow skiing. Golfing is also a passion. We are fortunate to own sites that also relate to what were enjoy. Traveling for Traveler.com, golfing for GolfClub.com and maybe in the future racing with Driven.com. I am married with two children, and I enjoy sharing life with them. They help to keep my feet on the ground," Michael said.
He added, "the internet has allowed us many things which I feel truly blessed for. There was a point in my life where I was broke and was told I was dying. I made some of the best decisions in my life then. Sometimes when you have too much time on your hands you can also get clarity. Patience was the best lesson I ever learned, but I always ran from stagnation. I try to give where I can, learn from what approaches me and live life as a gift. My motto: Live – Love – Learn."
David said "I married my wife Natalie, who is a Boynton Beach native, in May of this year at a castle in Castelfiorentino, Italy. I miss performing so I will jump on stage to play drums anytime! As far as today's music is concerned, I like any style as long as it's melodic. In the end, melody is what matters and what people will remember most. I also respect acts who actually play their instruments on stage and don't mime or lip-synch along to a recording. Music is art. It's not supposed to be perfect."
I mentioned earlier that the first words I heard out of David's mouth was that monologue on World War II history. In addition to being a pastime, that area of interest has served him well in business too. "Military history fascinates me because it usually entails people strategizing to gamble everything. War is a horrible thing and should never be glamorized, but in business, especially in a competitive new medium like the Internet, you have to totally commit yourself. The day I arrived in Palm Springs I was shocked to discover that two of the bolts holding my T-Bird's engine to the block had snapped off along the way. I was broke, the car was a wreck and I had no way to return to Florida. It seemed like an omen. My first thought was, "I've just burned my boat on the beach and have no choice but to make this succeed!"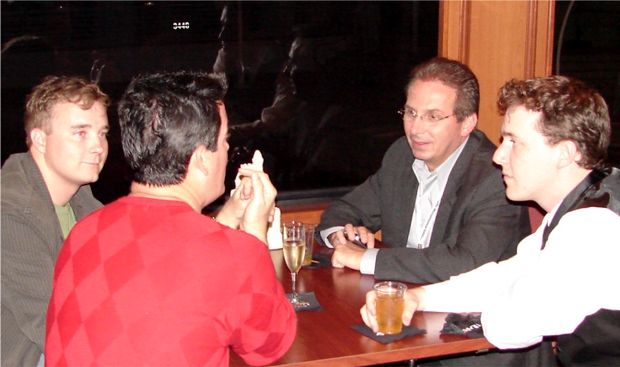 David Castello (in red shirt with back to camera) talks military history with
(left to right): Patrick Carleton (Director of Associated Cities),
Joe Alagna (CentralNic.com) and Jonathan Boswell (LeaseThis.com)
"I have no idea why more people don't study history, particularly biographies," David said. It can be a road map to the future because people don't really change that much. They fall in love, create, destroy, succeed and fail for many of the same reasons they did two hundred years ago. Only technology, the arts and fashion change. You can learn a lot from their success and failures."
Speaking of the future, when people spot a trend before anyone else (like the future importance of domain names) they are regarded as visionaries and people want to know what they see ahead now. David said, "It's difficult for me to imagine five to ten years ahead because I don't want to lock myself into any particular mindset. The Internet is evolving quickly and the ability to instantly recognize and exploit an opportunity is paramount to survival. Lately It seems as if opportunities have been popping up right around the corner. I don't want to be looking too far down the road when they do."
As the kid who envisioned a virtual copy of the real world on the web, Michael was willing to make a longer term prediction. "In the next 5 to 10 years all of our domain properties will be self sustaining business enterprises. Over time the market has grown more open and advantageous to our ideas. This is allowing us to venture into new markets with our portfolio. You could visit Palm Springs.com, Daycare.com or GolfClub.com and not be aware of who we are and what other businesses we own. This year we plan to tie it all together and make it obvious to the public who we are and what we're accomplishing."
It is obvious that David and Michael have made a great team and I wondered what had made their partnership work so well through the years. Michael said, "we try to focus on the things we agree on like Cuban cigars and twenty year old Port. We can be very bull-headed at times and very competitive. However, our competitiveness can also produce some incredible solutions. Look at Ferrari and Lamborghini. These two Italian men lived only twenty miles apart, Lamborghini was making tractors and when he saw Ferrari driving by with all the glitz and glamour he started making beautiful cars!"

David points to one instance that proved brotherly love trumps any minor disputes along the way. "In 1998, I pulled in $500,000 in straight advertising revenue and the CCIN network was born. Even though we were already splitting the revenue, Michael handed me 50% ownership of his entire portfolio. We're talking over five hundred premium names. It was an incredibly unselfish thing for him to do."
"Yes, we have our brotherly creative battles and any disagreement can escalate into an audial semblance of an Italian blood feud," David said, "but we are brothers and ten minutes later we'll just as easily forget what we were arguing about. Michael and I have long understood that there is a unique chemistry between us where the sum is greater than the individual parts. Put it this way, if we both agree strongly about something you can bet the farm on it!" I don't know about you, but I wouldn't bet against them.
*****