America's biggest sporting event, the Super Bowl, was played Sunday (Feb. 5) in Detroit. Super Bowl game day is practically a national holiday in the U.S. with everyone huddled around their TV sets to witness the spectacle. However, this year there was one less member in the audience. In order to meet our publication deadline for this report, I had to work right through the big game.
Now before one of you Steeler fans hands me a Terrible Towel to wipe away the tears, let me assure you that even though I am a football fan, I still felt fortunate because I was able to spend my weekend writing about our industry's version of the Super Bowl, the T.R.A.F.F.I.C. Silicon Valley domain conference that was held last week at the Marriott in Santa Clara, California.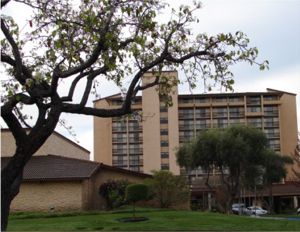 Marriott Hotel - Santa Clara, California
Site of T.R.A.F.F.I.C. Silicon Valley 2006

Just as the top players in football meet at the Super Bowl, the best in the domain business congregate at T.R.A.F.F.I.C. The big difference is that unlike the football game (where Seattle lost to Pittsburgh 21-10) there were no losers at T.R.A.F.F.I.C. Everyone that made the trip to Santa Clara went home richer from relationships made and wiser from knowledge gained in more than a dozen seminars led by industry experts.
| | |
| --- | --- |
| Seminar at T.R.A.F.F.I.C. Silicon Valley | The word has clearly gotten around. Show organizers Rick Schwartz and Howard Neu expected no more than 150 registrants when they announced the event less than 3 months ago. With their short lead time, tight two-and-a-half day schedule and special focus on the high tech financial community, they didn't expect this show to have the broad appeal of their three previous conferences in Delray Beach, Florida (2004 and 2005) and Las Vegas (2005). Yet when opening day arrived Monday, Jan. 30, a T.R.A.F.F.I.C. record 325 attendees had shown up at in Santa Clara, including CEO's and executives from throughout the industry, venture capitalists, stock analysts, investment bankers and domain owners. |
| | |
| --- | --- |
| Things got rolling (literally) when the crowd piled into three luxury buses for a short trip to the Mountain View headquarters of Google.com where the Internet search giant hosted a welcoming cocktail party for the domain community. Getting invited to an exclusive soiree at Google is a remarkable example of how far this nascent industry has come since Schwartz and Neu staged the first T.R.A.F.F.I.C. conference just 16 months ago. That event helped light the fuse that has led to the current explosion of interest in the domain business. | |
| | |
| --- | --- |
| | Google laid out a sumptuous spread of food and drink, brought in a live band and presented a wonderful opportunity for their visitors to network with people doing some of the most exciting work on the Internet (for security reasons, inside photography was not allowed). At most events like this, the host takes the opportunity to at least subtly promote their business with a speaker or some carefully placed advertising material. There was none of that here, just a very casual "come on over to our place and have a good time" environment that was widely appreciated. |
| | |
| --- | --- |
| The first full business day got underway Tuesday when Washington, D.C. attorney Steve Sturgeon's DomainNameLawyers.com sponsored a breakfast keynote speech delivered by Fabulous.com COO Dan Warner. Mindful of the fact that more than half the crowd was attending their first T.R.A.F.F.I.C. conference, Warner presented a perfect introduction to the domain channel. He started with a brief history of the business, explained how domains are monetized and why quality names will continue to grow in value as more and more companies realize that domains provide the most effective means of connecting with Internet buyers. Statistics show that surfers who type in a domain name are twice as likely to make a purchase as those who arrive at a site via other paths. | |



Dan Warner, COO - Fabulous.com

Warner also used hard facts and figures to explode "urban myths" about domains, unfounded notions like "nobody types in domains" and "traffic only comes from search engines." As just one example, Warner pointed out that while many still believe type-in traffic comes mostly from gambling and adult related searches those topics account for only about 3% of direct navigation traffic (typing a domain name directly into the address bar).

This show's focus on the Internet financial community was apparent in the opening seminar that featured Ari Bayme, a Vice President at Milbank, Roy, Zanett & Co., an investment bank that specialize in mergers and acquisitions.
With so many parties now seeking to buy quality domain portfolios, Bayme advised owners that "stock is not money in your pocket" so be sure that cash is the primary consideration you receive if you decide to sell. Bayme said analyst's reports indicate that Wall Street is starting to catch on, though most on the street still have no understanding of direct navigation.

Bayme said he thought quality traffic domains represented a very good investment as they come with low overhead (in that renewal expenses are cheap) and predictable cash flow. He noted that larger portfolios will attract more attention and value than smaller ones as buyers are looking to scale up quickly. Having developed properties that keep users coming back to make multiple transactions is also a huge plus since potentials suitors would much rather buy than build themselves.

Ari Bayme, VP
Milbank, Roy, Zanett & Co.
While Marchex was the first public company to make a large purchase in this space (the $164 million buy of the Name Development portfolio last year), Bayme said giant media companies like Time Warner, Fox and Viacom could eventually enter the space as the industry consolidation that is just now beginning plays out.
With well financed companies trolling domain waters, individual investors have pushed prices higher and higher over the past couple of years in an effort bulk up their portfolios. Many of those buyers are active at four marketplaces that sent executives to conduct the next seminar on domain acquisition. Pool.com President Taryn Naidu, Sedo.com Co-Founder Tim Schumacher, Moniker.com CEO Monte Cahn and Afternic.com President Roger Collins all had seats on the dais.

Naidu said that .com prices have hit all-time highs and other global extensions like .org and .info are coming on strong at the same time ccTLD's (country code extensions) are growing in importance. Cahn agreed, saying he felt the new extensions offer a good investment opportunity.

Taryn Naidu - Pool.com
Tim Schumacher
Co-Founder, Sedo.com


Cahn also said that those who want to see values continue to rise should report prices paid when they buy and sell domains. He said financial institutions want to see comparable sales before they buy and the only way to provide that point of reference is to publicize the prices being paid as is routinely done in the real estate business.

Schumacher said that increased press coverage will also keep bringing new players into the space, adding additional fuel to the booming market. Schumacher noted that Sedo has started advertising in mainstream business publications like Business 2.0 to acquaint more buyers with the domain channel. Of course, those who are still in buying mode aren't as happy about rising prices as those thinking about selling. Collins said there are still good deals to be found and cited some bargain prices paid for domains at Afternic. Collins also said good domains can sometimes be found for sale at below market prices in the major domain forums.
With things going so well, few see a downside to domains, but in the day's third seminar, Lou Doctor, a partner in the Palo Alto, California investment bank Arbor Advisors, presented a cautionary view.
Lou Doctor
Partner, Arbor Advisors

D

octor said too many domain owners have fallen for the myth that values can only go up. "The best time to sell is when you don't think anything can adversely effect you. Most people don't sell too early, they sell too late and end up kicking themselves," Doctor said.

Doctor also advised owners to not rely too heavily on PPC (pay per click) income as those revenue streams could also dry up. He said development was the best course to protect the value of your domains and suggested partnering with an entrepreneur who can help build out your domains if you can't do it yourself. If an offer to buy comes your way, Doctor offered this prescription to cure ambivalence: "The right time to sell is when your personal financial goals can be met through a sale." It's another way to say pigs get fat, hogs get slaughtered.

"Down time" is a foreign concept at T.R.A.F.F.I.C. conferences. Even the meals and social events are prime networking and learning opportunities. During the lunch break Tuesday, Ryan Berryman, GM and VP of Corporate Strategy & Operations at Revenue.net (the parent company of DomainSponsor.com), delivered a well received speech, then returned for a mid-afternoon seminar with Joseph Casale, President of Casale Media. In their session on revenue diversification they detailed how domains can be monetized from the traffic they produce, the outright sale of the asset or through development of the domain into a full scale business. Few assets offer such versatility.

After lunch, the hotly debated topic of "traffic quality" took center stage in a seminar that featured Eytan Elbaz, head of the domain channel at Google.com, Josh Meyers, Director of Yahoo! Partner Solutions at Yahoo! Search Marketing, Dan Warner of Fabulous.com and Ron Sheridan, Director of Business Development at DomainSponsor.com.

Ryan Berryman
General Manager, Revenue.net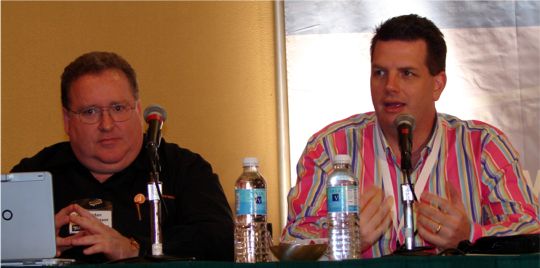 Ron Sheridan, DomainSponsor.com (L) & Dan Warner, Fabulous.com
Many have wondered what metrics the PPC companies and their upstream providers (Google and Yahoo!) use in determining what constitutes "quality" traffic (traffic that is more richly rewarded in most parking programs today). Since the exact details of the standards used is proprietary information at the various companies operating in the space, the answers come in more general terms. Warner noted that much of this revolves around trying to measure the surfer's intent to determine which sources of traffic are most likely to produce a sale for the advertiser. All agree that keeping advertisers happy is paramount to the health of the PPC industry. That means stamping out click fraud and limiting payments for traffic that is not likely to convert to actual sales.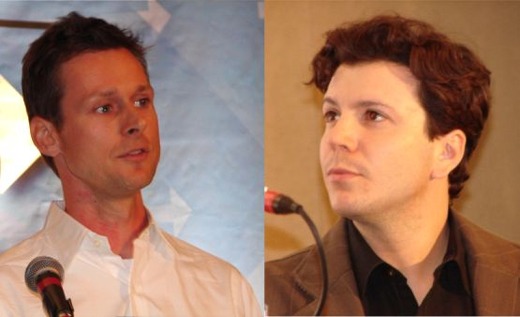 After this session I met with Josh Meyers and Kristen Wareham of Yahoo! Search Marketing to get better acquainted with them and their company. Josh and his counterpart at Google, Eytan Elbaz, are frequently seen side by side at T.R.A.F.F.I.C. seminars. They are friendly competitors and watching their good natured sparring is always a show highlight for me. They're exceptionally bright young men with an enthusiasm for their business that is contagious. In Meyers and Elbaz, Yahoo! and Google could not have better ambassadors to the domain channel.
Chris Stewart
GolfCourses.com

The final day 1 seminar was devoted to domain development, a topic tackled by a four-man panel that included Chris Stewart of GolfCourses.com, Ammar Kubba, the COO at TrafficZ.com, Brian Benko of Backbay.com and Adam Strong of Strong Inc.

Stewart noted the instant credibility a high caliber domain gives your business when calling on potential clients. Benko and Strong got into some of the nuts and bolts of building out domains and Kubba, who runs a popular PPC company, detailed how TrafficZ has evolved from a parking company into to a pseudo development company.

Kubba noted that portfolio owners that have thousands of domains can't possibly develop them all, so his company has come up with a fully customizable template system that can make parked domains look like full fledged web sites. Owners can add their own headlines and content and even promote their own properties on parked domains.
Kubba said TrafficZ's research shows people come back to these sites and that their developed look makes them easier to sell. Other companies are also moving in this direction. Today all of the talk about extracting maximum value from your domains centers on development or at least making your parked names look like they have been developed.

If there was ever any doubt that networking is the top priority at T.R.A.F.F.I.C. events, it was dispelled at the Tuesday night dinner sponsored by Fabulous.com. I was sitting with a large group of old and new friends at a table where multiple discussions were going on. DNForum.com owner Adam Dicker was on my left and Richard Meyer of Dotcom Group LLC on my right and we were engrossed in conversation when Dan Warner walked up to the podium and announced that the "surprise" keynote speaker they had scheduled had cancelled at the last minute.

Ammar Kubba
COO, TrafficZ.com
My first thought was to feel sorry for show organizers who were left in the lurch with no time to find a replacement. My second thought, an admittedly selfish one, was "Good!" as it allowed me to immediately return to my discussion with Adam and Richard. Though I didn't say that out loud, a couple of other people at the table did. Dan may have had Bill Gates scheduled for all we knew, but the prevailing sentiment seemed to be that nothing was more important than what the people in the chairs next to us had to say one-on-one. That's how deals get done and from all accounts I heard, a tremendous amount of business was done at this show.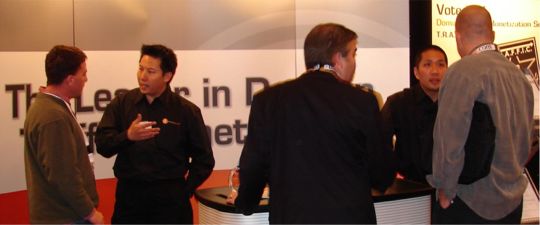 This anecdote is not to discount in any way the value that speakers bring to the show and it certainly wouldn't be the same without the quality of people T.R.A.F.F.I.C. attracts to the podium. It is just to underscore the element that makes this event one people don't want to miss. Schwartz and Neu have always known networking was the show's key ingredient and they told me that facilitating interaction among show goers will be emphasized more than ever in the next conference May 2-5 in Las Vegas.
Dinner was followed by the DomainSponsor.com Party, always a highlight on the T.R.A.F.F.I.C. calendar. The event is often held off site, but this time it was hosted at the hotel restaurant.
| | |
| --- | --- |
| It's a good idea to circulate during these social events as there are so many interesting people to meet, but that is easier said the done. When you fall into conversations with people like Marchex General Manager Andy Smith and Kjel Holmberg of SnapNames.com (as I did) you may not want to move on (and I didn't). That's why you invariably come home from a T.R.A.F.F.I.C. conference wondering how you managed to miss so many people you wanted to meet! | |