The keyword will be "new" when the T.R.A.F.F.I.C. East domain conference is staged in Florida for the third time Oct. 24-28 at the posh Westin Diplomat Hotel in Hollywood. There will be a new venue, a new attendance record, a newly revamped live domain auction and a new conference agenda.
This will be the sixth show overall for T.R.A.F.F.I.C. organizers Rick Schwartz and Howard Neu. In addition to the two previous Florida shows that were held in Delray Beach, they have staged two successful shows in Las Vegas and another in Silicon Valley. Each show has surpassed the one before it, but Schwartz knows that raising the bar again will be a tall order.
"T.R.A.F.F.I.C. East 2006 will have perfection to live up to when compared with the two previous shows at the Delray Beach Marriott," Schwartz said. "Because of that, some might think we are destined for failure before we begin but we picked the one hotel in Florida that could actually achieve perfection and give us a threepeat."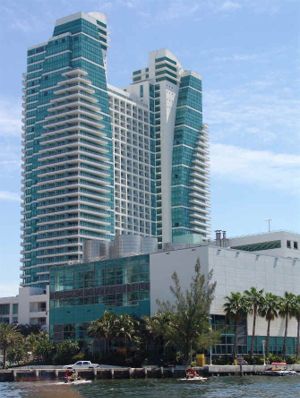 Westin Diplomat Hotel - Hollywood, Florida
Site of 2006 T.R.A.F.F.I.C. East conference
Everyone loved the Marriott, but the conference outgrew that hotel, forcing Schwartz and Neu to search the Sunshine State from one end to the other to find a suitable alternative. "The Westin Diplomat is one of the nicest, most comfortable hotels you can find anywhere in the world. It's just top drawer in every possible way and I am certain the attendees will enjoy the new digs and proximity to South Beach," Schwartz said. "We expect to welcome some 500 attendees which would be 50% growth from last year's show and we will have nearly twice as many exhibit booths."
Tom Gardner
Motley Fool Co-Founder
T.R.A.F.F.I.C. keynote speaker

Securing a great venue is just half the battle. You also have to have a great agenda and Schwartz thinks they have that covered too. "We have some very timely seminars planned and a keynote address by Tom Gardner who is the cofounder of the Motley Fool. While he is coming to talk to us I am sure we will be talking to him and discussing domains, the hottest investment in the world today," Schwartz said.

"Besides that we will be having a monumental live auction that will sell more domain names in a quicker amount of time than ever before. Moniker.com will be hosting the Live T.R.A.F.F.I.C. auction for the 3rd time. The Las Vegas T.R.A.F.F.I.C. West auction in May produced $2.1 million in domain sales in just 3 hours. This auction will feature so many great domains that the auction alone is worth coming for. The quality of domains is off the chart. Domains like DSL.com, Cameras.com, Nerd.com, Elections.com and hundreds of others with a total of 20,000 submitted. Plus the ones that don't make it to the live auction will be available by silent auction during the show. We are hoping to double the Las Vegas results and, judging form the domain list, there is an outside chance we could do much more," Schwartz said.
Schwartz is so impressed with the auction sale list, he will not be content with simply hosting the event. "I have been saving extra dollars for the auction all summer so that I can come with a war chest and take home at least one gem. From what I hear, I am not the only one and so I believe this auction will be a blockbuster by all standards. I think folks at the last auction were surprised by the number of transactions and quality of domains and some were caught with their pants down - especially the corporate types that can't respond as quickly as an individual can. I believe for this auction they are coming to buy and have set aside a particular dollar figure along with their short list of target domains."
"The auction will also give large portfolio owners the chance to buy that crown jewel some of them sorely need. The Moniker team has done a great job and we have all been working on it since minutes after the Las Vegas auction ended. We knew we had a winner and we knew with all the improvements that could be made that the auction could change the face of our industry. A live auction where you know and see who you are bidding against. This year's event will be much faster moving and quite a bit more exciting. We have a lot of domains to get through and we will be dividing domains into price ranges so bidders will know if that domain is within their reach and valuation," Schwartz added.

The new wrinkles won't end with the vastly expanded live auction. Schwartz ran down some of the other changes that will give this show a unique identity of its own. "We are going to have a new attendee orientation to bring new folks up to speed about what T.R.A.F.F.I.C. is about and why we have enjoyed the success we have. We are also planning a Madison Avenue panel. There has been a lot of behind the scenes work since Las Vegas to get Madison Avenue plugged into domain names and what they can do for advertisers."

Professional auctioneer Joe Langbaum
will return to conduct the live auction
at T.R.A.F.F.I.C. East 2006.
"We are also going to address valuation, click fraud and ICANN," Schwartz said. "We still have several challenges that we face, one of the biggest being contracts that ICANN is awarding registries that could change all of our lives and the way we conduct business. If registrants don't start to organize and speak up they are going to watch their livelihoods taken away by more powerful interests. There are forces working to get what you own. We'll have information about a new non-profit association that is forming to look after our interests in Washington D.C. and beyond. So while we have great things to look forward to it is also time to secure the industry from predators with very deep pockets that want what we have and know that rewriting laws may be the only way to achieve their goals."
"Each show we try and target key issues and identify different sectors to include that represent elements needed to grow the industry," Schwartz said. "It wasn't long ago that we had no venture capital folks. It was not too long ago that we had no bankers. It was not too long ago that we had no investors. It was not long ago that domainers and sponsors had only a casual relationship, if any at all. It was not too long ago that none of the elements of the industry were connected together."

"More importantly it was not that long ago that many did not realize and understand the targeted traffic that domains produce and just how important and potent that traffic was. T.R.A.F.F.I.C. is a multi dimensional show that just attracts the right mix of people that create an atmosphere to make deals and create alliances. When you break bread with folks the relationship has time to develop and then folks find people to fill in the gaps. So that is the one constant in each show," Schwartz said. "Everything else changes and that is the moving parts that creates the excitement. When I look at what we have all accomplished in such a short time it amazes me. But we are only half way to our goals!"

Rick Schwartz
T.R.A.F.F.I.C. Co-Founder
"One thing that won't be changing is that DomainSponsor.com will be the show's overall sponsor again. They'll be having another legendary party that we'll be talking about until the next show. People keep track of the show depending on which wild party they throw," Schwartz said smiling.
The T.R.A.F.F.I.C. franchise has come an incredibly long way since the initial show was held just two years ago. Staging T.R.A.F.F.I.C. now is a much more complicated task than putting on that first show was. "The workload is much more than either Howard or I bargained for," Schwartz admitted. "But we had a mission at hand and we aim to complete that mission. The first show was thrust on us after the idea of holding a small get together blossomed into a full blown conference. We knew our reputations were on the line. There was no plan for a second show or get together. Neither of us had actually produced a trade show before. But we knew there was a need and the time was right."

"Now with our 6th T.R.A.F.F.I.C. show coming up the pressure to get it right is just as intense as the first show was and in many ways the pressure is greater because so many are spending so much and they count on us to get it right and have it go smoothly. We do our best to have timely topics and bring a great cross section of domainers and others together to discuss the future and opportunities that they can take advantage of."

Howard Neu
T.R.A.F.F.I.C. Co-Founder
Each show gets harder from a number of standpoints. We have to try and satisfy several hundred domainers and also satisfy the sponsors and others that attend. All with different needs, different agendas and just as intense and passionate as the next guy. You want to say yes to everyone, but it's just not possible. So we make the best decisions we can and hopefully at the end of the show folks are satisfied with the movement and direction we have gone," Schwartz said.
Scene from T.R.A.F.F.I.C. East conference
last year in Delray Beach, Florida

"We want to make sure that tangible progress has been made and there is fruit to harvest in the days and weeks after the show. Each show we have to improve and those improvements need to be noticeable. We need to add value by keeping our seminars fresh and timely. And sometimes we need to repeat certain seminars as one hour goes by so quickly. Howard and I come at it from a very simple standpoint. "If you bring great people together, great things will happen". So everything we do is geared to foster deals and new people meeting to see where they might work together. In time there will be dozens of businesses that were conceived at T.R.A.F.F.I.C.," Schwartz predicted.
Schwartz already has a full plate getting ready for this month's show, but we couldn't resist prodding him for a glimpse at T.R.A.F.F.I.C.'s future beyond this event. "Howard and I are planning a trip to New York City to do an onsite inspection of what we hope will be the venue of our June 2007 show," Schwartz said. "Finding venues that can accommodate us at the right times of the year has been the greatest challenge. The Miami show for 2007 will once again be at the Hollywood Diplomat. Plus we will once again be in Las Vegas at the Venetian. We have been looking at cities everywhere; Chicago, Dallas, Toronto, Washington D.C., London, Paris, Barcelona, Amsterdam, San Francisco and many others. However each location must have the proper layout as we have no plans of changing the recipe that has made T.R.A.F.F.I.C. such an important event. There is a special chemistry we try to achieve and not every property has the elements we need. Besides, they have to have really good food! Some hotels just don't measure up."
As much time and energy as Schwartz and Neu spend on choosing venues, they agree that their "secret ingredient" is something entirely different. "The reason people keep coming back is the amount of business they can do in a very short amount of time and the new connections they make that helps them further advance their visions. The greatest value of the

T.R.A.F.F.I.C.

shows are the things that can not be seen with the naked eye. Things you will likely never hear about. They are private deals. They are the start of a business partnership or opportunity.

T.R.A.F.F.I.C.

is about being put in a situation that is filled with opportunity and the conditions make it ripe to create opportunity. We know the most important ingredient is the caliber of people that attend. Everything revolves around that," Schwartz said.
"Howard Neu moderates the entire event, but more than that Howard is the "cruise director". He sets the tone for the show. He keeps folks moving and being a professional TV talk show host in a past life, he does a job that can't be duplicated. On the other hand my work is mainly behind the scenes once the show starts. I put in my time putting the show together, marketing it, getting the speakers and putting the schedule together. Howard takes care of the books and the sponsors and the technical aspects of the show itself. However our main job is to get out of the way and allow things to germinate and flourish - to create that special environment that allows great things to happen. The comfortable surroundings encourage folks to be open and discuss their activities and goals and dreams and the missing elements they may need to move to the next level."
Oceanside pool at the Westin Diplomat Hotel
Site of T.R.A.F.F.I.C. East 2006 Oct. 24-28

"No matter what level we are at our common challenge is getting to the next level. T.R.A.F.F.I.C. accelerates the prospects of that happening and happening in a shorter amount of time. There is also something to be said for having a few days with a gorgeous ocean view to let you know you have done well and you deserve to spend some time with like minded people that have come from every walk of life and have domain names and traffic in common. One thing is for sure. When you leave T.R.A.F.F.I.C., you leave energized and pumped. Your batteries are completely recharged and you know you are lucky to be in such a great business with such great people!" Schwartz declared.
---