Rice hit the ground running when he left BulkRegister and soon found ways to multiply his income. We'll tell you how he did that, but to help you fully understand it, we first need to retrace the unique road Rice has traveled to get where he is today.
Rice grew up in Deep Creek Lake, Maryland where his parents, Jay and Dianne, have operated a Christmas tree farm for more than 25 years. They were also school teachers which brings up one of Rice's most embarrassing childhood memories. Rice told us "I had the rare opportunity to have my father for 8th grade science and I am probably the only kid in America who ever got paddled in front of the class by his own dad!" You won't find it in the teacher's disciplinary manual, but Rice's dad defined his infraction as "lippin' off."
Deep Creek Lake is in western Maryland's Garrett County, a beautiful tourist destination about an hour away from Pittsburgh that has one of the country's few ski resorts that run into a lake. Deep Creek Lake also features some of the best whitewater rafting in America and Rice took full advantage of the many natural wonders surrounding his birthplace.


Rice kayaking on the American River

"I knew how to snow and water ski from the age of four and there is an adventurous side to me that never really subsides. The older I get the more I do."

"I am still into all of these sports I conquered growing up and some new ones like wave skis which are kayaks with surfboard bottoms that you ride ocean waves on. The bigger the waves the better. I guess I could do pretty well on Survivor given the chance!," Rice said.
Rice's grandfather, Ruthvan Morrow, was a well known naturalist, photographer and writer who mapped out Maryland's vast Cranesville Swamp, a geographical oddity left over from the retreat of the last Ice Age that hosts plants that appear only in that part of Maryland and in Antarctica. "Until the 1950's it was largely unknown and unmapped and almost impossible to get into. I went on many trips into the swamp with him and we would routinely stay there for a few days at a time, even when the temperature was near zero," Rice recalled.
Though he grew up in a rural area, Rice obviously never had a chance to be bored. Others who have grown up in small towns have been eager to escape to the big city, but Rice loved his surroundings and stayed nearby when it was time to go off to college, enrolling at western Maryland's Frostburg State University. "I majored in history and psychology, then got my master's from Frostburg in history and education, but teaching didn't last long for me," Rice said. "I found it harder to sit still in that environment than the students did. In fact, I was only a high school teacher for six months before I resigned at the end of the first year."
Rice calls Frostburg State "Sales University" because practically everyone he knows from his college days has been extremely successful in sales, marketing or as entrepreneurs. "We are all the type that have our cell phones in our ears day and night and never are working on just one project," Rice said.
Rice's own path as an entrepreneur kicked into high gear in 1996. "I started buying up properties in Baltimore within walking distance to the Inner Harbor. I ended up with over twenty properties in what has turned out to be the best redevelopment track in Baltimore."

That led to Rice opening a real estate brokerage and development company called Results 1 Realty. "Our real estate brokerage has completed over 30 development projects in Baltimore and has 20 sales agents," Rice noted.

Baltimore's Inner Harbor
"I have dumped most of the earnings back into the properties and after ten years the bulk of those properties are mortgage free, allowing use of the equity and cash flow to invest in other areas.
"You can imagine I lot of that money goes into domain purchases these days and development of new real estate websites for areas all over Maryland and Washington D.C."
"My best domain development project today is our website, Results1Realty.com, which gets a lot of traffic and produces a lead about every two hours," Rice said. "The traffic is 100% organic although we started testing PPC just last month. We close about 100 of those leads a year with an average total commission of $6,000 per close. Plus one in five people use our mortgage partners and one in four use our title partners. The site costs about $5,000 per year to maintain and add on to. Taking those leads to close is the absolute best use of traffic for a real estate site as we get a huge ROI on those leads."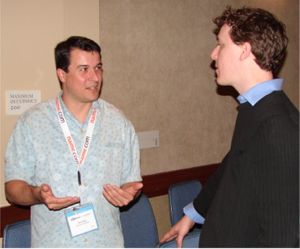 "I just leased two generic real estate domains from LeaseThis.com that I had previously been trying to purchase. It is a good solution for both the domain owner and us as a business owner. The domains have type in traffic which we will get the benefit of. We have also invested in new sites in other parts of Maryland and D.C. that are already producing leads and we are looking at using our approach to hit other medium-sized cities where we think our lead generation sites will do best."

While building up his real estate operation, Rice, true to his multitasking nature, also used his sales and marketing expertise in a corporate position. "I was Vice President of Business Development with JDA Advertising, a direct marketing company that served dozens of software companies."

Rice (left) chatting with LeaseThis.com CEO Jonathan Boswell at DOMAINfest Global
in Los Angeles (February 2007).

"We later changed the name to Connected Brands and went national – creating online advertising, branding and direct marketing strategies for leading companies like Avid Technology, IBM, Sybase, Symantec, Cybercash, Comcast and dozens of others," Rice said.

It was in that position that BulkRegister first heard about Rice and recruited him to come and run their registrar business. "I accepted because I saw the raw potential of what they were sitting on. I rapidly pushed us into the aftermarket and domain monetization side of the business."

The job allowed Rice to become one of the very few people who have developed and controlled the portfolio of a top 10 registrar. "That was a very lucky position for me to be in because overnight I was able to create lots of traffic and then test monetizing and optimizing that traffic in a variety of ways. We tested extensively so I gained a lot of knowledge about types of traffic, parking providers and different monetization programs," Rice said.

"I devour things that I like so I spent hours educating myself on monetizing domains while getting a salary and preparing the company for sale. Somewhere along the way I started buying my own domains and portfolios and have ran with that as a personal business ever since. BulkRegister was a great training ground," Rice noted, adding "the registrars sit in a position that every domainer would like to be in."
Since going out on his own, Rice has proven that opportunities still abound in the domain business. "I think I represent the domain name investors who didn't get started as early as some "industry legends" but have still had good success over the last several years and especially in 2006 which was a much more competitive market for acquiring domain names," Rice said. "You see many of us not only buying domain names but providing niche services as well. I aggregate traffic for about 50 clients and that provides another revenue stream. Overall the ability for people like me to get in and do well shows how vibrant the overall market is."

Eric Rice and fiancee Valerie
with Brooke, Quincy & Bradley
(on page 3 you will learn just how dearly Rice loves dogs!)

"I have followed the tactics I used in real estate and have pyramided my way into a considerable portfolio of domains that have traffic by buying and selling all the time," Rice said. "I keep some and I sell some but all of the money goes back into more domains. I am always buying and increasing the optimization and overall revenue on a domain through a variety of tactics. This creates an immediate increase in value that I can either keep or trade in. In real estate I did this by rehabbing and reselling every 3rd property and putting the profits into the other properties. It is pretty similar in domains."
"Also for the first time I have started financing domain purchases (both as a borrower and as a lender). I am also buying domains in my self-directed IRA. The profit from selling a domain or parking goes back into the self-directed IRA tax free. Self-directed IRA's allow you to direct the money into any investment you choose. This is especially valuable on domains I would be flipping quickly and paying ordinary income on, as well as for parking income. For people who don't already have an IRA with money in it, it may not make sense to open an IRA just to buy and sell domains because you don't know where tax rates are going to be in 20 or 30 years," Rice said.
"I built my portfolio in just about 24 months so there is hope for the person who didn't get in early. I can't really say I have any great generics but that doesn't bother me as things are moving in the right direction with income from my own domains and from services I provide. My average domain produces $3 per day in income but that is across hundreds of domains. I have many other domains that don't produce income but are worth $500-$5,000 to the right buyer. Most of those domains were purchased for less than $300."
Rice also had a prediction. "I think some of the most interesting people in the industry are going to start to be people you may not have heard of a year ago. People who really have to put their nose to the grindstone and constantly be innovating to get models that work. I do several things that I really think nobody else is doing right now. I was forced to try these ideas by necessity because of how competitive other models are."
Next Page:

How Rice Put Himself Out of a Job By Making BulkRegister an Attractive Buyout Candidate

Rice Tells Registrars They Are Leaving Millions of Dollars on the Table

Why Rice Believes the Bull Market for Domains Will Continue - not just for years, but for DECADES to come!
Continue to Page 2 of this story