Of course the best thing about the exhibit hall is all of the free swag the sponsors hand out. At the Rebel.com booth (below) fluorescent orange beach shoes were all the rage!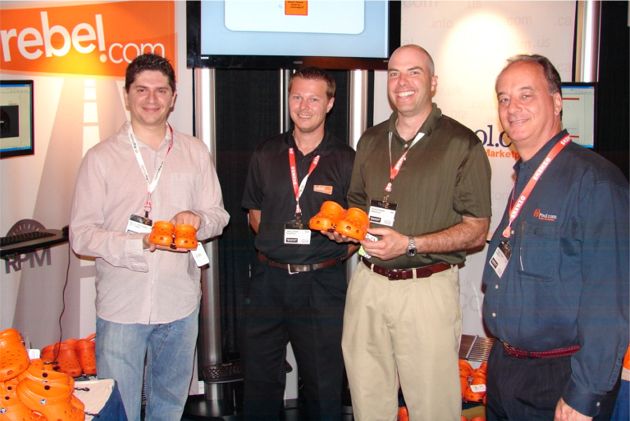 At the Fabulous.com booth below Mike Robertson (at left) and Peter showed off some
really slick new landing pages that will be debuting later this month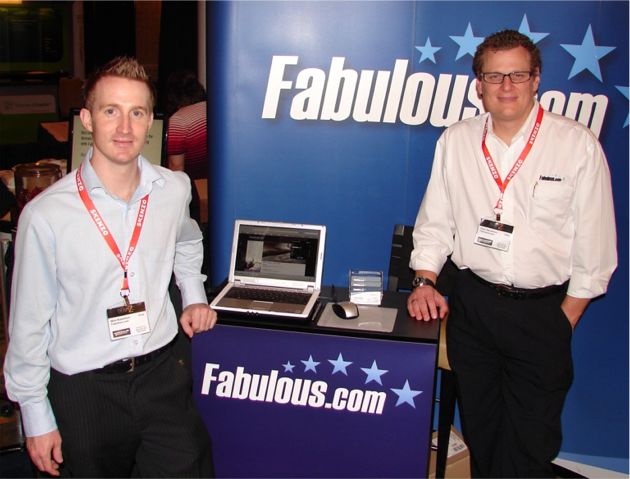 There was no sign of Ammar Kubba when we stopped by the TrafficZ.com booth below (word was he was partying a bit late the night before at the Hawaiian Tropic Zone!). Fortunately the staff still had plenty of cool T-shirts on hand.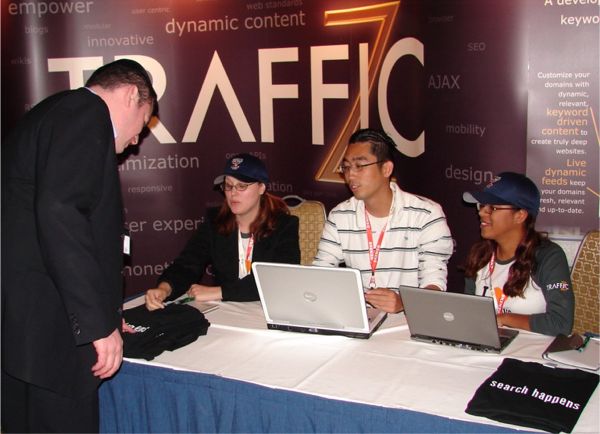 Here's a guy who has his mind on business. At his booth, Klickerz.com founder Fin Lemonde (at right) was already getting psyched up for the Moniker Live Auction that was still several hours away.

That's just a small sampling of the company booths that were set up in New York. The exhibit hall is a big part of the show experience. The only downside is they make sure your bags are over-stuffed with souvenirs when it's time to go home. Be sure to bring a few extra dollars to get the skycap to look the other way when your suitcase goes over the weight limit!

Now it's time to head over to the conference hall for the first of the day's four seminars.
The opening session covered Domain Optimization and Research, disciplines that can increase the returns from your domains dramatically if done properly. The panel included Australia's Michael Gilmour (ParkLogic.com), Brian Carr (VP of Direct Search for NameMedia), Ren Warmuz (CEO of Trellian) and Howard Hoffman (President of PPCIncome.com).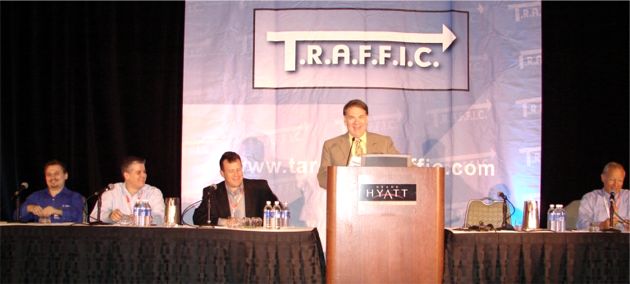 Optimization panel (left to right): Ren Warmuz, Michael Gilmour, Brian Carr,
moderator Howard Neu (standing) and Howard Hoffman
Unfortunately, I missed all but the last few minutes of this seminar as I was in an Internet Commerce Association board meeting that ran late. The good news is that I got a copy of Brian Carr's entire Powerpoint presentation that you can get here. This is the first time that NameMedia has released information on what they are doing in the optimization area. Much of what Michael Gilmour talked about is also available on his excellent Whizzbang's Blog - a must read for people who are serious about domain monetization. I did catch a few of Howard Hoffman tips including a recommendation to test multiple parking services as different ones have different strengths so you may see large variations for some domains from one service to the next.
The next session was very valuable for people who want to build successful businesses on their domains. The five panelists have all proven to be experts at doing that. The group included Sahar Sarid (who was the subject of our May Cover Story) co-founder of the Recall Media Group and brothers Michael Castello and David Castello of Castello Cities Internet Network who were featured in our December 2006 Cover Story). The dais was also graced by another DN Journal cover guy, Jeff Reynolds of AmericanFlags.com (featured in December 2004) and Recall Media Group President Darren Cleveland.
David Castello

While these are all exceptionally sharp businessmen they also credit a lot of their success to having had the good fortune to acquire great domains. The Castello brothers own some monster geo domains including PalmSprings.com and Nashville.com. They earn over $1 million a year from the home page of PalmSprings.com alone.

To illustrate how powerful those domain names are, David Castello noted that for some unknown reason Yahoo had banned their sites from the Yahoo search engine. He said it made no difference to their bottom line at all because so many people intuitively type their domain names into the browser bar and bypass the search engines all together. I would encourage you to read our cover stories about all of these gentlemen as those articles cover how they built their companies in far greater detail than we can give you in the scope of a conference review where there are so many other topics that have to be touched on.

Michael Castello

Jeff Reynolds

Sahar Sarid

Darren Cleveland
Domains have outperformed virtually every other investment you can imagine over the past few years, allowing owners of premium domains to build up cash that is now available to reinvest. The third seminar of the morning, Investing Beyond Domains, discussed the best place to put that money now - plow it back into domains or diversify into other areas? The five man panel brought Sahar Sarid back along with T.R.A.F.F.I.C. co-founder Rick Schwartz, attorney Ari Goldberger, Freddy Schiwek (EuroDNS.com), Australian investor Greg McNair and Dr. Chris Hartnett (retired CEO and founder of USA Global Links).
Schwartz has probably been the single biggest proponent of domains in the business but he told the audience he also believed in diversification. He has moved some money into real world real estate (having bought 7 different properties for $12 million). He said he is not a fan of the stock market but is a major share holder in Dark Blue Sea (the Australian company that owns Fabulous.com) because he knows the people who run the company and is confident in their management ability.
Schwartz said domain owners have always been investors first and had simply picked domains as their investment vehicle because they recognized their potential. He said always keep your eyes open for new investment opportunities because any one vehicle could come crashing down tomorrow. Having said that he added "Domains are still the single best investment in this universe."
| | |
| --- | --- |
| | |
| Rick Schwartz | Dr. Chris Hartnett |
Dr. Hartnett agreed that diversification is essential, noting "we made our money through concentration but now we want to keep it and the best way to do that is through diversification." Hartnett said the best thing to do is put your trust in friendship and partnership and don't let your own ego allow you to become arrogant and think you will always know what is going to work simply because you have had success in the past. He added that what he especially liked about the domain business is the people who have given millions of dollars to help other people. "I think that is the most important investment of all, " Hartnett said. "Be humble and be supportive of everyone else."
With that everyone broke for a lunch sponsored by Fabulous.com where Mike Robertson filled everyone in on new developments at that company (including the DDN we talked about earlier and a very impressive set of new landing pages in their PPC program). I also took the stage to speak briefly about trends in the domain aftermarket where we have seen a major jump in prices and transaction from the first quarter of this year to the second. The total dollar value of sales reported to us in the second quarter was up more than 50% from the dollar value reported in the first quarter and the average price of sales reported to us surged from $6,873 in the first quarter to $10,544 in the second. Keep in mind that we track only four-figure and up sales, so averages for the entire market would be a good deal lower as many smaller transaction occur. The numbers still show solid upward momentum in the secondary sales market.
The final seminar of T.R.A.F.F.I.C. New York featured a mammoth nine-man Meeting of the Chiefs featuring leaders from some of the top companies in the domain industry. They shared their views on the current and future state of the domain business. The roster included Matt Bentley (Sedo.com), Monte Cahn (Moniker.com), Ammar Kubba (TrafficZ.com), Rick Schwartz (T.R.A.F.F.I.C.), Jerry Nolte (Domainer's Magazine), Nat Cohen (Telepathy), Jonathan Boswell (LeaseThis.com), Divyank Turakhia (Skenzo/Directi) and Ron Jackson (DN Journal).

This wide-ranging discussion was a fitting finale for the educational program at T.R.A.F.F.I.C. and the optimism the panelists share about the industry's future undoubtedly whetted appetites for the live auction that followed just a few minutes after this session ended.

Divyank Turakhia (Skenzo/Directi)
speaking during final seminar
Attendees were briefly ushered out of the main hall so it could be reconfigured for the main event - Moniker.com's Live Auction. Professional auctioneer Joel Langbaum was again flown in from Florida to run the sale attended by a capacity crowd.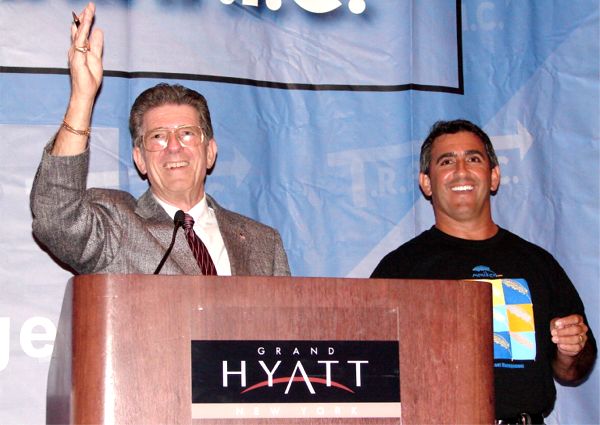 Auctioneer Joel Langbaum (left) and Moniker CEO Moniker Cahn enjoy the auction action.
Moniker had gotten some great results from their previous live auctions and there was a great deal of interest in how much being in New York would impact the auction results. When the final hammer came down at 6pm Langbaum and Cahn had good reason to smile as they had booked a record-breaking $10.9 million in sales - more than double the previous high water mark. A few days later an accompanying silent online auction ended adding more than $1.4 million to the tally for a final total of more than $12.3 million.
Page Howe
sold Seniors.com for $1.8 million

Two lots went for more than a million dollars. The combination of CreditCheck.com and FreeCreditCheck.com fetched $3 million while Seniors.com was the highest individual domain sale at $1.8 million (sold be veteran domain investor Page Howe of Tennessee). Another 14 sales broke the six-figure mark, led by Cardiology.com ($550,000), Bald.com ($400,000), CarSales.com ($400,000), Text.com ($300,000), Locals.com ($250,000) and Spices.com ($220,000).

The highest non .com sale in the auction was Houses.net at $75,000 while the best country code sale was Nashville.us at $23,000. In other extensions, the leading .mobi sale was Mortgages.mobi ($25,000), the top .org was MT.org ($25,000) and the #1 .info, especially appropriate given the New York venue, was Manhattan.info at $21,000.

You can see the complete results from the live auction here. There is also a link on that page

that allows you to download the complete results from the silent auction. The top sale on the silent auction list was Supplies.com at $323,530.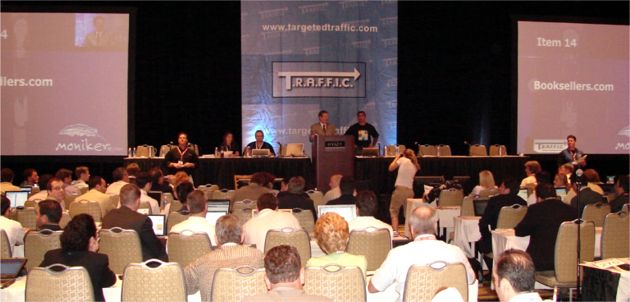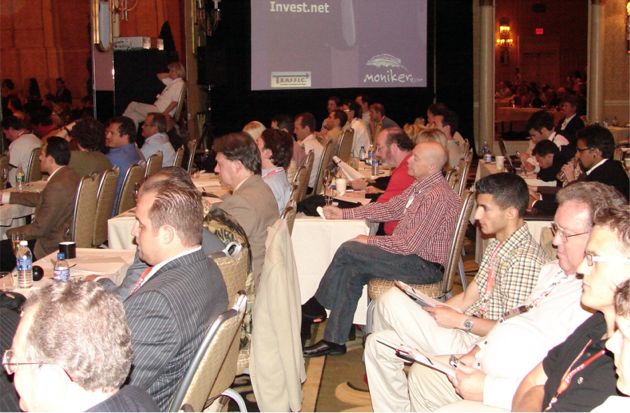 Two photos above: Scenes from the Moniker Live Auction
Moniker's live auction format has become so popular that it now produces the lion's share of the highest valued sales reported in the industry. In addition to running a live auction at all of the T.R.A.F.F.I.C. shows Moniker now runs them in association with many other events. In fact they have another one coming up next week (July 8-10) at the Affiliate Summit in Miami, Florida.
The record-breaking auction results left everyone in a good mood for the T.R.A.F.F.I.C. New York finale - a Farewell cocktail party and dinner sponsored by Klickerz.com.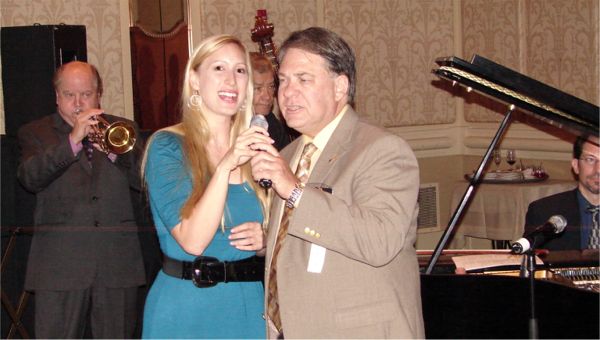 Emily Anne and T.R.A.F.F.I.C. co-founder Howard Neu (whose many
talents include professional singing) entertain the crowd on closing night
And thus the curtain came down on the official T.R.A.F.F.I.C. New York agenda. For those leaving the next morning, breakfast was served to send them home on a full stomach. Those who serve on the T.R.A.F.F.I.C. Advisory Board (whose members are nominated and elected by show attendees each year at the T.R.A.F.F.I.C. East conference) stayed over for a mid-morning meeting Friday. The board's function is to advise the show organizers on ways to improve the conference, future agendas, show locations, etc.
The big news from that meeting was Schwartz indicating that, having now realized his primary goals for the conference (getting the value of domains recognized by the mainstream business community and major investors), he is considering selling his interest in the conference and going back to "civilian" life.

Neu would prefer to stay involved, but would not stand in his partner's way if a qualified buyer wanted 100% of the company. However that plays out, the co-founders are sure they need help to handle the workload that staging the conference now requires, so they are now looking for an Executive Director to handle day to day operations for the event.

Thanks for the memories Manhattan!

The future remains to be written but the T.R.A.F.F.I.C. conference has already secured its place in the history of the industry as a primary catalyst for the phenomenal growth that those who make their living in this business have been privileged to enjoy.