Perhaps no company personifies the new wave better than Waltham, Massachusetts based NameMedia. The roots of this company actually date back to 1999 when Michael Mann (the subject of a September 2003 Cover Story in DN Journal) and Brian Taff led a group that founded BuyDomains.com to create a secondary market for premium domain names. In early 2005 BuyDomains was acquired by venture capital firm Highland Capital Partners and private equity firm Summit Partners. The company changed its name temporarily to YesDirect but was re-christened as NameMedia last year with the launch of a strategy to dramatically expand both their marketplace and media businesses.
Jeffrey Bennett
NameMedia President and COO

NameMedia's President and Chief Operating Officer, Jeffrey Bennett led the joint effort with Highland Capital and Summit Partners to acquire BuyDomains. We asked him why they went after that specific asset. "Our investor group was very interested in acquiring a beachhead of targeted Internet traffic so that we would have a jump start to building a new media business," Bennett said. "We believed that the domain segment of the industry was a potentially good source of this targeted traffic."

"BuyDomains was one of several alternatives that we considered to accomplish this goal. A key component was the quality of the portfolio, strong financials and an ability to build a sustainable company around the acquisition. We were also drawn to BuyDomains due to the fact that their efforts to build a media business was nascent. It was a blank canvas that we could utilize to build a targeted media business. Buying companies is easy, the hard work is integrating them into a new strategy and with an expanded team. BuyDomains has served as a solid foundation for us to build NameMedia."
You may have noticed that a lot of new web based companies use the word "Media" in their name. There is a reason for that. Countless readers and viewers are currently migrating from traditional media to the Internet. Advertisers follow eyeballs and they think in terms of media outlets that can put their products and services in front of those eyeballs. By labeling themselves as new media outlets, companies are positioning themselves to harness the stampede of advertising dollars headed toward the web.
One thing that sets name NameMedia apart is that the word "media" is more than just a name there. Some of their top executives come from traditional media backgrounds but unlike most of their peers, they are men who have seen the future and decided to embrace inevitable change rather than resist it. Chairman and CEO Kelly Conlin is leading the charge at NameMedia and he is a perfect example of what I am talking about. He has worked at both CNN and the New York Times and his time in traditional media taught him some valuable lessons that made it easier for him to recognize the unlimited potential of the web when so many other media executives missed it.
"My first start-up was CNN, where I was Chief Assignment Editor in New York as the network was getting off the ground in the early 80s," Conlin recalled. That experience taught me how much value can be created by contrarian thinking: most "experts" dismissed CNN's chances, the traditional networks looked askance at the less-polished presentation, and the advertisers were uncertain about how to get comfortable with adjacency to breaking news. We all know how successfully that turned out. That experience also taught me how much sheer work it takes to build a successful new media property. To engage an audience, to create compelling content, to understand how to package information...all the elements that need to be tested in real time, every hour and every day to build an ever-improving product."

"The competition is for the consumer's time and attention, and capturing and retaining that attention takes more than generic development tools or automated content creation," Conlin said. "That's why we

Kelly Conlin
NameMedia Chairman and CEO

recruited a team that has successfully launched hundreds of media properties in dozens of countries. And that's also why we are focusing our development not on thousands of websites, but on sites that we can devote substantial resources to make world class."

"Take Gardens.com as an example. Three months ago that was a parked page; today it has more than 50,000 pages of original content and has tripled traffic. Our roadmap over the next three months includes quadrupling the content and adding features from the media sharing community platform we have built. The team behind gardens.com is committed to having the number one gardening community on the web, and we are well on our way. We couldn't have that goal if our efforts were diffused or we didn't appreciate the commitment required to build sites that have enduring value."
The growth rate for online ad spending has been phenomenal, over 30% annually, and as the web continues to rise, many traditional media outlets are suffering losses, especially newspapers. Network TV ratings have also been falling as more and more viewers now head for the web first. None of this has come as a surprise to Conlin. "History tells us that advertising follows consumer behavior, and that the specific always drives out the general. Despite the impressive growth in online advertising, the share of total media time consumers spend online is still 3x greater than the amount of total advertising spent online. So we have seen just the beginning of the shift of advertising dollars from offline to online media."
Conlin added, "The more targeted the media, the more value to the advertiser. The fact that Google and Yahoo have millions of dollars of demand for targeted traffic that they can't fulfill tells us that advertisers understand the value of online leads—and the demand exceeds supply. Therefore, owners of Direct Search traffic are in a strong position as the value of and demand for targeted traffic continues to increase."
Brian Carr
Name Media Senior VP and General
Manager of Direct Search Network

Senior VP Brian Carr, who is in charge of NameMedia's PPC operations and direct search network, is another top executive who did time in traditional media before deciding the future belonged to the Internet. "When I left newspapers to work at a Florida internet start-up 11 years ago, almost all my newspaper friends snickered, saying the web was a fad and that I was making a huge mistake," Carr said. "What I kept telling them is that they may be in the newspaper business, but they are in the information industry. They didn't listen.
That start-up became CBS SportsLine and went public in 1998."

"Since then we've seen classified ad revenue plummet at newspapers, lost to companies such as eBay, Monster and Craig's List. So I got a little chuckle when I read this quote on CNET on May 23rd: "If all of the newspapers in America did not allow Google to steal their content, how profitable would Google be?" Sam Zell, the new owner of the Tribune Company, asked reporters during a speech at Stanford University last month (the Tribune Company operates the Los Angeles Times and Chicago Tribune.) Seems a decade after I left,

newspapers are starting to get it. I'm afraid it's too late for many of them. For our data-driven ad units and websites, it's a great time."
While NameMedia is committed to building out some of their best properties they are certainly not going to abandon their original core business – selling domains. Peter Lamson is the Senior VP and General Manager of the company's domain marketplace which include both BuyDomains and the auction venue they acquired last fall, Afternic.com. Through their ActiveExchange program sellers can have names appear simultaneously on both sites as well as dozens of partner sites and that exposure has helped the company generate an amazing number of completed sales each week as evidenced by the results shown in our weekly domain sales reports.
Lamson told us "The BuyDomains acquisition provided us with a strong portfolio foundation." "Since the acquisition, we have more than doubled the size of the portfolio, which now stands at 750,000 domains, and we have expanded our business operations as well, including expanding our sales force from 4 to 17 sales executives and expanding our distribution network to 56 marketing partnerships enabling our geographic sales coverage to reach 115 countries in 2006. Tapping into global demand is a significant driver of our average selling prices – the more demand for a name, the higher the price a seller can expect to obtain for their name."

"To further enhance our growth, NameMedia was fortunate to acquire Afternic in late 2006. Afternic augmented BuyDomains direct sales model with a leading edge marketplace and supporting sales tools, and our combined entity has created a domain equivalent of real estate's MLS (Multiple Listing Service)."

Lamson added, "Since our launch just three months ago more than 2,000 members have joined the ActiveExchange, listing more than 100,000 names. Our listing service includes

Peter Lamson
Name Media Senior VP and
General Manager Domain Marketplace

promotion on both Afternic and BuyDomains, plus promotion via 56 global 3rd party distribution partnerships – all supported by the BuyDomains direct sales force and aggressive direct marketing campaigns."
"This quarter the ActiveExchange domain listing service revenues are tracking to north of $12,000,000 and more than 7,500 domains sold. This is accomplished with an SMB (small to mid sized business) friendly average selling price of $1,600."
"This is working because we are bringing needed liquidity to a market that has been difficult for consumers, which is exactly why our DLS (Domain Listing Service) platform is taking off. Positioning a quality portfolio in front of a targeted global SMB audience and supported by the

largest staff of domain sales professionals in the world best serves the collective interests of domain buyers and sellers. This strategy also has simplified the buying process for SMB's as they are able to meet their domain procurement needs within a single destination. Our sales velocity performance and continued volume

growth certainly supports this contention. And when I read online forum comments where writers are surprised by the sales price we have been able to obtain for a domain name listed on our Domain Listing Service, I know that our SMB buyer aggregation strategy is working," Lamson said.
"Since March of this year, we have expanded our SMB products solutions beyond domain names and into broader business services. The acquisition of a domain name by an SMB is merely the first step in establishing an online presence for a growing company. Our customers can now purchase domain related services such as registration, hosting, email, and merchant accounts – as well as business growth drivers such as SEO and SEM assistance, logo design, payroll services, and legal services - just to name a few. It is this type of broad based solution set that the SMB market is demanding, and as the market leader, we are providing. Our direct sales strategy, marketplace and 3rd party distribution platforms will soon be bolstered by additional sales channels launching this summer. We will be sharing more about this in the coming weeks."
It is commonly believed that only 1-2% of the average domain portfolio is turned over each year. That slow turnover rate makes the sheer number of transactions completed by BuyDomains stand out from the crowd. We asked Lamson what individual domain owners could do make more sales from their portfolios.

"In comparison to other thriving markets, the domain aftermarket does have a low percentage turnover rate," Lamson said. "This is due to the relative ease and low cost barrier to creating new inventory. This means the first thing a domain seller needs to do is set a clear sales objective. How quickly are they looking to complete their

Lamson speaking at the 2006
T.R.A.F.F.I.C. Conference in Silicon Valley

sale? What price are they hoping to achieve? Answers to these initial questions should serve as the foundation for a seller's sales tactics. Selling a name quickly may mean that achieving maximum valuation is not achievable. Conversely, holding out for the absolute dream offer may mean the seller may need to wait years before successfully completing a transaction – if ever."
"Sellers also will need to decide if they wish to enlist the services of a Domain Listing Service to sell their name on their behalf. Selling a domain on their own will save the owner commission dollars; however they will likely not be maximizing the exposure their name receives - meaning the probability of sale may be reduced. Professional sales representation may also assist in maximizing sale price," Lamson said.

"Aside from rare exceptions such as high value generics, I advise most domain owners to look for a sales solution that offers the greatest end user reach and personal assistance when needed. Putting your personal domain portfolio in front of the largest possible targeted buyer audience is the most effective thing you can do to attract buyers who need what you have. Once a marketing partner has been determined, set a reasonable price expectation. A quality domain name set a fair price will sell much faster than industry averages if placed in front of the right buyer."
A lot of people may not be aware that BuyDomains not only sells domains but purchases them as well. Senior VP and General Manager of Porfolio Management Hugh O'Neill is in charge of that department and if you are looking to sell to NameMedia, he told us some things you should know. "Generally, we look to buy portfolios which are expected to generate stable risk-adjusted returns on investment well in excess of our hurdle rate," O'Neill said. To create the returns, the desired portfolios must complement our resale and advertising businesses. We have to extensively model and analyze a portfolio within the context of our businesses before we can tell if it is a good fit for them or not. If it is a good fit, then we begin negotiating the price."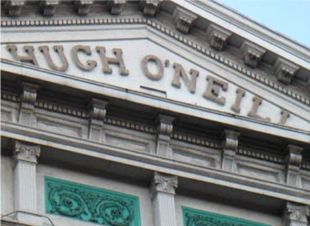 "We have developed a sophisticated (and proprietary) way of looking at domains which complements our businesses well. Our buying approach is not at all one dimensional. It synthesizes a number of disciplines yet values human judgment and the unexpected. Also, we are able to buy both smaller and larger portfolios, for either advertising or resale. That gives us, and our customers, added flexibility and opportunity."
O'Neill said, "the best way for a seller to submit a portfolio is to go to Sell Us Your Domains on www.buydomains.com and fill out and submit a simple form, which will then be reviewed by our acquisitions team. If interested in the names, a member of the team will follow up with the seller directly."
O'Neill's responsibilities also include managing "portfolio risk". A lot of domain owners don't think about risks, so we wanted to get O'Neill's take on what risks owners of large domain portfolio should think about.
"There are the standard legal, counterparty, and operational risks. These can become more difficult to manage as a portfolio grows. For example, you don't want to buy or own trademarked names, lose names because your accounting system can't track renewals, or have one of your registrars or one of your buyers embezzling your names. So you need robust systems, controls, and policies in place to prevent those sorts of things. You also need to retain experienced and talented staff through attractive development and compensation."

"For the financial risks, you need to ensure that the risks you are taking in your investments are more than compensated by the returns you are achieving. The ways to ensure those returns and to keep the risks contained are to make the correct buying decisions in the first place, and to track your performance so you can not only leverage successes but also quickly detect and correct mistakes made. As your portfolio grows, the amount of attention you devote to any single name reduces while the complexity of your portfolio increases. So you need better systems and approaches to maximize the spread," O'Neill said.
The other big piece of the corporate puzzle at NameMedia is domain monetization which is Brian Carr's bailiwick. NameMedia has quickly built a diversified parking provider system with three distinct brands; GoldKey, ActiveAudience and SmartName. GoldKey and SmartName were acquisitions while ActiveAudience was home grown. Carr told us why the company maintains three separate PPC operations and how they differ from one another.
"One of our 2006 strategic initiatives was to bring to affiliates the optimization expertise and scale we use on our own platform of more than 750,000 names. We performed an extensive analysis in Q1 2006 to answer the question: Do we buy an existing company or build one of our own? We did both. The March 2006 purchase of Goldkey accelerated our entry into the market and provided the backend for our platforms, a great start."
"The recent SmartName acquisition allows us to bring even more scale to our feed provider and share the benefits of larger audience and share. SmartName's high-quality customer base is acutely aware of what works and what doesn't on their names, and unlike our other platform customers, they usually aren't interested in actively buying and selling on a daily basis. It's much tougher to get an application accepted at SmartName. Also, we've given the SmartName customers a choice of two platforms now, since some wanted to remain on the SmartName Classic system at www.SmartNameClassic.com, which is the original code base. Others have opted to use the platform that we've built at www.SmartName.com, which includes the enhanced tools we use on our own domains and other platforms. It's their choice."
Brian Carr speaking at 2007
T.R.A.F.F.I.C. West in Las Vegas

"When we bought Goldkey, we knew it had some limitations," Carr said. "For example, Goldkey had phenomenal domain optimization, but users had to edit domains one at a time, not in batches of thousands in a single portfolio. And there was no multivariate testing of different templates and designs for a single domain. So rather than disturb any of the Goldkey customers or domains, we launched a copy of the code with additional tools as ActiveAudience, a separate product that was tested with our own names. And that's the key. We don't put anything on our platform that we haven't tested and proven on our own names first. We then opened up ActiveAudience to domain owners of large portfolios of 100 names or more who clamored for large-scale domain optimization and management."

"We kept Goldkey running in its original state for almost a year, and then migrated users to our new system, where there's much more flexibility to optimize names. Today Goldkey as a brand caters to the new domain name owner, often someone with fewer than 100 names.

ActiveAudience caters more to the active domain trader, someone buying, selling and managing domains on a daily basis. For example, there will be more integration with BuyDomains and the ActiveExchange platform for buying and selling domains," Carr said.
Parking has to be the most competitive sector in the domain business as there are more separate entities involved in PPC than any other aspect of the industry. Carr talked about the challenges this hyper competitive landscape presents NameMedia and how they are trying to differentiate their monetization efforts from the competition.

"Right now there are three major challenges to any Parking provider," Carr said:
1) Scale: Successful parking companies must have enough scale to attract lucrative deals from feed providers that can then be passed to individual domain name owners. NameMedia certainly meets that criteria with more than a million names under management, helping us secure the lucrative deal terms that we then share with our affiliates.
| | |
| --- | --- |
| 2) Stability: We've all seen companies start up and some reach scale, only to quickly lose customers, money or suddenly start having late payments for domain owners. Is the new parking company going to be around in six months at the same higher pay rates? One company offered 100% revenue share to customers. Sounds great, but domain owners are smarter than that, since it's not a sustainable model, nor is there any mention of what the company's overall revenue share is. So 100% of a low revenue share is still a low revenue share. Another reason stability can be dicey is that often the companies do not get paid until 45 days or so, and that means a company has to "float" payments to domain name owners while waiting to be paid themselves. Larger companies can easily handle that cash flow. It's clear that NameMedia is here for the long-term, and continues to make significant investments on a daily basis back into the industry. | |
3) Innovation: Established domain name owners know certain parking companies that are very strong competitors, and we're all watching each other's tests, new templates and announcements. That can only help domain name owners make more money. In less than a year, our platform alone has grown to more than 500 themes, 70 color palettes, and 11 template choices, so that's almost 400,000 different variations of what a domain can look like on our system. And we're adding new themes every day – everything from Amish Country to Hip Hop to Dirt Racing, all requested by customers. But that's not enough. One way NameMedia is different is that we test and optimize on our own domain names prior to releasing innovations to our customers. That may sound basic, but not all companies do it this way – we know from past experience when unsuccessful "tests" were run on our own domains when parked elsewhere years ago. That's why several innovations are still in their development stage at NameMedia but have not been released, until we can ensure their long-term profitability for our customers."
| | |
| --- | --- |
| | We couldn't let Carr go without pinning him down on the age old question of which converts better – plain Jane landing pages or pages that look more like real websites? "The reason this debate is still raging is that in tests we've run, both sides are right," Carr said. "Consider a generic name, such as Photography.com. Are people coming to buy a camera? Buy stock photos? Put up an online photo album? Get reviews of lenses? The answer is all of these, and more. So a site buildout makes perfect sense. Then there's the other side. Recently we had a parenting name that was put on a "family" template. Seemed natural. It looked great, but had a very low click-thru rate. A click analysis showed that the legacy domain traffic was looking for test scores. A simple keyword change to show the right advertisers quadrupled click-thru rates without adding any content." |
As you can see, NameMedia is a rapidly growing company with many moving parts. With expectations that a public offering is in their future, things are likely to get even busier in Waltham in the months ahead. President Jeff Bennett is responsible for day to day operations of the whole ball of wax. When I asked him how he keeps it all together I was struck by how his response – willingness to work 24/7 – mirrors the way so many of the pioneering individual entrepreneurs in this space built their businesses. The motto may not be "Never Sleep" but it is pretty darn close.
"Our business is run by the numbers – visits, phone calls, leads, clicks, conversions, revenue and profit – and my role is to ensure that everyone knows what the goals are and how we are going to achieve them," Bennett said. "My management style is hands on and I set the tempo and keep everyone focused on our goals. Our business is open all the time so I drive the business seven days a week. It is the norm for anyone on our team to get an email or a call at any hour of the day any day of the week. This is not a one man band though and I know full well from my experience that business is a team sport and we need everyone in our company driving to achieve our goals. We have set up our organization so that each of our business units has a general manager that is responsible for their own teams and profit/loss account."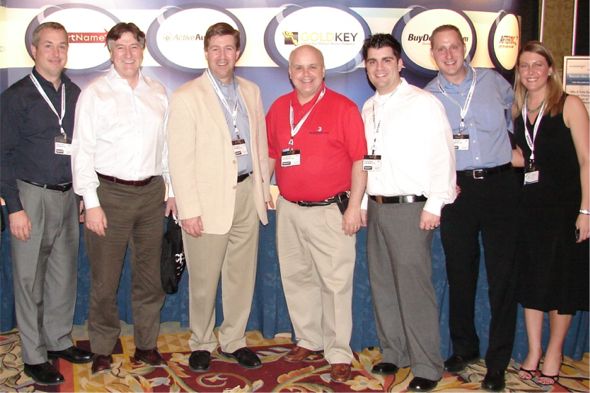 Part of the NameMedia team in front of their booth at T.R.A.F.F.I.C. West 2007
(Left to right): Roger Collins, Kelly Conlin, Peter Lamson,
Tom Murphy, Scott Briggs, Bryan Hilliard and Kirsten Frederick
Bennett concluded, "We have recruited very talented and experienced managers and staff and this depth makes my job so much easier and rewarding. I work very closely with our teams and I also work to find synergies and growth opportunities across the units for NameMedia as well. I also work very closely with our executive team to chart expansion opportunities and the management of our overall business. This organizational structure allows us to effectively manage the many moving parts of such a dynamic and fast growing business and position NameMedia for sustained growth."
Now that we know how NameMedia was built and how it operates today - about the only big question left is how high can they fly?
*****