Casale Media sponsored breakfast for those able to roll out of bed before the opening session at 9:45 Wednesday. That was a development tools seminar conducted by Alan Warms of ParticipateMedia.com, Lou Doctor, Darren Cleveland and Adam Dicker. Cleveland pointed out that the biggest decision comes before you even start development – that is which of your domains would be the best to build on. He said Recall Media looks for the most viable product or service in a category that offers the chance to develop multiple revenue streams.

Doctor said making the right choice can have an astronomical payoff, citing one development devoted to selling bicycle tires that was started on a $15 domain but wound up grossing $8 million a year in sales. Doctor said building up that kind of business takes time. "I've heard some say they want to develop one site a month," Doctor said, "I think it would be more practical to plan one a year if you want a better payoff. Also, keep in mind that development is much harder than it looks. It probably only makes sense to develop your best domains because successful developing requires a passion that is difficult maintain."

Darren Cleveland
President/CEO, Recall Media Group
Dicker gave some nuts and bolts advice on developing content and traffic to new websites and Warms went through a case study of his ongoing development of RumorMill.com, a joint project he is working on with domain owner Rick Schwartz.
Next up at 11am was a session on "Structuring Joint Ventures and Domain Development Deals" with Chris Mulligan and Jordan Rohan of RBC Capital Markets, Ari Bayme and attorney Steve Sturgeon. Sturgeon covered the various options for legal structures such as LLC's and what dictates the best choice – a decision tied to the kind of lifestyle you want to have, tax considerations and growth potential.

Bayme recommended that you not use friends as development partners as the end result is often that you are no longer friends and you are not making money! For successful development experience is a far more important parameter.

Mulligan discussed the circumstances under which a joint venture makes sense. Those could include situations where a domain is a must have but cannot be purchased because it is either too expensive or not for sale. It also makes senses when your partner's content is more effective than yours and when you have a need for cost predictability.

Chris Mulligan
RBC Capital Markets
The Wednesday luncheon was hosted by another new T.R.A.F.F.I.C. sponsor, SnapNames.com. Company Vice Presidents Mason Cole and Nelson Brady each took a turn at the podium to talk about the popular expired domains auction service that has been a highly respected industry fixture since 2000. It was also a pleasure to meet SnapNames Chairman and CEO Sudhir Bhagwan who was attending his first T.R.A.F.F.I.C. Conference. Just about every domain owner in this business (including me) has used SnapNames to make key portfolio acquisitions.
Copyrighted photos - photos may not be reproduced without written permission.

SnapNames Vice Presidents Mason Cole (left) and Nelson Brady (right)
I also spoke during this luncheon to bring the audience up to date on the latest industry sales trends. I leaned heavily on some new research from Sedo's Matt Bentley that studied sales data from DNJournal.com combined with Sedo's own sales database (including many sales that have not been released due to non disclosure agreements). That sample reflected a huge increase in sales activity in the year ending Dec. 31, 2006. Both the number of reported sales and the dollar volume of those sales doubled in that 12 month period with the total value of reported sales soaring from $50 million to $100 milllion. Since reported sales are only a fraction of the overall market, we believe one could reasonably assume that the total market is 5-10 times higher than that $100 million figure from Bentley's data sample.
Ron Jackson, Editor/Publisher
DNJournal.com

The average sales price of domains sold only at Sedo increased from $1,500 to $2,200 in the past year. When you add DNJournal's sales data to the mix, the average price jumps to $3,881 but that number is skewed higher because we do not track sales below $1,000. If we did, it would pull the average number from the combined sample closer to Sedo's average price. Bentley said Sedo enjoyed a 60% increase in sales revenue over the past year, a number that we would guess many other popular venues approached given the exceptional health of the market.

.Com remains the dominant TLD, accounting for 73% of all reported sales volume, however that is down from 81% in 2005 as investors appears to be looking for additional profit opportunities in new and untapped markets. Bentley said the biggest increase in these non .com categories was in country codes such as .cn (China), .ca (Canada), .it (Italy), .se (Sweden) and .ch (Switzerland), to name just a few.
After lunch, the final seminar session for this edition of T.R.A.F.F.I.C was held with Mark Van Dyke and Alan Warms returning to the dais to join Brian Benko of NoParking.com in a discussion of development successes and failures (and how to obtain one while avoiding the other). Van Dyke said the success of his Army.com could be attributed to these factors; self-funding, open source applications, slow growth and strategic relationships.
Brian Benko
NoParking.com

Alan Warms
ParticipateMedia.com
Warms advised developers to concentrate on a good user experience and understand that it takes time to build up traffic. Don't expect to make money from day 1. He also cautioned against overspending for website design – citing $5,000 as a ceiling he doesn't think is necessary to exceed.
Benko said that once you make the decision to develop, get the site live as soon as possible so it can start getting indexed by the search engines. Don't worry about fonts, colors and assorted design issues that can be tweaked along the way. Benko also thinks that for your first projects you should work with a local designer that you can stay in close contact with. Once you have defined your needs you can consider cutting costs by moving your development work offshore.
With that final seminar in the books, it was time for what has become a marquee event at T.R.A.F.F.I.C. – Moniker.com's live domain auction. Veteran auctioneer Joel Langbaum was again flown in from Florida to direct the action while Moniker CEO Monte Cahn helped spot bidders from the dais. Other Moniker crew members were stationed at floor level around the 13,500 square foot hall to make sure bidders were seen.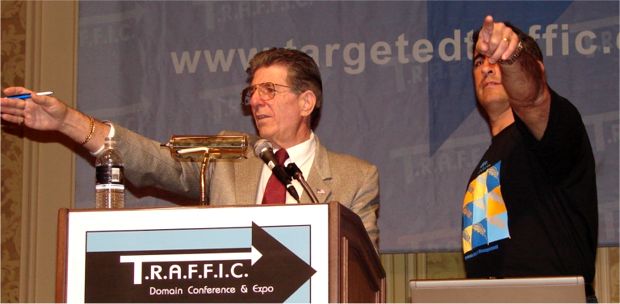 Auctioneer Joel Langbaum (left) calls the action
as Moniker CEO Monte Cahn spots a bidder in the crowd
When the dust had settled $4.3 million worth of domains had been sold and the percentage of names sold was an all-time record, hitting 67% - approximately double the success rate from the T.R.A.F.F.I.C. East auction in October. That indicates that Moniker is getting better and better at identifying names that will sell (and that have reasonable reserve prices) with each event they conduct. The absence of a 7-figure sale (like the one of Cameras.com at $1.5 million at T.R.A.F.F.I.C. East) brought the auction in a little under the record live auction total of $4.7 million in sales at T.R.A.F.F.I.C. East.
There were however seven impressive six-figure sales, led by Families.com (a developed website business) at $650,000, Greeting.com at $350,000 and Blogster.com at $275,000. Settlement.com went for $200,000 while the other three that cracked the six-figure barrier were all two-letter .coms; ET.com ($225,000), OL.com ($150,000) and PX.com ($120,000).
There were also some strong sales in the .mobi extension topped by RealEstate.mobi at $85,000 and Casinos.mobi at $52,000. You can see a complete list of all of the winning auction bids here.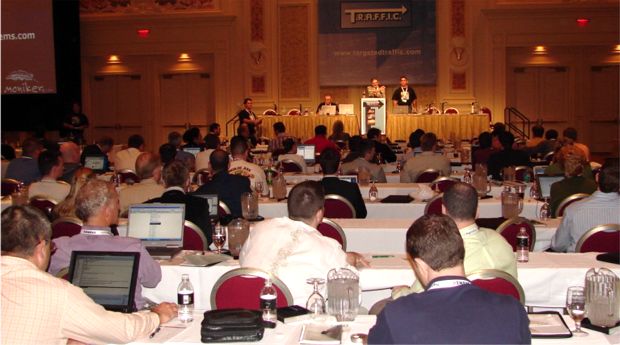 Bidders track the action at the Moniker.com Live Auction
An online silent auction was also conducted in conjunction with T.R.A.F.F.I.C. West and that event went on until the evening of March 14th. The silent auction yielded another $1,188,646 in sales, making the combined total for the live and silent auctions just under $5.5 million. That is a new record for the combined auctions, eclipsing the $5.3 million in sales done during the live and silent auctions at T.R.A.F.F.I.C. East in Hollywood, Florida in October.
After the live auction, everyone headed for a networking cocktail party sponsored by iMonetize.com and Domainer's Magazine (a new print publication being produced by iMonetize chief Jerry Nolte).

The party segued into a closing dinner sponsored by Klickerz.biz that featured fare worthy of the T.R.A.F.F.I.C. name with each plate graced with filet mignon, lobster tail and a chicken breast. The desserts were also exquisite which explains why you will see no T.R.A.F.F.I.C. attendee anywhere near a set of scales this week!

After detailing his PPC company's unique co-op model, Klickerz founder Fin Lemonde presided over some nice prize giveaways and some special treats. One of the nicest was a live performance by Klickerz customer service rep Emily Anne (Emme for short), who happens to be an extremely talented singer-songwriter that we expect you will hear much more about when the music industry inevitably steals her away. You can sample her music now at Emme's MySpace page.

Klickerz founder Fin Lemonde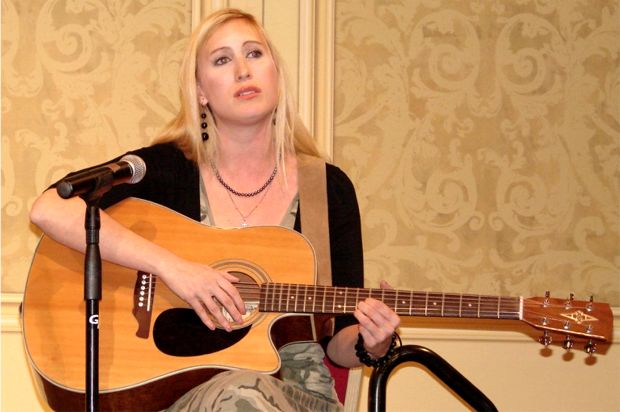 Emme Rocks!
That brought the curtain down on another very successful T.R.A.F.F.I.C. conference, though there was an informal breakfast Thursday morning for those who stayed over Wednesday night. T.R.A.F.F.I.C.'s Board of Advisors (who are elected by T.R.A.F.F.I.C. attendees at the East show each fall) also met Thursday morning. That group makes suggestions on future show themes, seminars and locations. T.R.A.F.F.I.C. West will return to the Venetian in Las Vegas in 2008 (dates not yet announced) but the 2008 T.R.A.F.F.I.C. East show may move from South Florida to Orlando. Of course, there are still two shows to go on the 2007 calendar – New York City in June and T.R.A.F.F.I.C. East in a return engagement at the Westin Diplomat in Hollywood, Florida October 8-12.
Hats off again to T.R.A.F.F.I.C. co-founders Rick Schwartz and Howard Neu. By pioneering the domain conference space and maintaining a consistent level of excellence you have been the catalyst for this industry's spectacular rate of growth over the past three years. As always, Alina Schwartz and Barbara Neu deserve a special thank you for being such wonderful hostesses and making every T.R.A.F.F.I.C. attendee feel welcome and right at home.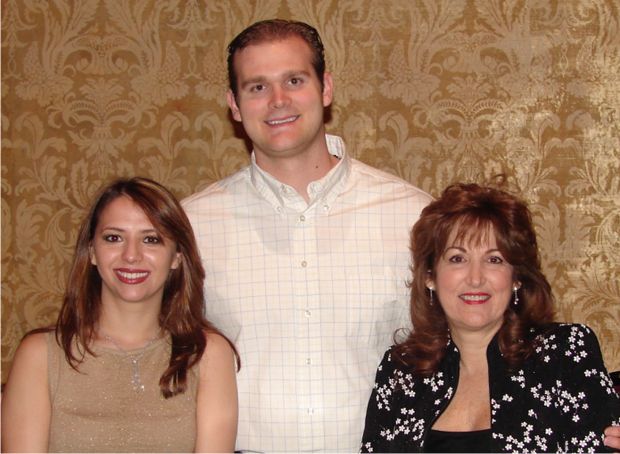 Alina Schwartz (left), Ray Dillman and Barbara Neu (right)
I have been remiss in not singling out Barbara's son, Ray Dillman, for special recognition before now. Ray has also worked quietly behind the scenes to help make every T.R.A.F.F.I.C. show a success. He has clearly inherited his mother's "people skills" and I will guarantee you that this intelligent and athletic college junior will be a huge success when he moves into his chosen career. Ray has his eye on the FBI Academy and I wouldn't be surprised to see him running the agency one day!
So another one is now in the books. Next stop – New York City. We hope to see you in June when T.R.A.F.F.I.C. makes its first stop in the Big Apple!
*****
Wait! There's More! See Our T.R.A.F.F.I.C. West 2007 Photo Gallery!