broke it as a professional boxer who became a close friend to Muhammad Ali. Boxing and becoming a Wall Street wizard are two disciplines that rarely go hand in hand. But that's not all. Hardy was also a sports agent, representing several NFL and NBA stars, the business advisor to tennis greats Venus and Serena Williams and a business partner with rap superstar Master P. To add further spice to the mix, in 1994 he hand registered what would become one of the world's most valuable domain names, NewYork.com, a name he continues to hold today (along with over a thousand others).
How does one guy touch so many diverse bases? Leland has always loved learning and there are few subjects he has not at least dabbled in. That intellectual curiosity has made his life an ongoing adventure with many chapters still to be written – but what he has already accomplished would make a pretty darn good book. If Eytan Elbaz, who recently left Google to become an independent filmmaker wants to turn it into a movie, 46-year-old Renaissance man Hardy is still young enough to play the lead role himself.
Hardy was born in 1961 in Philadelphia where he still makes his home. He was the youngest of Melvin and Avis Hardy's four children, arriving after brothers Melvin Jr. and Gilbert and sister Judith. Avis was a Registered Nurse who became the first black Director of Nursing in the history of Pennsylvania Hospital (operated by the Ivy League's University of Pennsylvania, this facility was the first hospital in America). Melvin was a North Carolina A&T graduate who went

U.S. Supreme Court Justice Clarence
Thomas (above) was the college and
law school roommate of Leland's late
brother Gilbert Hardy

on to hold several management positions in Philadelphia government, culminating his career as director of the Philadelphia Housing Authority. Both are gone now – Avis passed away in 1992 followed by Melvin just over a year ago, but the parents passed a set of great values on to their children.

Hardy told us, "My parents focus on education, the fact that I was the product of an intact, nuclear family, and my having as role models my parents and siblings clearly shaped my focus on academic achievement." The way his siblings excelled did indeed leave Leland with a high standard to live up to. Brother Melvin Jr., who was 12 years older, graduated from Villanova and got his Master's Degree from Columbia University. Today he is the Director of Fundraising at the University of Maryland.

The next oldest brother, Gilbert, was 11 years older than Leland and he too was an academic star. Gilbert graduated from Holy Cross and got his law degree at Yale. In both college and law school his roommate was current U.S. Supreme Court Justice Clarence Thomas, who was also the best man at Gilbert's wedding. Tragically, Gilbert perished at the age of 38 in a 1989 scuba diving accident in Morocco.

Sister Judith also graduated from Holy Cross and went on to get a medical degree from Thomas Jefferson Medical College in Philadelphia. The Board Certified anesthesiologist has now switched gears and works as a Certified Financial Planner in suburban Atlanta and also spends time rooting for her son Andre Fluellen, a star senior defensive tackle at Florida State who is expected to go high in next spring's NFL draft.

Clearly Hardy's family had set a high standard for him to live up to and though he also achieved a high level of professional success he used a different road map to get there. Leland was the only one of the kids who did not spend all of their school years in private Catholic institutions. In high school he decided he wanted to go public at Philadelphia's famous Central High School (a school that has been ranked as the best academic public high school in the country).

Leland and sister "Judi"
"In high school I was surrounded by the best of the best and the smartest of the smartest," Hardy said. "Our valedictorian, for example, went on to be valedictorian of his class at Harvard. Central High is perhaps the only school in the country where you can actually earn a BS degree if you graduate with a sufficiently high GPA with a requisite minimum number of Advanced Placement courses. Our worldwide alumni network is dearer to alumni hearts than is any subsequent collegiate or professional network."
As early as elementary school Hardy looked like cinch to be a star at any high school he attended. During a 6th grade Spanish class he fell in love with foreign languages and foreign cultures. "Everything about the language came naturally and easily to me and I found myself giving classmates hand signals to help them ace our tests. I continued my study of Spanish through high school and as a senior I won the American Association of Teachers of Spanish and Portuguese national Spanish Contest as the #1 non-Hispanic speaker of Spanish in the country," Hardy recalled. However, that would be one of the few highlights in his prep career.

Hardy speaking at the T.R.A.F.F.I.C.
East 2007 conference in Hollywood, Florida

"I was far from the cream of the crop at Central. I floundered around in high school and was by no means focused in any particular direction (though my demonstrated language proficiencies oriented me toward things international). I was determined to change that once I got to college and I did just that," Hardy said.

College Days - Leland Hardy
outside IUP's Elkin Hall in 1980

"I went to a relatively small state school, Indiana University of Pennsylvania (IUP), in Indiana, PA (birthplace of Jimmy Stewart and the Christmas tree capitol of the world) where I adopted the mindset – "If you literally pack up all of your belongings and move to another city where your sole purpose in life is to wake up, attend classes, take notes in those classes, study the assignments given to you, get free tutoring if needed, and to take tests based on that study and those assignments, how could you possibly not get straight A's?" I remember vividly hearing comments like "No wonder he gets straight A's; all he does is study all the time!"

"Once I got to college, having mastered Spanish, I studied other languages intensely, including Japanese, Chinese and French, while dabbling in others, including Russian and Italian. I ended up spending five years in undergrad on purpose because I loved the school itself so much and because I loved studying and learning in general so much, I graduated from IUP with the most undergraduate credits in the school's history. I was later rewarded for that effort with the IUP Distinguished Alumni Award, the school's highest honor, for which I was the youngest ever and only second African-American to win the award."

"I have always tried to be the best in whatever I pursued. My time at IUP was no different, and that included my having done so to the extent that I was reprimanded by the directors of the Program for Scholars. I still have a circa 1978 letter from the Program admonishing me for "spending countless hours in the billiard room mastering shot angles" and for taking non-credit classes like Practical Uses and Techniques in Hypnosis when I could have been better using my time," Hardy laughed.
Hardy speaking at the T.R.A.F.F.I.C.
East 2007 conference in Hollywood, Florida

He wound up double majoring in pre-med and business and partially due to his foreign language skills wound up landing a spot in the inaugural class of the Joseph H. Lauder Institute of Management and International Studies at the University of Pennsylvania's prestigious Wharton School where he earned both MBA and MA degrees in finance and international studies with a focus on China, and he was the first ever African-American fellow.

"For me, it was all about the pursuit of excellence in a broad variety of fields and endeavors and that brings me to how I got involved in boxing," Hardy said. While I was at IUP, I and my longtime roommate and a fellow Central High alumnus, Leon Newsome, answered an ad in the school newspaper calling for students who were interested in participating in a boxing exhibition to come down to the athletic field house for possible inclusion in a sidebar to an upcoming Golden Gloves event featuring local prisoners on furlough.

As a dare and as a publicity stunt of sorts, we answered the call and showed up for the

auditions with Leon as my Manager and me as the combatant. I had never boxed before and, in fact, had only stepped into a boxing ring once before in my life during a 7th grade field trip.

I ended up being matched against a 275-pound offensive lineman from the IUP football team and when fight day arrived, I relied only upon what I had seen on TV from my idol, the Greatest of All Times, Muhammad Ali. I did everything I had seen him do, including the Ali Shuffle, the rope-a-dope, shoe-shining and I won my amateur debut in fine fashion, despite being outweighed by 80 pounds!" Hardy exclaimed.
"It so happened that the President of the local Golden Gloves chapter, Johnny Kostas, was in attendance that night, After the fight he implored me to come to his club to try out for his team. After countless postponements for both real and imagined reasons, I finally took him up on his offer. I trained as hard for boxing as I studied in school and my diligence paid off. I went on to compile a not so shabby amateur record of 36-5 (and two of the losses were outright robberies) and I won the Pennsylvania State Heavyweight Championship in 1983. That led to my representing the state at the National Golden Gloves Championships in Albuquerque, New Mexico and earning a birth at the Eastern Olympic Trials for a spot on the 1984 U.S. Los Angeles Olympic Team."

"Unfortunately, I didn't make it through. The 1984 class was our greatest Olympic boxing class ever, with the likes of Mark Breland, Tyrell Biggs, Meldrick Taylor, Pernell Whitaker, Virgil Hill and Henry Tillman winning Gold medals, and Evander Holyfield getting a disputed Bronze. Even Mike Tyson was in our class, though he lost back-to-back matches to eventual Gold Medalist Henry Tillman and never made it to the Olympics," Hardy said.

"I had already established a plan that included my getting into Wharton in the event that I didn't make the Olympic Team. Unfortunately or fortunately, I didn't make the team, so I enrolled at Wharton but two weeks after getting my degree I turned professional and made my pro boxing debut on ESPN."

Leland Hardy photo
courtesy of Brady Dillsworth
At Wharton, Hardy's Lauder Institute Fellowship required that he enter the program with a minimum level of fluency in at least one foreign language, and that he select a target language with which to pursue mastery through immersion in a country of the target language. "I decided to focus on Chinese since I had become fluent in it while at IUP," Hardy said. "As a result, I spent the summer of 1984 at the Beijing Foreign Languages Institute in Beijing. Because the school's administration had been misinformed that my roommate, Lauder Fellow Keith Abell, and I were fluent in reading and writing characters (we were essentially illiterate), they had developed lesson plans for us based on our assumed reading and writing abilities."
"When we explained that we learned the language using PinYin Romanization (A to Z phoneticization of characters) and that we could neither read nor write, save for a few characters, they were in no way compassionate or understanding. Their response was "Too bad! I guess you'll have to study extra hard then." Thus began what was literally about 100 consecutive 20-hour days of intense immersion in Chinese language and culture," Hardy ruefully recalled.
This photo of Leland Hardy
appeared in Sports Illustrated

"One day, about two weeks after my stay began, I received a message that some people were waiting downstairs at my dormitory for me. I thought "who in the heck could possibly be waiting for me literally half a world away?" It turned out that the local representatives of the People's National Boxing Team became aware of my being there because the State Government informed them of my background as a nationally ranked amateur boxer in the U.S. They sought my help in teaching them the latest training methods and boxing techniques. As if 20-hour days weren't already taxing enough, I began working with the team as Guest Coach for one hour on Mondays, Wednesdays, and Fridays. To this day I retain the friendships that I established with my students and I had them come to train with me in New York in the mid 1990's," Hardy said.

"During my second year at Wharton in 1985, I was watching the James 'Broadax' Broad vs. Tim Witherspoon fight on TV with a fellow

Central High and IUP alum, Kevin Hall, when I heard a commentator laughingly mention that Muhammad Ali, who was shown in attendance at ringside, was on his way to a goodwill mission in China and that the commentator, Vern Lundquist, was going to be his interpreter. Being Ali's biggest fan, I immediately began brainstorming about who I knew who could introduce me to him," Hardy said.
"I thought of a close friend, Elmer Smith, who was the Sports Editor of the Philadelphia Daily News and was the only full time boxing writer at any major daily newspaper in the country. Elmer did some digging for me and, to make a long story short, he arranged for me to speak to one of Ali's handlers so that I could explain my unique mix of boxing, Chinese fluency, and near idol worship of The Greatest. I did just that and was asked to meet Ali's party in Washington, DC so Ali could see for himself if I was for real. I made the trip to Washington and there was no Ali due to a scheduling conflict of his. Of course, I thought that no meeting would ever occur and that my leg was being pulled," Hardy recalled.

"A few weeks later I received another call asking me to come to the Chinese Embassy in Washington so that I could meet Ali and arrange for the traveling parties' visas in Chinese. This time, Ali was indeed present and

Muhammad Ali (front left) and Leland Hardy (standing at
center of back row) on Ali's goodwill trip to China in 1985

the first thing he did was start throwing a barrage of punches at me saying "You look like Joe Frazier! You look like Joe Frazier!" After his legendary sidekick, Drew 'Bundini' Brown, calmed him down, he took me inside the embassy to put me to the test to see if I was qualified to be his official interpreter for the goodwill trip to China. When I passed with flying colors, the rest, as they say, is history."

Hardy even wound up getting to spar with his hero in China as shown in the photo below.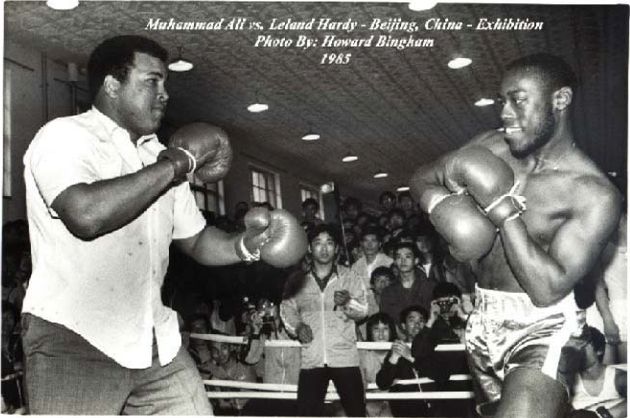 "Ali took me in like he had known me for 20 years. He took me out to his Hancock Park home in Los Angeles and had me at the dinner table with the then toddler, now female boxing champ Laila Ali. He stuffed a fist full of hundred dollar bills in my hand and put me in a cab telling me to go and see all of the sights and to be back by morning so we could head for the airport for our trip to China. I established a lifelong friendship with Ali and his family and I am in regular contact with them to this day," Hardy said.
"Based on my experiences with him I use him as a barometer of what grace is and what greatness is. I learned from him how to treat people and how to show love and respect, no matter whether someone lives in a hut or in a palace. I try to live by Ali's mantra that "service to others is the rent we pay for a room in heaven."

You would think that all of these experiences would have left Hardy with no time to discover domain names – let alone grab a gem like NewYork.com. But at the same time the events above were playing out, Hardy was also following a path that led him to his domain treasures.

"I was always intrigued by computers once I became exposed to them," Hardy said. "At IUP I remember studying FORTRAN and COBOL, and using the old card punch printing machines. Then at Wharton from 1984–1986 I thought that I had died and gone to heaven when the 10MB hard drive was introduced. I, and many others like me, thought that one would never need another storage device and that 10 MB would

Ali and Hardy look over business
documents in Ali's L.A. home - May 1985

hold one's life's entire work. I didn't own my own PC and to save on trips to the computer lab to use the 10 MB PCs, during that same period I got my hands on a terminal that I would use to log into the ARPANET-based mainframe at Wharton. It was there that I was first exposed to what would become the Internet," Hardy said.
Screen capture from Hardy-Padilla
fight on YouTube.com

That provided Hardy with a computer/web foundation that he would come back to a few years later, but first he went to Wall Street, worked at Bear Stearns and helped set up General Motors' vehicle manufacturing operations throughout China. He also boxed professionally from 1986–1991, winning Madison Square Garden's "Fight of the Year in 1989" which Boxing Scene Magazine called one of the "Top 20 Fights of the 80's." "That knockout win, Leland "Sugarman" Hardy vs. Ike Padilla, is considered the greatest club (non main event) fight of all time and is a YouTube favorite today'" Hardy said.

Around 1994 Hardy started getting back into what was now the Web. "In so doing I became aware of the domain name space and I had visions of what it could evolve into,"

Hardy said. "In 1994 I reserved the name NewYork.com and over the years I amassed a small portfolio of about 1,000 domains, 99% of which are dot coms, which I favor greatly over .nets, .infos and other TLDs."
The endless potential of a domain like NewYork.com is so obvious today that it is shocking to hear what Hardy originally had in mind for the name when he found it sitting there available for anyone who wanted it in 1994. "The first concept for the site was as a shopping service for people around the world who wanted to get access to the famous faux products from Canal Street in New York's Chinatown. That plan was never implemented as we couldn't justify the potential risk of dealing in what is essentially contraband, especially when we would eventually want advertising and other relationships with major brands - counterfeit versions of whose products we contemplated selling through the website," Hardy said.
Fortunately, he soon discovered a far better use for the domain. "After careful study of what people actually wanted and with the benefit of the likes of Google, Yahoo! and MSN search, we evolved into what we think at present is a maximal exploitation of the business model, the provision of all of the things that users visit a multiplicity of sites for - hotels, restaurants, shopping, sightseeing tours, etc., all at one domain that happens to be the easiest name in the world to remember," Hardy said.

"Among the strategic partnerships that help us accomplish that are Barry Diller's Interactive Network, the B2B hotel

Hardy napping under NewYork.com sheets
(photo courtesy of Brady Dillsworth)

reservation component of which is helmed in part by my good friend, Sunil Bhatt, Google, Hollywood Media, Viator and others of that kind."
As an athlete and sports fan it is not surprising that several of Hardy's other early domain registrations centered on sports themes. "I got things like GolfSchools.com and DaBulls.com (as the Chicago Bulls are affectionately known by their die hard fans). I used that domain when Michael Jordan was at his peak. But none of them compare to NewYork.com and he is thankful he never gave up his grasp on that gem.
"To be sure, I field offers all the time to buy the name or to partner with me in the exploitation of the name, but my partner, Tom Stafford, a prominent Philadelphia businessman, and I have weathered many a storm and many an enticement to accept offers for sales and partnerships," Hardy said. "We have a very long term view of what the Internet will become, and we regard ourselves as the stewards of arguably, and certainly potentially, the single most valuable domain in cyberspace. That said, as sensible businessmen, we're obviously open to the right strategic relationship and the right potential liquidity event(s)."
While Hardy has been aware of domains since their earliest days, it was only a few years ago that their vast commercial potential really dawned on him. "I always knew that having quality domains was a real value play, but it wasn't until about 2003 when I visited with Ron Sheridan out at

Leland Hardy and LeaseThis.com's Carron Allen
at the T.R.A.F.F.I.C. East 2007 conference in Florida
(photo courtesy of Barbara Neu)

his Oversee.net offices in Los Angeles (at the introduction of my friend and Account Manager at Google, Jana Lidz) that I really appreciated how enormous the business is," Hardy said. "It didn't take too many sales, like Business.com and Sex.com, whose multi-million dollar prices shocked Main Street, to fully appreciate the magnitude of the industry."

Hardy finally made it to his first T.R.A.F.F.I.C. conference last month in Hollywood, Florida where he saw the hammer drop on another blockbuster – Computers.com at $2.2 million in Moniker's live auction. But it was a smaller sale at that event that really caught his attention. Hardy said, "More importantly, at that same auction RapVideos.com sold for $70,000. I say "more importantly" because, as arguably the only Black domainer of some repute, I feel it incumbent upon me to expose the lesser represented among us, not just other Blacks, but the lesser

represented around the world - in Asia, Latin America, Africa, and right here in America - to the domain industry. As the founder and original registrant of NewYork.com, and as someone who sat in the auction room when RapVideos.com – something completely relevant to a large segment of our culture – sold for $70,000, I can bring a lot of credibility when I advise audiences that their $9.99 investment with the likes of a GoDaddy.com domain purchase could yield such astounding returns."
"As a result, I am launching Internet Equality which is a broad based global initiative to educate the masses about the importance of their being connected to the Web and, most importantly, exactly and specifically how to do so. I will be joining GoDaddy.com CEO Bob Parsons as his live in-studio guest on the weekly GoDaddy Live radio show November 14th at 1:00pm (U.S. Pacific Standard Time/4:00pm Eastern) to talk about this very important project. In addition, I will be giving the keynote address at Kansas Governor Kathleen Sebelius' Martin Luther King, Jr. state holiday observance on Jan. 17, 2008 with a speech titled "From Racial Equality to Internet Equality – Applying Dr. King's Principles to the Internet Age".
Some of Hardy's appreciation for the potential of a domain like RapVideos.com comes from his close association with one of the world's best known rappers and music impresarios – Master P. "Master P is a close friend and arguably the hardest working man in show business," Hardy said.

"I had been representing athletes for many years as a Certified NFL Player Agent and Certified NBA Player Agent when I learned of Master P's interest in parleying his prominence as a Rap music superstar, potential NBA player (he made it to the final cuts of the Charlotte Hornets and Toronto Raptors in 1998 and 1999, respectively) and member of the Forbes Magazine "40 Wealthiest Americans Under Age 40" list into prominence atop the sports management world. Our collaboration was a match made in heaven as I brought my considerable agent representation experience to the table to compliment all of his strengths. No Limit Sports Management, named after his very popular No Limit Records, was born. We enjoyed a great run that included representing the 1999 Heisman Trophy winner, Ricky Williams, and numerous other NFL and NBA players, like 7'7" star Manute Bol."

Rap Star Master P
"After a few years, we transitioned into different aspects of the sports business - Master P focusing on the development of his basketball prodigy son, Rap star, Lil' Romeo, who recently signed a letter of intent to play his college basketball at Southern Cal, and me on the educational side of professional sports with my B.I.C.E.P.S. Program, the Business Institute for Continuing Education in Professional Sports, the program that I created from my original concept to deliver customized business education to professional athletes and entertainers. My program is what you see on the news each off season since 2005 with packed classrooms of NFL players attending business classes during their off season at Wharton, Harvard, Stanford and the Kellogg School at Northwestern University."
Hardy served as the family Business Advisor
for tennis stars Serena Williams (left in the
photo above) and Venus Williams (right).

Hardy said "I was also the family Business Advisor for tennis's Williams family for some 15 years from the time that Venus and Serena were 6 and 7 years old respectively, until they reached majority. I'm credited with single-handedly bringing the PUMA brand back from oblivion by signing the then 16-year-old Serena to the world's only multi-media apparel and footwear agreement with PUMA. The 8-figure plus deal included Internet provisions, feature film appearances, TV commercials, and Serena personally designing her own line of athletic wear in concert with the company's designers. All of this and she was ranked only #100 in the world and had never swung a racquet as a professional!" Hardy declared. No surprise that Hardy won the 1999-2000 Advertising Age Magazine "Marketing 100" Award as one of the top 100 marketers in America.

Hardy added "By the way, Emira and Jabari Stafford, the 10 and 12 year old children of my partner in

NewYork.com, Tom Stafford, are better than Venus and Serena were at the same ages, and are arguably the best ever in history at their age, so I advise your readers to look out for them soon."
Hardy now has his sites set on plans to develop more of the domains in his portfolio as he has done with NewYork.com. "I plan to unpark many of them, having a first-threshold goal of 1,000 fully operational websites by the end of 2008, covering a broad range of topics, ranging from energy conservation (CleanBiodieselFuel.com), to crime prevention (CatchPedophiles.org), to sports (FastEddieChambers.com) to everything in between," Hardy said.
Hardy protege "Fast" Eddie Chambers
The unbeaten heavyweight has a
30-0 record with 16 knockouts.

"In the latter connection, Phase I of the FastEddieChambers.com website went live on the morning of November 2, 2007 to support the professional boxer whom I represent, 'Fast' Eddie Chambers, as he prepared for his November 2nd elimination fight to fight for the Heavyweight Championship of the World. Chambers is universally recognized as the best American heavyweight and boasts a perfect professional record of 30-0 with 16 knockouts. Our mission is to bring the Heavyweight Championship of the World back to American soil. In terms of the Internet, the mission is to have him be the first professional athlete, certainly the first ever professional boxer, to have a comprehensive global e-commerce based Internet strategy as part of his armamentarium," Hardy said.

"In so doing, we recently formed a marketing alliance for Chambers with domain legend Michael Mann and his Washington VC/Grassroots.org operation for the promotion of their Phone.com telephony services. Phone.com branding on Chambers' apparel, on his website, and in certain of his public activities will expose Phone.com's next generation telephony services to millions of prospective customers worldwide," Hardy predicted.
Hardy has to balance his domain related endeavors with a full-time career in the financial world. "I handle all global business development for Hennessee Group LLC, the world's preeminent hedge fund advisory firm and the creators of the Hennessee Hedge Fund Index, which, more than any other benchmark, is quoted and referenced in the financial news media, and is relied upon by traders and others as THE definitive information source for all things hedge funds," Hardy said. "I'm quite proud of the fact that over the Index's 20 year life from 1987 to the present, the Hennessee Hedge Fund Index has dramatically outpaced every major benchmark, including the Dow Jones Industrial 30, the NASDAQ, the Russell 2000, the Lehman Brothers Bond Index, and the S&P 500. (Click here to see the comparative indices chart and click here to see the comparative indices scatter diagram).
"The company also publishes the Hennessee Hedge Fund Review monthly, which provides a comprehensive hedge fund performance review, statistics, and market analysis. One of my focuses is to market and promote the Index's enviable returns to large institutions, like corporate and government pension funds, sovereign funds like China's $200 billion China Investment Company Ltd., and others of that ilk, as well as to quasi-institutional and other high net worth individuals. Specifically, Hennessee Group provides clients with investment strategy consulting and direct hedge fund investments," Hardy said.

With all of that on his plate, Hardy still views domains as an investment category well worth spending his time and money on. "I think that the business has huge upside potential for years to come," Hardy said. "What with the emergence of new TLDs, and a better understanding of the value of the most appropriate domain for one's business, I think we will continue to see ever higher prices paid for domains. I also believe that what I call "longer, more intuitive names", for example NeverGainWeight.com and

Leland Hardy photo
courtesy of Brady Dillsworth

DubaiCraneRentals.com, will have increasing value as users increasingly type what they want directly into browsers rather than search for what they want using search engines."
Hardy added "I would like to play an increasingly important role in the space by judiciously acquiring names through original registration and through strategic acquisition. I believe that there is a real opportunity to institutionalize the arbitrage of name acquisition/sales and I am looking at putting together an M&A operation, if you will, for the domain space."
However things play out in the years ahead, Hardy will always remember his visit to T.R.A.F.F.I.C. East where he met so many fellow domain investors face to face for the first time. "I felt a sense of camaraderie unlike any I have felt in any other industry, and I have been involved

in a number of disparate endeavors. It is as if domainers recognize that we are a small, nuclear subculture within the Internet industry and we operate by our own sense of honor and self regulation," Hardy said.

"I especially enjoyed meeting legends like Frank Schilling who has some 450,000 domains in his portfolio, and Michael Mann, who is arguably the most prolific domainer of all times - not because of the sizes of their respective portfolios, but rather because of how genuinely nice each guy is. I also thoroughly enjoyed meeting those who provide the services that help us domainers maximize revenue from our parked pages, and the journalists who keep us all informed, not the least of whom is the editor of this very publication and his lovely wife," Hardy said. We certainly enjoyed meeting him as well and appreciate that Leland has proven once again that the greatest thing about this business are the people in it.

Leland Hardy and Forbes Magazine publisher
Steve Forbes at T.R.A.F.F.I.C. East 2007
*****