While it may haved seemed to some that Berkens suddenly appeared out of nowhere, his arrival in the domain business was the culmination of a well planned trip he has been on since childhood. Berkens always knew exactly where he wanted his path in life to lead so he set about building a road that would take him to his destination.
Berkens's father provided the inspiration for Michael's journey but unfortunately the example he set was one that took years off his life. Michael was determined not to make the same mistake. "My dad started having major health problems when he was in his late 50s," Berkens said. "He was very heavy, smoked, and that certainly lead to several heart attacks he suffered which was very hard on the family. My dad died just a few years after they retired and my mom lived for 14 years more, quite lonely, although she lived with us for years, as well as years with other family members, but nothing could replace my dad."
"He was an estimator in the printing business and my mom also worked all of her life for banks and insurance companies. They were very loving parents who worked hard all their lives, raised their family in Brooklyn, and retired. They never made much money - it wasn't a priority to them - and they hardly ever traveled," Berkens recalled.
"I decided that I would try to stay healthy, travel, do as much as I could while I was young, and not buy into that part of the American dream, that you wait until you retire to do all the things you want, because you may not make it and even if you do, you may not be in the physical condition to enjoy it. I was always looking for businesses that could afford me the time to do this and provide extra money in the event of disability," Berkens said.
Michael set about fulfilling his dreams by working his way through school. "I went to Brooklyn College because I could live at home, and tuition was basically free, which was great since my parents didn't have any money to send me away to school," Berkens said.
"I worked all through college, nights, weekends and summers. My summer job was being a foot messenger in New York. I walked, took the subways and visited some of the great buildings in New York. My favorite was the World Trade Center. I loved it when I got to do a delivery at the Port Authority; they ran the building and were on a very high floor, which meant I got to take the rocket-like elevators up 90+ stories. During the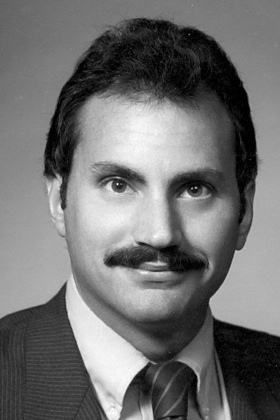 Young attorney Michael Berkens had
worked his way through college & law school
school year I worked at night delivering tuxedos. I would drop them off fresh and clean on Thursdays for the weekend events and fetch them all dirty and nasty on Monday."
That hard work allowed Berkens to earn his degree and plot the next step in his journey. "Almost as soon as I got to college I decided I wanted to become a lawyer. I went to Stetson in St. Petersburg, Florida because it was the only school in a warm climate that I could cover tuition and room and board with my $5,000 a year government student loan," Berkens said.
"I did the law review thing, worked for the Dean part time and the rest of my time was evenly spilt between the library, playing ball and drinking with fellow students.
After I graduated from Stetson I went on for another year to get a masters degree in tax law from the University Of Florida."
Berkens landed a job with a big law firm in St. Petersburg, but after he met his wife Judi she urged him to start his own practice. Michael did that and the two of them would go on to spend virtually all of their time together, at work as well as at home. In April the couple celebrated their 22nd wedding anniversary but Michael recalls the day they met as if it were yesterday.
"I met Judi in a condo on St. Petersburg Beach where I was living," Michael said. "She came over to visit a girlfriend/model that also lived in the building, who I hung out with once in a while by the pool. So I saw Judi down by the pool in a white bathing suit and I ran down to have the friend introduce me. As you can see from the picture she undoubtedly threw herself at me, unable to resist my incredible good looks," Berkens laughed.
"We were married less than two years later and ever since we have worked together and been partners in every business we have done. Judi has been by my side every step of the way, which makes our story even more special.
We've had the chance to travel extensively and enjoy every day together, even during the years even when we worked 18 hours a day."
"It's great to achieve success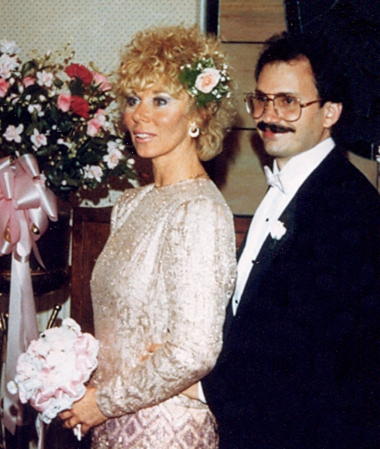 Judi & Michael Berkens on their Wedding Day
in your life but it's truly exceptional if you can do it side by side with the one you love. Judi and I are both big football fans, Florida Gators in college and the Tampa Bay Bucs in the pros and we love to root for our teams.

By the way a little life advice guys, marry your best friend and make sure you root for the same team!," Berkens grinned.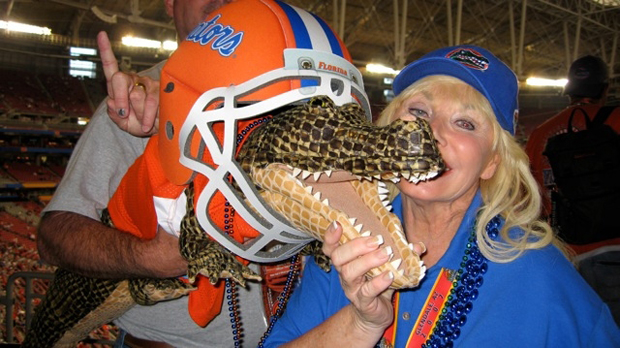 Above: Michael & Judi celebrate the Florida Gators 2006 NCAA football championship after watching their favorite team beat Ohio State 41-14 in Glendale, Arizona Jan. 8, 2007 (Editor's Note: It was hard for me to run this photo - I went to Ohio State).

At left: Michael & Judi at Super Bowl XXXVII, played at Qualcomm Stadium in San Diego Jan. 26, 2003. They had just watched their beloved Tampa Bay Buccaneers beat the Oakland Raiders 48-21 to win their first (and only) Vince Lombardi Trophy as NFL champions. (Editor's Note: I had no problem running this picture as I live in Tampa and have also been rooting for the Bucs since they joined the NFL in 1976).
There is a third member of the family that also plays a key role - the couple's beloved Yorkie - Bandit. "He is actually the 5th dog we've had," Michael noted. "When we first got married we had a boy and girl Maltese, who in turn had 3 puppies and long story short - we kept them all (very bad idea to have puppies born in your house). We got Bandit after one of the puppies died at 10. All the others had nice long lives and Bandit kept the girls young."

"Bandit is now our only "child".

Bandit's been on over 40 planes including seaplanes, helicopters, props and jets.

Maybe he's a little spoiled.

I know… you want to come back as him in your next life; me too!," Berkens said.

Michael & Judi's "only child" Bandit
has gotten used to riding in style.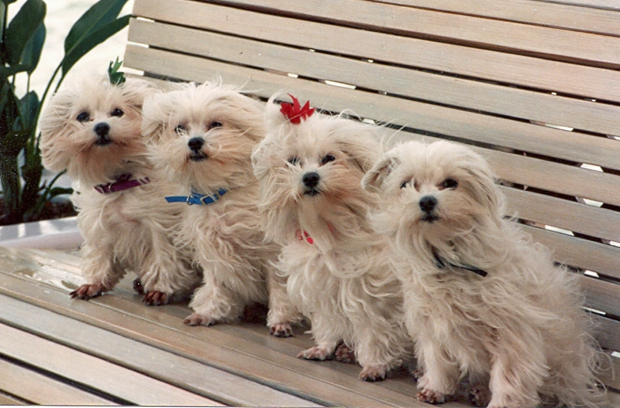 Michael & Judi's menagerie started with this Maltese mommy and her three pups.
"Around the same time Judi talked me into leaving the law firm, I remember reading in the newspaper that GTE, at the time the local phone company, was going to start 976 number service in Tampa. When I grew up in New York, I remembered seeing ads for 976 sports, weather, and "dial a joke" type of services. I thought I could put an answering machine in my law office give out some information, get people to call, and make money while I was working, sleeping, or on vacation," Berkens said.
"I recognized early on that although you could make a nice living as an attorney, you only got paid when you spent your time, and you only have so much time.
Selling your time is a pretty scary way to make your living since if you get sick, you don't work, and you don't get paid. If you go on vacation you don't work and you don't get paid. If you spend time with your family you don't get paid.
So I figured I needed to find a business that would generate revenue when you weren't working, when you were sleeping, on vacation, spending time with your family or simply unable to work."
The seed for this mindset was planted when he was still a kid in Brooklyn. "Seeing my Dad have so much downtime from suffering many heart attacks, and knowing that heart conditions to a large extent is heredity, really drove me to find a business that would provide income if I was unable to work. I know I sound like a commercial for Aflac Insurance, quack!" Berkens laughed.
"So, I researched the whole pay per call industry and one guy who was already in the business gave me life-changing advice. Although he had no good reason to do so, he counseled me, told me forget the sports and the jokes, and do live chat."

Working as a team, Michael and Judi started a 976 service in a tiny office where Michael practiced law in the front while phone operators worked in back. To drum up business they started running local TV ads.

They produced over 20 commercials that ran in the Tampa Bay area. With that experience under their belts they were ready to take advantage of a new opportunity when the local 976 services gave way to national 900 numbers.
"Before we knew it we were producing over 30 commercials a year, running spots all over the country on local stations and nationally on the USA Network and WGN out of Chicago.
We expanded from our little office to our own building where we had 80 operators and had hundreds of commercials running coast to coast every night," Berkens recalled.
In 1997 Berkens discovered a new technology that would lead to his debut in the domain business. He still vividly remembers that moment. "While at a tradeshow for the 900 industry in 1997, a friend said "I want to show you something". He brought me up to his room, opened his computer and showed me a live webcam feed. He was on a dial up connection, 28.8, as we all were back then. The picture changed like every 30 seconds, was very pixilated and very small. I watched for a few minutes and he said, "this is the future".
However, given the poor quality of the Internet transmission at that time Berkens said he also thought "who is going to watch this crap!?"

His friend replied "it doesn't matter what you do on the net, figure something out and do it."

"I knew how valuable good vanity telephone numbers were, so I started registering domains, thinking that one day they would be a good thing to own," Berkens said. " Still, I did not regard myself as a domain investor back then, nor did I regard it as a business. I simply thought domains would be a good thing to have."

However, Michael's new "hobby" would soon take on a life of his own. "My first registrations were all geared towards adult and in 1999 when other registrars were allowed to compete against Network Solutions in offering domain registrations, I knew it would only be a short time until one of the new registrars would allow the "7 dirty words" to be registered. So every day I would check to see if one of the new registrars were up and running to try to register a few of those domains," Berkens said.

A famous routine by comedian George Carlin immortalized the 7 dirty words you can't say
on TV. A few years later it became possible to register those words as domain names.
"One day in July 1999, DomainBank.net, maybe the 5th registrar to become accredited, went live and I sat and registered what I thought were the top 100 adult domains with explicit words. Their system was very primitive; I remember that you had to type in all the contact and other info for each domain. I remember it taking like 15 minutes per domain," Berkens recalled.
"The next day I called the owner of the registrar, to make sure they were valid registrations and found out that there system was not eliminating domains that had already been registered by other people, so out of the 100 domains I thought I got, I wound up with only 35. But the next day I turned down offers as high as seven figures for the 35 domains."
For the $70 that each 2-year registration cost him, Berkens would up seeing a phenomenal return on his investment without having to sell the names. He noted that some of those domains have earned into seven figures over the years.
Michael & Judi visit Beverly Hills during their trip to the
2008 DOMAINfest Global conference in Hollywood.


Berkens added that he also made his share of mistakes along the way but said his biggest regrets did not involve domains he bought, but rather deals he didn't do. Michael summed it up saying "Although I paid way too much for some of the domains I bought, those don't bother me anywhere as much as the ones I could have had but passed.

Certainly, I wished I had registered a lot more non-adult domains back in the 90's."

With more than his share of hits Berkens does not waste time worrying about his misses. "As a general rule I don't think it's tremendously productive to look at each purchase, each sale, and analyze them to see what you could have or should have done.

Instead people should look long term," Berkens said.

"If you have been in this

industry for five years, have you been successful? Is your portfolio better today than last year, than 3 years ago? Is your revenue growing? Is your business profitable year after year? Those are the bigger questions and if you can answer yes to those, you've done well.

So when you ask me about my greatest success I would say it is that for the past 10 years I can answer yes to all these questions."
Berkens has been in the domain business long enough to have witnessed all of its ups and downs. In terms of PPC revenue and sales at the high end of the market, we are in a down cycle now. Despite the gloomier atmosphere brought on by the recession, some see new opportunities that were not there a year ago, similar to 2000 when the ".com bust" put a lot assets back on the market giving people like Frank Schilling and Kevin Ham an opportunity to get into the game relatively late and still thrive. However Berkens sees a fundamental difference this time around.
"Back in 2000 non-adult traffic was not really being monetized," Berkens noted. "What burst in 2000 was the dot com bubble, where a ton of public companies in the internet business went out of business and shares of publicly traded internet companies plummeted. At that time people thought there was no future in the Internet. They thought The Internet was an

over-hyped fad that had been proven by the market to be a failed business model and doomed.

This left a lot of people just dumping domains - if the Internet was done, who needed domains?"

"Today's situation is completely different.

We know that the Internet is here to stay. But the business of domaining is under attack.

Under attack by trademark holders.

Under attack by ICANN who is considering lifting the price caps on domains which would mean domain renewals would not be priced at $8 per year, but each domain's renewal fee would be priced based on what each registry considers each domain to be worth.

Under attack by Google and Yahoo, which have reduced PPC payouts by 50% or more.

So while the Internet is thriving, domainers are having problems," Berkens said.



Domaining is under attack.
"Those domainers who built huge portfolios by reinvesting their PPC earnings, are finding their income halved or worse.
So most domainers without cash reserves have to either sell more domains than they are used to, and/or let domains drop as many simply will not be able to afford the registration fees.
The free spending, low savings society we all lived in, changed overnight last year.
Domainers are no exception."
"Many domainers re-invested all or most of their profits in more domains.
Many domainers, like most Americans, had too little cash reserve in case times got tough.
Well times are tough.
I think PPC has seen its best days, but that's not to say that another model will not come along that will one day equal or surpass PPC.
It's's not all doom and gloom," Berkens added.
"Ongoing revenue is just a piece of the domaining business. I still think there are tremendous values out there. I bought RestaurantSupply.com in the last T.R.A.F.F.I.C. New York live auction (which was held during the stock market meltdown) for $20,000 and it will do over $3,000 in the first year parked.
Not a bad investment.
One day the domain will fetch in the six figures.
Plus it's a pure, clean, category killer.
I don't think anyone bid against me on the domain. I got it for the opening bid in front of hundreds of people.
I tell you this just as an example of the opportunity that still exists," Berkens said.
Berkens mentioned the possibility of a new model someday taking the place of PPC. Of course, many are already looking for something that can restore the earnings that have disppeared since the pay per click model fell into its ongoing decline. Some are trying CPA, some mini-site development and others are placing more emphasis on selling their domains. Berkens weighed in on the options.
"The problem for domainers is that there is no other proven, scalable solution other than PPC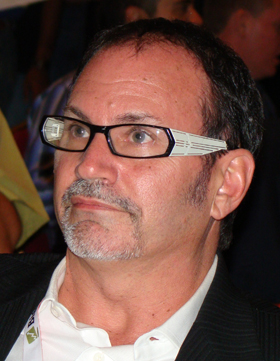 Berkens in the audience
at a live domain auction at
T.R.A.F.F.I.C. New York in Sept. 2008.
for thousands, tens of thousands and hundreds of thousands of domains. Therefore the upstream parking companies, Google and Yahoo, are getting the same domain traffic they were getting last year, but just paying half as much for it.

If you can pay half for the same thing you were buying last year, wouldn't you? I mean what is the incentive for Google or Yahoo to pay more at this point?" Berkens asked.
"Will PPC ever return to its highest levels? I would say no, unless something breaks up the Google/Yahoo monopoly on PPC upstream providers. This could be in the form of Microsoft's Bing.com becoming a player, the acquisition of Yahoo by Microsoft, or a brand new scalable solution comes to market to compete with PPC, thereby increasing the amount Google and Yahoo pays us to retain the traffic."
"The Internet, in and of itself, is ever changing. Remember when Lycos and Alta Vista were major search engines? It wasn't that long ago.
So when you ask if domainers need to be prepared for a permanent replacement for that income stream, I say domainers need to be prepared in general," Berkens said.
"First you need to have a plan.

An acquisition plan. A sales plan.

A business plan.

If your income is going down then you may need to replace your income by cutting your expenses.

Every day I

Diversify!

still see people by the hundreds spending $69 to backorder a domain that isn't worth the $8 registration fee.

Almost every day someone sends me lists of domains they want to sell that aren't worth the registration fee.

Dump the crap, be selective on your acquisitions, and start selling if you have to."

"In business you should never rely on one source of income, and domaining is no different. So yes, parking revenue is down and you should have already started looking for a replacement for that income last year when it started to fall.

Whether the decline is permanent or not, you need to try and replace the income or reduce your expenses. You need to develop different channels and different sources within each channel,' Berkens said.
"When we first started domaining as a business, we made a decision to sell enough domains each year that my registration costs were met, so any income from traffic would be pure profit. We have achieved this for the last 10 years.
Now many people are finally waking up to the idea of selling.
So my advice is to try things, many things, everything."
"If you are parking your domains, try different parking companies, spilt your domains up and try them at several companies, try affiliate programs, try to find white label solutions like we did with LuxuryBedding.com, DiscountBedding.com and HomeFashions.com."
"If you're selling your domains try several channels, SnapNames.com, Sedo, the Domain Distribution Network, NameMedia's network (BuyDomains and the AfternicDLS), Bido.com, domain show auctions. Try different strategies. Some will work and some won't.
Sometimes you're going to win and sometimes you're going to lose.
If you don't try different avenues and sit tight you are going to really lose.
Remember when it comes to monetization or sales, not every solution fits every domain," Berkens added.
Though running his business is already a more than full time job, Berkens has chosen to devote a major portion of each day to providing useful information to others through his blog at TheDomains.com. Consistent blogging requires a lot time and effort, usually with little or no financial return. Berkens is certainly one of the best at what he does but why does he do it?
"I started the blog to give back to the industry that has given me so much," Berkens said. "A lot of people gave me advice, information and insight when they had no reason to do so. So I feel it's only right to do the same. My goal in starting the blog was to educate domain holders and hopefully reach outside the industry to promote domains as an investment."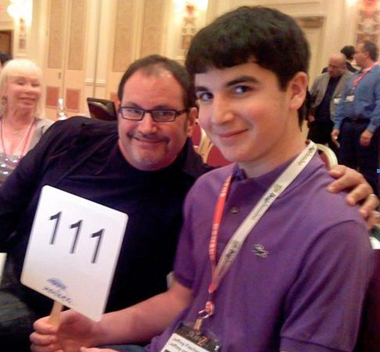 Michael Berkens helps young domainer Jeff Fischer (son
of industry veteran Larry Fischer) buy his first domain
at the 2008 T.R.A.F.F.I.C. Las Vegas conference.
"I have to admit I am quite surprised at how much time the blog takes though. It's not just finding stories and taking the time to write them, but responding to comments and managing the blog. At least once a month I think about not blogging anymore.
Then there are other days, I think blogging its one of the best things I ever decided to do.
The upside is it forces you to get educated on all the issues, to keep on top of everything going on in the domain and Internet world, and definitely keeps you sharply focused." Berkens said.
"I have also had a chance to meet and communicate with a lot of people in the industry that I otherwise never would have. There are amazing, very smart people involved in this industry and it's been my pleasure to meet many online and have an open line of communication to bounce ideas off of them.
"
"We have dealt with many important issues and TheDomains.com has become a forum for great discussions between domainers, industry leaders, representatives from ICANN and VeriSign, many of the top domain registrars and registries, parking companies, even trademark holders - all joining in heated, yet informative discussions."
"I think in the year and a half I've been writing there has been a noticeable shift by domainers away from registering trademark infringing domains, towards generic domains. I hope that my opinion on the issue was in small part responsible for the shift.

I think I have helped educate the industry on the importance of the Internet Commerce Association (ICA), increased their membership base, and raised a significant amount of money for them.

"
"Right now I think the industry is at a crossroads.
There is just so much going on right now, from the possible introduction of hundreds or thousands of new extensions, the expiration of the ICANN contract with the U.S. Commerce Department in September, ICANN's proposed URS (Uniform Rapid Suspension system that could replace the UDRP), the possible lifting of price caps on domains, and the PPC issues we are all facing, just to name a few."
"So I'm going to stick around during these highly volatile times to try and shape some opinions, try to influence the outcome of these issues, and move the industry forward.
On the other hand I don't see myself doing this forever.
We all know that life is short, time is precious, and it can all change in an instant," Berkens said.
Berkens mentioned the effort he has put into rallying support for the industry's trade association, the ICA. While his persistent message (and his personal financial contributions) have helped the organization immensely, he is disappointed that the industry as a whole has not done more.
"The lack of support for the ICA is pretty amazing, yet I do understand it in a way," Berkens said. "Several years ago when Rick Schwartz and others were screaming and yelling about getting
support for the ICA, the need for a trade organization, the need for a lobbyist, the need for a PR firm, the need for money, I have to admit I pretty much ignored their cries as well."
"However, Rick as usual was very forward thinking. Back a few years ago I just didn't have interest in ICANN or the issues of the day.
Rick saw what laid ahead.
I did not.
However today is a different day. Why? Because what Rick and the other early members of the ICA, including Frank Schilling, had the vision to see coming, has now arrived.
With the VeriSign no-bid contract awarded a few years ago, the Snowe bill of last year, Kentucky seizing domain names (still under appeal), the new proposed URS and the continuous pushing of ever changing rules in favor of trademark holders, the need for the ICA is clear and undisputed.
The need for the ICA has become a no brainer.
The need for the ICA is not up for debate.
You don't have to be forward thinking any more, the storm has arrived and you either have to react or just be prepared to give up your property."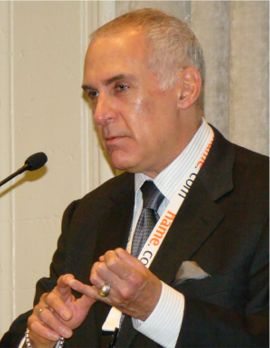 ICA Legal Counsel Phil Corwin was hired
by the industry trade association's founders
to defend the rights of domain owners.
"Today we have a bigger problem than even the lack of support for the ICA.
I see a tremendous amount of disinterest by domain holders in any issue dealing with ICANN.
Without a doubt any post I write about ICANN receives much less readership then many less important topics."
"The number one excuse I get for not joining the ICA is that is "costs too much ($295 a year)."
Yet how many domainers submitted comments to ICANN on the URS, the biggest threat to domain holders ever considered by ICANN? I counted less than 40 responses by domainers. Commenting to ICANN costs nothing, not a dime, just 30 minutes of your time. Yet few took the time to comment," Berkens noted.
"So, the cost to join the ICA is a red herring.
The issue isn't the cost; the issue is the disinterest by the vast majority of people that consider themselves domainers.
This gets to the real question. Are you a professional domain holder that conducts your activities as a business or are you just a guy who owns some domains? Domain holders need to decide if this is a business to them or something they just can make a quick buck off of until something else comes along," Berkens said.
Michael Berkens reads a birthday card after his wife and
friends surprised him with a cake and impromptu party
at the 2008 T.R.A.F.F.I.C. conference in New York.

A lot of people enter the domain world thinking it is a carefree way to make an easy living. Berkens dispels that notion. "This is a very tough business," he declared. "You have companies in the "domain business" that have hundreds of millions of dollars in capital invested, all the way down to the newbies you see offering the Michael Jackson domains for sale on eBay for $21 Million. To the general public they look at both as "domainers", Berkens said.

"If you read TechCrunch any time they have a post concerning domains, read the comments and you will see what I mean - people hate domainers. Although all of them wished they registered sex.com back in the day and sold it for $12 million they hate you for having the foresight.

This mentality is not exclusive to domainers.

Human nature is highly jealous of success."
"Somewhere along the way we went from a society who looked at success stories and used them as inspiration to create their own, to one that looks at successful people and eagerly awaits and looks forward to their fall. If you could get the honest answer of the American population, almost all would say they admire Donald Trump, almost all would love to be like him, enjoy the success he has, but almost all would say they would be happy if he lost it all."
"Everyone would love to have 100 great domains they could have registered in 1995.
Everyone wants to have what Frank has.
But 99.9% of the general population missed the boat and now they're pissed off at the one's who got onboard, who thought of it first, who beat them to the punch."
"People who own a lot of apartments are called "slumlords." People who take over public companies are called "corporate raiders." People who practice law and get large verdicts are called "ambulance chasers." People who have sudden success are dismissed as being "Lucky." People who own a lot of domains are call "cybersquatters."
This is human nature," Berkens said.
"However the domainers I know are extremely hard working.
Honestly, I don't remember the last day I had a whole day off. Its certainly been many years ago, and probably because I couldn't get a connection or my computer's hard drive failed.
However, I think that is typical of domainers.
The domainers I know work, or worked, when they were building up their portfolio, 7 days a week, 10+ hours a day, 365 days a year," Berkens said.
"Yes, the best thing about being a domainer is you can work anywhere, the worst thing is you work everywhere.
Domainers by and large are self-made. I don't know of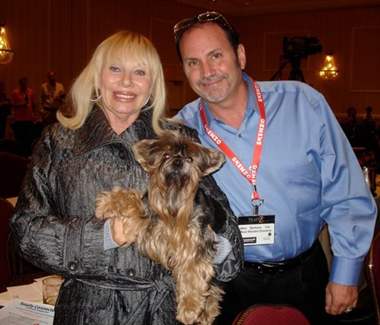 The first dog ever to attend a T.R.A.F.F.I.C. conference!
Bandit with Michael and Judi Berkens in New York.
any domainer who grew up with a ton of money. We either made money in a previous business or in the domain business but what we have, we earned."

"Domain holders created an industry.

An industry that didn't even exist 10 years ago.

A very profitable one. We're living the American dream," Berkens concluded.