Meystedt just made news around the world last month when he purchased Symbolics.com, a domain that will forever be part of Internet history as it was the first .com domain ever registered (back in March 1985). His growing portfolio also includes HY.com, Copies.com, March.com, iBlog.com and ImageSharing.com, to name just a few.
The circuitous path that Aron followed to success in this business is reminiscent of the kinds of twists and turns that the pioneers who proceeded him had to navigate before they reached the "promised land". For most of his predecessors the journey stretched over decades but Meystedt's many trials in the entrepreneurial fires have been compressed into less than one. The extraordinary number of misfires that Meystedt endured along the way trumps any we have seen from far older entrepreneurs. His life story is a text book lesson on never giving up.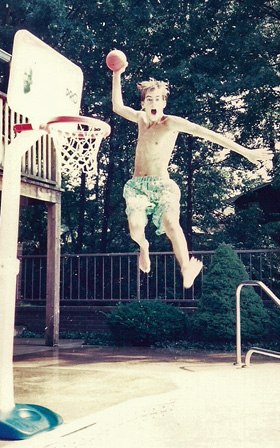 Aron Meystedt grew up
wanting to be like his Dad.
"I tried it all, from coast to coast, from importing to online businesses," Aron said. "I had ambition, a good business foundation and the willingness to put in long hours to succeed but I lacked direction. I feel like God has really pointed me in the direction I am heading in now and I feel like this is the industry I should be in. Now, as I look back, the failures were learning experiences that helped lead me to the path I am on today."
When Aron was born in Cape Girardeau, Missouri on December 21, 1979 a lot of people thought he would grow up to be a professional athlete just like his dad, 6'6" Kermit Meystedt (better known as "Moose" because of his size), a college All American at Southeast Missouri State who later played pro basketball with the ABA's Kentucky Colonels. Aron, who topped out at 6'1", would eventually have a brief brush with the world of pro sports, spending one spring with major league baseball's Minnesota Twins - but his destiny would lie elsewhere.
Aron's life and belief system began taking shape during his early childhood years in Cape Girardeau, a town of about 40,000 people that sits right on the Mississippi River, 100 miles south of St. Louis. Radio talk show host Rush Limbaugh also came from Cape Girardeau and the Drury family (of Drury Hotels fame) also hails from there.
When his dad's pro basketball career was cut short by injury Moose came back to Missouri and made a decision that changed his life and also had a huge impact on Aron and his siblings. "In 1982, when I was still 3, he became a Christian," Aron recalled. "He quit drinking and felt led to start a trucking company (of all things) which he named Genesis, because it represented a ďnew beginningĒ for our family. This business is still used as a ministry today and often delivers goods free of charge to the homeless and the needy.
"My dad has been the most influential person in my life by far. Heís an incredible father. Heís caring, loving, fair, and just a great man. Heís the dad that still says ďI love youĒ when we get off the phone, or when I leave his house," Meystedt said.
"Both of my parents taught the three kids (my brother Jay, sister Madra and I) about business and living a productive and clean life. As kids, we were involved in business discussions every day. We learned about employees, real estate, customers, and ethics at the dinner table every night. We didnít think anything of it at the time, we assumed all families grew up discussing business over supper!"

Aron added, "This was a great foundation to start from. To learn everything about owning and running a business at a young age was a great advantage growing up and it had a great impact as all

Aron, sister Madra and brother Jay

three of us have grown up to be entrepreneurs." Aron's sister Madra, who is now 36, owns a very successful spa and salon in Missouri and brother Jay, who is two years older than Aron, owns a real estate company named Shiloh.
"Our family is incredibly close, and itís been held together by our Mom (Sandy)," Meystedt said. "Sheís an incredible Godly woman. My business background came from my dad, but my ethics and morals came from my mother. I canít say enough about her. She gives her time and money to numerous causes from helping local churches and schools, to sending clothes by the truck load to the homeless. My parents are incredible people and life would be pretty much un-bearable without them."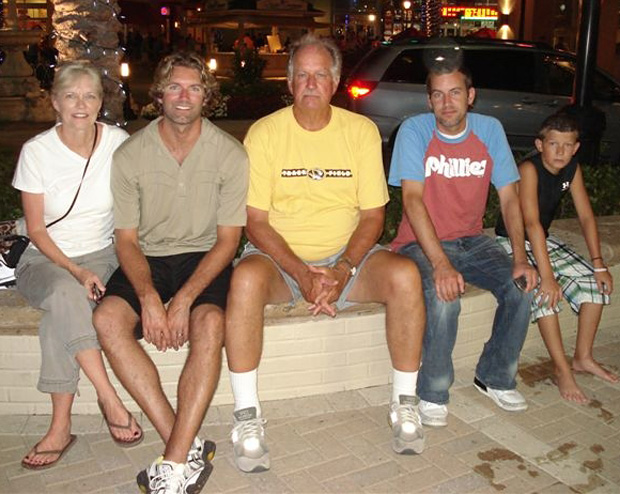 (L to R): Aron's Mom Sandy, brother Jay, father Kermit, Aron and his nephew Graesen
While Aron is effusive about his parents, he is less interested in talking about his own accomplishments. "Without beating you over the head with religion, I know that life and everything in life is a gift, and I canít take credit for many of my successes. Pride is taking credit for something that God has done and the Lord has had a hand in guiding me each step of the way. I was completely lost, grasping at anything that might make me happy. I tried it all and I was motivated by success and the dollar. I feel that when I finally surrendered and asked God for guidance, great things began to happen. This was a turning point in my life," Meystedt said.
While money is no longer Aron's primary focus, running a business is in his blood. "Our parents infused an entrepreneurial mindset in us and we grew up having aspirations of business ownership," Meystedt said. "By the time high school arrived I had found a supplier of car audio

and setup a simple website selling stereo equipment. This little business was the first of many, and it was fun. My bother and I actually ran this together. He was four hours away at the University of Missouri on a track scholarship and I was in Cape Girardeau as a junior in high school. I ran the website and took the orders and Jay shipped out the goods. It was a great learning experience for us. I learned the basics of site development, product management, filling orders, dealing with customers - all at the age of 17."

When Aron graduated and followed in his dad's footsteps to Southeast Missouri State on a full bright futures scholarship, his online activities accelerated dramatically. He would go on to graduate with a 3.75 GPA, a degree in public relations and two business minors, even though much of his time on campus was spent operating various businesses. While it may have looked like he had everything together from the outside, he felt otherwise. "College was the time period when I was the most confused and lost about a life direction. Over that four-year period, my goals and dreams changed at least a dozen times," Meystedt said.

Jay and Aron went into business together when
Jay was in college and Aron still in high school.

"Here is the rundown of some of things I thought I wanted to do with my life when I was in college:
1. Comedy/Comedy Writing. My life dream was to be on a sit-com or write for one. I would spend my summers in college writing skits, songs, movies and comedy TV shows and submit them to every talent agency and TV show I could think of. Years and years of writing and submissions produced no good leads. I was frustrated, but still loved to write.
2. Watches. Again I found suppliers and sold watches online. I set up a site, and let my brother ship the merchandise. These were higher dollar sales, higher margin of profit, and a watch is a tiny item. Shipping and packaging were a breeze. However, the watch sales came to a halt when I stumbled upon something I liked even more.
3. DashKits. I created an e-commerce site in 2002 accepting orders and processing credit card transactions online. I sold wood, aluminum and carbon fiber dash applications for every make and model of vehicle. My little company was even featured in Motor Trend magazine. They wrote an article praising our kits and the orders really started to pile in. It was a blast running this business, and the things I learned carried over into the next venture.

4. Shoes. The dash kit business gave way to the shoe business. My shoe obsession started as a youth with the Nike Air Jordans. My mom would stand in line for

Article in Motor Trend about
Meystedt's dash upgrade products

two hours on the ďrelease dateĒ of the new Air Jordan model, just to make sure my size wasnít sold out. I wore Air Jordan shoes every day, and still do. If you catch me not wearing a pair, take a photo. Itís rare. I really wanted to start my own shoe company.
After extensive research on how shoes are constructed and what materials are best (most cost effective) I located a factory in China and started sending sketches of what I wanted created. Weeks later, samples started arriving in the mail for my approval and emails with hundreds of shoe designs came pouring in. To this date, I have a CD with over 5,000 photos of prototype shoes. I pop it in my computer and scroll the images every now and then, just to bring back memories. The factory and I finally agreed on a design, and I placed my order. I had to arrange the freight from China to the port in California, customs clearance and then rail and truck transportation to my location. It was quite a learning experience. Once the shoes arrived, I began selling wholesale online. However, the aspirations didnít pan out, and I was at yet another crossroads.
5. Cars. I started buying and selling cars. I spent hours and hours searching for good deals on cars - ones that I could buy, have shipped here and resell online for a profit. The thing about me is I am willing to put in enormous amounts of time to ensure that a business project takes off. During college, I purposely scheduled my classes at 8, 9 and 10 AM, so I could be home and rolling by 11AM with my online projects. At any given time, Iíd have five or so cars sitting in my parents driveway that were ready to be sold. Thankfully, I had parents that

Some of the cars lined up in the Meystedt family
driveway when Aron was buying and selling vehicles.

supported me in everything I tried. As long as I was making my grades and staying out of trouble, they let me run any business online that I wanted, as long as it was honest and legit.
The online car sales were fun, but my senior year was starting and I need to do an Internship. Could this be my one last chance to fulfill my original dream of comedy writing? An internship could land me in front of the right people. So the car sales were put on hold and I began the Internship hunt.
6. Internship 1. E! TV in Los Angeles had an opening for an internship, they liked my resume and the phone interview went great. The internship was on Talk Soup and I would help with production and some writing. Was this up my alley or what? I was scheduled to begin in late November of my senior year (this was 2002). We had my housing lined up and I began packing. I was SO excited. Although I had filled my time with businesses and projects during school, my first love of comedy and writing was never out of my mind completely. FINALLY, I was going to be able to move in the right direction.

Then the phone rang. A mistake had been made and they had too many interns. Guess who got the boot? Yep. Me. I was devastated to say the least. I mean, completely crushed. At the ripe age of 21, your dreams are easily damaged, they are fragile. Mom, being the great mom she is, was trying to brighten up my outlook. I sure didnít want to hear the ďGod has a planĒ or some junk about the bigger picture. But she laid it on me anyway, saying ďAron, the Lord can bring someone to our front door, thatís how powerful he is.Ē What the heck was she talking about? We live in the middle of nowhere in southeast Missouri! Whoís going to come to our front door? A farmer!? But incredibly, the very next day, someone DID come to our front doorÖ
7. Internship 2. My dad was sitting in his office when a man he hadnít seen in 35 years walked in. It was a guy who attended college with my dad. He was passing through on I-55 when he thought to stop in and see how Moose was doing. That night at the dinner table my dad had an interesting story about his old friend, who now worked for the Minnesota Twins. It turns out, he has a hand in spring training down in Ft. Myers, Florida. My dad said that Terry, his friend, mentioned internships and that he could put my name in the ďhatĒ.

My mom and I were stunned - someone actually HAD come to the front door the very next day and offered me something that I enjoyed more than anything - Major League Baseball! It turns out I got that internship and was scheduled to arrive in

Florida in mid January (2003). My dad and I left early on a January morning, even though there was 9 inches of snow on the ground and another 5 were on the way. Dang it weíre going I told him. Nothing is keeping me from this! The internship didnít land me a paid position with the Twins, but I had a great time and I returned home with another idea!
8. Los Angeles - Sports. With my whistle freshly wet from the MLB experience, I got on the phone to a sports memorabilia seller in Los Angeles and introduced myself. I was offered a job right there on the phone and I flew out to LA (for the first time in my life) to meet with the dealer. I was pumped. On arrival, we met and talked, but in the end, it just didnít feel ďrightĒ to me. I actually felt the tug of God saying ďnot this one - this isnít it.Ē
9. Magazine. New idea - forget starting something - find a proven business and buy it. The day after I returned home, I started searching for a business to buy and I found one seven hours away in Alabama. It was a magazine publishing company. Sounds perfect. Do you get the sense that Iím just shooting from the hip on most of these? Well, youíre right. I was totally lost as to a life plan or a direction. I was doing it all on my own, and looking to make an easy dollar. The magazine didnít pan out either and I wound up graduating from college with absolutely no plan for my life.
Meystedt felt lost after college but joining his dad's company
helped renew his enthusiasm for life as an entrepreneur.


I didnít attend my graduation - my own graduation. I was mad. In my mind, I had failed.
I planned to be a big shot somewhere by the age of 20, which was then revised to 21, then revised again to 22, and one last time to 23. Now, at 24, I was still a nobody and I wasnít OK with that. I had a big head and planned to conquer the world by this time. My struggles were a great reality check for me. I didnít know it then, but I know it now. I went to work at Genesis, for my dad. One month turned into three, three turned into six and six months turned into two years.

On the plus side, if you are working in a field already, then you start to see opportunities for new ideas, services etc. in that field and thatís what happened while working for my
dad. I saw an opportunity to jump into the warehousing business. It turns out, warehousing and trucking are hand-in-glove. I researched every piece of commercial property in the area and produced ďcash flow chartsĒ on the top five buildings that I thought would be great investments and would generate cash flow if we found tenants. We ended up buying a large commercial property and setting up a successful logistics business on site.
The warehouse was great, but I found myself, yet again, in front of my computer screen late at night wondering what else is out there? I had been away from the Internet for a while, but I knew there was something on there for me. I had been online since 1996 - starting little businesses, buying and selling goods, and I had a ton of great experience. What does this all mean for me? Do I go work for eBay or a company like that? Do I start yet another website on my own?"

10. The answer - House flipping in Florida. "Do you remember the real estate boom in 2005 and 2006 in Florida? Of course you do, we all do. What better spot to jump in than a place Iím familiar with - Ft. Myers Florida. Are you thinking UH-OH right now? Well, you should be! I studied and learned all I could about the trends in the market in Florida. Wouldnít you know it, Ft. Myers had the most rapid appreciation rate in the USA. Thank you God! Was this a sign?
What are the odds that my internship with the Twins was in the same spot that enjoys the most rapid appreciation in the entire country? The odds are sky high. Developers were selling hundreds of houses before ground even broke on the development. Those buyers were reselling the houses before the foundations were poured. Those second buyers were reselling the houses before construction was completed. It was pandemonium!

I called all the developers, but they were sold out! Every developer told me the same story. The best they could offer was a spot on the waiting list. Every house was being flipped. Not a single house was bought for occupancy. Appreciation was 75% per year and in many places, the houses were doubling in value yearly. The bubble was about to burst but I had no idea.
After a few months of dead end leads, I decided to fly down to Ft. Myers. As my plane landed and I turned my cell phone back on I noticed I had a voice mail. It was from a developer - a home had opened up. What a miracle (or so I thought)! After three months of failed attempts, I finally get a call as Iím on the plane to visit these developers in person. I drove straight to the development, bubbling over with excitement!

I signed up for a Plain Jane two-story house, pretty much identical to the other 300 in this small lake-side development. No crazy upgrades, just a new home. $383,000 was the total. Iíll never forget that. Ever. We agreed, shook hands and I flew back to Missouri to get the financing arranged.
My parents were apprehensive, but they knew that I research things to the extreme, so they trusted me. You will not believe the phone call I received the next day. ďAron, you wonít believe this buddy, but my partner sold your house to another buyer right after you left. I had no idea, and the paperwork has already begun.Ē
Well, I thought, sell me one just like it next door - but they couldnít. Something had changed, something out of their control had happened and they had to stop selling for a little while (some technical problem) but they would call me when everything fired backup again. ďRemember Aron, this development just started, and we have a lot of houses to sell, so youíll get one. Donít worry. Weíll call.Ē Weeks went by. The phone never rang. I never heard from them again.
Fast forward to today. 2009. Right now. It turns out no area in the USA has been hit harder by foreclosures than Ft. Myers, Florida. For giggles I receive a foreclosure report for Southwest Florida every night at midnight. Itís packed with dozens of foreclosure homes in the Ft. Myers area. It highlights the ďnew to the marketĒ foreclosures (usually 30-40 per day) and it highlights the 30 or so homes that have been discounted that day.

Last month, I was scrolling the listings when I stopped on one thinking ďthat house looks familiar.Ē It was the house. MY house! Same development, same address, same lot number,
same model. THE HOUSE. It was in foreclosure. Itís for sale right now. Not for $383,000 either. The same house that I missed out on at $383,000 is now for sale at $165,000!
At the time the deal went sour I was miserable. I was lost. The ďtrain to richesĒ had left the station and I was bent over tying my dang shoe. The truth was, the train had left the station six months before that, but no one knew it yet. The writing was on the wall, but people were so blind with greed, they ignored it.

Today, Iím so thankful that the deal bottomed out. Sometimes we are looking so hard at something, trying to make it right, that the obvious passes us by. I can see now, incredibly that I was being protected from making the worst mistake of my life. This house would have buried me so far in debt at a young age. Praise the Lord for making this deal collapse at the last second. I decided, from this moment (after the deal fell through) that I was trying too hard to accomplish something on my own. I really gave the situation to God and let him guide me to where HE wanted me to be."
After narrowly escaping calamity in real estate, Meystedt's prayers were answered when he accidentally stumbled upon the world of domains when he came across an article about the industry one night. "I had no idea you could buy and sell names in the aftermarket. I assumed once a name was registered, it stayed with that owner forever. GreatDomains.com was one of the first sites where I noticed names being traded. I had been online for nearly a decade, buying, selling, registering domains,
building sites, finding suppliers - I knew about domains but I didnít know about their potential," Meystedt said.

"All of the failed previous efforts appeared to be leading to this moment in my life - this direction. I wanted to make up for lost time. I didnít mess around hand registering 5,000 junk names. I wanted to start with just one name. Just one at a time was my thought. I wanted to establish myself. I wanted to be known as a company - have a brand identity and not just Aron, domain investor number 60,300. I purchased XF.com."

Meystedt, who plays drums in his church band,
believes he has finally found his career calling -
buying and developing high end domain names.
It was my first one, just three years ago. I read about the rarity of 2-letter .com names, how there are only 676 combinations and how many top companies operate on 2-letter names like AA.com, BN.com, PG.com , BK.com, AE.com, BP.com, CK.com, GE.com , JJ.com, ML.com etc. Having a short, catchy name like XF.com seemed to give me credibility early on and I needed that.
Secondly, I knew I needed working capital. When you are starting in the business, you have to buy and sell and buy and sell in order to build capital to keep moving forward. This was the plan for me and it really helped me get going. I started by spending $3,000 on a name with traffic shortly after the XF.com purchase, then bought and sold several revenue-generating names over the next year.

I had a plan, mapped it out in phases, that was in place before XF.com was ever purchased. Phase 1 was to acquire a respectable company name, Phase 2 was buying and selling to raise capital (with a one year time frame) and Phase 3 was acquisition of names to keep to build a portfolio - thatís an ongoing process. Phase 4 is build out and thatís the phase Iím in now. Iím working overtime on development, joint ventures, leases and partnerships.
Acquisition of names for the portfolio never stops. You canít be stagnant, you always have to be progressing, making new deals, and moving forward. So back to the capital raising plan. Pick up some names with traffic or revenue as those are the easiest to flip - youíll always find buyers," Aron said.
Meystedt made news around the world with his latest major purchase - the first name ever publicly registered on the Internet - Symbolics.com - for an undisclosed price. "To me, it is a great honor to own this domain name. I feel very blessed for being able to acquire it," Aron said.

(Editor's note: One domain, nordu.net, was activated earlier but that was done by the registry to serve as their nameservers. Symbolics.com was the first name ever registered by the public).
"I feel very passionate about our industry, and owning the first registered domain name is very special to me and my company. Itís the first of nearly 200 million names. That will never change. No alternate TLD, legislation or technology will change this fact. There are no comparables for this name. The name is Internet history. To me, this is the crown jewel of our portfolio. We have plans for the domain that include a celebration on March 15, 2010. This will be the 25th anniversary of the domain name, and the active Internet (so to speak). March 15 of next year should be a special day for all of us."
At 29, Meystedt expects to have many years ahead of him in the domain industry. It is a field that is in constant flux, but Meystedt said there are some things about his company that will never change. " Above all, I want to remain established as a company of trust and honesty. I want the XF.com brand to be a positive light in our industry, and a business that people know is run ethically."

"The long term goals are to build the best business I can, while operating ethically and treating every person that crosses my path with equal respect. I have been blessed, and I know that this period of blessing and relative prosperity is truly a gift. However, I really try to not focus on monetary gains as my primary motive in business. I want to work hard, give the glory to God for the things he has done in my life, and I trust my needs will be met if my life is structured in this way

," Aron said.

With respect to specific monetization strategies, Meystedt left no doubt that he believes his future is in development. " Iíve never been big on parking. I have great relationships with nearly every major parking provider, but itís just not the model for me. For most, itís the easiest and most scalable solution. But I want XF.com to be about development and partnerships and not about parking and letting it sit. I just donít think the parking model will last (as it is). I am sure it will be refined in great ways and it will probably still exist, but not in the current state."

With workdays that can now extend to 2 or
3AM, Meystedt won't be spending as much
time on the golf course, but the last thing he
wants to do now is take his eye off the ball.
"Itís easy money and easy domain management while development is extremely tricky. Development produces extra costs and typically, failures on the first, second, third try. People always say ďThrow a page of content on there and youíll be set.Ē Thatís not how it works. It takes tremendous time and energy to make a developed site succeed. Iíve owned developed sites in the top 10,000 of Alexa. It take a tremendous daily effort to manage a large developed property." Meystedt said.
Even so, Aron believes the potential rewards are worth the increased effort and expense that development entails. He also intends to keep adding domains to his collection with a focus on
one word domains, 2-letter .comís, traffic names, brand names and product names. As he continues in acquisition mode, he has one mantra - quality over quantity. "5,000 decent names will not do for you what one absolute killer name will do," Meystedt said. "If you are just starting, be excited because you donít have to go out and pick up 5,000 domains in order to make a statement. It just takes one."
"Opportunities are out there now more than ever. This is a great industry to be in. Itís the future and itís still cutting edge. The industry is still a baby. Itís not too late. Youíre right on time! Even if you are just starting and have little cash. I didnít have much either. Remember I started with a $3,000 investment a couple of years ago," Meystedt noted.

"Be willing to chase down hundreds of leads. It will pay off. Iím willing to face failure 99% of the time, knowing that something great might lie around the corner. Zig Ziglar said, "Failure is an event, not a person. Yesterday ended last night.Ē

If you are struggling, donít be discouraged. Tomorrow is a new day, keep moving forward. If you are constantly looking for opportunities, youíll find one. Itís all in the percentages.
As a relative newcomer to the space Aron said he has been particularly impressed by how many people are willing to share their knowledge and lend a helping hand. "Countless people that I met on forums or on blogs have helped point me in the right direction," Meystedt said. "Lately David Castello (of CCIN.com) has really helped keep me grounded. I find myself bouncing ideas off of him weekly, and heís kind enough to take the time to help me brainstorm and speak my mind. He knows there isnít anything I can do to help him or pay him back, so I really respect him as a person for helping me stay focused, without expecting anything in return. Heís a great guy!"
" Iíd recommend to beginners that they jump on DNForum.com and NamePros.com - I learned the ropes from the members there. There were always people willing to bounce ideas back and forth and help me when I had questions. Additionally, I have to credit Shane Kinsch with NetraCorp ( who's probably better known for NV.com) and Craig Hamilton with UPC360 who have been friends that I bounce ideas off of, as well as Kevin Leto with BigTicketDomains. Itís great to have a few key people that you trust 100% when you are considering a purchase or a new venture. If you can find an industry partner that you trust, thatís a big plus." Meystedt said.

Aron added that he now tries to follow the example set by his new domain industry friends. " Quite often, people come to me when considering a name or a development. I donít mind giving my input, no matter how big or small the deal is. Iím willing to try to help people any way I can."

In closing Meystedt noted, "This business is like any other business. It takes work, time and dedication. However, this is a great industry to




Brother Jay, nephew Graesen and Aron Meystedt
at the Major League Baseball All-Star Game in
St. Louis this summer. Meystedt credits a number
of domain industry "all-stars" for helping him learn
the ropes in this business.

be in, full of good people and global opportunities. With my previous trials and failures, I kept coming back to the Internet, knowing the answer was online. Everything turned around when I stopped trying to kick in the closed doors and I stopped being motivated by the dollar. I feel that if I run an honest business, establish trust and treat people fairly, the money will take care of itself."