"My mom and dad met when they were toddlers and went to the same country school. They got married right out of high school, had me, and then four more kids. My dad's father made a living by selling fresh eggs and tomatoes door to door in Cincinnati. My dad had an "egg route" too and that's how he wound up paying his way through college," Sams said.
David's parents: Barbara & Ron Sams

David's father, Ron, felt a call to ministry and embarked on a new career as a country preacher while his mother Barbara went into sales (her experience in that field would later help her give David some vital business advice).

"When I was a young lad, we moved to Columbus, Ohio where my dad would go on to be a very successful pastor, building multiple churches," Sams recalled. "In the early 70s my parents felt the need to start a private preschool called Children's Academy and at one point they operated multiple schools. Today, they have one of the most dynamic early learning schools in America. They also have been buying up developing land for over three decades. A few years back they built a family lodge on 125 acres just outside of Columbus. To this day, my dad pastors a church that he built in Grove City, Ohio."

"My mom and dad are in their early 70s and my dad is in such good shape that he looks more like my brother than my father!," Sams exclaimed. "All of my grandparents lived into their 90s and my mom's mother, Mary, is still alive and

well and nearly 100! I am very blessed to come from a lineage of hard-working entrepreneurs who had and continue to have a strong work ethic and spiritual foundation. Even during my "Hollywood Years" I was fairly grounded and influenced by my Faith. I'm very liberal in some respects, very conservative in others. I don't live under a rock, but am a believer in a Solid Rock. If I only had myself to believe in, it would be a very lonely existence."
Though his parents instilled him with a belief that anything was possible, David, in his early years, did not appear to be a likely candidate for massive success in TV, a business that tends to attract attractive extroverts. "I was an outsider in high school—very shy and overweight," Sams recalled. "I didn't have a lot of friends and wasn't that interested in school. I went to a Catholic high school where the nuns did not see much of a future for me. One of them actually told me that I "would never amount to anything."
"My English teacher, Gary Lowell, was an inspiration though. He saw something in me that others overlooked. He helped me believe in myself. It's amazing how just one teacher can change who you become. This is one reason I love mentoring young people today. He also was our school's drama coach, and cast me as the lead in Guys and Dolls when I was a senior. That gave me more confidence than you can ever imagine," Sams said.
"When I was 13, I discovered my love for photography—a passion that I still have to this day. I actually started out in the media world by taking pictures of high school football games on Friday nights. I would call the local paper and find out which games they were interested in but not covering. I would then go out to those games with a family friend who could drive, stand on the goal line with my camera, and then take a picture of the scoring play and sell it to the paper. Presto! I was a member of the working press! I still have my press card from those early days!," Sams smiled.

"After I got to know the editors, they asked me if I would be interested in writing a column in an attempt to reach younger readers. Even back then, papers were trying to be relevant with the younger demo. So, I started writing a column called "Seeing Stars." I was like that kid in the movie Almost Famous. I had press credentials, a column, and I was reviewing movies, concerts, dinner theaters, and even going on some press junkets. I would attempt to look and sound older than I was by "dressing the part" by wearing a plaid suit jacket, tie, and lowering my voice. My column ended up being syndicated in papers throughout Ohio," Sams said.

David Sams at the microphone, wearing
the plaid jacket he relied on to look "older".

"At the tender age of 15, I moved into radio and hosted a show on a small station in Columbus. I ended up moving to a larger station and became a "newscaster." I got the bug for broadcasting. It was also a way for a shy kid in high school to break out of his shell. My love for radio was short-lived, however, when I discovered that it was much more fun to put pictures to audio."
"When I was 17, I decided to go for it and move from radio to TV. I put my plaid jacket back on, borrowed one of my dad's ties and my mom's briefcase. Cable TV was a young industry and I saw an opportunity. Realizing how popular football was in Ohio, I saved a few hundred dollars, went to a local school board meeting, and presented my plan to produce the "High School Game of the Week" in Lancaster, Ohio."
"Every Friday night, I would show up with a three camera production team to shoot the game. My dad loaned me his small mobile home trailer, which we would park behind the stands and convert it into our control room. It was right then that I realized the power of television. Hundreds of people would stand outside of our trailer and watch the game on a little 13 inch color screen, rather than sit in the stands and watch the game live. By the way, guess who my play-by-play man was? Gary Lowell - the one and only high school teacher who believed in me. Ironically, he ended up quitting his teaching job and moved into commercial television," Sams said.
David Sams in full-blown
young TV executive mode!

While Sams honed his TV productions skills he still needed to get better at bringing in the revenue he needed to finance his business. "I knew nothing about sales when I started that venture. I have my mom to credit for teaching me how to walk into the local McDonalds, as well as the local hardware store, and "ask for the order." She taught me how to "package" sponsorships and come up with innovative sales techniques. It got to the point that I was actually selling every huddle. That's right, when a team would go into its huddle to decide what play to run next, I would have Gary announce, "The next play is sponsored by McDonalds—home of the Big Mac!" Sams laughed.

"I realized early on that I would get a bigger audience if I taped the games on Friday night and then play them back on Monday—right before NFL Monday Night Football. This way all of the players, their families, boosters, and band members would see themselves on TV. It worked. I ended up paying all of my production bills and made a little money. I said "a little money," but for a 17 year old kid, I was living the dream!"

Already a professional in his chosen field before his 18th birthday, Sams decided to

forego college and continue a head first plunge into his new career. "I had the TV bug! Going to college was the last thing on my mind. I did, however, go for about 10 minutes," Sams said. "I dropped out for good reason. I had created a local TV show and was hired by the local ABC affiliate to produce it. They paid me a huge salary for the time - $180 per week. I was in the "big time." I figured, why go to college to get an entry level job in a TV station in four years when I'm already working for the ABC station, earning a "good" living, and producing my own show? While I sometimes wonder what it would have been like to live those college years as a student, I made the right decision—as would be proven in the years to come."
Sams would go on to win a number of awards and was one of Columbus Monthly magazine's "People To Watch" before he was 20. He got hs first really big break when he was hired by Columbus's powerhouse local CBS affiliate, WBNS-TV.
| | |
| --- | --- |
| "It was, and is still is, one of the best TV stations in America," Sams said. (Editor's note: Like Sams, I also grew up in Central Ohio watching WBNS (channel 10), so I can attest to David's claim about the station. Channel 10 owned the market and was a big influence on my own decision to pursue a career in TV news). "The general manager of the station, Gene DeAngelo, was a huge influence in my early life," Sams continued. "He was not only supportive, he gave me the rope I needed to learn and spread my wings. I created various local pilots and series. One of them was the first tabloid TV magazine show in America, Front Page. I figured that 60 Minutes was successful, so why not have some fun with the format." | |
"That series put me on the map nationally," Sams said. "Everyone from around the country was calling me. I also was instrumental in putting Jack Hanna, who at that time was director of the Columbus Zoo, into his first TV series, Hanna's Ark. Soon, DeAngelo, promoted me from Executive Producer of Programming to head of marketing. In that role, I blossomed into a seasoned station executive and found ways of marketing our news operation to the point that we were getting a 53 share at 6pm. We soon became the #1 rated news operation in the entire country. I was 25 years old and my phone began ringing off the hook with job offers all over the nation. One night, I picked up the phone, received an offer, and was soon packing my bags for Hollywood."

David Sams with his friend and
former KingWorld boss Michael King

The caller that night was Michael King, one of the King Brothers from a small, family owned TV syndication company called King World. Sams remembers the call like it was yesterday. "He said "David, I know you have other opportunities, but if you come work with us, it will change your life." He asked me, right then, if I wanted the job as director of marketing and promotion." Still it wasn't an easy decision for Sams to make. " Remember, King World was a small company at the time," Sams said. "It was known for syndicating The Little Rascals. The brothers had also recently picked up the syndication rights to a game show called Wheel Of Fortune for $50,000, after it was cancelled on NBC. However, at the time, "Wheel" was only starting to roll out in a handful of markets. Generally speaking, stations were not that high on game shows, as most preferred magazine shows like "PM Magazine."

Sams' decision was further complicated by the salary his new suitor was offering. "King offered me HALF, that's right HALF, of what I was getting paid in Columbus! I couldn't really let that get in the way of my decision though, because I realized how overpaid I was in my position at a local

station," Sams said. "If I would have let money make my decision, very few operations could have paid me what I was making at WBNS—including NBC, CBS, or Westinghouse. I've never let money make my decisions for me. I believe that if you follow your heart and live your purpose, the money will follow."
While mulling over the prospect of taking a cut in pay for the promise of a better future, the kid from Columbus was also contending with a guy who knew how to close a sale. "Michael King is one of the world's two greatest salesmen of all time. His late brother, Roger, is the other. Michael offered me the job that night and wanted an answer. I told him, "Let me think about it and get back to you." He yelled at me, "If you have to think about it, you're the wrong guy!" I took the job. Six weeks later, I loaded up my car and headed to the land of glam and movie stars," Sams said.

"I think I was King World employee #9 - it was that small," Sams continued. "Michael and I worked in a quaint office and shared one assistant. Even though my last name was not "King" we became brothers in many respects. He taught me sales and programming techniques that I would never have learned in any college. We turned Wheel of Fortune into the highest-rated syndicated series in America. Stations that had refused to clear a game show were now paying ten times what they would have paid for it if they would have picked it up in the very beginning. We then launched Jeopardy! It became the second-highest rated show.

David Sams with Wheel of Fortune
hostess Vanna White

I was promoted to head global marketing, station relations, and creative affairs. We went public, and became the darling of Wall Street - well before the Internet. I was one of the most powerful "wunderkinds" in Hollywood, as the entertainment trade publications would report. However, the fun was just beginning."
David Sams with Oprah Winfrey at
her 1986 national show launch

The "fun" Sams referred to arrived in a big way in 1986 when KingWorld came across a local talk show host in Chicago that they thought they could turn into a national celebrity. Sams was given the job of introducing Oprah Winfrey to the rest of America. "Up until that time, talk show hosts were either seasoned white men like Phil Donahue or Johnny Carson, or looked like Ken and Barbie," Sams said. "However, the combination of clout with "Wheel" and "Jeopardy!," combined with great station relations, gave us the opportunity to make way for a robust, incredibly talented, African American woman who deserved an opportunity. It may look like an easy path today, but a quarter of a century ago, America was still in the dark ages in some respects."
"When Oprah took to the airwaves, America changed," Sams said. "She was the real thing - transparent, loving, hopeful, one of the first real "girlfriends." Her ratings skyrocketed, as did KingWorld's stock. My decision to leave my cozy job in Columbus for half the salary paid off. By the way, along with my stock, I got a raise. When I joined KingWorld, the company had a book value of a few million dollars. When I left, it had $800 million in the bank and no debt. Years later, the company sold to what was to become CBS Television Distribution for billions."

"The lessons I learned would fill multiple lifetimes," Sams said. "I had launched some of the biggest shows in TV history, helped to create the Oprah brand that would become the #1 most-recognized personality brand on the planet, hobnobbed with icons like Merv Griffin and Dick Clark, learned sales techniques from the best of the best, and - most important - found that even with a little engine, you can achieve great things."

"I would go on to start my own production company and launch many shows, some for syndication, others for CBS and NBC. I

David Sams and Oprah in Chicago at a private reception before Oprah's final show in May 2011.

even brought back roller derby, a "sport" that I watched when I was a kid. I called the show RollerGames, complete with a figure eight track, "Wall of Death," and a sky jump. When the show came out, the press coined it "Crash TV." One critic claimed that I was "responsible for the demise of the Western Civilization." Yikes! But, along the way of my TV career, I would collect 9 Emmys and many other awards," Sams noted.
As the 90s dawned, a new TV opportunity caught Sams' eye. "I got into Infomercials and direct-response (DRTV) Television," he said. "I found that it was a lot easier to make one show and make millions in product sales than to go to a studio every day, produce a network or syndicated series, and make a license fee. In 1994 I produced the Infomercial of The Year called "Making Love Work." It went on to make $65 million in sales."

Many other successful DRTV shows and campaigns would follow for Sams. In 1995 he brought together 11 major music labels and some 65 recording artists to release a 7-CD compilation titled Keep the Faith. Marketed under his own label, TVFirst, at a retail price of $124.95, the collection was certified platinum by the RIAA, with over 1 million albums sold.

In 2005, he won a Telly Award as well as a U.S. International Film and Video Festival Award for his Best of Hee Haw infomercial for Time-Life. In just one year, more than 1 million Hee Haw DVDs were sold. Most recently, Sams created music compilations for Time Life and Sony, featuring superstar artists Christina Aguilera, American Idol's Ruben Studdard, Gloria Estefan, Patti LaBelle, Wynonna and Sarah McLachlan, just to name a few. Overall, Sams is responsible for hundreds of millions of dollars in DRTV sales and he has piled up five commercial Addy Awards along the way.
"That's when I discovered how fun it was to go to bed, have my infomercials run on TV in late night, and wake up with more money in the bank than when I put my head on the pillow," Sams said. Veteran domainers will immediately recognize the parallel between Sams' 24-hour TV infomercial revenue stream and the way many domains are monetized. As fate would have it - domain names would be dead ahead in David's future.
"In the mid 90's, I was on the hunt for the next great product that I could sell on TV," Sams recalled. "At the time I had registered a few domains, but the process seemed like a major hassle. One of the domains that I registered was Veronica.org for my baby daughter, Veronica. We lived in California, and her grandparents lived in Ohio. I wanted to build a website for her grandparents to see her baby pictures. Well, Archie Comics was not amused. They sent me a cease and desist letter and tried to shut me down. They claimed that they owned all trademarks to the name "Veronica."
"At first it was intimidating. Then the proud father in me decided to take my "David vs. Goliath" story to the press. Our story ended up on the front page of the business section of the Los Angeles Times. The Today Show then called and booked us to fly to New York to appear alongside the president of Archie Comics. Journalists from all over the world picked up our story. My daughter's baby picture appeared everywhere!" All of the sudden Archie Comics looked liked villains and they promptly withdrew their complaint but along the way Sams had learned a lot about domain names and the marketing opportunity they offer.

"Unfortunately, rather than register many of my own domains, I decided to show Network Solutions how domains should really be sold to the broad market - not just techies," Sams said. "Up until that time, registering a domain was a painful exercise. I remember the process you had to go through and I wanted to streamline it." Sams wound up getting that opportunity through a new registry he had stumbled upon.

"I had become aware of country codes through my legal challenge. So, I teamed up with the company that owned the marketing rights to .CC. Why .CCs? Because, the company I was dealing with was in the United States rather than another country and I also thought .cc was cool-sounding and could be the next

During this keynote speech at the
DNCruise 2 conference in Sept. 2011,
David Sams tells attendees about the
dispute with Archie Comics that piqued
his interest in domains.

.com. At the time, nearly all of the good .cc generic domains were available to register, so I put my DRTV hat on. I marketed the domain on late night TV with moderate success. Then, one day, a buddy of mine called me and told me that he was doing some work for Clear Channel, the largest radio station operator in America. That's when the light bulb went off! Dot CC could be Clear Channel's domain!," Sams said.
"In late December 1999 I launched an incredibly intuitive, easy to navigate domain registration site, with Clear Channel as our marketing partner. In some three months, we sold nearly $11 million in domain names via the radio. I had no out-of-pocket marketing costs and paid Clear Channel a commission on every sale. It was probably the best deal I ever did."
"Clear Channel was on top of the world. I had convinced them that they "could have their own domain" and "rule the Internet." They would book me on Clear Channel stations several times a day, where I would proclaim "All of the good dot-com names are gone, but now there's dot-cc. Don't get left behind…don't think twice…you may have missed the dot-com goldmine, but now you have a second chance!!" After each live interview, I'd run to my computer and check out the sales meter. I'd pause a few seconds and hit it again, and again, and again. The money was literally rolling in," Sams said.
| | |
| --- | --- |
| | Just as that was happening, Sams was was offered another domain opportunity. "I got a call from Lou Kerner and the guys that had just launched the .TV domain. They wanted me to help market .TV, considering my background in the television business," Sams said. "I jumped on board and got hundreds of TV stations around America to use the .TV extension. Some even dropped their dot com for dot TV. It was amazing. But then, the Internet bubble burst." |
"Clear Channel was under the microscope of the government because it was about to buy another 800 stations. In addition, they were buying an outdoor billboard company. The last thing they needed was for me touting that they were going to take over the Internet with their own domain! So, after the Internet looked like "it was over" in the summer of 2000, Clear Channel ended our agreement. By then, some 500,000 .cc domains had been sold. When the Internet bubble exploded, so did the future of .cc," Sams said. "The 800-pound gorilla that controlled .com (Verisign) had apparently had enough of my antics. They soon bought both the .cc and .tv registries. The rest is history."
In the course of his domain marketing adventures Sams finally did get around to registering a lot of domains for himself. He has thousands at one time but has now pared his portfolio down to less than 1,000. "Most of the domains that I have held on to are those that I believe are highly brandable," Sams said. "I also own certain categories that I believe in. For example, I own a lot of "Toddler" dot com domains like ToddlerUniversity.com, which could be the next Baby Einstein."

"In addition, I have many generic .cc, .tv, .us and .md domains - as well as a few .co and .tm domains. My time on this earth is limited, so I no longer choose to spend my time hoarding domains and spending hours and hours of my time trying to find a buyer for a thousand dollars, here and there. There's nothing wrong with that, but it's not for me. That's like trying to find a

At the 2007 Domain Roundtable auction in Seattle
David Sams (2nd from right) sold two domains for
$35,000 each to Donny Simonton (2nd from left). The
ladies were models hired by Sams to drew attention to the names he had in the auction. The strategy obviously worked!

needle in a haystack. Rather, I look for valuable joint ventures where I can match a domain with the right company. I also help others with valuable domains find appropriate joint ventures. I also am open to helping others broker entertainment-oriented domains to the Hollywood community," Sams noted.
"A perfect example of one of my ventures is with a domain that I registered in the mid-90s, KeepTheFaith.com. Earlier this year I teamed up with two gentlemen, both broadcasting veterans, who I have been friends with and admired for many years. They have a vast experience in the Christian radio space. People are sick and tired of hearing bad news 24/7. So, we teamed up and created a KeepTheFaith syndicated radio show and launched an online community in an effort to make encouragement contagious," Sams said.

"In just 8 months, we are on over 300 radio stations and occupy over 900 hours of airtime. Our show is highly rated and #1 in many markets. We recently launched in L.A., and within a month we were #4 in the market. That shows you the hunger there is out there

right now for some good news. In 2012, we will be hosting many live events on KeepTheFaith.com, including concerts and seminars, with radio as our driving bullhorn to get people to the site."
"I have other Christian domains to add to this venture, and would love to see the day that Kevin Ham (who owns thousands of generic Christian domains) and others join in on our efforts. We have the potential of building something the world has never seen before. I believe that in the years ahead, America is going to have a great spiritual awakening due to its economic downfall, loss of faith in government, loss of homes, loss of jobs, etc." Sams added.
"Some of my other domains that I would love to do joint ventures with include LoveStories.com, Cancer.MD, Heart.MD, Spot.TV, Spa.cc and MyPoems.com, just to name a few."
While Sams appreciates the opportunities presented by domains and website development, he believes there is room for improvement in the industry at large. "The reputation of the domain industry is not on par with that of the real estate business or, say, the media business," Sams noted. "That's unfortunate. Domainers, by and large, have shot themselves in the foot by playing too many games, registering names that have violated the rights of too many companies and individuals and relied too much on get rich quick schemes that have cheapened the value of a landing page."

"The Internet is quickly maturing, but the domain industry is not. I still see domainers acting like it is the Wild West, but it is not. There are serious opportunities out there. Domainers claim to be sitting on valuable oil fields with their domains. I say, if you're sitting on a valuable oil field, DRILL, BABY, DRILL! Stop talking and put development where your mouth is. Too many domainers have been "parking their dreams" for too many years,"

Sams said. "I would love to see this change, because I love the thought of a sophisticated, mature domain industry. Some of the changes that I would like to see to improve the domain industry include:
· The inclusion of more women taking an active role, upfront and center. The domain industry has too much of a reputation of being a boy's club;
· A true industry trade association and exhibition that is recognized by the industry as a whole, as well as the mainstream press. The trade association could come up with a "code of ethics," hire lobbyists that fight for the rights of domainers, and find ways of uplifting and rewarding those who are true pioneers.
· Auctions that matter, and that appeal to the outside world. For example, I could see a Donald Trump hosting a Geo domain or real estate domain auction that is covered by the Wall Street Journal or Gannett/USA Today. I'm really tired of domainers selling to domainers. It's a big YAWN.
· New TLDs need to be better governed as it relates to trademarks. I do not think it is a good idea for new registries to charge a premium, in some cases hundreds of dollars per domain, to existing trademark holders to protect their intellectual property rights. This gives the domain industry a bad name - period. If anything, trademark owners should be able to register domains at cost during the sunrise period. This would help to avoid a landslide of major legal complications in the years to come. What's so difficult to understand that we, as domainers, need to be in concert with intellectual property owners - and not hold a gun to their heads?
| | |
| --- | --- |
| | The other thing that domainers had better take seriously, real fast, is video," Sams declared. "I'm a big believer in rich media, especially video. I have a plan to monetize online video for domainers that has been completely overlooked, if I can find the right joint venture partner, I'm ready to make it happen. The amount of video being consumed on the Internet today is staggering. Domainers are throwing away a multi-billion dollar opportunity. We've got to start looking at domains as "channels to the world," not domains. Domains have no geographical boundaries like traditional radio and TV channels - get it? The time is now. I just need for the right partner to call, and I'm ready to put together a deal," Sams said. |
With all of the energy, optimism and excitement you see oozing from his every pore, it is hard to imagine that just a couple of years ago everything came "this close" to being all over for David Sams. "Sometimes the road we take leads us down the wrong path," he said in reflection. "God puts up a detour - and it can be a lifesaver. My stroke was a lifesaver for me. It was a big wake-up call. It was the only way for God to get my attention and get me back on the right track, so that I would focus on my life's purpose," Sams said.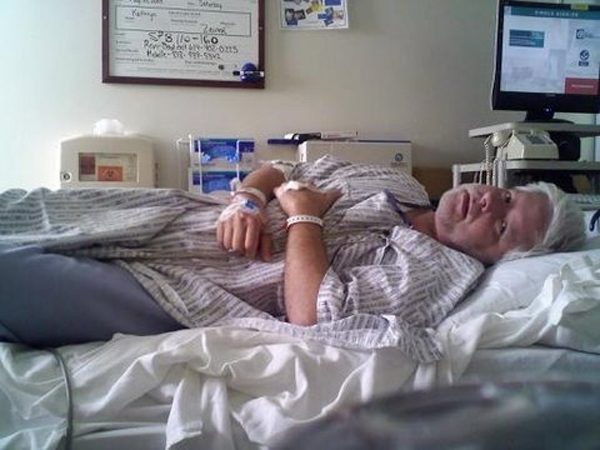 Above: David Sams in the hospital after suffering a stroke in 2009.
Below right: Three days later, David with an ICU nurse following his dramatic recovery.
"During the time of my stroke, I had a deal with the company that produces American Idol to bring back a high octane version of roller derby. It would have been a goldmine for me, and I would have made a lot of money as Creator and Executive Producer. But that was not God's plan for me. For the first three days in the hospital, I could barely move my right leg, arm, and only had half of a smile. I woke up that following Sunday morning and was as good as new. God was good to me. He used the stroke to get my attention - and to remind me of the track I should be on - and it wasn't the roller derby track."

"I had also gone through a painful divorce, so I had a lot of emotional healing to do. Again, looking back on it, there was a purpose to it all. You really can't help others get through their struggles if you haven't struggled yourself and know what it's like to hit bottom," Sams said.
Sams decided it was time for a new battle plan. Part of that involved putting himself in healthier surroundings. He and soul mate Michele Bekeza headed east and settled just outside Nashville in Brentwood, Tennessee. "Following my stroke, Michelle and I decided to escape from L.A. to God's Country where we could breathe again," Sams said. "I needed a place where I could get refocused on my health and, most of all, get back in alignment with my true purpose in life. There are so many distractions in L.A., it's so easy to get out of alignment and focus on the wrong things."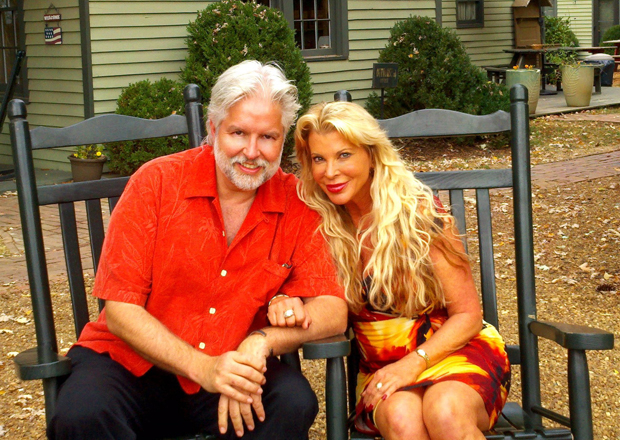 David and Michelle at home in Tennessee
"We love middle Tennessee. The people are amazing. When we moved here, we had a dozen people knock on our front door to bring us a welcome dish of food! I mean, seriously, where does that happen? In addition, the beauty here is overwhelming, the State of Tennessee knows how to run its books and balance its budget, the entertainment and social life is rivals that of L.A., there are no state income taxes, and the business climate far exceeds that of California."
"As much as I love Southern California, it is no longer a friendly climate for a small business. I wanted to change that nearly a decade ago when I decided to run for governor, but Arnold Schwarzenegger jumped into the race, so my candidacy was derailed by the mega movie star," Sams said, adding that problems have only gotten worse since then. "Here we are in late 2011 and the unemployment rate is over 12%, taxes are out of control, the infrastructure is crumbling, the political climate is unbalanced, the moral compass has been lost at sea, the traffic is at a standstill, and - if I get caught smoking a cigar on a public beach I face a $250 fine!"

"The hardest part is that my two daughters are in L.A.," Sams lamented. "I miss them dearly. However, they come here several times a year, and I go there to see them when I can. We also keep in touch by phone, texting, and Facebook. It's still no substitution for being with them every day, but I think I'm a better father by being healthy. When we are together it is beyond amazing!

David with his daughters Veronica & Elizabeth
On the flip side of that, Sams' move to Tennessee put him close to his mom and dad in Ohio. "We hit the road and travel up that way about four or five times a year," Sams said. "I even have the opportunity to get in a couple of Ohio State Buckeye games each year, but that's another story. Go Bucks!"

From a business standpoint, moving to the country hasn't been a problem for Sams at all. "I can do almost anything and everything I did in L.A. - thanks to my cell phone, laptop, and Internet. I kept my 818 phone number, so most of my L.A. entertainment relationships think that I still live in L.A.!," Sams laughed. "We live in such a seamless world now. I would encourage anyone living in the middle of "the rat race" to really take a look at how much their life would improve if they moved to a place where they could breathe again."

David catching an Ohio State Buckeyes
football game in Columbus.
Michelle also quickly adjusted to her new surroundings even though it means moving thousands of miles away from some of her major projects. "I am very proud of Michelle," Sams said. "I know that she really moved to Tennessee for me. She has a very successful and meaningful mission in L.A., where she and her 35 therapists work with kids with autism. They have changed the lives of thousands of kids and families over the past 15 years. The impact is clear - 84% of her kids have graduated from special needs to the mainstream, in the schools which she and her therapists serve."

"Michelle is hoping to expand her incredible work to other states. She has also recently launched Autism.co, and will be building out that community over the next few months. She is a true crusader- and my angel."

As much as he is excited by his current business ventures and opportunities, David Sams 2.0 has developed new priorities. "First and foremost, I love mentoring smart, young people," Sams said. "There's nothing like planting seeds of

knowledge into others. I also love readying and researching - and coming up with ways of expanding my own knowledgebase. The world is changing at the speed of light, you have to be a chameleon, or you will turn into a dinosaur."
"My involvement with young people helps to inspire me - and keep me relevant. Also, my brother in law, Todd Marrah, who heads a school in Columbus, recently led a group that bought the former AOL/Compuserve 255,000 square foot Midwest campus just outside of the city. I am working with him to take a portion of that facility and turn into a Digital Media Arts school. The goal is to invite very special teens from all over the globe to come and invent the next generation of the Internet and media," Sams said.
| | |
| --- | --- |
| | With a new lease on life, Sams finds joy in many simple pleasures now, with an occasional cigar near the top of that list. "Even after my stroke, my doctor actually encouraged me to have a cigar from time to time, if it helped to calm me and relieve the stress. I never had smoked, but 20 years ago the former COO of King World married the daughter of the coach of the New York Mets and invited me to his wedding. All of his ball players attended the reception, where there was a box of cigars on every table (boy, have times changed!). When they lit up, so did I. That was it for me - I have loved the stogies since." |
Still something else tops Sams' "hang time" list - being with Michelle. "We love our evenings and travels together. Her son, Mack, has also become the son that I never had—so I am very

blessed," Sams said. "I am so fortunate to have discovered something in my walk of life - I'm not a self-made man - I'm a God-made man. Wow, what a relief. That sure takes a lot of pressure off me as a person!"

"I believe that God is my architect, and I'm just the general contractor. If I follow the plan that He has for me, I am in good shape. As I look back on my life, I see many times I've attempted to build a room or addition without following God's blueprint for me. While the short-term gain may have looked fun, once the rain came, that portion of my life would sink into the quicksand. We, as individuals, put so much unnecessary pressure on ourselves - we are only human, but we forget."

"When I get overwhelmed, my dad tells me this simple phrase, "God Will Take Care." It really is true. It's not about our wealth, the size of our house, the kind of car we drive—it's about love, peace, harmony, what we can do with the gifts that God has given us," Sams concluded.