Tommy Butler owns and operates Glasgow.com, the well developed website that represents Scotland's largest city - the town where Tommy grew up and still resides some 50 years after he was born there in the early 1960s.

As owner of the local brand name and the steady flow of global traffic the name attracts from web surfers, Butler has a big leg up on the traditional local media outlets that used to rule the roost. As the Internet continues to gain market share and pass the previous leaders by, Butler's influence in Glasgow is only going to grow, especially since he is steadily building a much bigger network of sites around his Glasgow.com base.

A lot of today's traditional media barons run assets that have been passed down from generation to generation. By contrast the new media world spawned by the Internet is populated primarily by bright people who spotted an opportunity in premier domain names that others overlooked. Tommy was one of those who had the vision - a vision that has carried him a long way from his youth in Glasgow.

Tommy was the youngest child of a truck driver who never missed a day's work and a hard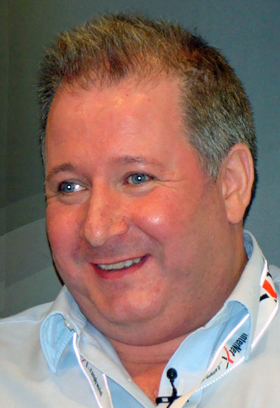 Glasgow.com owner Tommy Butler
That realization that managers, or better yet, owners of businesses got most of the spoils sent Butler down an entrepreneurial path that he has been on ever since. "When I was about 10 years of age I got a summer job at a local fish and poultry market and gutted chickens. I was paid 5

Tommy Butler and his wife Trisha
when they were both 17 years old.
(they were married at 23, have now been married
for 28 years and have two sons, ages 24 and 21).

Bob (about 50 cents) a day, but I was allowed to keep the eggs with no shells and I resold those to our neighbors."

"I left school at the first opportunity," Butler contunued. "No qualifications, so I started work as a Tea Boy with an engineering company that was revamping the Glasgow Underground Subway. My job was to order the lunches, tea and coffee from the local cafe. After a week in the job I realized that I could make a good profit if I bought the goods direct and made up the lunches myself, negotiating with the local butchers, bakers and newsagent. I was earning more than my friends who were working in hard manual conditions and even some of the qualified workmen."

Butler tried working for several other companies but found he was never satisfied being an employee. He was always looking for a way to cut out the middle man or improve an existing business idea, so he started launching more enterprises of his own. "I could write a book about the businesses I have started," Butler said. "I have worked as a Market Trader selling jewelry, cosmetics and fashion accessories. I imported goods from Hong Kong to bypass the wholesaler and try to get the next new gadget before others."

Butler's parents visiting one of his early enterprises, a gallery
where he sold fine art prints he imported from the United States.
One of Butler's first big opportunities arrived in 1990 when Glasgow was given the title "European City of Culture." Butler saw a chance to cash in by supplying printed merchandise to the city's tourist shops. He opened up his own print studio and designed t-shirts and other promotional goods (printed in 12 different languages) to meet the demand. Unfortunately a few years later he developed asthma and the printing environment was negatively affecting his health, forcing him to find another way to make a living. The newly emerging Internet would provide the opportunity he was looking for.

The web made it possible to print material electronically - no paper, no ink and no chemicals to inhale - and distribute that material all over the world at a very low cost. " I decided to look at web development as a way to replace the printing business and took a 6-week course on building websites and learning HTML," Butler said. "Soon after, I came across a website called iGoldrush.com telling me all about domain names. I wound up buying 6 names that night and sold one just a week later for £1,200! That had me hooked, thanks to Edwin who owned the site at the time." (Editor's note: Edwin Hayward was the original owner of iGoldrush.com. He later sold the site to Paul Goldstone who continues to operate it today).

One of the Glasgow 1990 T-Shirts
produced by Butler's print studio.
Butler's obsession with domain names continued to grow and today he said he has about 300 .com domains and 800 .co.uk domains (Great Britain's country code). Butler recalled, "One of the first names I bought was LocalWebsites.co.uk because I thought at that point that the market would be local and not global. I also bought up several names representing Glasgow products and services like GlasgowAccountants.co.uk, GlasgowPubs.co.uk, HotelsGlasgow.co.uk, etc."
Butler was not content just to own domain names though - he always had something bigger - domain development - in mind. "I have always believed that a domain name should have a website, maybe because I had done the web development course," Butler said. "My strategy has always been to buy clusters of domain names rather than just a single name. I felt I could add value to the domains by having networks of products, services or geo locations and therefore I did not want just to have them parked. I wanted to see them fully developed."
Nat Cohen Of Telepathy Inc. sold
Glasgow.com to Butler in 2003.

Butler continued with the story of how he came to own his crown jewel - Glasgow.com. "Because we had bought up the product and services names related to Glasgow, the final piece of the jigsaw in my strategy was Glasgow.com. This was the number 1 name for the city in which I live so I started pestering the owner, Nat Cohen of Telepathy, Inc., to sell it to me! He finally gave in after two years of me bombarding him with calls!"

Butler took ownership of Glasgow.com in 2003 at an undisclosed price. "When we purchased the name it seemed like a huge gamble, but it was the final piece of the puzzle and we realized that Geo location domain names were going to be highly sought after. We felt that we needed to take the chance and we have no regrets," Butler said.

Having assembled the portfolio of domains that he needed, Butler turned his attention to the hard work of making his development dream a reality. Development can be frustrating, expensive and worst of all, unprofitable if it isn't done right. We asked Butler, who now has dozens of successful sites online, how he navigated the land mines that have blown up the plans of many other would be developers.
"First of all, costs are kept to a minimum," Butler said, "The key is the back end system that I have had developed that allows me to modify and have more control of the sites I have built. Therefore the biggest cost was the development of the back end system. That was a case of trial and error - the biggest cost was the time and energy to keep the projects functional. We have had prima donna web developers who think that they can hold you to ransom, so I understand it is difficult to find those special people, but we are happy with the developers we have on board. We still always have to keep tabs on the progress though."

"The sites we are building are being built to allow us to target specific markets with a view to advertisers being able to place ads on a network of sites that are strategic to their business," Butler said. "Depending on the product/market/location, the sites can be adapted to be anything from a five-page mini site to a 30-page (or more) directory site. Content can be refreshed as the site develops. An example would be GlasgowAccountants.co.uk. Accountants may want to advertise their services on this site, but they may also want to advertise on GlasgowBuilders.co.uk or GlasgowArchitects.co.uk for potential clients as well as advertise on the main site of Glasgow.com."

In March 2012 Butler was invited to
speak to businessmen at the SPEA
Conference in Ayia Napa, Cyprus
about promoting geo locations online.
Butler walking part of the West Highland Way,
a 98-mile walk from Milngavie in the Lowlands
to Fort William in Scotland's Highlands.

"Another example would be Milngavie.co.uk. This is a small town on the outskirts of Glasgow and we are testing out a system that allows retailers to upload their products without the expense of a fully functional e-commerce site. Obviously as the advertisers come on board then the sites will expand," Butler explained.

Despite what he has accomplished to date, Butler has much bigger plans for the months ahead. "Other networks that I have developed or have plans to develop include six salon sites, 10 dental sites, 30 jewelry sites, four furniture shop sites, seven optician sites, 40 car sales sites, 54 pub/club/restaurant sites, 300 UK Hotel sites, 150 car hire/rental sites, 200 sites relating to Glasgow, 150 Scottish sites and 300 shopping sites and 18 Geo location sites. I have a team of freelance designers working on different projects and with a bit of luck we will have them completed by March 2013," Butler said.
While Butler is building his empire on .com and .co.uk domains he is also aware that ICANN's new TLD program may eventually produce new competition for current geo domain owners. Extensions like .paris and .berlin have aleady been applied for and some day there could be a .glasgow. Butler said, " My opinion is that the Geo extensions could be successful, but only for really large cities. I think that this will also strengthen the geo .com names for the geos that do not have their own TLD extension - especially if the .com is a fully developed site. I think some of the new TLDs might struggle as it will be dependent on cost and availability of names."
"Scotland has applied for its own TLD .scot," Butler noted. "I think it is great that we have applied for it but again it will depend on the cost if it will be successful or not. Most businesses in Scotland at present use .co.uk or .com. Scotland is unique, but the population is only 5 million and if you narrow that down to the businesses then I am not sure what the uptake will be, especially when you consider different European languages where Scotland is known as Ecosse, Escotia, Schottland etc. Is .scot the right extension? I am not sure," Butler said.
With all of the balls he currently has in the air, free time is scarce but Butler is hoping that he and his wife of 28 years, Trisha, will have time to get away more in the future. "Like most domainers I never really switch off," Butler said, " but I would love to be able to have time to travel and hope one day to be running my business totally from my iPhone."

"I recently visited Los Angeles for a couple of days while on my way to New Zealand and also spent two nights in Hong Kong on my way home. I also enjoyed a trip to Toronto and I would love to have more time to see and explore some of these fantastic locations. My last trip was to Valencia, Spain for the 2012 Domaining Europe Conference and I again felt as if I would have liked more time to relax and enjoy the culture there."

Tommy and Trisha Butler "chill out" at the Ice Bar
during a trip to Auckland, New Zealand.
It's a common refrain among passionate domain investor/developers who would like to see another eight hours added to each day and an 8th day added to each week. Of course, that's not going to happen and their competitors in traditional media are no doubt thankful for that. In their view the Tommy Butlers of the world are already shaking things up enough with the time they do have!