monetization service I saw that automatically added a relevant photograph to parking pages. As much as I like language I've always believed that the old adage "a picture is worth a thousand words" is true. When someone landed on a DomainSpa page the photo instantly told them the page had information on the subject they were looking for. Users reported good results at DomainSpa and before long graphic elements were adopted at just about every parking company.

In addition to running DomainSpa, Lichtman stayed busy buying up top quality domain names. Many came to know him as Mrs. Jello, because that pseudonym appeared in the WhoIs records of the long list of domains he acquired. To many Mrs. Jello was a mysterious character but all along Igal was hiding in plain sight. He was a fixture at live domain auctions but many never knew he was on the premises. The former Israeli Air Force officer prefers to keep a low profile compared to some of the industry's other "rock stars," but there is no question Igal is on the same elite level.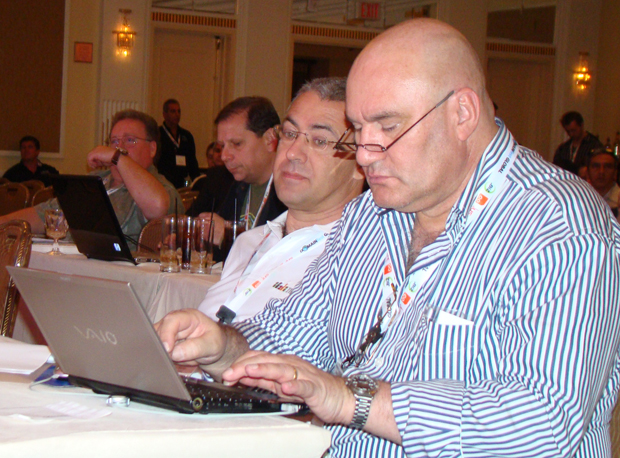 Lichtman in the audience at the 2010 DOMAINfest Global live domain auction in California.
While Lichtman's love of domains remains unabated, his real forte is building very valuable companies. The veteran engineer and programmer usually does that by creating new technology to solves a widespread problem. That is what he is up to now with TrafficMedia, especially with the company's "Vortalizer Technology" that enables its ultra-slick MediaSiteBuilder product that removes much of the time and cost involved in developing domains. This same automatic website building software has been integrated with their DomainParking.com monetization service and it was clearly turning heads a few weeks ago when the company was providing live demos at the 2012 DOMAINfest Global conference in Santa Monica, California.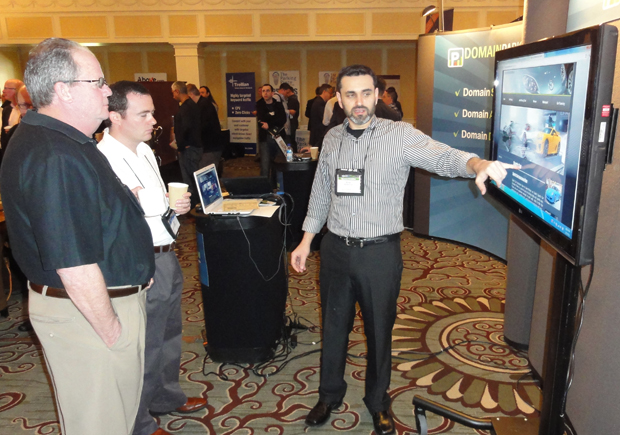 At DOMAINfest Global 2012 DomainParking.com's Eran Shatzman demonstrates how a domain
in the company's system can be turned into a complete website in just a couple of minutes.
I got my first look at this technology last fall after Igal dropped me a note telling me he had something exciting he wanted to show me. Whenever he says that, I know he has something that is definitely going to be worth looking at. We got on the phone so we could talk while Igal ran an online demo that allowed me to see exactly what he was talking about as he put the website builder through its paces.
Starting with a plain white "canvas" on the right side of the screen I watched in amazement as Lichtman simply pointed at one of many content options in a column on the left side of the page, then dragged and dropped it onto the canvas.

One drag and drop and a beautiful graphic header stretches across the page. Another drag and drop places an article related to the domain name on the canvas. Another instantly installs a relevant video. Within a minute he had produced a rich content filled home page by moving elements around the page with one finger.

It reminded me of that classic scene in the The Minority Report where Tom Cruise used quick hand gestures to move elements around a screen. Futuristic stuff that has now become a reality in website development.

MediaSiteBuilder screen shot
The platform lets you choose from several overall site designs and various monetization options. It will also let you create forms for lead generation. If you elect to use PPC you can designate how many PPC ads appear on your site. TrafficMedia will host the websites for you but if you want to use your own nameservers the sites generated can be published anywhere. You would lose the PPC revenue option if you use an independent host but you can still add your advertisements and feeds.
If you leave the hosting to TrafficMedia as most will do, you can still sell your developed website and the company will charge the new owner just $15 a month to maintain it. You can see examples of websites produced with the Vortalizer technology here.
In another head-turner, the platform also produces a mobile version of the same website as well as a Facebook company page. The software produces such great results and is so easy to use it has already been adopted by a $5 billion Wall Street company that signed a deal with TrafficMedia to use the technology. That company is a major global player in the Yellow Pages field and they are using Vortalizer to produce websites, mobile sites and Facebook pages for their thousands of small business customers.
Lichtman emphasized that even though DomainParking clients have access to this technology it is not a parking or mini-site product. It is a full scale development platform that is limited only by your imagination. In addition to the graphics and content provided by TrafficMedia you can upload your own unique articles, graphics and videos and easily incorporate them in your site.

Lichtman said the Vortalizer technology was built with small to medium sized businesses (SMBs) in mind and that domainers need to start thinking of themselves as SMBs - not just domainers. If you really want to move beyond parking with some of your better names the technology makes it possible to do it in a fraction of the time it used to take. Better yet, the system is free to use if you have a domain portfolio that generates as little as $100 a month in PPC revenue.
Because you will be building real websites - not the mass produced spam sites that Google inevitably penalizes - Lichtman said sites made with Vortalizer can rank well in the search engines. Lichtman said it has taken the company two years to build the system they are now making available to clients. If you were at the T.R.A.F.F.I.C. Las Vegas show in 2010 you would have been one of the first people to see TrafficMedia start down this road when they set up a booth there to introduce themselves.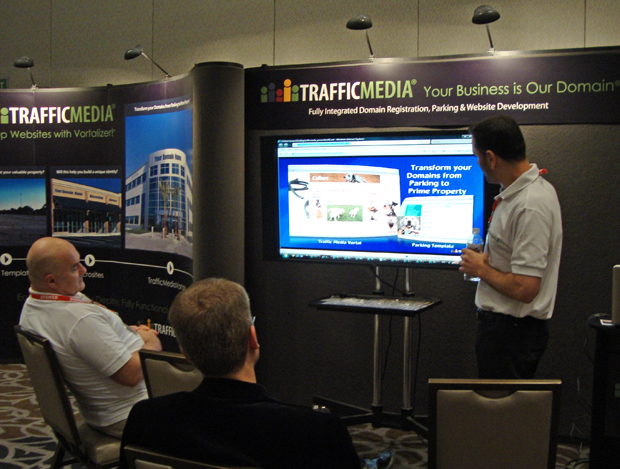 At T.R.A.F.F.I.C. Las Vegas in January 2010, Igal Lichtman (at far left) sat in on
a demo of what the company was building. The slogan on the screen says "Transform
Your Domains from Parking to Private Property" - a promise they are now fulfilling
with thousands of Vortalizer based sites already developed and online.
While the fruits of TrafficMedia's labor are just now starting to become widely known, Lichtman is already looking even further down the road. That same day last fall that he showed me the site building platform, he also gave me a peak at some eye-popping virtual reality work he is rolling out and continuing to refine.
The example he showed me can be seen now at his Jerusalem.com site where you can take a virtual tour of the Holy City. You have an avatar that represents you in the streets of the city. You can walk along to historic points of interest and even go off on side streets or into shops (the actual shops and streets are the same ones that exist in the real world). You can even select a Christian tour or a Jewish tour to make sure you see the sites most relevant to your faith.

Lichtman noted that the technology opens the door for your avatars to go into shops around the world, look at merchandise and make purchases, with the actual merchandise then being delivered

You can take this virtual tour at Jerusalem.com.

to your door. The endless possibilities are starting to make my head hurt (and I don't want to even think about how much damage this could do to my credit card statements)! Fortunately, this is a topic we can put off to another day, so back to the subject at hand...
Ever since domain parking revenues went into a tailspin several years ago, domain owners have been talking about domain development as the way to gain independence from the search engines upstream that were siphoning off most of the pay per click revenue. However, development was hard work with no guarantee of success. Even with the great new technology now available you still need to put in some effort keeping content fresh if you want to have long term success but much of the development work has now been successfully automated.
The fact that one hit website can produce more revenue than a 1,000 undeveloped domains should be enough incentive to take advantage of these new advances, especially if you are really serious about taking control of the cash register yourself, rather than settle for whatever upstream PPC providers decide they want to give you for your own product (your domain's traffic).
You even have multiple brand new automatic site builder options available to choose from. Just three days before I published this article Winged Media announced their new DevName.com site building platform and DomainHoldings is about to roll out a major upgrade to their DomainPower.com platform. Clearly, if you are among the many who have said they want to develop, you're running out of excuses not to!