For the 8th consecutive year, we are kicking off the New Year with our annual State of the Industry Cover Story, an endeavor that brings together experts and company leaders from across the industry to get their thoughts on the key trends of the past year and what they believe is in store for the year ahead.

For 2012 we have gathered 15 well-known executives, investors, developers and attorneys to share their thoughts. As we do each year, we have assembled a panel that features both esteemed experts who have shared their wisdom with us in the past and new contributors (a half dozen of them this time around) that bring unique insights of their own.

We've divided our experts into three groups, starting with domain sales & monetization executives on this page, followed by domain investors and developers on page 2, then a group representing three different continents whose worldwide activities (across all of the categories noted above) give a global view of our industry on page 3.

The one constant in our business is change and once again we saw plenty of that in 2011. One of the major changes in the year just past was in the executive suite at one of the industry's largest companies, Oversee.net. At the end of August President and CEO Jeff Kupietzky resigned with two executives, Debra Domeyer and Scott Morrow, named to take his place as Co-Presidents. As leaders of a conglomerate whose portfolio includes such well-known subsidiaries as DomainSponsor.com, SnapNames.com, Moniker.com and the DOMAINfest Global conference, Debra and Scott are familiar with every aspect of the domain business so we are pleased to be able to kick off this year's article by welcoming these first-time contributors to our State of the Industry report.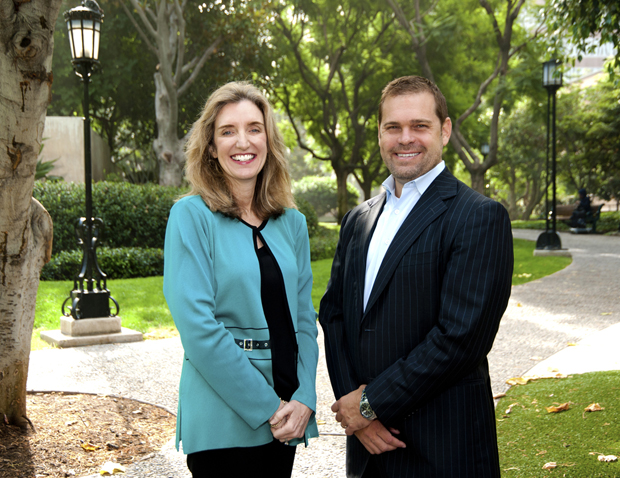 Debra Domeyer and Scott Morrow, Co-Presidents, Oversee.net
Rather than answer our questions separately, Debra and Scott, working as the team they are, drafted a joint response to the two queries we posted, starting with what they considered to be the most significant events and/or trends in their category of the industry and in the industry overall in 2011, then their outlook for 2012.
Debra Domeyer and Scott Morrow: The most significant events in the domain parking space in 2011 were the emergence of a new crop of competitors and the market movement toward alternative monetization. Google's decision to expand the number of companies using its AdSense for domains feed resulted in a number of new parking service providers entering the space. With the continued focus on traffic quality, only publishers with good quality traffic will see long-term benefit from this increased competition.
With so many new parking competitors on the scene, key differentiators are consolidation or innovation. Our opinion is that consolidation won't be enough. In today's market, competitors, no matter their size, those focusing solely on parking as a means to monetize domain traffic, will be left behind.
Innovation is key. That's why we are focused on innovation in broader areas including alternative monetization models, mobile monetization, profiling, and semantic analysis.
Oversee is building a diverse set of monetization options and we are not alone in developing alternative monetization options.

In 2011, other companies in the domain space attempted to launch or expand their own alternative monetization technologies.

Advertisers using

DOMAINSponsor's PrecisionTargetingEngine platform announced at DOMAINfest in February 2011 are excited about their ability to directly obtain domain traffic.

They want more.

That's why we continue to invest in refining this platform.

Insights, innovation, critical mass, leadership and healthy cash flow will be the keys to success in ensuring that these technologies evolve into compelling solutions for advertisers and publishers alike.
In 2012, we expect many of the new competitors in the parking space to begin facing challenges associated with traffic quality, competitive pricing pressures, and the increasing overhead costs associated with meeting Google's ongoing compliance requirements, not to mention meeting increasing service and technology demands of their clients. The stresses and strains of these challenges will likely produce some changes in the competitive landscape. Some competitors may merge. Some may be forced to cut back on service and technology, others may simply go away.
As mentioned earlier, the real winners will be those that innovate beyond domain parking to find the optimal mix of monetization alternatives, from parking/PPC to CPA/CPV/CPL. But innovating won't be easy. It will take intimate knowledge of advertiser and publisher needs in the performance marketing space, a critical mass of quality traffic, strong technology leadership, and healthy cash flow to be successful.
Image: scottchan / FreeDigitalPhotos.net

Based on these keys to success, we would argue that Oversee is in a very advantageous position for a breakthrough year. In 2012, we'll be focused on improving publisher and advertiser performance, specifically, through continued optimization of our core parking platform, expanding monetization options, improving traffic quality, leveraging mobile and driving innovation.

First of all, we have gained tremendous advertiser insights through our alternative monetization platform. We also continue to grow our owned and operated consumer lead generation businesses in the travel, consumer finance, and shopping verticals and our in development of services in support of these

efforts.

These businesses give us unique insights into the world of performance marketing.

As a result, we know what kind of traffic advertisers want, how they want to measure it, and how to get it.
Secondly, we expect to see in 2012 an increased focus on monetizing mobile traffic. This is a large and growing segment that is underserved by domain parking companies. We are looking to be the leader in this area of the domain industry. Oversee is already well underway in developing both vastly improved monetization solutions in addition to several exciting new product initiatives in the support of our growing mobile traffic. Stay tuned!
Thanks to the millions of 3rd party domains we monetize each month at DomainSponsor, we have the quality traffic critical mass that advertisers are looking for. And with over 1 million domains in our own portfolio plus the largest third party domain network, we certainly have a strong vested interest in constantly trying to obtain maximum RPMs for ourselves and our clients.
And finally, as pioneers that invented the domain parking industry back in 2002, we know ad network technology, how to design it, how to build it and how to leverage it. We are making large strides with our semantic analyzer technology and are seeing very successful gains in our optimization efforts. In a nutshell, we have the volume, technology, and business leadership skills needed to get it done.
Kathy Nielsen, Director, Strategic Alliances, Sedo.com
Sedo Co-Founder and CEO Tim Schumacher and Kathy Nielsen, then the company's Director of Sales (North America) both contributed to last year's State of the Industry report. In another major change, Tim, a long time industry leader that I have called on often, is stepping down as CEO of the domain sales and PPC giant at the end of this month (Jan. 31, 2012). After Tobias Flaitz takes over as CEO on February 1, Tim will continue to serve on Sedo's Supervisory Board, but Tim's departure from day to day duties at Sedo will mark the end of an era - one that I plan to explore with him in an extensive interview that will be published in February. In the meantime we are fortunate to have Ms. Nielsen, now Sedo's Director, Strategic Alliances, back to share her views on the year just past and the one ahead.

Kathy Nielsen: Two things really stick out in my mind for the premium domain market (secondary market) as being significant events/trends in 2011. First, the decision by ICANN to move ahead with the new gTLD program in June had a very interesting effect. The topic received continued, month after month, worldwide press. All of this press highlighted that anyone could now own a gTLD, and forced companies, organizations, communities, and best of all

Kathy Nielsen
Sedo Director, Strategic Alliances

CMOs and other business leaders, to think about domains. I cannot think of any other point in time where the topic of internet domains was in the mainstream media for such a prolonged period of time. In our jobs, we often talk to people that laugh in our face when we say the domain they want to buy is $XXX+. There was little education or understanding of the value of domains outside our industry. Now, I can say that there has been a clear improvement and an increased awareness about domains in general, as well as their importance and value.
The second significant trend we saw at Sedo over the past year was the strong growth in the Buy Now sales pricing category. We have always known that buyers do not like to negotiate, and definitely do not like to make blind offers. The sales conversion rates of the offer/counter offer pricing categories are much lower than the conversion rates of Buy Now names. Not surprisingly, we saw a significant increase in listings and sales of domains with Buy Now prices. The SedoMLS network, which predominantly distributes and promotes domains with Buy Now prices, also grew significantly. This network of partners and registrars continues to be in a strong growth pattern, and continues to expand the marketing reach for domain sellers.
With respect to 2012, we are very committed to growing the SedoMLS network. The available premium domain inventory far outweighs the existing buyers on current domain marketplaces. We want to help find more buyers for our clients. We're doing this by continually growing our partner network. More and more domain sellers have seen that their sales velocity has greatly increased and become consistent. We definitely see a 2012 trend of more Buy Now domains selling and more distribution partners being added to SedoMLS. The Buy Now domains are then presented for sale not only in Sedo search, but the domain searches of over 60+ registrar and partner sites in the SedoMLS network. This, is a major trend we foresee continuing into 2012 and beyond.
Kelly Conlin, Chairman and CEO, NameMedia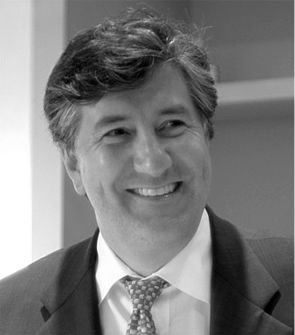 Kelly Conlin, CEO, NameMedia
While Oversee and Sedo are guided by new leaders this year, another industry giant, Name Media, will continue to be capably guided by the company's personable Chairman and CEO Kelly Conlin. Name Media plays a key role in every aspect of the domain business. They develop great websites on premier generic domains, handle thousands of aftermarket domain sales (through the AfternicDLS and BuyDomains) and offer an innovative monetization solution in SmartName stores. Here is Kelly's take on where we have been and where we are headed.
Kelly Conlin: Despite global economic and political instability, this last year was very positive for the domain industry. The attention around ICANN's deliberations for new TLDs, the new investments in leading companies such as Network Solutions, GoDaddy and Endurance, and the increase in website creation by SMBs all contributed to the momentum that carries into 2012. To cite one statistic that helps tell the story: 2011 searches on Google for the term "new domains" were 2X that of 2010.
Continuing this growth will depend in part on something we should be mindful of year-in and year-out: while domain investors have long believed that domains represent a new asset class and analogize domains to real estate or financial securities, that will only be true if the industry has a platform with the transparency and liquidity that those other, more mature asset classes enjoy. If I own a share of stock, for example, there is a well established mechanism for trading that stock--with the click of a mouse—on trusted platforms that aggregate buyers and sellers. In the domain world, we have been saddled with legacy platforms that can take days and sometimes weeks to negotiate, escrow, and close secondary market domain transactions.
Making that happen requires the industry to move beyond a sales model that relies on waiting for buyers to find their way to the domain, or having a few salespeople working the phones. What would happen to Amazon if they put a "maybe for sale" link on every product and asked the buyer to send an email if they were interested in purchasing the product, and then
sometimes responded, sometimes didn't. That low bar is the approach some domain owners take, and it compromises the collective market potential for the industry. Every day, millions of prospective buyers go to dozens of websites looking for domains to register. If those buyers were presented with suggested names available on the secondary market at just this moment—the moment they are in the purchase path—and they were able to buy these secondary market names no differently than they can a primary market domain, then we have created the liquidity wanted by domain investors, and instant transactions wanted by domain buyers.

Image: anankkml / FreeDigitalPhotos.net
The complexity to making this work requires a multi-million dollar investment in a platform to ensure ICANN-compliant forms of authorization, integrity of domain ownership, application programming interfaces between databases and other requirements. Given that the seller and the buyer may be using different registrars, its not trivial to make a purchase as easy as "one click shopping". But it's now been done! And it works!
| | |
| --- | --- |
| | At NameMedia, we increased our technology team dramatically this year as we accelerated the growth for the leading platform for Instant Transfer of domains in the secondary market, Afternic's Domain Listing Service (DLS). We are pleased that more registrars have chosen |
As we look toward 2012, the broader trends in the technology industry will continue to create opportunities for our industry. Two trends stand out. First, the growing need to secure an online identity will fuel the domain marketplace, including intense interest in and awareness of new domain namespaces—each of which will need a healthy secondary market to prosper. Having done transactions last year in more than 100 countries, we will be active in ensuring that secondary market accessibility as part of the new TLD inventory globally. Second, the continued growth of mobile devices creates expanded opportunity for domain development. Having been actively developing domain properties for more than ten years, we have shifted significant resources to mobile app development, such as these apps in our lifestyle vertical network:
http://itunes.apple.com/us/app/horoscope-deluxe/id419241442?mt=8
http://itunes.apple.com/us/app/yes-no-tarot/id429488704?mt=8
What is particularly exciting is seeing the payoff from years of investment in platforms that were designed to accelerate the growth of the entire industry reach a tipping point of adoption. For example, Afternic's sales of listed names during 2011 grew at the fastest rate in the last five years; the dollars paid out to domain owners selling on the Afternic platform grew by 75% in 2011 over 2010. We hope to continue that growth rate into 2012, and we plan to continue our investment and innovation in platforms that support the entire industry's growth.
Ari Goldberger, ESQWire.com
Ari Goldberger, ESQWire.com

In addition to being one of the industry's most successful domain attorneys, Ari Goldberger, with his partner Larry Fischer, is also one of the most successful domain investors. He and Larry also founded a domain monetization company, SmartName.com, that did so well that industry giant NameMedia decided to buy it from them. With his vast knowledge of every aspect of the domain business, few are in a position to provide better insight into where we have been and where we are going.

Ari Goldberger: The most significant phenomenon of 2011 was that it was a great year for domain sales. I have seen many more high-profile and six figure and beyond deals than, perhaps, in the past 2-3 years combined. The reported sales alone are high, but they are trumped by numerous unreported megadeals. This is the result of the continued growth of the Internet and the recognition of the "branded" web site as an important component of any marketing strategy. There is also much more VC money around, resulting in an explosion of innovation and entrepreneurship. Madison Avenue,

Main Street and Wall Street have all finally come on board in recognizing the value of branded domains. In addition, it is clear that Google places high authoritative value on generic domain names, further increasing the value of premium domains as well as relevant descriptive phrase domains. Businesses have paid high prices for such domains with plans to invest in content development and commerce to drive, otherwise, parked domains with limited ranking to the top search results for the particularly category.
Along these same lines, another major event in 2011 was Google's major change to its search algorithm to include timeliness (regular freshly added content) as a major factor in search position. Google made this move in the fourth quarter to compete more effectively with Facebook and Twitter, and put the most timely relevant search results first (e.g., you're searching for a rock concert a site with up-to-date events on the day of the search would theoretically be ranked higher than a site about concerts that has not changed in several months). In response to this, we are experimenting with adding relevant content and other timeliness gadgets to our parked domains. Where we have done on premium domains we have maintained our Google positioning. Generally speaking, with the revenue numbers from basic parking still pretty lukewarm, domainers with premium domains would be wise to accessorize their parked domains with relevant timely content. Of course there's always the trade-off between adding content and reduced revenue (if you give folks something to read they are less likely to clink PPC links). Nevertheless, I believe that to provide for long-term value and growth in a domain portfolio, proper maintenance and enhancement of web sites with content is essential. This is the case today, now more than ever.
| | |
| --- | --- |
| In terms of domain name law, 2011 was a great year and we have seen the law mature to more consistently recognize domaining as a legitimate enterprise. We received no horrible decisions in 2011 and prevailed in 83% of the cases in which we asserted a defense. One of the significant changes in UDRP law has been a greater recognition by panelists of the Doctrine of Laches, which punishes trademark owners who sleeps on their rights, waiting years after a domain name was acquired to file a complaint. Although only formally recognized in one case of which I'm aware, discussion of laches are appearing in more and more concurring and dissenting opinions and, even when not formally recognized, delay is used as a factor negating the trademark owner's claim to bad faith registration and use (if it was really bad faith the trademark owner would have sued earlier). | Image: renjith krishnan / FreeDigitalPhotos.net |
For 2012, the new gTLD process is certainly one of the most exciting trends to watch. I've always been a "dot-com-is-king" guy. We are working on a couple of gTLD applications, however, and I believe there are rich opportunities for the right applications. However, the costs are very prohibitive; $185,000 application fee, plus significant recurring administrative and operating fees. Suffice it to say, filing an application to run a gTLD registry carries with it far greater work and planning than most of us domainers are used to. gTLDs and second-level domains are completely different animals. The .com TLD is neutral and not a brand. For example, whether you say Yahoo or Yahoo.com, the impact is roughly the same. Yahoo is the brand and .COM is the address extension. However, where the TLD is not neutral, e.g. .TRAVEL, the extension becomes part of the brand. This has the potential to dilute a brand, and also makes it more difficult for consumers to remember. Was it hotel.travel or travel.hotel? Conversely, there is no such issue with remembering Hotels.com. The "generic brand" is clearly "hotels," – and the brand is further solidified with the extension making it "the dotcom" in the hotels space.
Anyone interested in getting into this game should have a clear vision and business plan, and seek the guidance of experienced individuals in the field. Personally, I'd rather invest $200,000 in a premium domain that can be turned on and begin earning money from day one. Nevertheless, I envision great opportunities for new gTLD's for the right businesses and applications. In terms of law, there will certainly be more work for domain name lawyers as the number of registered domains accelerate and trademark claims increase along side.
Overall, I am extremely bullish on the domain market for 2012. There is more money and interest in the space and, as the Internet continues to grow, with more and more web sites competing for consumer mind share in an increasingly cluttered space, premium domain names become more valuable every day. Those who invest in quality domain names and properly develop them will continue to reap rewards. I've been in the domain name space since 1996 and I continue to feel lucky to be a part of it. I can't imagine what else I would be doing today if I wasn't a domainer. Best of luck to all in 2012!
Coming up on Page 2: Domain Investors & Developers

Next up, you will hear from some of the industry's all-time leading domain investors and developers.

Featuring exclusive commentary from:

Rick Schwartz

Michael Castello

David Castello

Michael Mann

Michael Berkens

Image: jannoon028 / FreeDigitalPhotos.net